Nut or seed butter is a staple in most American households. I love how creative brands are getting with flavors, and multiple nuts in a single spread as well as the variety now available. Yet I don't love how most commercially sold nut butter contains additives, preservatives or sweeteners. They just aren't needed! My healthy nut butter recipe is just nuts, with the option to add a small amount of oil if needed.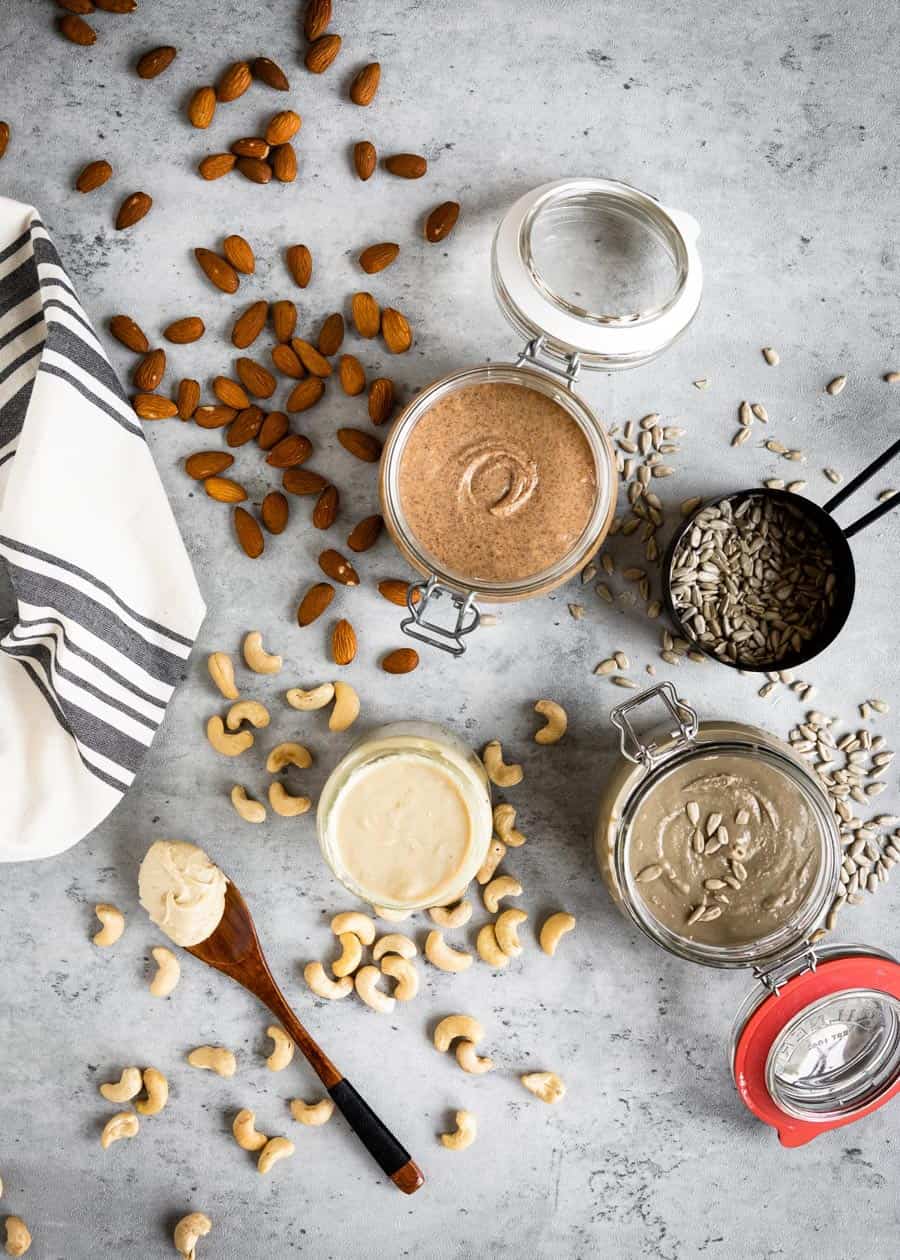 Below, I'll show you how to make nut butter using a food processor. This is a simple way to add healthy fat to snacks, meals and smoothies. This healthy fat keeps you full longer and provides the nutrients your body needs to thrive. Plus, you can jazz this recipe up in so many ways to make it sweet or savory and just the way you like it.
Table of Contents
3 Healthy Nut Butter Recipes
While you can use the same exact recipe using about any nut or you could imagine, I'm highlighting the three I use most and breaking down the difference in the final product.
Almond Butter
Use raw almonds to create a creamy protein-packed butter that you can use on apples, toast and oatmeal. The dry, earthy taste can be upgraded with maple syrup and salt if you don't like the natural taste. Final result is slightly gritty and has a dry flavor.
Cashew Butter
This is my favorite nut butter because it's super creamy and mild in flavor. You can add it to most recipes without altering the flavor and still adding valuable plant-based protein. The final result is super smooth and mild flavored.
Sunflower Seed Butter
Yes, this is technically a seed butter (and not a nut butter). Yet I wanted to include it here for those with kids. This is the most kid-friendly option AND the most comparable to peanut butter due to the texture and taste. Use raw sunflower seeds to get the most nutrients into your final product. And add salt as needed. The final result is very similar to peanut butter (my kids have been fooled many times!).
How to Make Nut Butter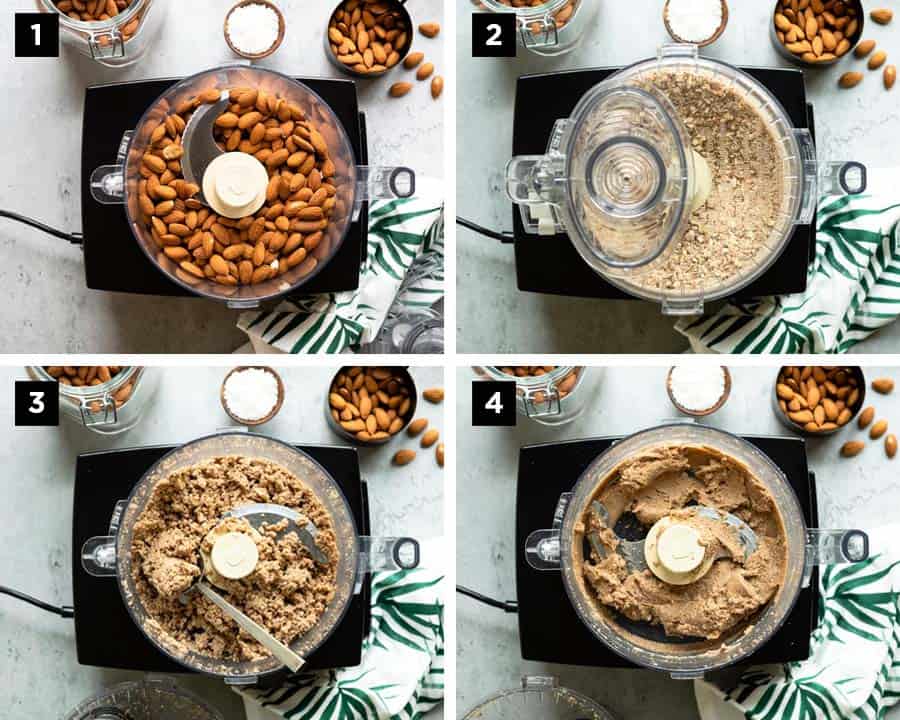 Place raw, unsalted nuts in a food processor or blender. You want to use raw for ease of blending. You can always add a pinch of salt at the end.
Pulse to finely chop them into a fine powder.
Crank up the speed for 1-2 minutes, stopping to scrape the sides of the bowl or jar. Allow the motor to cool down as needed.
Repeat this process as needed until the nut or seed butter is creamy. You can add a bit of oil (avocado or olive) if after a few minutes you aren't starting to see butter form.
I have to be honest: It's hard to go back to store-bought brands after you've made your own; it's insanely good! Customize the flavors and turn these nut butters into seasonal delights, your go-to toast topper or put them in fancy jars and gift them to friends and family.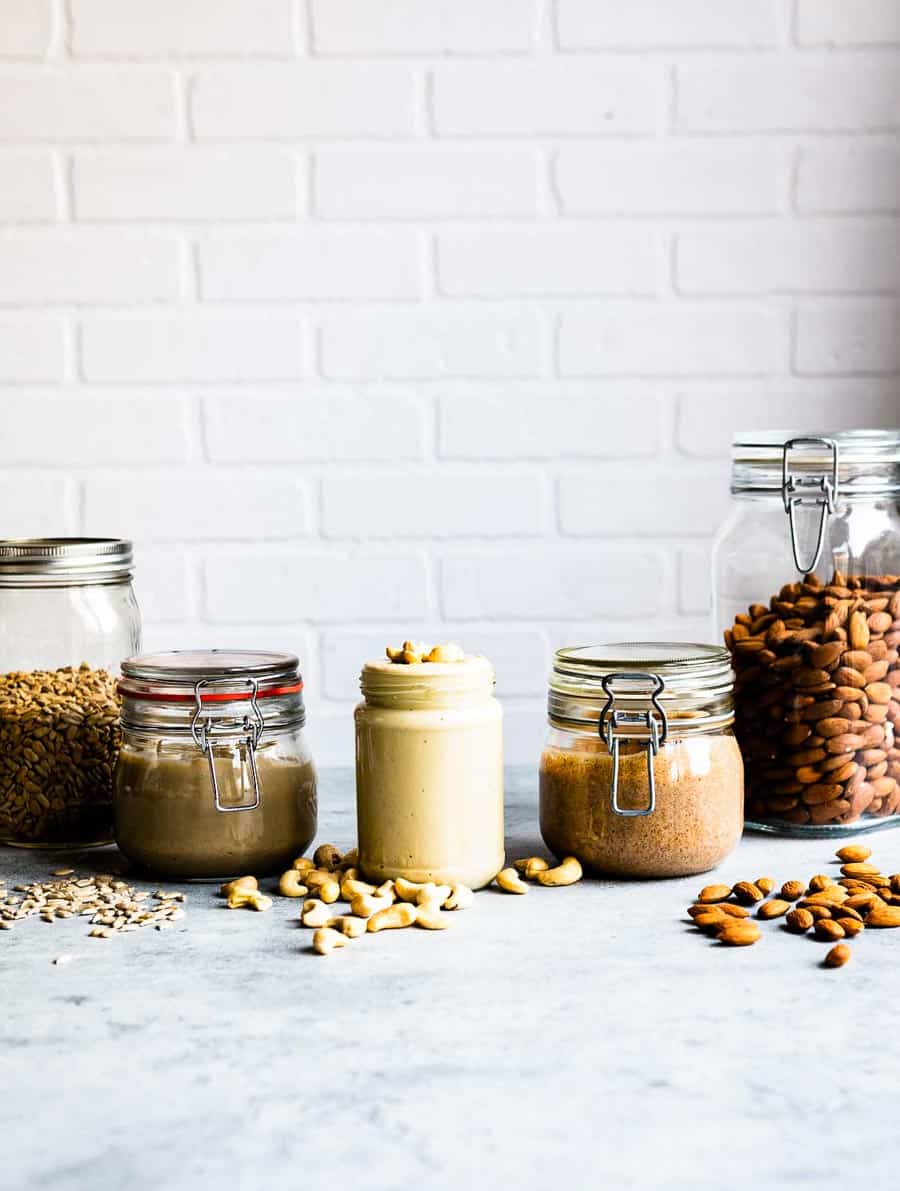 Answering Your Nut Butter Questions
Is nut butter healthier than peanut butter?
It depends. Store-bought nut butter often contains added sweetener, fillers, preservatives or cheap oils. My homemade recipe is literally just nuts or olive oil if you want it, so no weird additives or chemicals. If you want a sweet version, add in some maple syrup or a date.
Is nut butter actually healthy?
Yes! My recipe is literally just nuts or seeds. That's it! Depending on which one you use (raw, not salted), nut butter contains healthy fat, protein, fiber, potassium and more. Add in hemp seeds for some super-healthy omega-3s or walnuts for a boost to your brain.
Can I replace peanut butter with other nut butters in recipes?
Yes! While the taste will obviously change depending on which nut or seed butter you use, you can swap in almond, sunflower and more in all different kinds of recipes.
Consuming nuts gives your body phytochemicals to fight against various forms of cancer. Regular consumption can also help protect the body against diabetes and heart disease. Using my plant-based spread recipe below is an enjoyable way to eat nuts.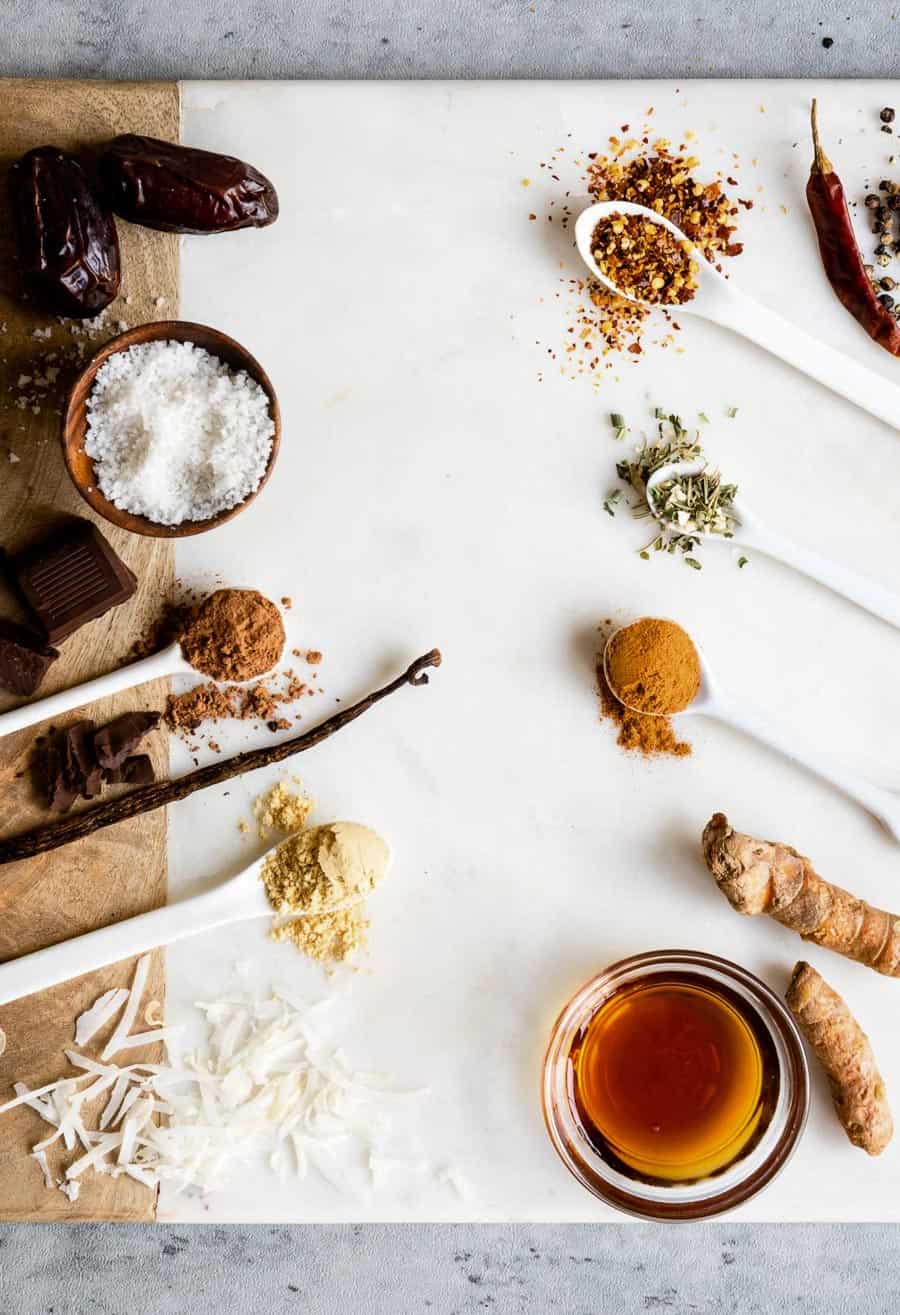 Flavor Variations
Sweet: For a sweetened butter, add in 1 date, 1 tablespoon of maple syrup or 1 tablespoon of honey to your 2 cups of nuts. 1 tsp Cinnamon or pumpkin pie spice seasoning are great additions to sweetened butters. 1 tsp vanilla extract (or scraping out a vanilla stick) adds depth as well.
Savory: For a savory taste, add 1 tsp tamari and 1 tsp chili powder. This makes a great dip for veggies or sandwiches.
Earthy: Toasting the nuts before blending them can also add a different (and delicious) flavor.
Decadent: Dark chocolate turns your butter into a dessert spread (hello, Nutella!). Roughly chop up the chocolate before adding to help your blender/food processor a bit.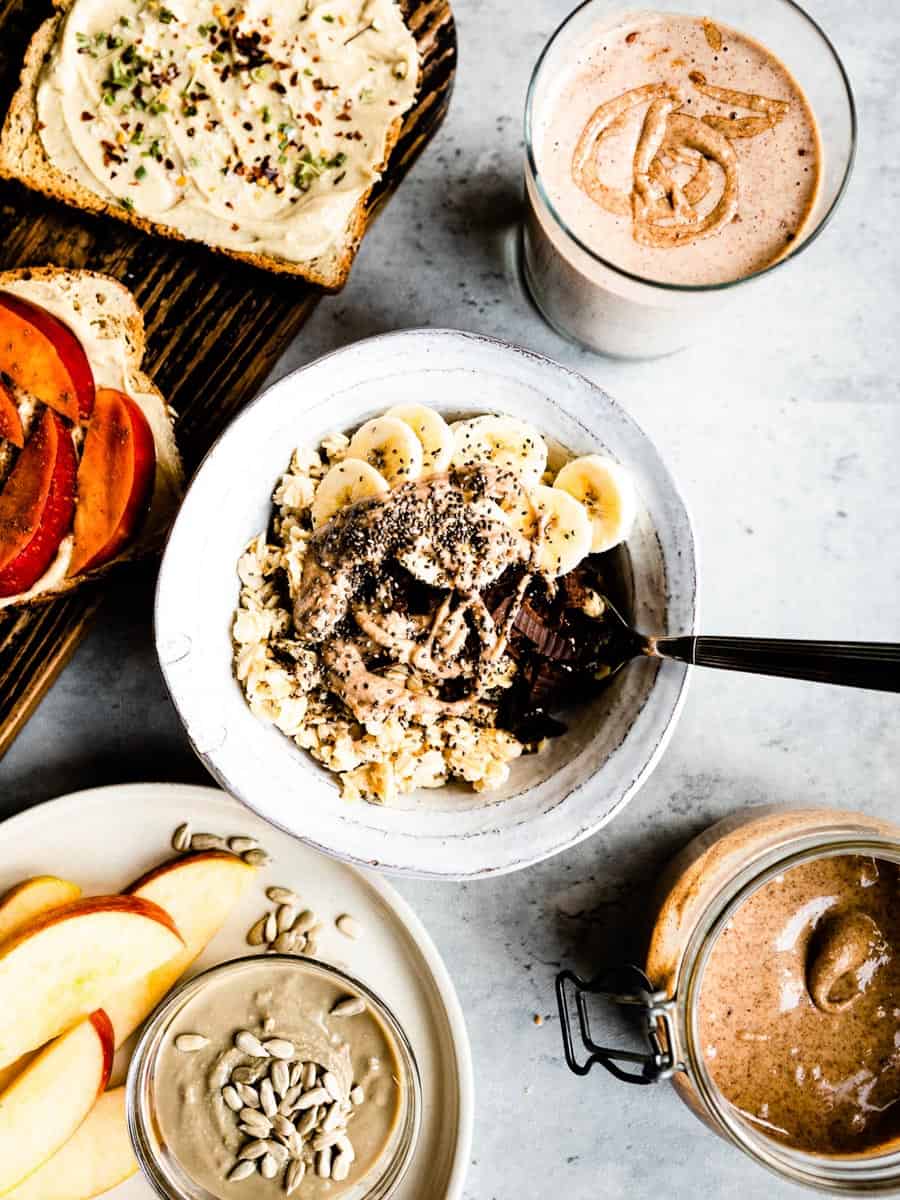 How to Use Nut Butter
There are so many uses for healthy nut butter outside of sandwiches, though I love good almond butter and jelly on homemade bread! Adding 1 tablespoon of nut/seed butter per serving of smoothie gives it a good boost of healthy fat and a yummy nutty flavor.
Using it as a dip for veggies gives you an easy as well as filling snack. Add it to a vegan charcuterie board and watch it fly off the platter. Add it to the sauce in stir fry, veggie bowl or wrap; it can be used in so many ways!
Recipes Using Nut Butter
I love using nut butter as a healthy fat in smoothies, baking, and sauces. Here are a few recipes for you to try:
While I add a specific nut butter in these recipes (typically almond or cashew), swap it out with whichever one you prefer. Will you please rate + review this once you make it? I want to hear how you used it!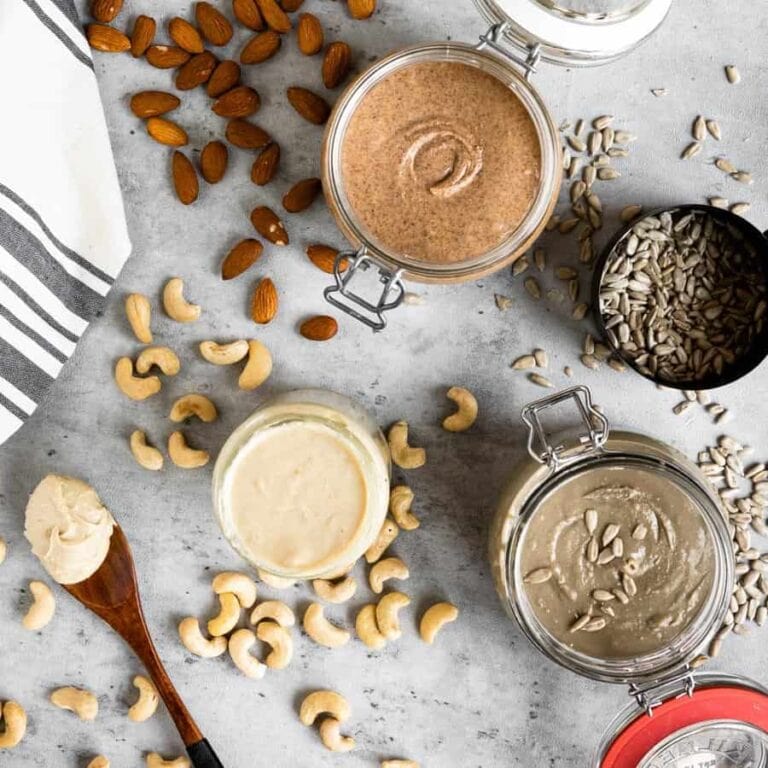 Homemade Nut Butter
Nothing compares to the ultra creamy texture and flavor of homemade nut butter. Try these as an alternative to peanut butter to make sandwiches, sauces, dressings, cookies, and more. Or use as a luxurious, decadent dip for apples, pears, peaches, nectarines, pretzels, carrots, celery, or anything dip-able.
Ingredients
2

cups

raw nuts

halves or pieces

2

tbsp

avocado oil

optional

⅛

teaspoon

sea salt

optional
Instructions
Place nuts into a high-speed blender or food processor fitted with the chopping blade. 

Begin pulsing nuts in order to finely chop them. Once they are finely chopped, turn on blender or food processor for 1-2 minutes, stopping to scrape the sides of the jar or bowl, and allowing the motor to cool down, if needed. Repeat this process as needed until the nut butter is creamy. It may be necessary to add a little oil to facilitate the blending process. 

If desired, add a good pinch of sea salt and pulse to distribute it.

Transfer the nut butter to a jar with tight-fitting lid. Store in a cool, dry place for up to two weeks. If storing for longer, refrigerate to keep the natural nut oils from becoming rancid. Allow to come to room temperature for easier spreading or dipping.
Notes
Nutrition facts are based on using almonds and no oil or salt.
Add flavors to customize your nut/seed butter. Here are my fav combos:

Sweet butter: add honey, date, or maple syrup
Savory butter: chili powder, turmeric, your fav spice or herb blend

This recipe can be used on the nuts of your choice: cashew, almond, sunflower seed, pecan, walnut, macadamia, hemp.
My Vitamix does a better job chopping up the nuts than a food processor, yet feel free to use either. 
I rarely need to use oil because, as you blend, the nuts/seeds naturally expel their oil and it's typically plenty. 
You may need to blend awhile to get the creamy result you want. Don't give up! Keep blending/scraping until you've got the cream level you're looking for.
You can also use a variety of nuts/seeds in your creation. Half pecan + half hemp would be delicious!
Nutrition
Serving:
1
tbsp
,
Calories:
51
kcal
,
Carbohydrates:
2
g
,
Protein:
2
g
,
Fat:
4
g
,
Saturated Fat:
1
g
,
Polyunsaturated Fat:
1
g
,
Monounsaturated Fat:
3
g
,
Trans Fat:
1
g
,
Sodium:
1
mg
,
Potassium:
63
mg
,
Fiber:
1
g
,
Sugar:
1
g
,
Vitamin A:
1
IU
,
Calcium:
24
mg
,
Iron:
1
mg