Sip a refreshing matcha latte for an easy energy boost that won't lead to a crash. I'm teaching you how to make a matcha latte for a great dairy-free beverage + coffee alternative.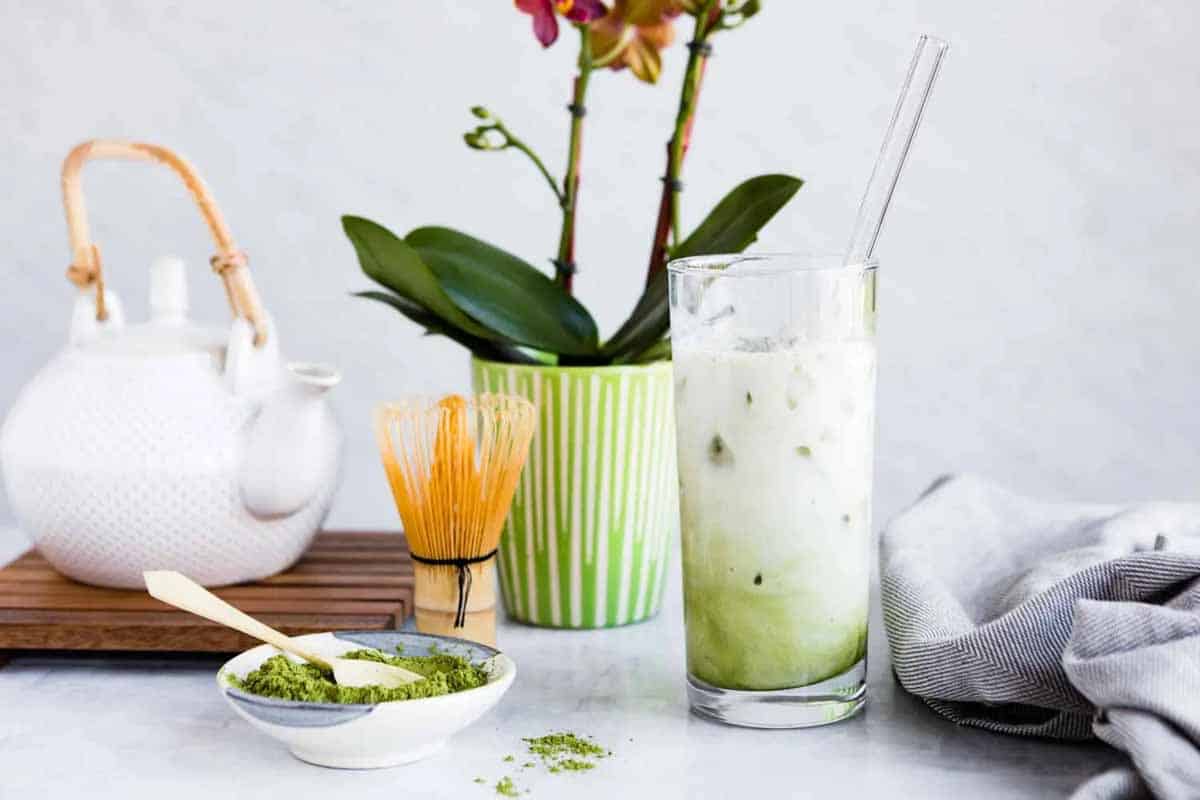 My plant-based matcha latte can help boost metabolism, burn calories, calm the mind, enhance mood and concentration, as well as relax the body. Pretty awesome stuff, right? This interesting drink has been trending for a reason; it's a delicious way to get in some extra goodness into your day. I like making an almond milk matcha latte, to enjoy a dairy-free beverage.
Table of Contents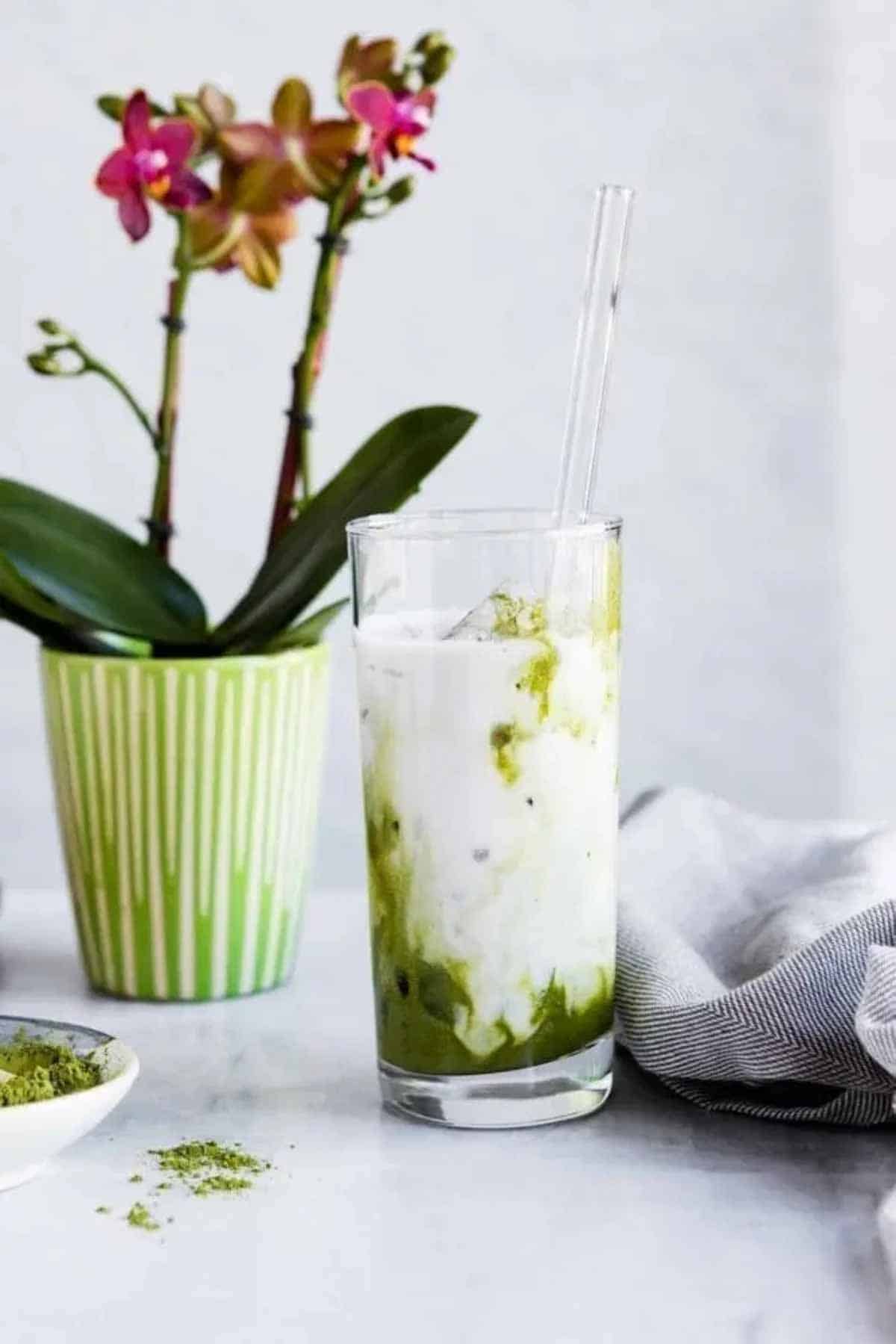 What is Matcha?
Matcha is a type of tea that dates bake to 7th century China. The Chinese used it to make green tea, while the Japanese invented the matcha latte drink (after a Japanese Buddhist monk took matcha tea seeds home from China) that we know and love in America today.
Matcha is considered the highest quality tea Japan has, and is used in Japanese tea ceremonies that date back to the 1500's. The tea ceremony has 4 basic principles: harmony, respect, purity, and tranquility.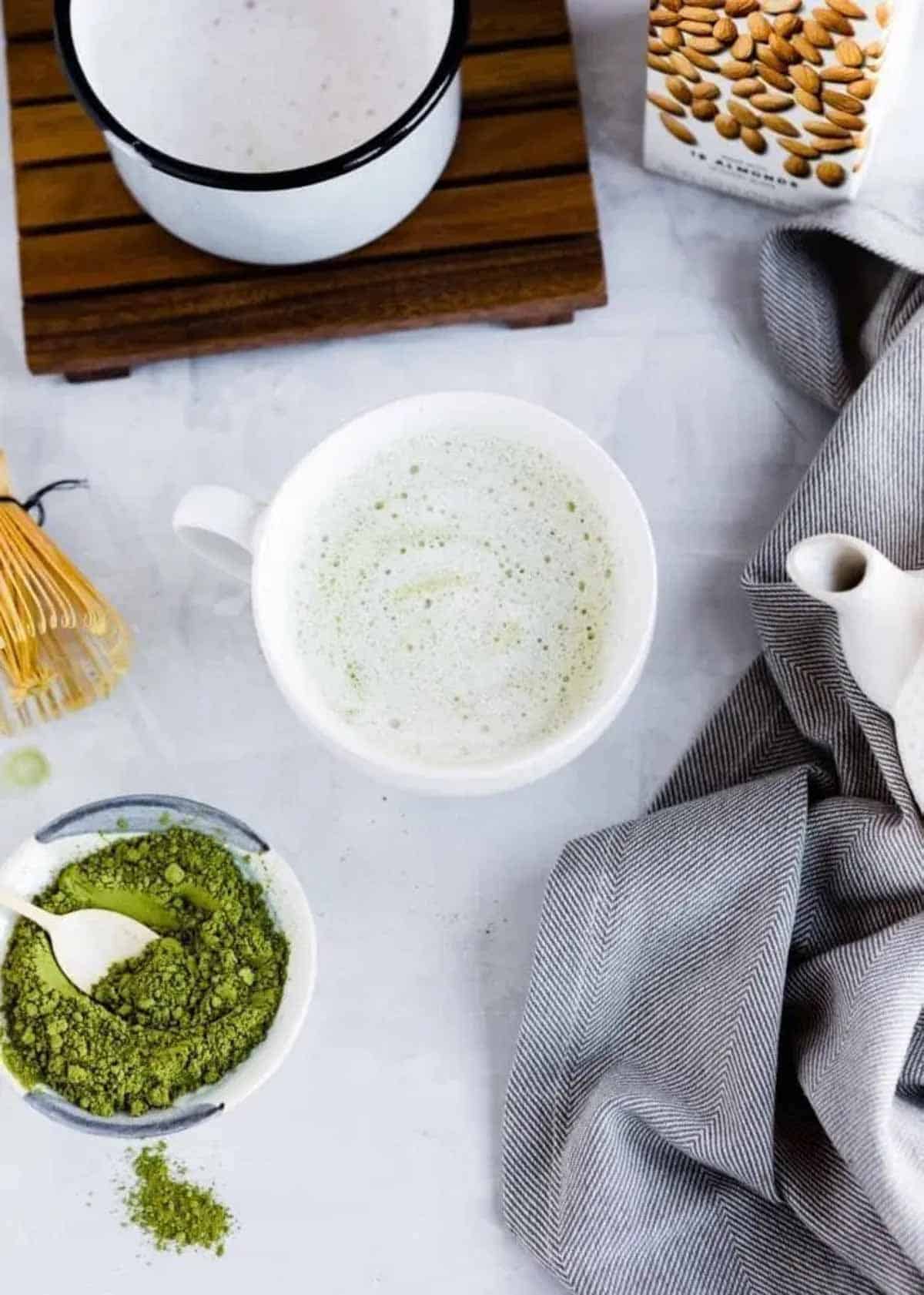 How to Buy the Best Matcha
While you can now buy matcha pretty much anywhere, I suggest getting it from a Japanese grocery store, as these will have higher quality, more authentically branded tea.
If you don't have a Japanese grocer near you, then Amazon can be a good alternative. Look for organic to get the highest quality, and Japanese sourced as well.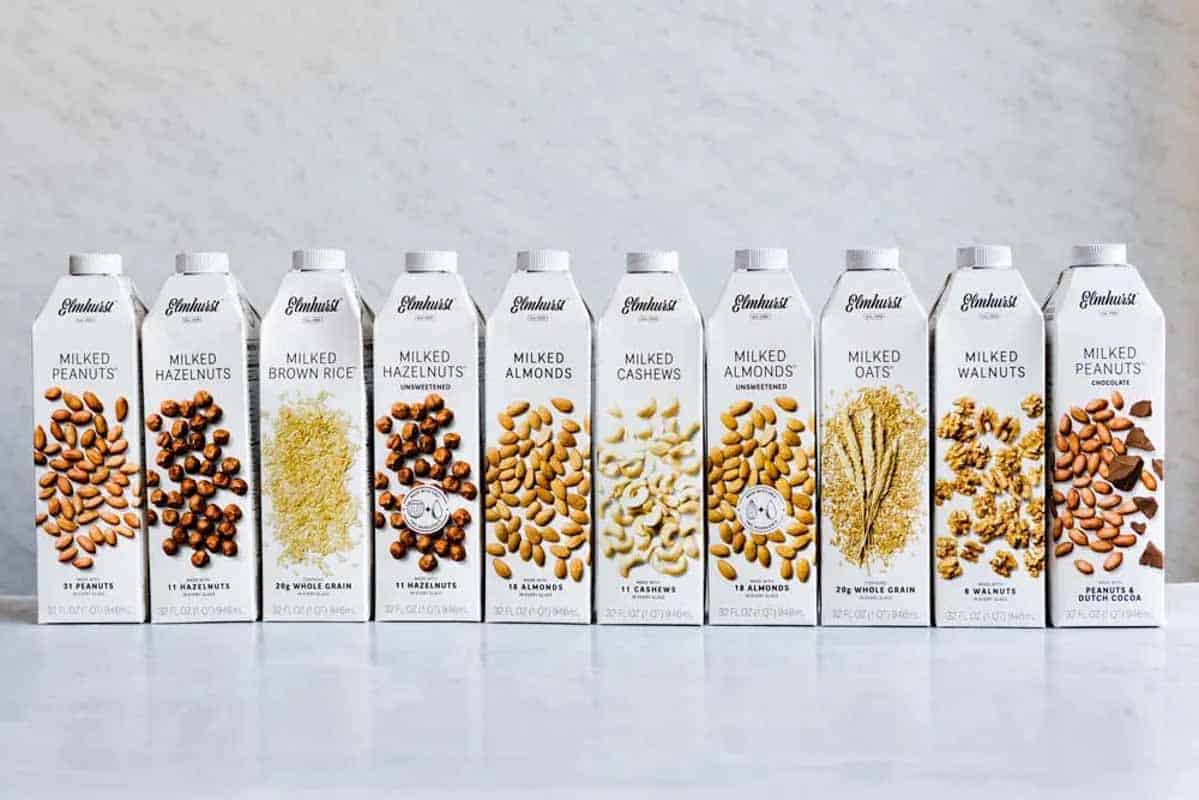 Dairy Milk vs Almond milk
My journey with nut milk began in 2009 when I heard someone say "humans are the only mammal to drink milk into adulthood." That stuck with me in a weird way and I began looking into alternatives that would be creamy as well as protein rich and nutrient dense.
Nut milk is where I landed and what I drink most often now. But just like dairy milk, I soon found out that plant based milk isn't all created equally.
Lots of brands try to fortify their non-dairy milk with synthetic vitamins, minerals, and gums to compete with dairy milk, yet it's just not necessary. I use green smoothies as well as plant-based meals to fuel my body as naturally as possible, so I want my milk to do the same. Elmhurst is my go-to brand for nut milk because they are simple as it gets: water + milked nuts.
Nut-Free Milk Options
If you aren't able to drink nut milk, there are more great options available! For this matcha latte, I recommend swapping almond milk with oat milk, as it is a super creamy alternative. You can also use rice milk, hemp milk, or coconut milk (the one in the carton, not the can).
Because I want to know exactly what's in my milk of choice, I've got great homemade plant-based milk recipes.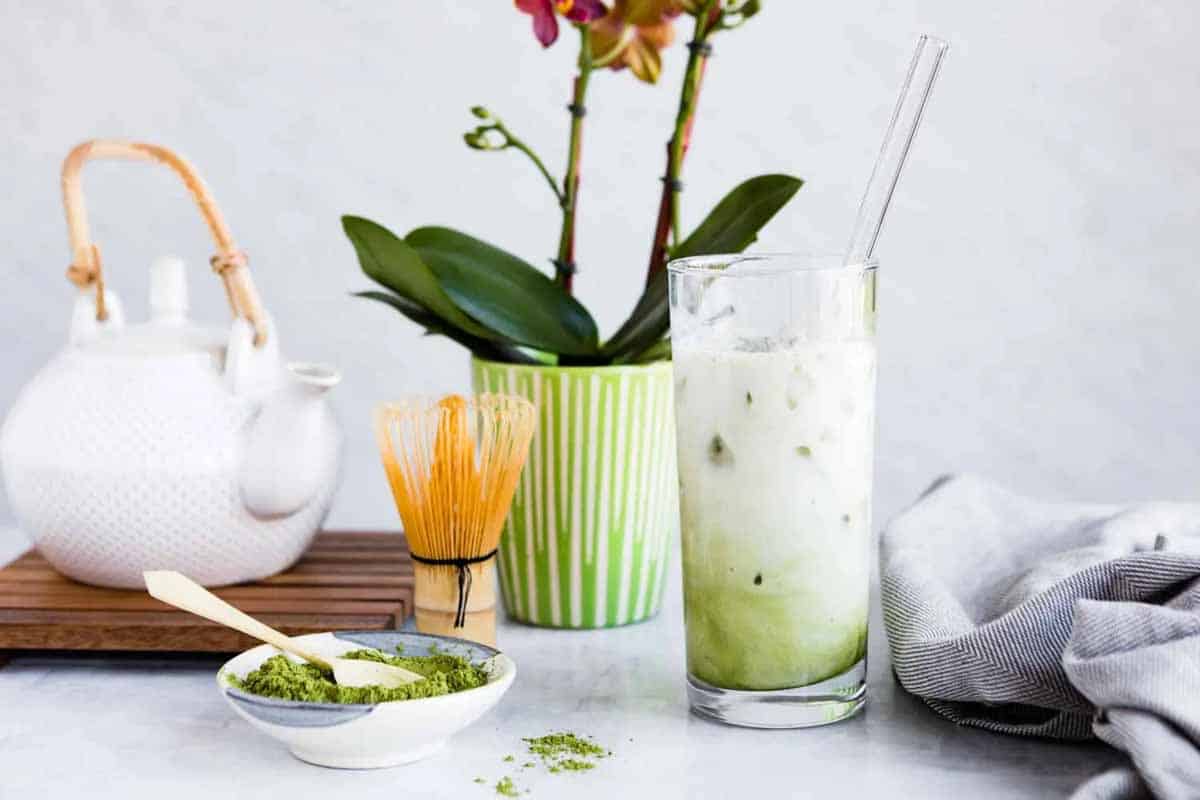 How to Make a Matcha Latte
You need 2 hot liquids to make an almond milk matcha latte. First, heat 1/4 cup of water until boiling. Then heat up the almond milk (or your milk of choice) in a sauce pan until hot, but not boiling. While your milk is heating, add the matcha powder to a mug then pour over the 1/4 cup boiling water.
If you want some foam in your latte- the best part in my opinion!- then blend your heated milk in a blender for 10-15 seconds. Add this to the matcha + water mixture. You can also achieve the foam by adding the milk directly to the mug after heating, then using a matcha whisk and whisking by hand.
Some people like the earthy taste of matcha by itself, while others will add a bit of maple syrup just before drinking, to sweeten up their latte. Either way is fine!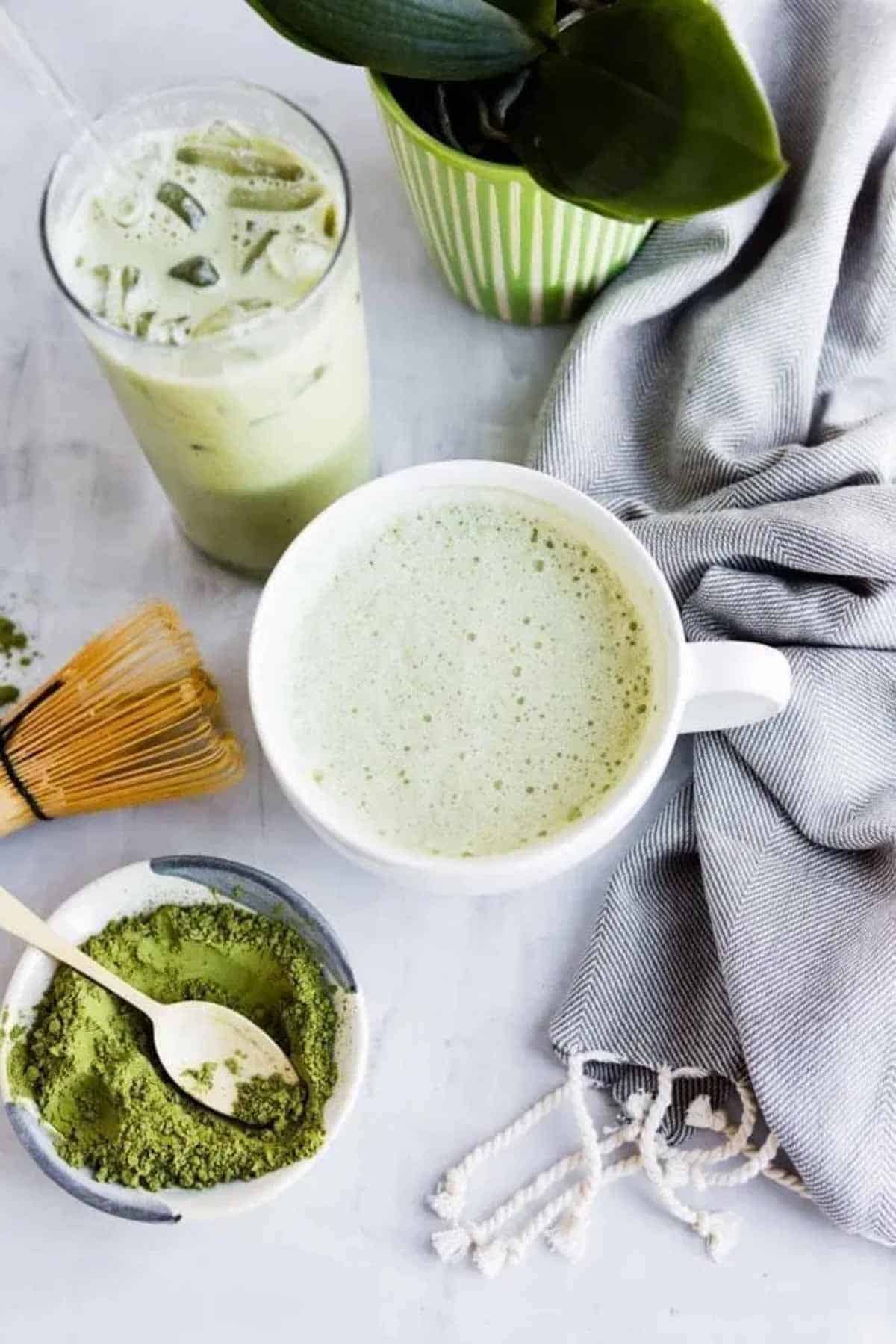 More Plant-Based Beverages
I love taking dairy-filled beverages and making delicious, plant based alternatives. If dairy is your jam, then no problem! Yet if you feel better without dairy like I do, then these recipes are for you:
Now, gather your ingredients and get to creating! This is a fun afternoon pick-me-up or a refreshing mid morning beverage. And don't forget to leave a comment + rating below to let me know how you liked this almond milk matcha latte.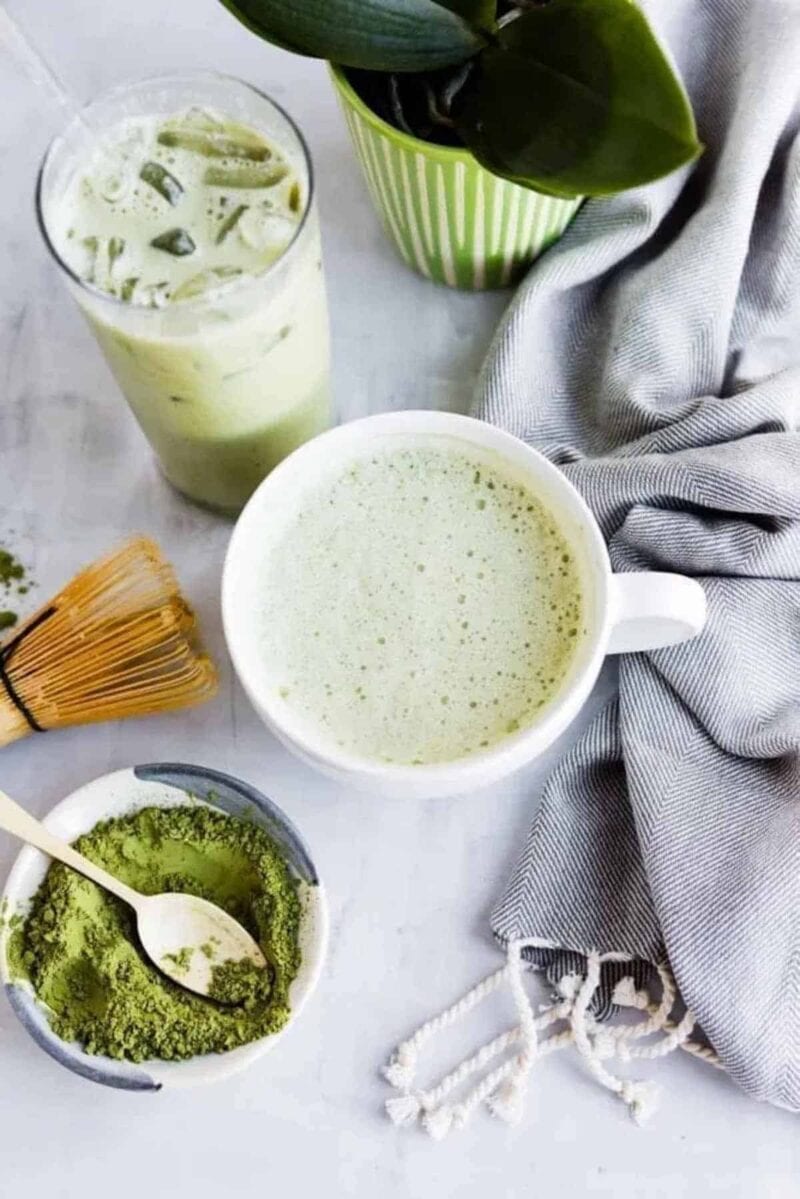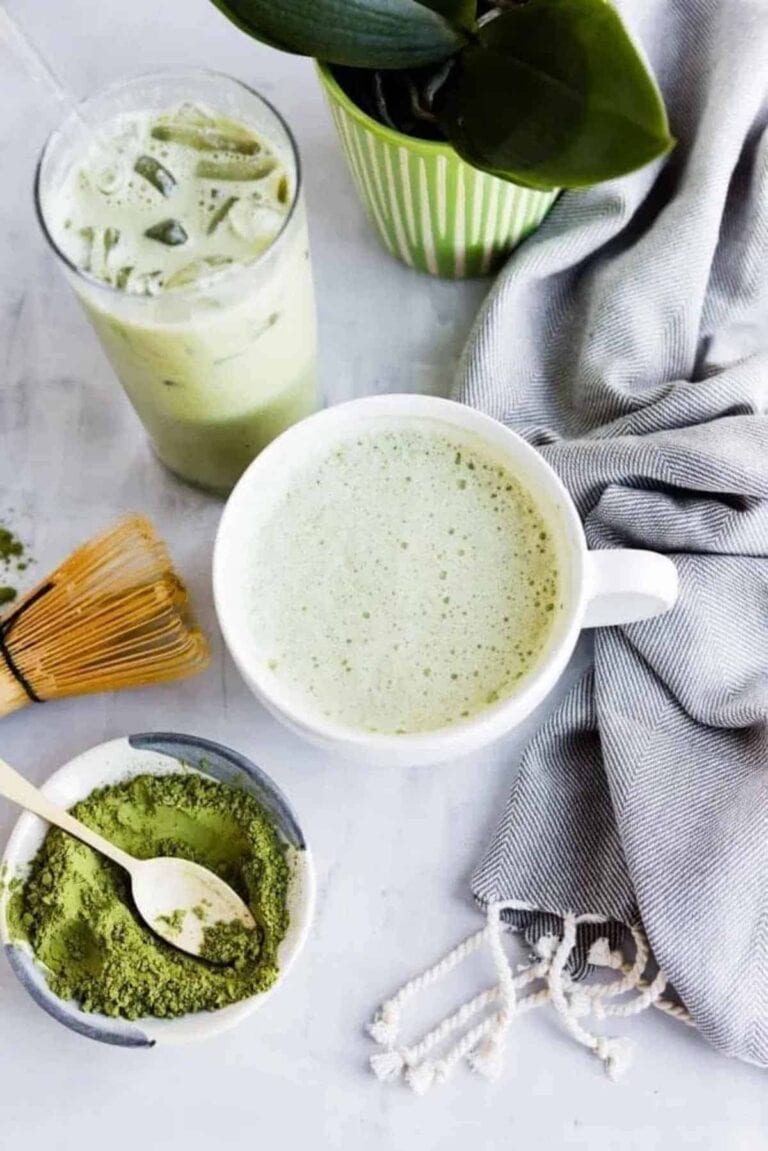 Creamy Matcha Latte
Enjoy the benefits of antioxidant matcha in a creamy homemade matcha latte in 4 easy steps.
Instructions
Heat almond milk in a small saucepan until very hot, but not boiling.

Scoop matcha powder into a mug and whisk in 1/4 cup boiling water to make a paste.

If using vanilla, stir into the hot milk. For a frothy texture, place almond milk in blender and blend for 10-15 seconds on high. Or use the matcha whisk to froth the milk by hand.

Pour the almond milk into the mug with the matcha tea, adding any foam to the top. Drink immediately.
Notes
For an iced latte use the same ingredients and follow these instructions instead:
Whisk matcha powder with boiling water to make a paste. Let cool slightly. Stir in vanilla and 1-2 tablespoons of the Milked Almonds. The mixture should be pour-able.
Fill a tall glass with crushed ice and add the matcha mixture. Fill the glass to the top with remaining Milked Almonds. Drink immediately.
Nutrition
Calories:
59
kcal
,
Carbohydrates:
1
g
,
Protein:
4
g
,
Fat:
3
g
,
Polyunsaturated Fat:
2
g
,
Monounsaturated Fat:
2
g
,
Sodium:
325
mg
,
Potassium:
3
mg
,
Fiber:
1
g
,
Sugar:
1
g
,
Vitamin A:
300
IU
,
Calcium:
300
mg
,
Iron:
1
mg