Enjoy this simple + tasty Immune System Booster that's packed with vitamin C, healing herbs and essential vitamins and minerals. You can drink it daily since it's packed with immune system booster foods that support immunity.
Getting sick is no fun at all— especially during a pandemic. It can mean missing work or activities, plus who wants to feel yucky anyway? Not us! This Mango Ginger Immune Boost Recipe was submitted by one of our community rawkstars, Gregory. And we're glad he did! If we can sip up some immune-boosting, leafy green goodness to ward off illness, we're on board 100%!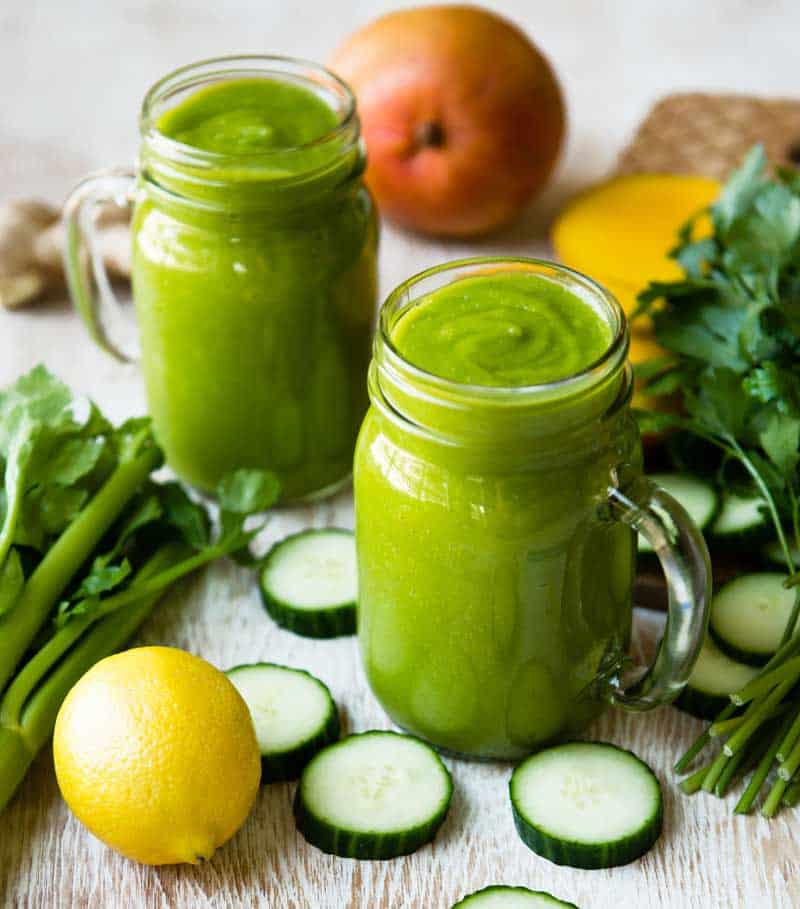 6 Immune System Booster Foods
Feeling under the weather and looking for natural alternatives to reboot your immune system? Look no further than these six amazing ingredients. We toss them into our green smoothies all the time— helping us fight off stubborn colds and flus.
Ginger:
This all-natural superfood is the ultimate in immune boosting and detoxifying properties. Adding just a ¼-½ inch chunk of fresh ginger to your green smoothies has amazing health benefits. A little goes a long way so if you're not used to using fresh ginger, start off small and add more. If you're feeling a sniffle or cold coming on, then ginger will help kick that cold to the curb just a bit faster.
Here's some healthy tips on prepping your ginger
Citrus Fruits:
Extremely high in vitamin C, consuming citrus fruits during the winter months–when they are inexpensive and widely available–will help boost your immune system and help clear out any cold/flu viruses quickly. An easy way to do this is by using freshly squeezed orange juice as your green smoothie base, or squeeze the juice from half a lemon/lime to get a punch of vitamin C.
Check out our Vitamin C Smoothie Boost Cubes
Berries:
Berries contain tons of immune-boosting nutrients: vitamin C, fiber and natural energy for the whole day. They taste fabulous, are available mostly year round (sometimes in the freezer section during the winter months), and add a burst of fresh flavor.
Here's 5 berries we love using in our green smoothies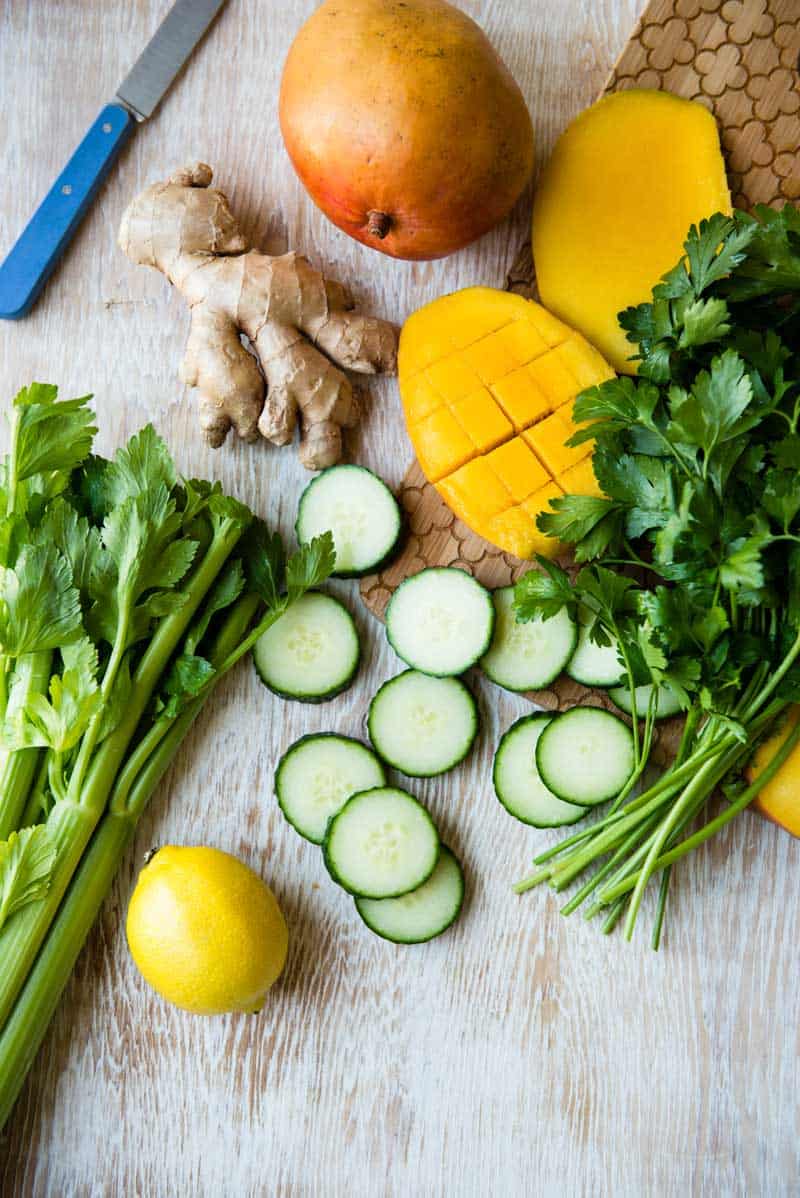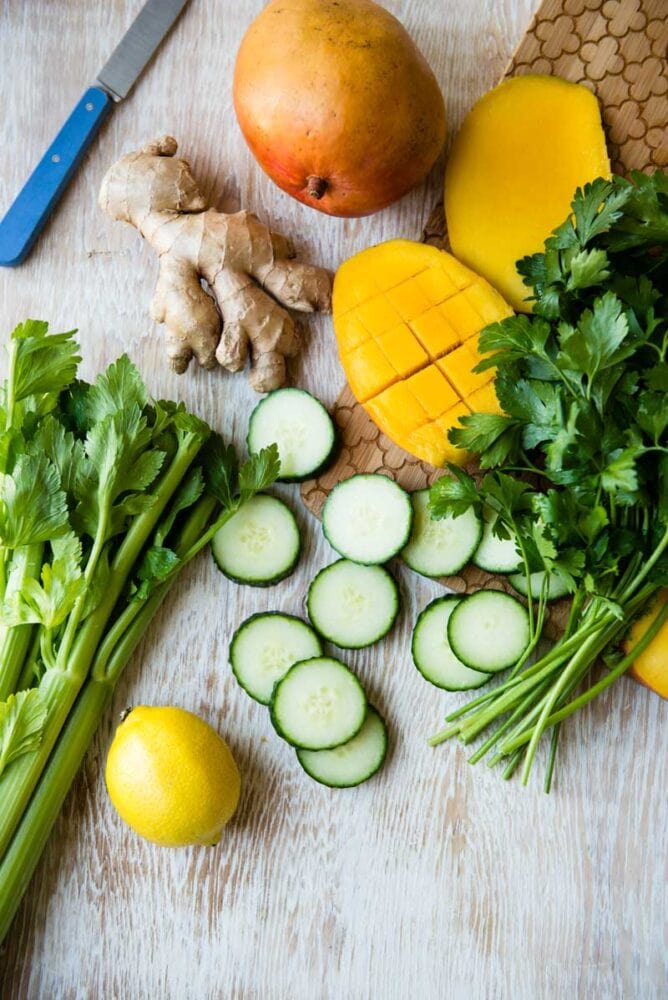 Leafy greens are a great immune system booster food
Leafy greens are the powerhouse nutrition for vitamins A and C, as well as protein, fiber and calcium. They help clear out any toxins, leaving your body able to push past a cold and flu fast without relying on unnatural cough and cold syrups.
Parsley supports kidney function by flushing out excess fluid from the body. It's LOADED with vitamin K – ½ cup is more than 500% the daily value. Whoa! The volatile oils and flavonoids in parsley have also been shown to be powerful antioxidants and may even fight the formation of tumors.
Here's the top 13 leafy greens we like to use in green smoothies
Kiwis:
Loaded with vitamin C and fiber, kiwis are available during the winter months. If you can't find berries or oranges, reach for the kiwi. Did you know one kiwi has more Vitamin C than an orange and the skin is completely edible? Yep. Just scrub it with a veggie brush to get it nice and clean, and eat away (if you can handle it!). Or toss it into your blender for an extra boost of fiber and nutrition.
Apples:
These crunchy beauties are loaded with fiber and vitamin C to boost your immune system and give you natural energy for the whole day. An apple a day does keep the doctor (and your cold) away.
Keeping a few of these fruits and veggies on hand in your kitchen, especially during the winter months, will help you push past that troublesome cold and flu season. Try them all and see which ones work best for you. Report back by commenting below with your favorites!
My Immune System Booster recipe
I made a video in my kitchen while I was sick to show you what I'm doing to kick a cold quick. This recipe is just what I needed and I hope it can help you too!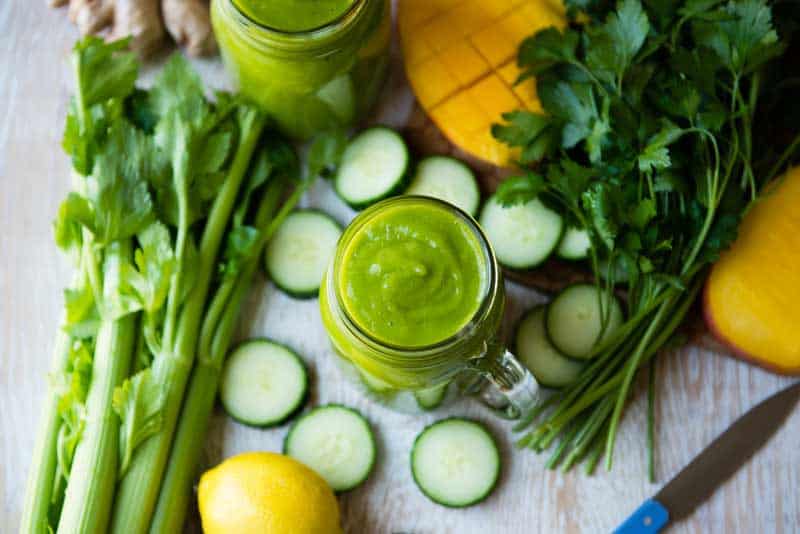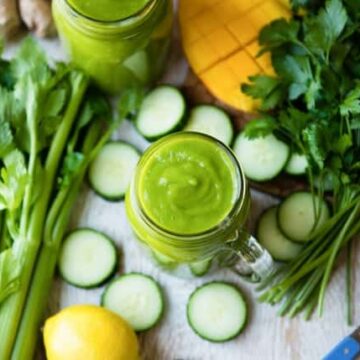 Healthy Immune System Booster
Rate this Recipe
Print Recipe
Want a great smoothie recipe to help you boost your immune system?  This Healthy Immune System Booster uses mangos, parsley, celery, lemon, cucumber, spinach and ginger. 
Ingredients
¾

cups

spinach

½

stalk

celery

2

tablespoon

fresh parsley

(leaves only)

1

cup

water

½

cucumber

(peeled)

¼

inch

ginger root

(peeled and diced)

1 ½

cups

mango

(frozen)

½

lemon

(peeled and seeded)

1

serving

Protein Smoothie Boost

(optional)
Instructions
Blend spinach, celery, parsley and water until smooth.

Add the remaining ingredients and blend again.
Notes
Use frozen mango to make a refreshingly cool smoothie.
Boost this smoothie with 1 serving of plant based protein powder to help your body more easily process the natural fruit sugars. 
the stems of parsley are bitter and harder to blend smoothly, use just leaves to make blending easier. 
Swap spinach with the leafy green of your choice. 
Nutrition (estimated)
Calories:
194
kcal
(10%)
Carbohydrates:
48
g
(16%)
Protein:
5
g
(10%)
Fat:
2
g
(3%)
Saturated Fat:
0.3
g
(2%)
Polyunsaturated Fat:
0.3
g
Monounsaturated Fat:
0.4
g
Sodium:
57
mg
(2%)
Potassium:
923
mg
(26%)
Fiber:
8
g
(33%)
Sugar:
38
g
(42%)
Vitamin A:
5671
IU
(113%)
Vitamin C:
141
mg
(171%)
Calcium:
111
mg
(11%)
Iron:
2
mg
(11%)