Enjoy this simple and tasty Immune System Booster smoothie that's packed with vitamin C, healing herbs and essential vitamins and minerals. You can drink it daily since it's packed with immune system booster foods that support immunity.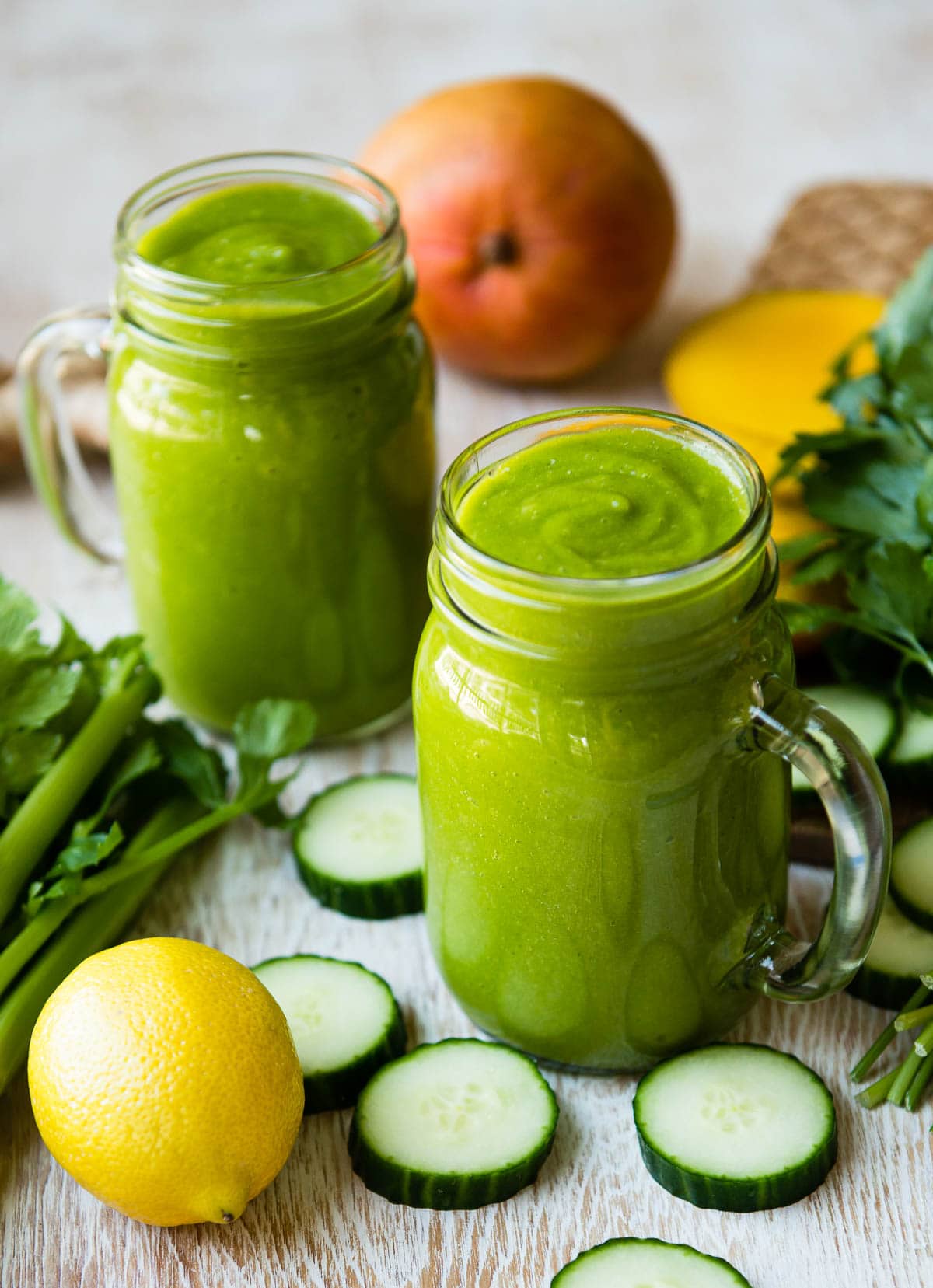 Getting sick is no fun at all. It can mean missing work or activities; plus, who wants to feel yucky anyway? Not us! Let's talk about how to boost your immune system quickly using whole foods and then give this Mango Ginger Immune Boost Recipe a blend. It was submitted by one of our community rawkstars, Gregory!
I love using natural remedies to ward off sickness and this smoothie is a great place to start.
Table of Contents
Immune System Booster Smoothie Ingredients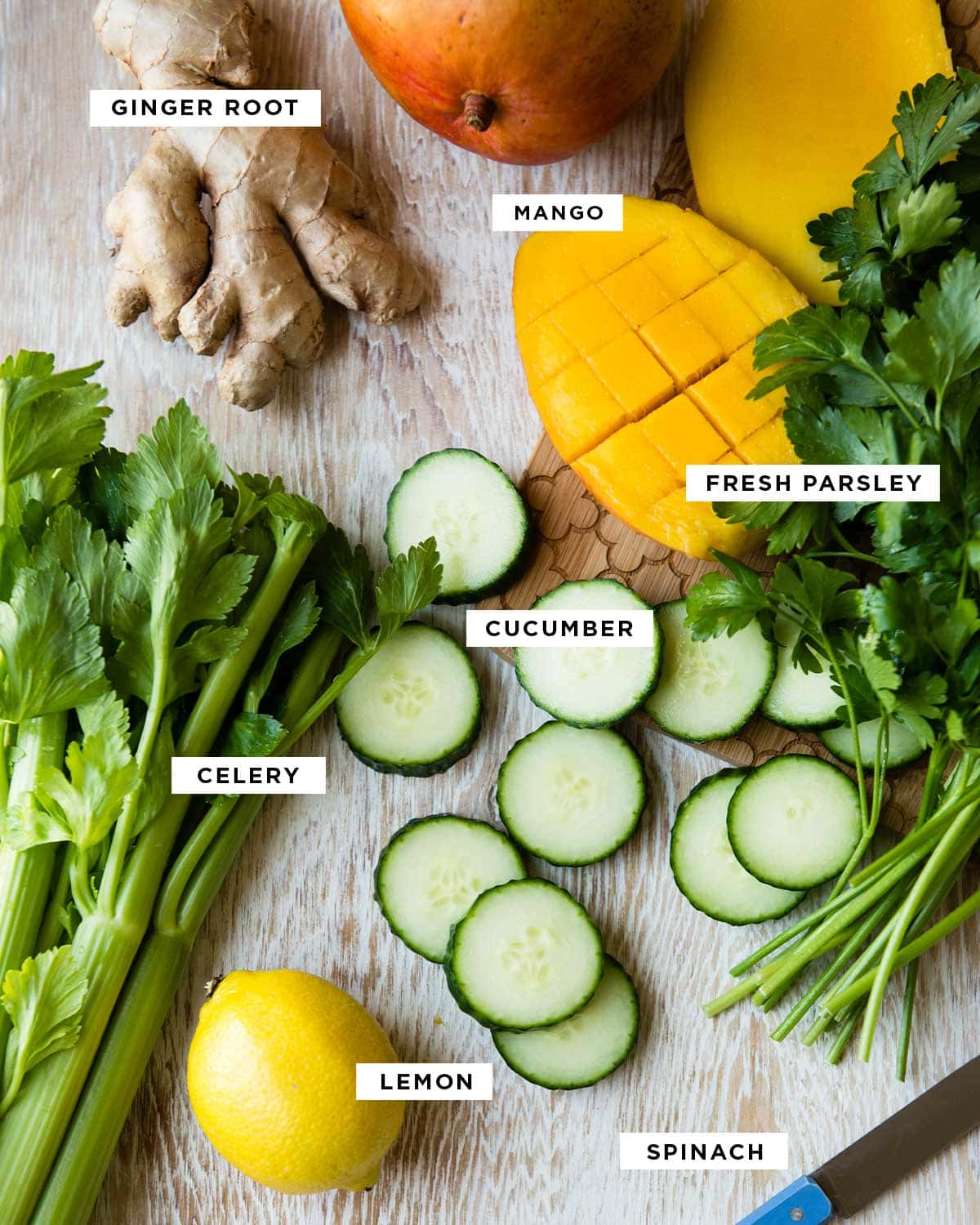 A vibrant, refreshing smoothie with ingredients uniquely chosen for their nutrient-dense magic? Sign me up! Here's what I'm blending (and why):
More Immune-Supporting Foods
If you're looking to stay as healthy as possible this season, focus on consuming these foods on a regular basis. You'll find fewer illnesses hitting your household and the ones that do won't hit you as hard or as long if you start fighting back now.
| | |
| --- | --- |
| Berries | Fresh Spices |
| Leafy Greens | Citrus Fruit |
| Nuts | Red Fruits/Veggies |
| Seeds | Fresh Herbs |
How to Boost Your System Quickly
When I prioritize my health before illness hits, I find I have a better chance of being less sick or not sick at all, even during the hardest months of the year. Here's how I choose to give my body a fighting chance during cold and flu season:
Daily green smoothies: No matter what the day brings, I know I'm starting it the right way with a green smoothie. (If you want a warmer option for winter, try a warm smoothie!)
Immune system booster foods: I take the above list seriously when it comes to shopping and cooking throughout the winter months.
Sleep: Take advantage of the shorter sunlight hours and give yourself the gift of sleep. If quality sleep is hard to come by then try a few sleep tips.
Exercise: When life gets busy, exercise is harder to come by. Setting aside 30 minutes during my lunch break to move (walk, run or yoga) helps make it easier to move my body.
Natural remedies: At the start of each school year, I make sure I've got the following on hand to help the whole family: fire cider, elderberry syrup, natural vapor rub, and honey lemon ginger tea. These support us in sickness and in health!
Immune System Boost Smoothie Recipe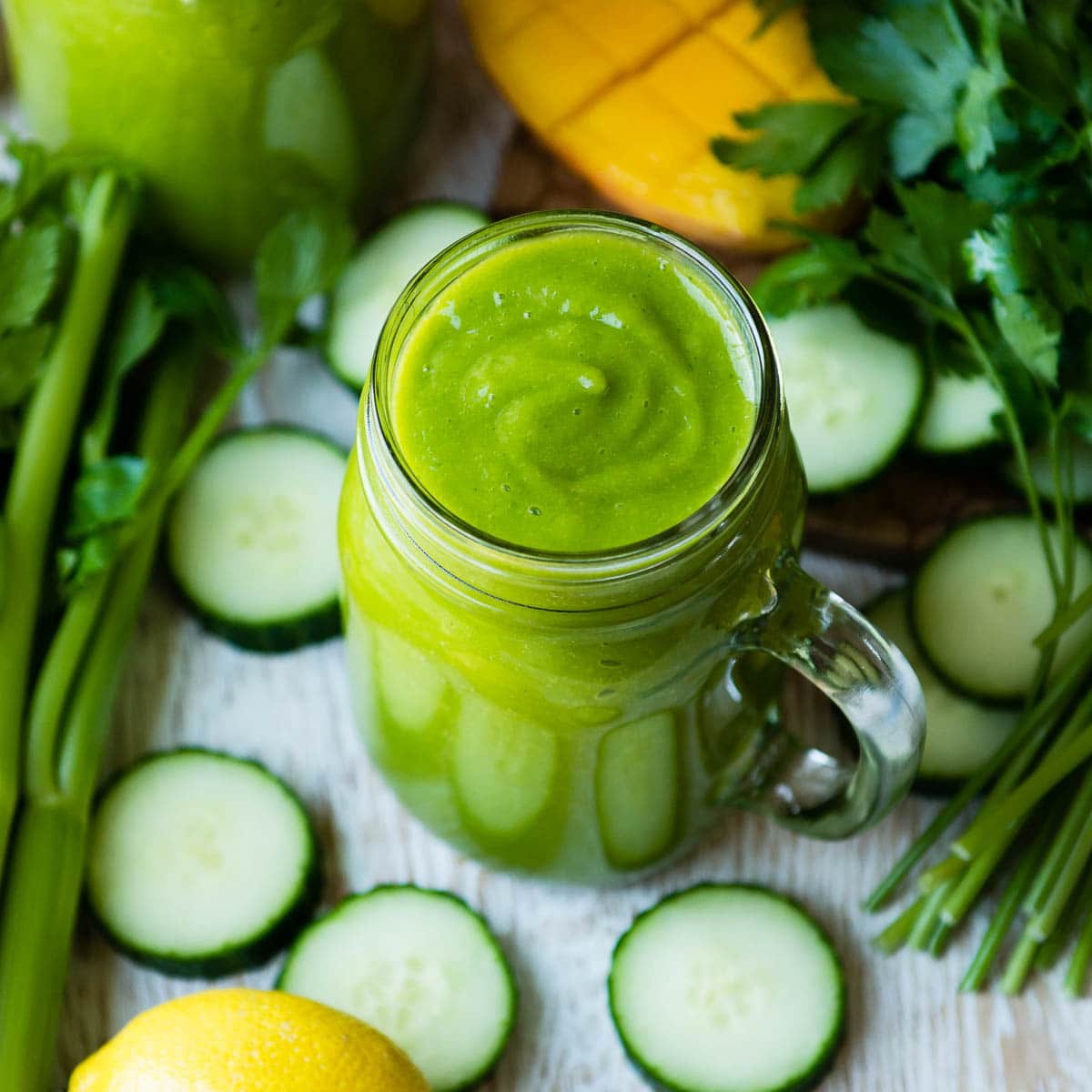 I know this recipe may have some ingredients you aren't used to blending, but don't be afraid to give it a try! Let new flavor combinations surprise your senses and support your body in the best way possible.
Start by blending the leafy greens and liquid. This includes the spinach, celery and parsley leaves. I like to blend these together first since it can take them a while to break down. Feel free to stop your blender and scrape down the sides to make sure you blend all the leafy chunks.
Add the remaining ingredients and blend again until smooth. This will give you the smoothest, most palatable finished product. Make sure you remove any seeds from the lemon and peel the ginger/chop it for the best results.
Pro tip: use fresh parsley and ginger root for this recipe. Dried herbs don't have the same nutritional power that fresh ones do, and you want the most bang for your blend to boost that immune system quickly.
Immune System Booster FAQs
How can I boost my immune system quickly?
Many factors contribute to a healthy immune system: eating a diet rich in whole food, plant-based ingredients, quality sleep, exercise and keeping stress under control. If this sounds like a lot to tackle all at once, I totally get it! Focus on adding more plants to your meals right now, and see if that can help you feel energized and maybe even a little less stressed.
What is the most powerful immune system booster?
Whole food plants packed with vitamin C. Seriously, skip the supplements and focus on adding fruits and vegetables like citrus fruits, strawberries, dark leafy greens, tomatoes, cauliflower and more.
Does boosting your immune system work?
While you can't actually 'change' your immune system, you CAN do a lot to support it… or not. Focusing on a plant-rich diet, quality sleep and daily exercise (even light!) can help your immune system perform at its best.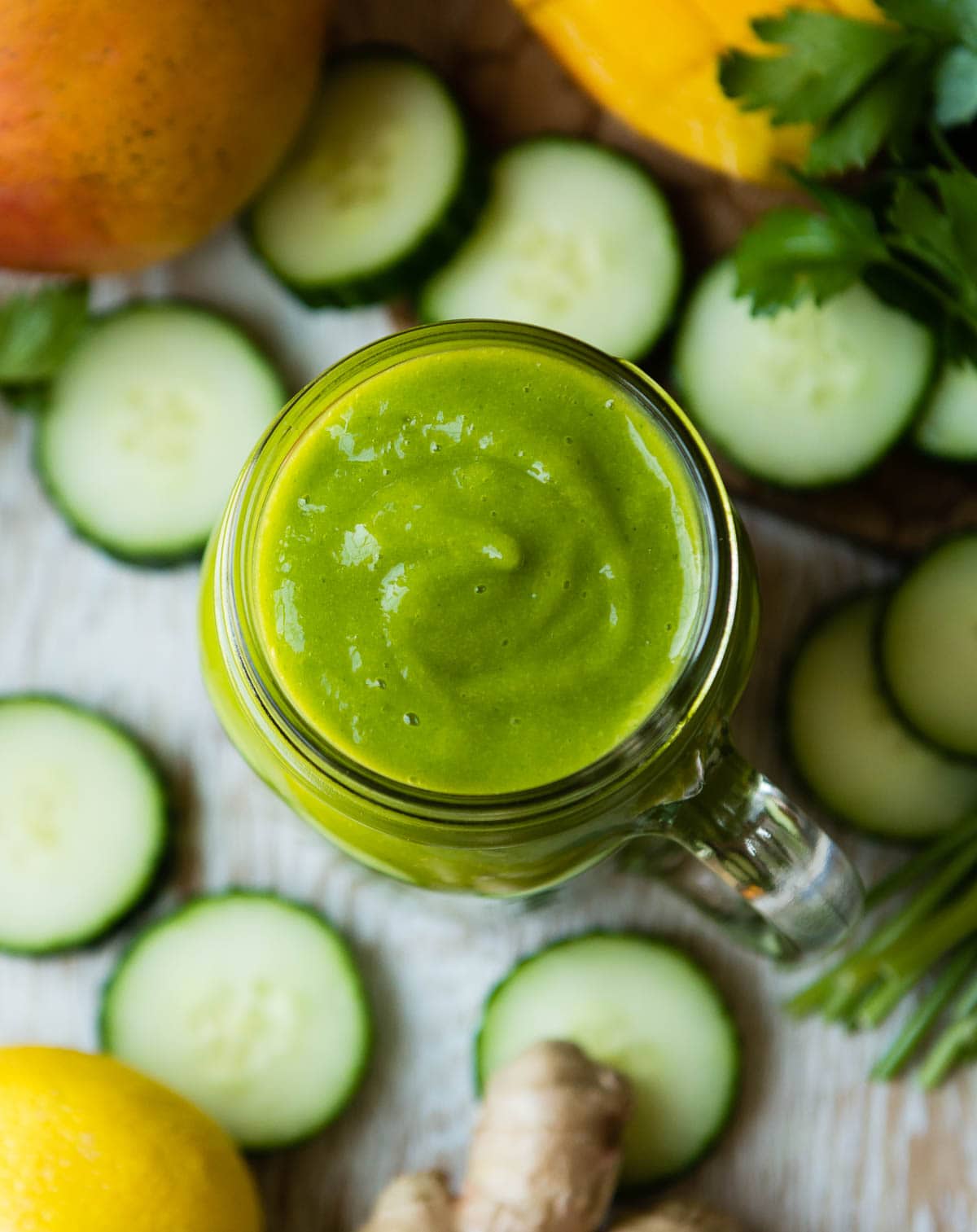 More Supportive Smoothies
Try these incredible recipes, all uniquely created to help support your body in various ways:
Don't forget to leave a rating and review after you've given this fantastic smoothie a sip! I love hearing what you think of these creations.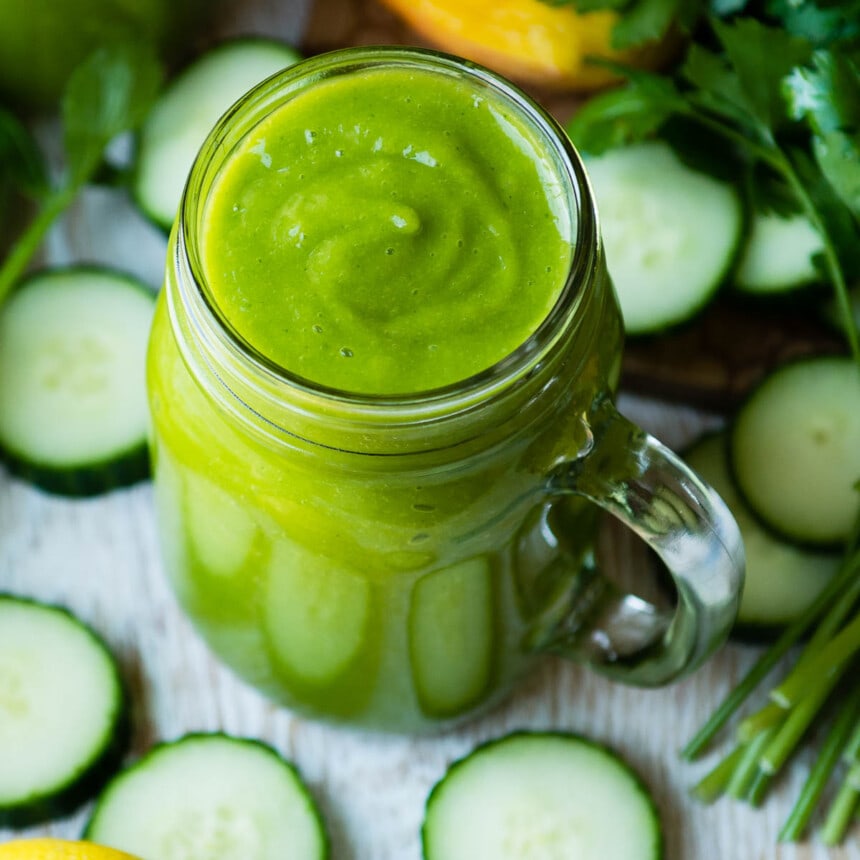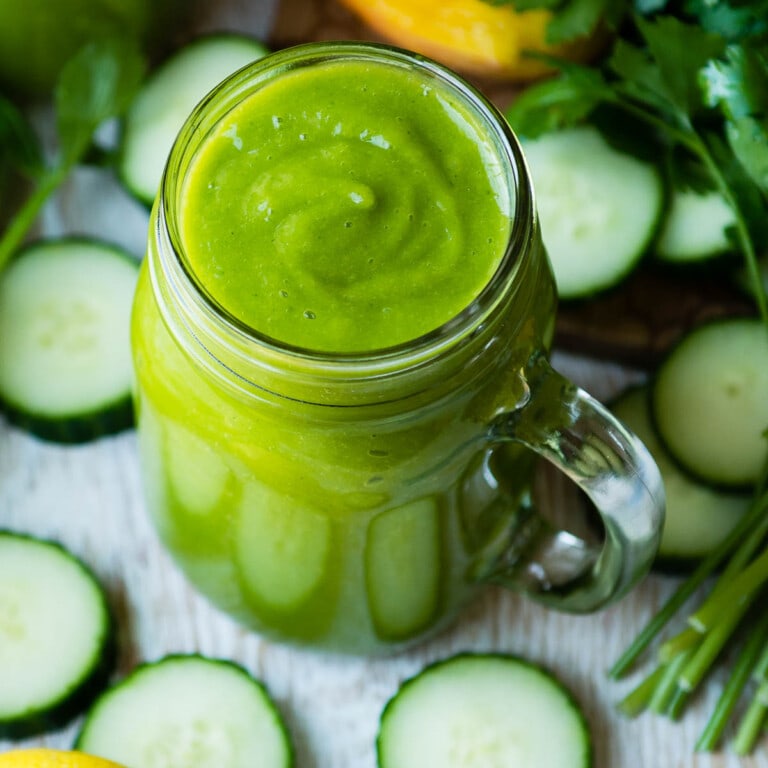 Healthy Immune System Booster
Want a great smoothie recipe to help you boost your immune system?  This Healthy Immune System Booster uses mangos, parsley, celery, lemon, cucumber, spinach and ginger. 
Ingredients
¾

cups

spinach

½

stalk

celery

2

tbsp

fresh parsley

leaves only

1

cup

water

½

cucumber

peeled

¼

inch

ginger root

peeled and diced

1 ½

cups

mango

frozen

½

lemon

peeled and seeded

1

serving

homemade protein powder

optional
Instructions
Blend spinach, celery, parsley and water until smooth.

Add the remaining ingredients and blend again.
Notes
Use frozen mango to make a refreshingly cool smoothie.
Boost this smoothie with one serving of plant-based protein powder to help your body more easily process the natural fruit sugars. 
The stems of parsley are bitter and harder to blend smoothly. Use just leaves to make blending easier. 
Swap spinach with the leafy green of your choice. 
Nutrition
Calories:
194
kcal
,
Carbohydrates:
48
g
,
Protein:
5
g
,
Fat:
2
g
,
Saturated Fat:
0.3
g
,
Polyunsaturated Fat:
0.3
g
,
Monounsaturated Fat:
0.4
g
,
Sodium:
57
mg
,
Potassium:
923
mg
,
Fiber:
8
g
,
Sugar:
38
g
,
Vitamin A:
5671
IU
,
Vitamin C:
141
mg
,
Calcium:
111
mg
,
Iron:
2
mg