Peaches are one of summer's best gifts, and a fresh peach smoothie is the cream of the crop. I love taking my kids to pick ripe, juicy peaches directly from the trees. And it's not just because I love that they directly connect with where their food comes from and who produces or grows it, but it's so much fun! Because we end up with a plethora of peaches, I often get them ready for the freezer so I can enjoy a refreshing peach smoothie all year long.
Looking for smoothies to help with weight loss or enjoy as a meal? Just add a serving of my homemade protein powder to turn this Summer Peach Smoothie into a meal replacement smoothie.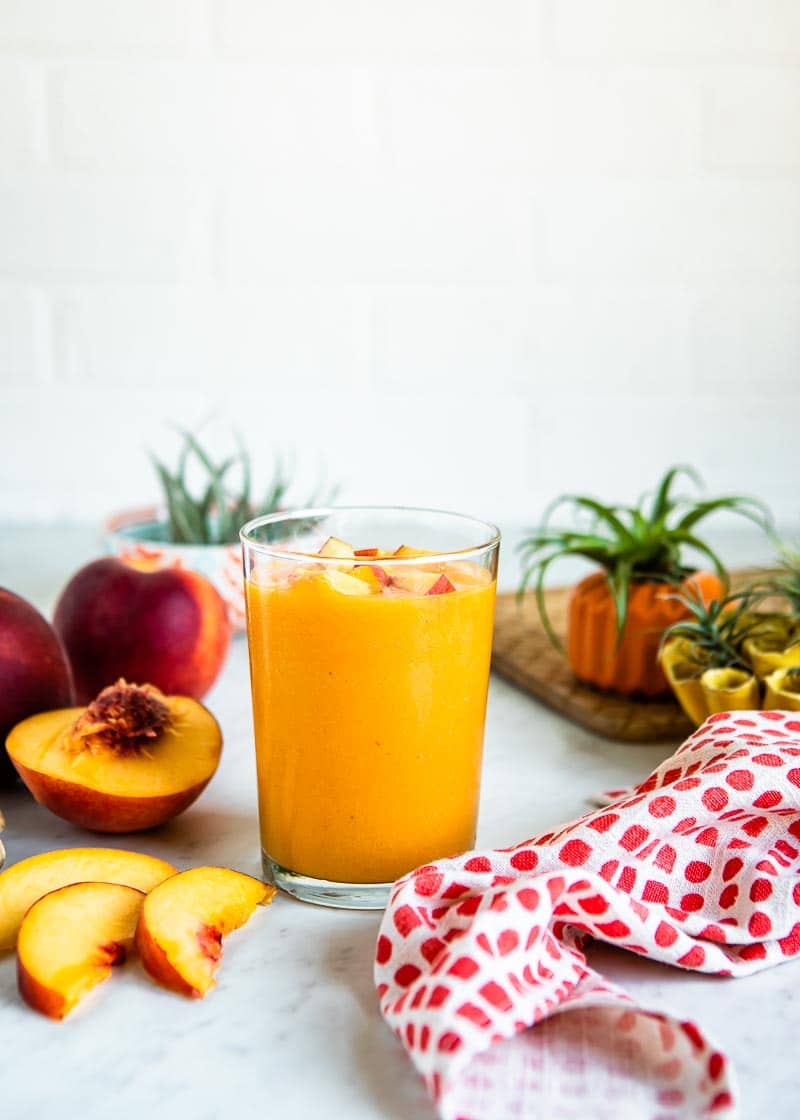 Should I peel a peach for a smoothie?
To peel or not to peel…that's a great question! For me it comes down to preference. The fuzzy peach peel won't hurt you, certainly, but it may affect the texture or smoothness of your peach smoothie. Another thought – if using a conventional peach rather than organic, it's important to peel to remove any pesticide residue. But again, that's personal preference.
Ready for me to blow your mind? Did you know that nectarines are basically just non-fuzzy peaches? It's true! So if you don't like dealing with peach peels, but don't mind fruit peels, pick up some nectarines and use those instead!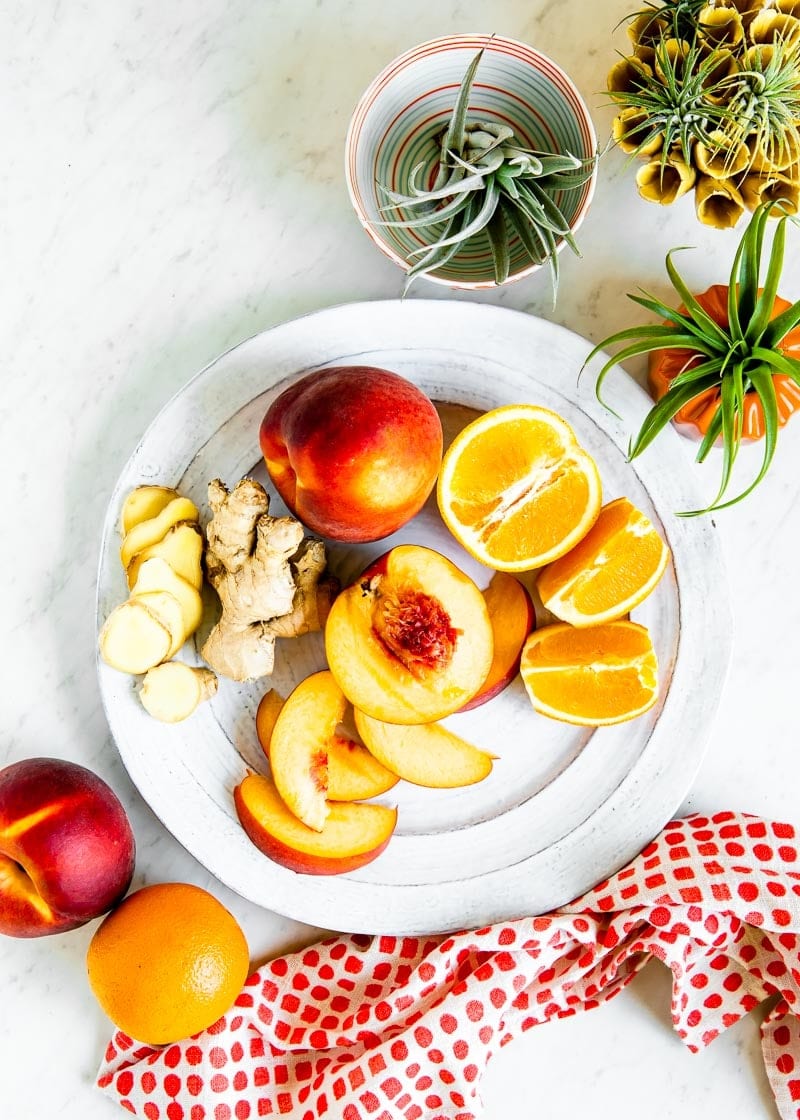 What is the best liquid to put in a smoothie?
We love changing up our smoothie liquid bases. You can read more about our favorites in this blog post. We are using a combo of water and half an orange as our liquid base for our peach smoothie. Feel free to switch things up and use coconut water or milk, almond milk, oat milk, or any other liquid non-dairy milk of choice.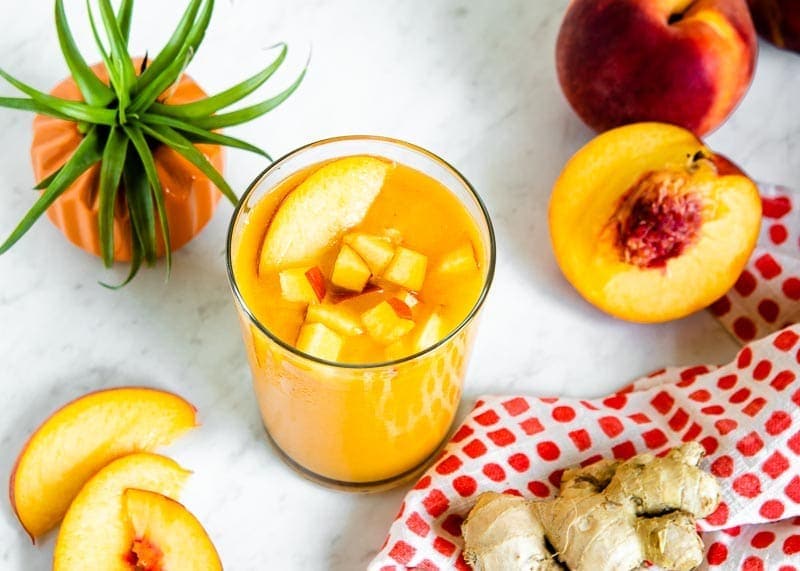 What goes well with peaches?
I think a better question is: what's NOT good with peaches? Ha! Peach season is short and sweet. Peaches go well with all different types of fruits from citrus, tropical, berries, melons, and everything in between. It never hurts to experiment a little to find your perfect blend. So in addition to this gorgeous fresh peach smoothie, here are a few peach combos that we love to blend:
How do you cut a peach for a smoothie?
You can cut or slice peaches however you'd like for your smoothie. We love the convenience of buying frozen sliced peaches when it's not peach season. During peach season, I'll typically buy a bunch of peaches, peel and slice them, then freeze them before transferring them to an airtight container for storing. Or because fresh peaches are fairly soft and juicy, most blenders don't have a difficult time blending them. Just slice 'em and toss them into the blender jar.
Frozen peaches could cause potential problems. If you know your blender is going to struggle, try dicing the peaches before tossing them into the blender. If you're using frozen sliced peaches, just let them thaw a bit, then use a paring knife to cut them into smaller pieces. We do recommend slicing or dicing for easier blending no matter which blender you're using.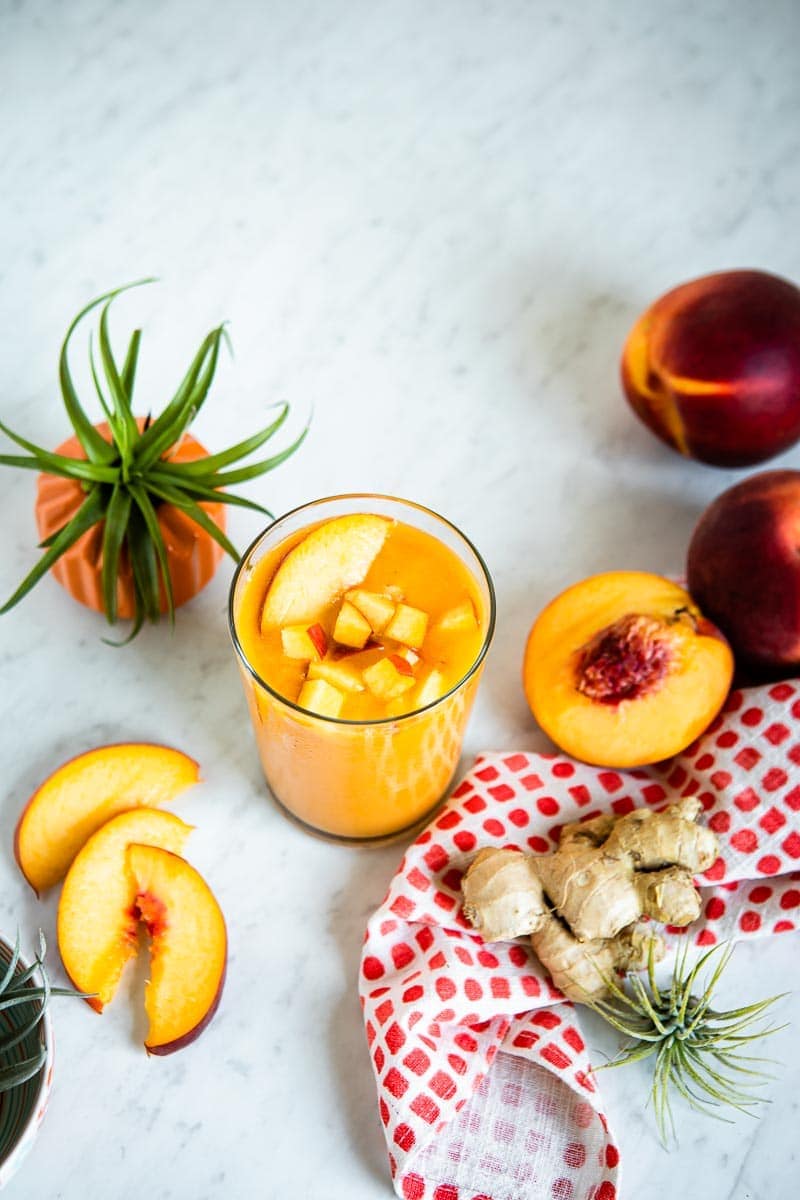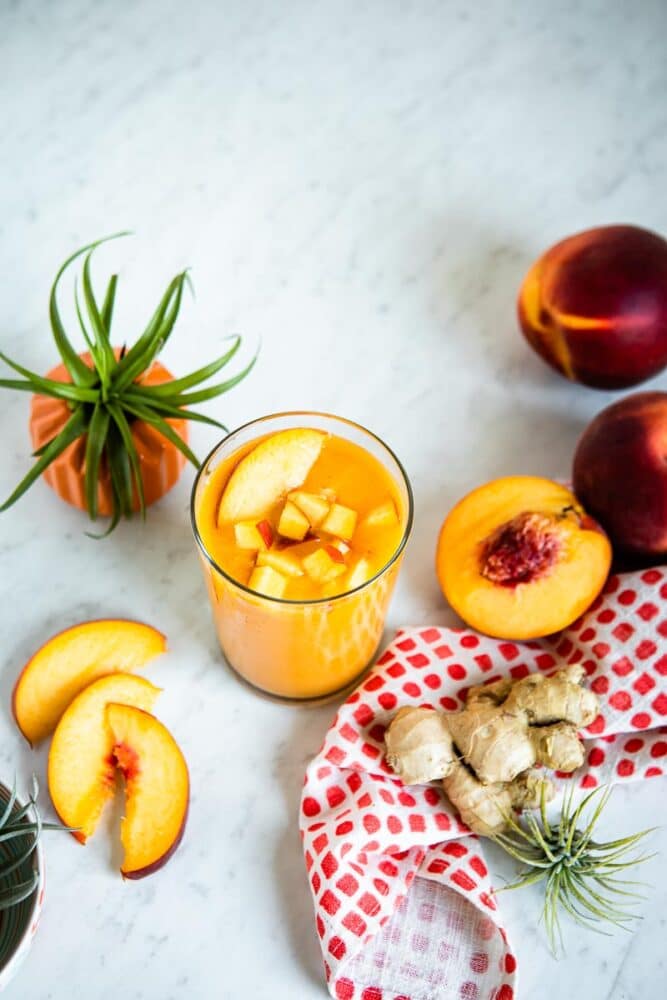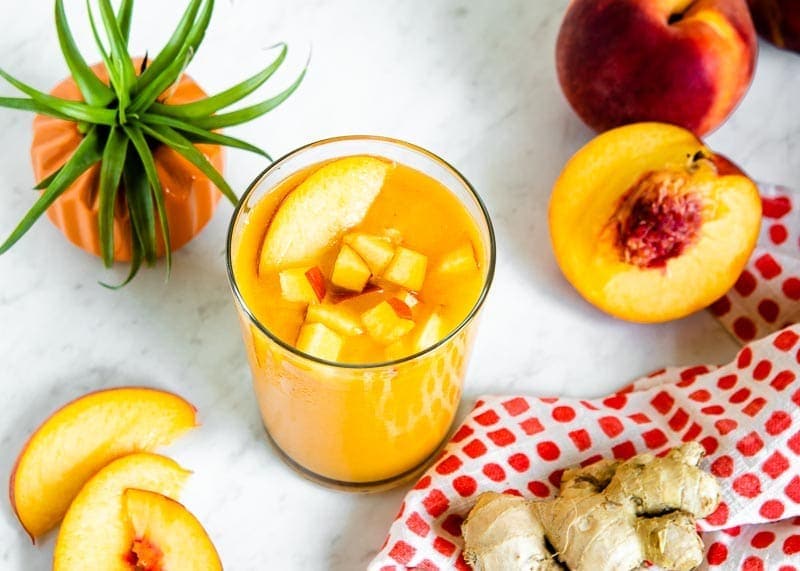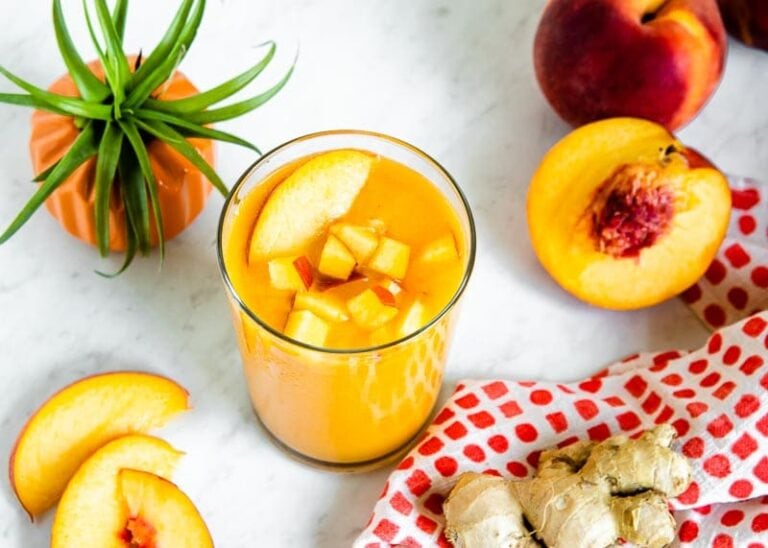 Peach Smoothie
Peach season is one of my favorites! Whether you've got more fresh peaches than you know what to do with, a bag of frozen slices in the freezer, or just a hankering for something peachy, this peach smoothie is sure to hit the spot. 
Ingredients
½

orange

peeled

½

cup

water

1 ½

cups

peach

frozen

1

tsp

ginger root

finely minced

1

serving

homemade protein powder

optional
Instructions
PLACE ingredients into blender in order listed.

BLEND until smooth. Add a little water, if needed, to facilitate blending.

POUR into a glass and serve immediately.
Notes
Other stone fruit can be substituted for the peaches such as plums, nectarines, apricots, pluots, etc.
Omit ginger and add a good pinch of nutmeg and cinnamon for a smoothie that tastes reminiscent of peach pie.
Nutrition
Calories:
122
kcal
,
Carbohydrates:
30
g
,
Protein:
3
g
,
Fat:
1
g
,
Saturated Fat:
1
g
,
Polyunsaturated Fat:
1
g
,
Monounsaturated Fat:
1
g
,
Sodium:
6
mg
,
Potassium:
566
mg
,
Fiber:
5
g
,
Sugar:
26
g
,
Vitamin A:
900
IU
,
Vitamin C:
50
mg
,
Calcium:
44
mg
,
Iron:
1
mg