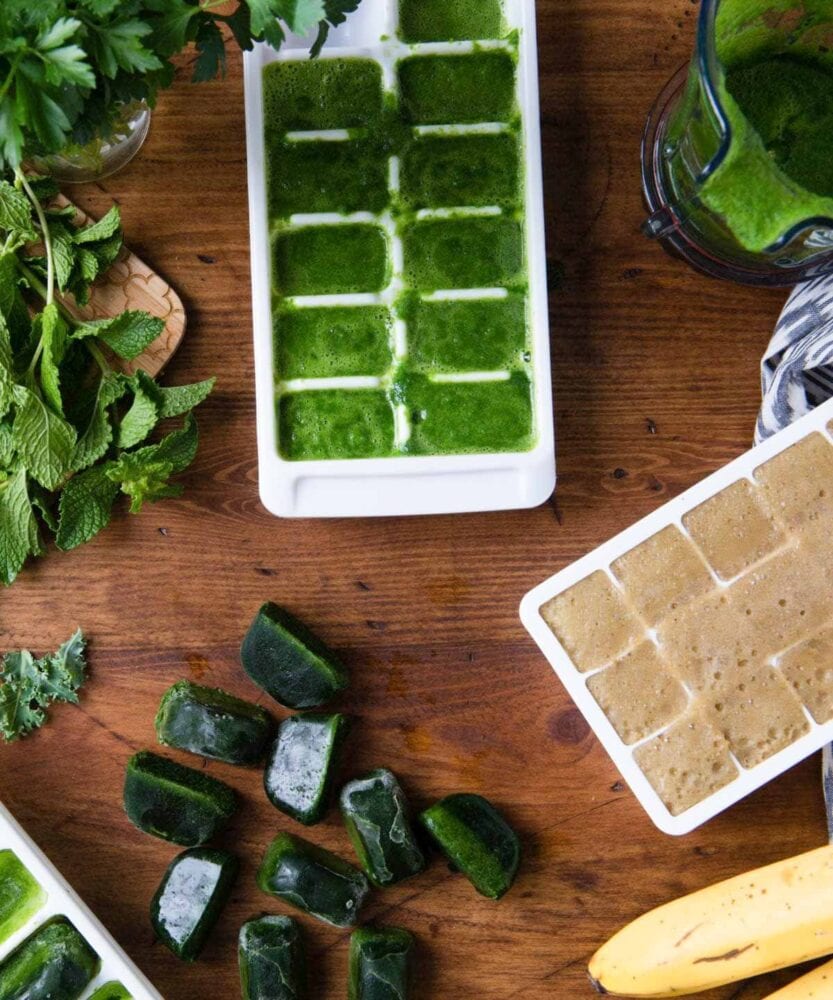 Leafy greens have some pretty amazing superpowers, nutritionally speaking, but they don't stay fresh for long. I'm going to show you how to freeze spinach (or any other leafy green), and get 10x it's shelf life! Never let that beautiful bag of fresh spinach go to waste again.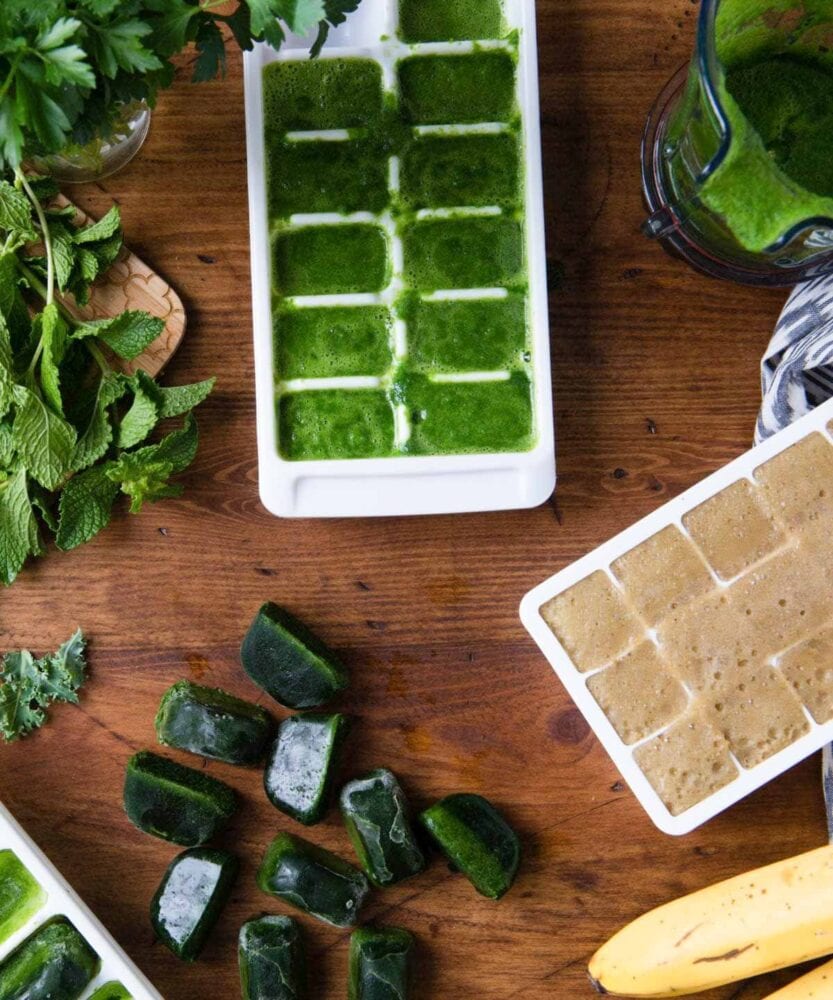 Why should I freeze spinach?
Unless you buy spinach by the cup-full every day for your green smoothie (or pick from your garden), you probably buy it in bunches. Or like me, in Costco-sized containers/bags. It starts out crisp and fresh, yet after only a few days, starts to wilt… and smell funky. I used to throw out half bags of spinach all the time, because I couldn't get through it fast enough.
Simply tossing a bag in the freezer doesn't help either! The leaves in the middle don't freeze right, plus freezer burn is always an issue. So I learned how to freeze fresh spinach, because I was sick of wasting money + time on something that didn't last.
Concerned about the loss of nutrition from freezing spinach? Read on…
Fresh vs frozen spinach
I often get emails asking about how to use frozen fruit and veggies while still getting the most in the way of nutrients. The truth is, frozen produce is often less expensive than fresh. It's also frozen at peak freshness, making it even fresher + more nutrient dense than some of the fresh produce at the grocery store.
My best advice is to buy produce fresh in its season, then freeze it to retain almost all those precious nutrients. Even if you grow your own leafy greens, you can prolong the shelf life by learning how to freeze them properly.
This spinach freezing hack may not be for everyone, but if you're planning on blending your greens then I've got two words for you: spinach cubes.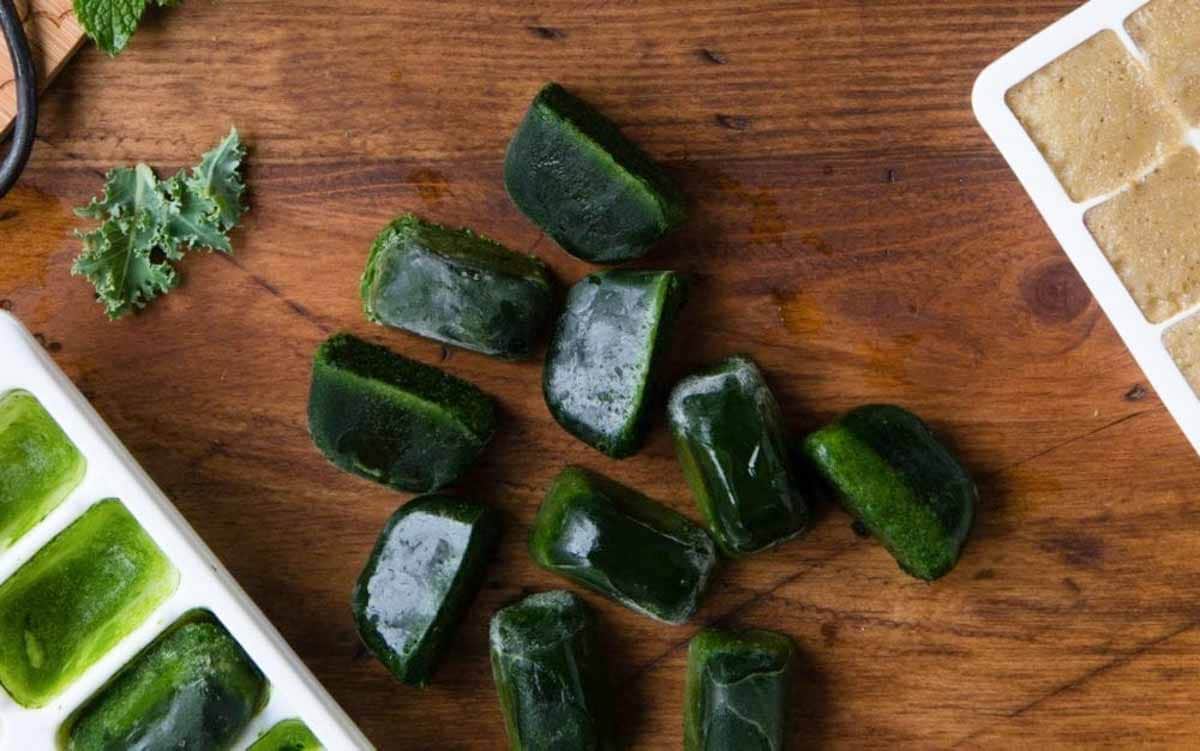 How to freeze spinach:
Following these simple steps can literally make your spinach (and other leafy greens) last 10x longer. Try to use as many fresh leafy greens as possible, but if they're getting close to the expiration date then make these cubes:
Blend 2 cups of leafy greens (about two handfuls) in a blender with 1/2 cup liquid (preferably water, but a touch of lemon juice can help). It's done when it reaches a juice-like consistency… the goal is no leafy chunks!
Pour contents into an ice cube tray, then freeze. Make sure the tray is level in the freezer.
Store the frozen cubes in a freezer-safe container. I use gallon silicone ziplock bags for zero freezer burn.
And that's how to freeze spinach! You can follow these same steps for kale, chard, romaine, cabbage, and even herbs. I don't typically recommend adding ice to your smoothies because it dulls your blender blades, as well as causes the motor to work extra hard, yet these cube recipes are the exception to the rule.
FAQs
Can you freeze spinach without cooking it? Yes! No need to cook fresh spinach before freezing it. Fresh spinach is also more nutrient dense, so freezing fresh spinach holds in more nutrients than freezing cooked spinach.
Do you have to blanch spinach before freezing it? Nope! No need to blanch before freezing. Fresh spinach easily blends in water, and since it is getting blended into a smoothie at some point, then that alone negates any need to blanch.
Can I freeze bagged spinach? You sure can. The bagged spinach from Costco freezes just as well as the fresh spinach from the roadside stand. Just give the bag a sniff test before starting to blend, to make sure it's still fresh.
Fav spinach smoothies
Now that you've got a freezer full of spinach cubes, here are some great recipes to try:
What are some of your fav spinach smoothie recipes? Leave a comment letting me know! And don't forget to share how to freeze fresh spinach with your friends, so no one has to experience spinach buyer's remorse again!
Print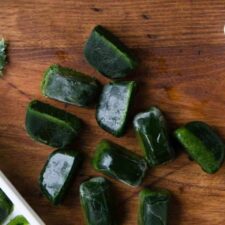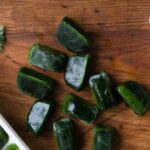 How to Freeze Spinach (or any other leafy green)
---
Description
Skip the half rotten bags of leafy greens! Freezing greens is an easy (and economical) way to save every last stem of spinach.
---
2 cups

of spinach

1/2 cups

of water
---
Instructions
Blend spinach and water until no leafy chunks remain.
Pour contents into an ice cube tray, then freeze. Make sure tray is level in freezer.
Store the frozen cubes in a freezer-safe container until ready to use in a smoothie.
Notes
*This process can be applied to any leafy green, so go crazy! 
*I store my cubes in gallon sized silicone freezer bags to avoid any freezer burn.
Category:

Smoothie

Method:

Blending

Cuisine:

Healthy
Keywords: how to freeze spinach, freezing leafy greens, spinach cubes
Find more smoothie recipes
Need some green smoothie recipes to help boost your leafy green consumption? I've got a green smoothie recipe app—Daily Blends—with 100+ recipes, recipe categories, shopping list builder, and ingredient bar (recipe finder based on ingredients in your home)!