I live for pomegranate season, and get super excited to make a lovely pomegranate smoothie. 'Tis the season for a whole new fruit and veggie palate, and all the goodness that comes with these fresh, new ingredients.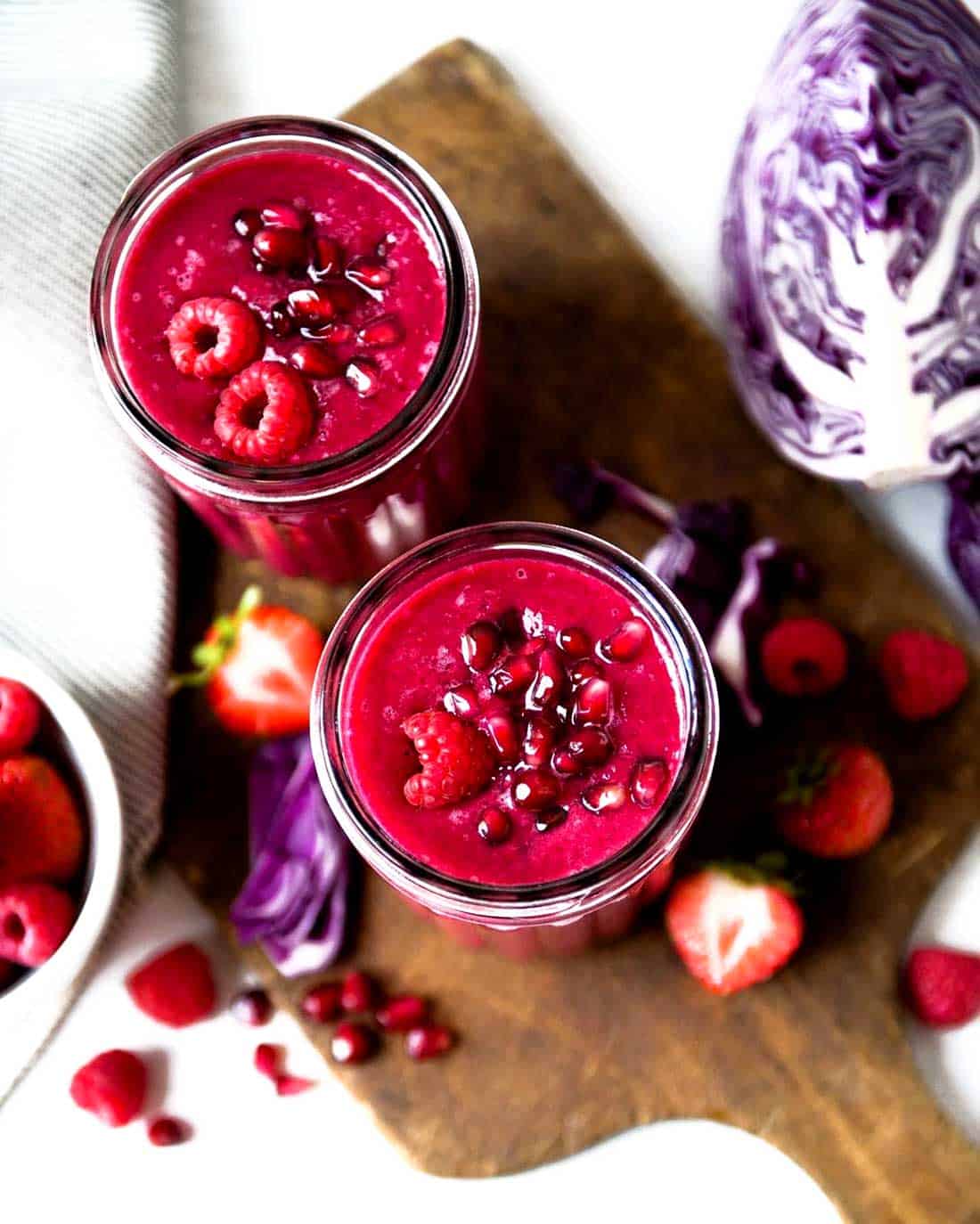 Today's smoothie recipe is loaded with healthy benefits that will leave us glowing from the inside out. These antioxidant gems make an energizing pomegranate smoothie in just minutes.
Table of Contents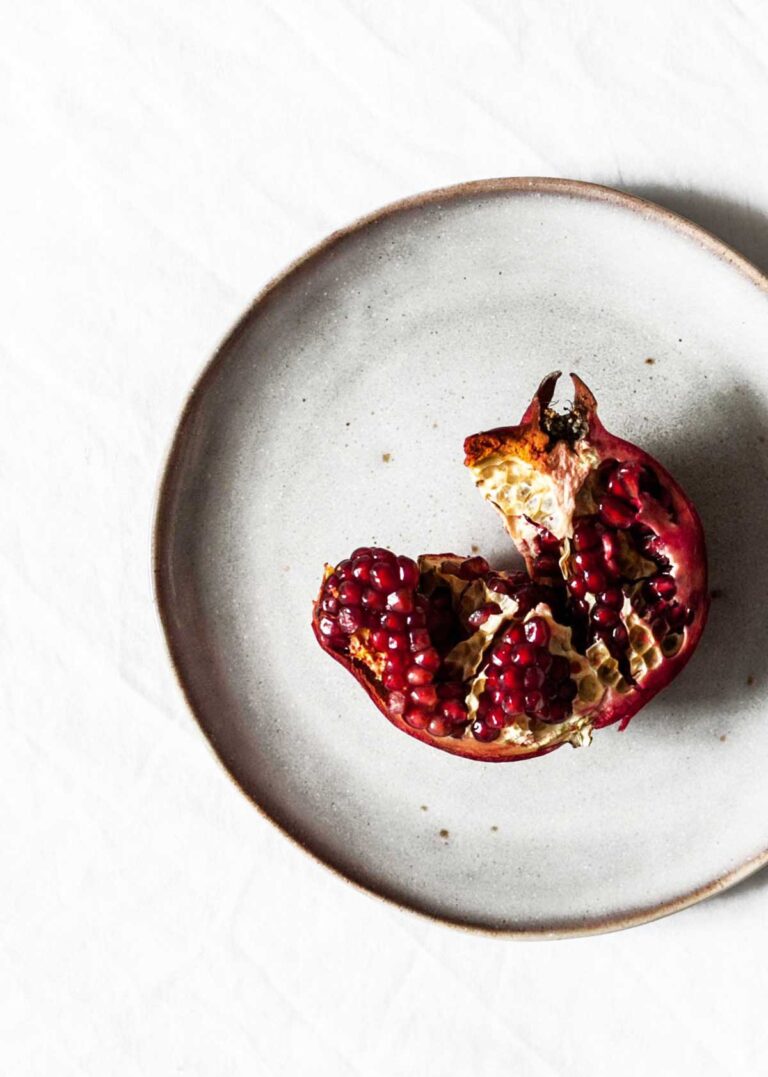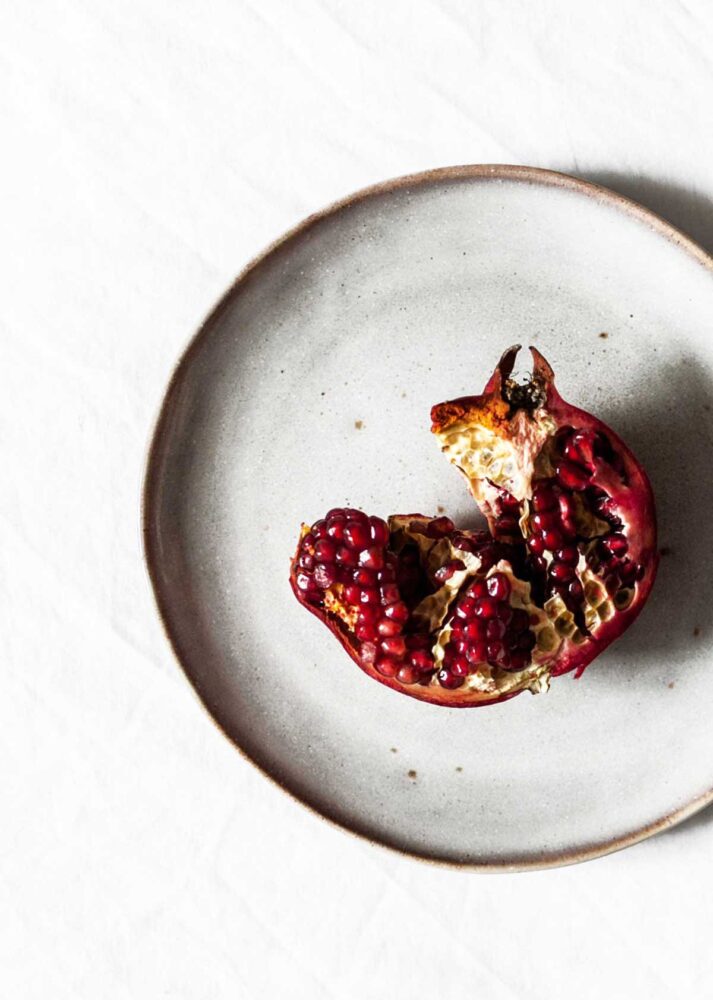 Pomegranate is a Superfood
Pomegranate benefits our whole bodies in one way or another, and we'd love to share the top reasons why this superfood is the star of this smoothie recipe: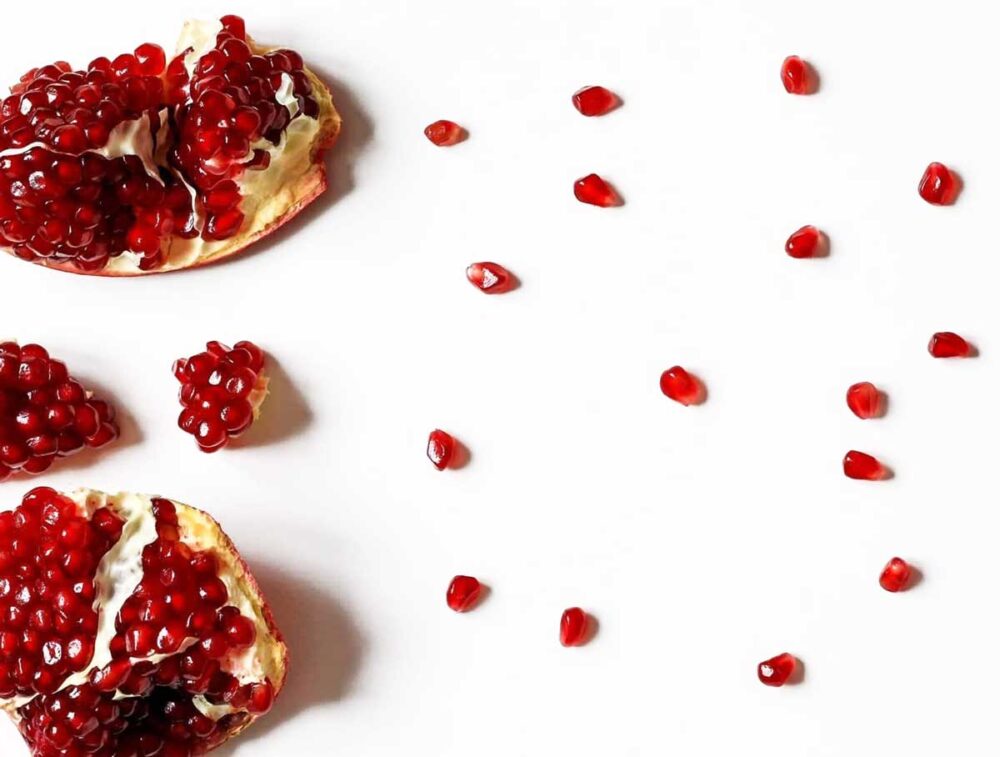 Pomegranates have three times more antioxidants than red wine and green tea. Antioxidants can remove free radicals, protect cells from all kinds of damage, and reduce inflammation.
One piece of this fruit contains over 40% of the daily requirement of Vitamin C. Hello immune boost!
Research from the US National Library of Medicine shows pomegranate aggressively fights various types of cancer cells.
Digestion can improve through its anti-inflammatory properties, even in auto immune diseases such as Crohn's disease and ulcerative colitis.
Reduces inflammation contributing to arthritis.
Can lower blood pressure
It is rich in vitamins C, E, and K giving it powerful antibacterial and antiviral properties.
Has been linked to improvements in memory when drinking 8 oz of pomegranate juice daily.
The list of pomegranate benefits is seemingly endless, which is why we made this smoothie recipe! Civilizations have used this fruit for centuries in medicinal remedies. It is no accident that this fruit comes into season at the height of cold and flu outbreaks.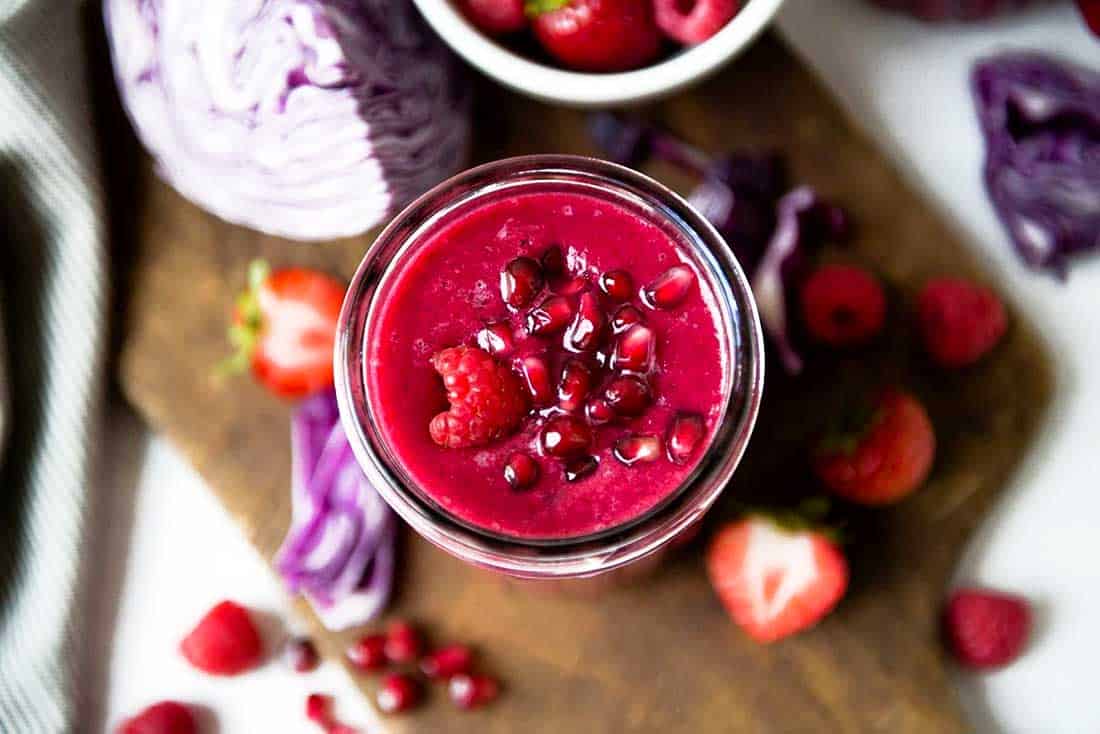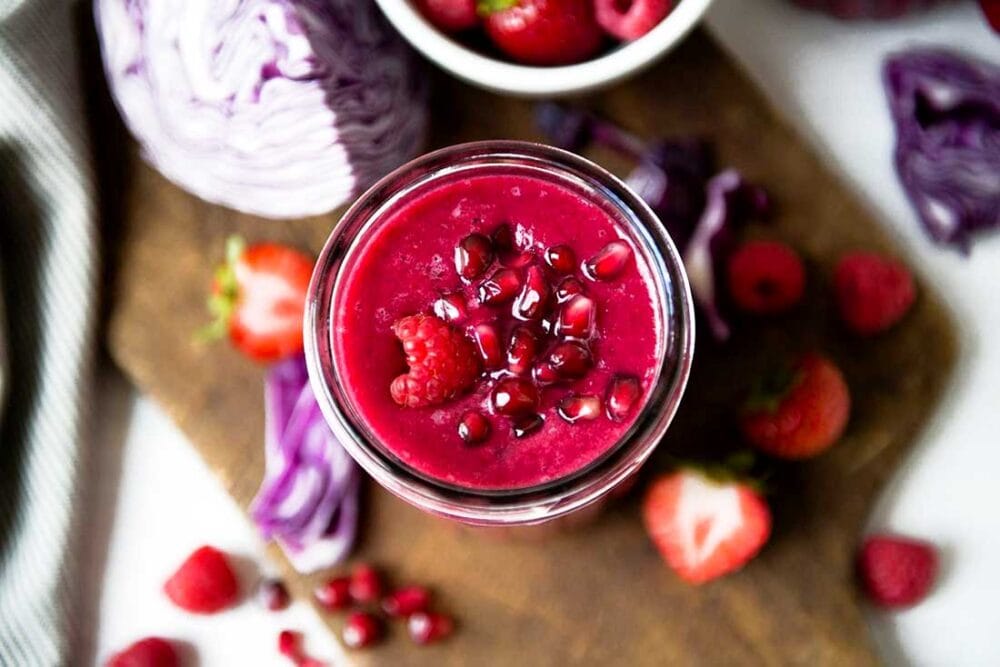 How to Cut a Pomegranate
While we LOVE this great fruit and all the incredible benefits, how the heck do you get it open?! Pomegranates are a little weird in that we can't just peel or slice to get to the juicy good parts. Here is a short tutorial on how to de-seed a pomegranate.
Follow these steps for the least amount of mess and the biggest yield:
Cut the fruit directly in half 'hamburger style.'
Holding the fruit seed side down over a bowl, use a wooden spoon or flat, sturdy spatula and whack the fruit.
Repeat with the other half.
How to Blend Pomegranate Seeds
Having a high powered blender will make all the difference when blending these heart seeds. I suggest adding them with your leafy greens and liquid base to blend them the most. Then add the other ingredients and blend again. This is the key to making a smooth pomegranate smoothie.
Looking for even more great recipes with pomegranate benefits? Try our great Antioxidant Berry Smoothie Cubes.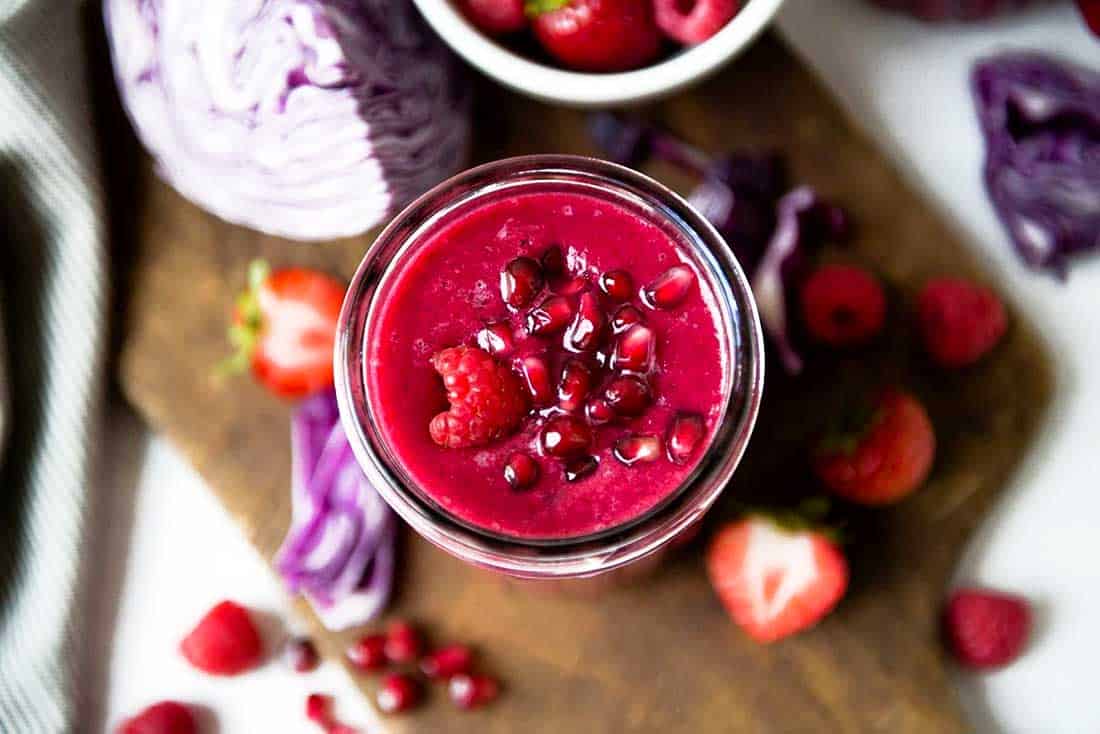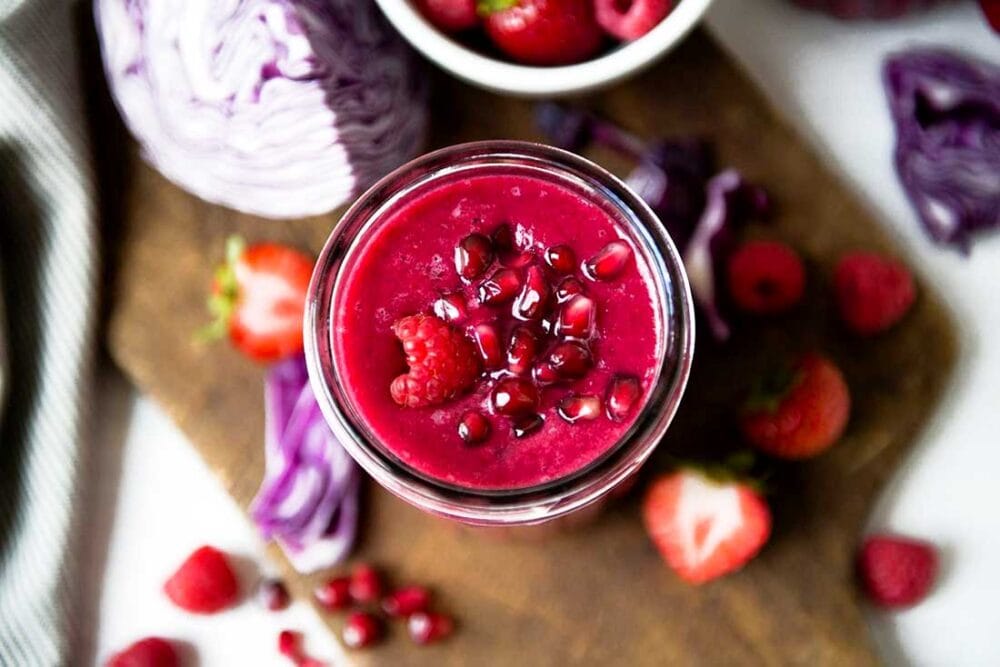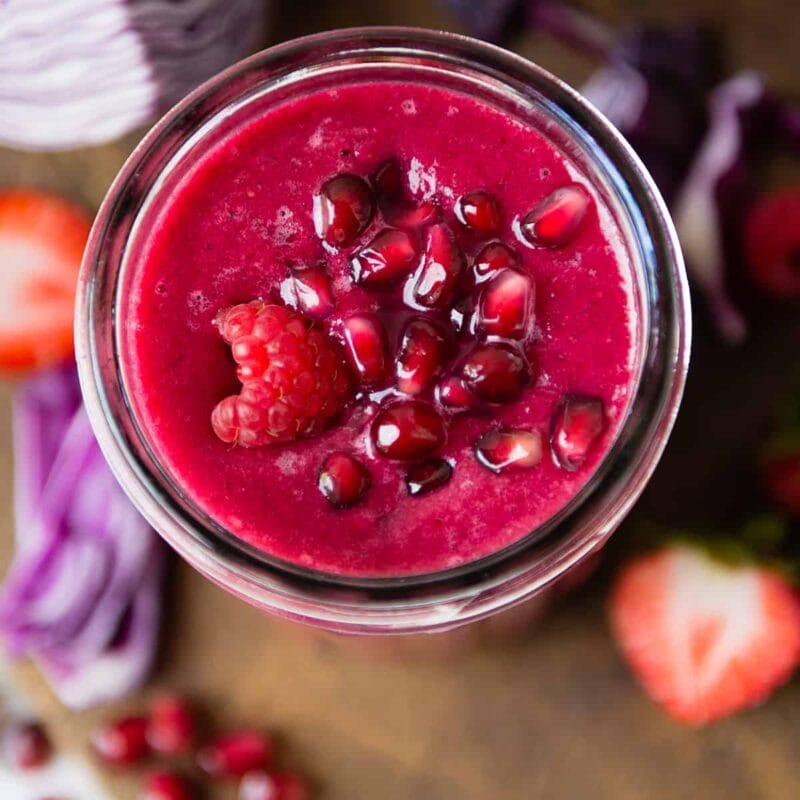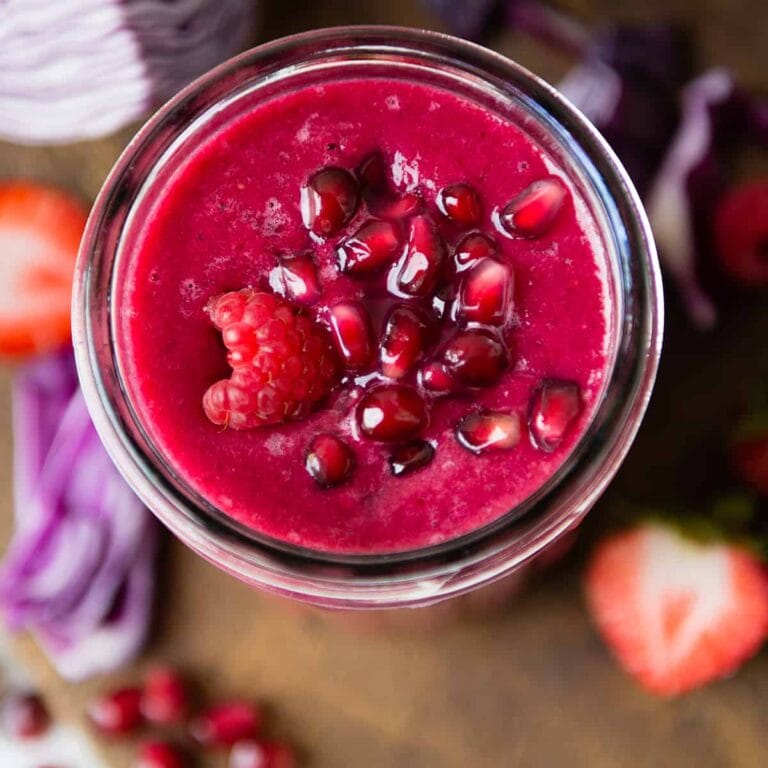 Healthy Pomegranate Smoothie
Try this pomegranate smoothie recipe to give your body an immunity boost and some great energy for the busy day ahead.
Ingredients
1

cup

red cabbage

chopped

½

cup

water

chilled

½

cup

pomegranate seeds

2

tbsp

goji berries

soaked in water to soften, if needed

½

cup

strawberries

frozen

½

cup

raspberries

frozen

½

cup

cherries

frozen

1

serving

homemade protein powder

optional
Instructions
Place cabbage, water, pomegranate seeds and goji berries into a blender.

Puree until smooth.

Add the remaining ingredients and blend again until smooth.
Notes
Can substitute pomegranate seeds with 3/4 cup pomegranate juice

Use at least 1 frozen fruit for a refreshingly cool smoothie
Swap out the cabbage for the leafy greens of your choice
Nutrition
Calories:
193
kcal
,
Carbohydrates:
46
g
,
Protein:
5
g
,
Fat:
2
g
,
Saturated Fat:
1
g
,
Polyunsaturated Fat:
1
g
,
Monounsaturated Fat:
1
g
,
Sodium:
34
mg
,
Potassium:
764
mg
,
Fiber:
12
g
,
Sugar:
30
g
,
Vitamin A:
1066
IU
,
Vitamin C:
122
mg
,
Calcium:
87
mg
,
Iron:
2
mg