Non dairy milk is all the rage right now and for good reason. More and more people are discovering sensitives to dairy products. Some of us may not have any dairy allergies, but we realize how much better we feel when limiting dairy in our diets. Just like all other 'healthy foods' sold in grocery stores, non dairy milks are not all created equal. We've curated the perfect (and simple) recipe for a variety of non dairy milks. We can make our milk and drink it too!
Why Say No to Dairy?
While we know not everyone has an issue with dairy, what doesn't kill you doesn't always make you stronger. Dairy does have some nutritional value, yet it seems to do more harm than good:
Daily consumption of milk may increase chances of prostate and ovarian cancers
Simple Green Smoothies has a manifesto that starts with, "I eat real food to fuel my awesome life." While we understand dairy milk is real food, we like to fuel our bodies with foods that energize and give us longevity, not food that slows us down.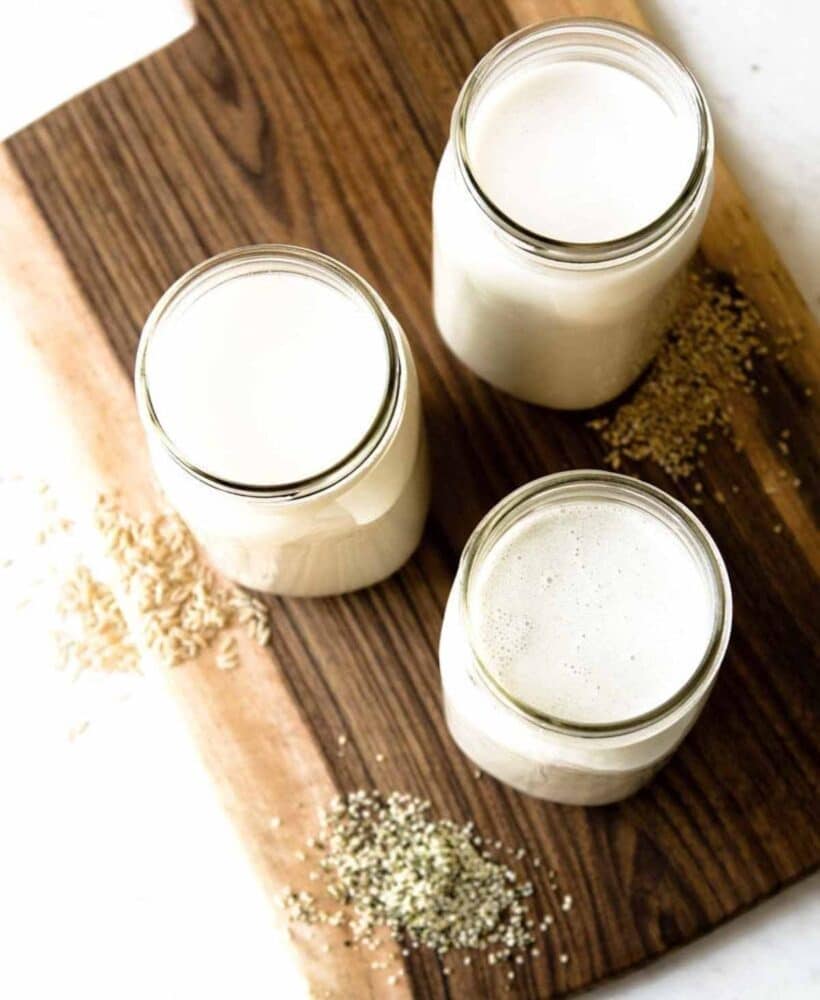 Non Dairy Milk Revolution
So now that we've decided to give non dairy milk a try, how do we know the best option? The great part about this new craze is there are endless plants we can 'milk.' Depending on the meal, smoothie, or baked good we want to make, there is a plant-based milk for it! Cashew milk is super creamy and a great addition to cold brew coffee. Almond milk is full of calcium and delicious on a cold night in our incredible Spiced Almond Milk. Hemp milk is chock full of protein and can provide energy in a post-workout smoothie. The number of options can make us dizzy!
Another great reason to try non dairy milk is the ease in making it at home. A variety of nuts, seeds, and legumes can be used in homemade plant-based milk. We personally love: coconut, almond, hemp, oat, and cashew. Check out the recipe below for the easiest DIY non dairy milk recipe that can be used on any of the above plants.
Print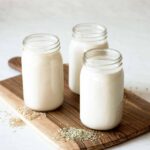 DIY Non Dairy Milk Recipe
---
Author:

Jen Hansard

Prep Time:

10 minutes

Total Time:

10 minutes

Yield:

5 cups

1

x

Diet:

Vegan
Description
There are some delicious dairy-free alternatives that you can whip up in your blender! When making this recipe, you can substitute 1 cup of plants such as oat, rice, hemp, coconut, almond, cashew, etc. You may find yourself doing a little happy dance down your health-food store isle becuase many stores now carry non dairy options. We like easy and we like convenience, but there's nothing more empowering than making your own yummy creation from scratch.
---
1 cup hemp hearts, steel-cut oats*, cooked brown rice, almonds**, or cashews**
3 cups water
1 tablespoon coconut oil (optional)
2 tablespoons maple syrup (optional)
1/2 teaspoon vanilla extract (optional)
Pinch of sea salt
---
Instructions
1. Place the hemp hearts (or soaked steel-cut oats, or cooked brown rice) and water in a high speed blender.
2. Blend on high speed for about 2 minutes, or until fully liquified.
3. Strain through a nut milk bag or cheesecloth into a wide glass bowl.
4. Discard the pulp from the bag.
5. Rinse the blender and pour the milk back into the blender from the bowl.
6. Add the coconut oil, maple syrup, vanilla, and salt. Blend for 10 seconds.
Notes
*Soak steel-cut oats in a covered bowl of water for 20 minutes prior to blending.
**Soak almonds/cashews 8 hours or overnight in 2 inches of water
To make Coconut Milk, click here
Category:

Drinks

Method:

Blending

Cuisine:

American
Keywords: nut milk recipe