Who's ready for some probiotics?! This funky sauerkraut juice smoothie might sound like an odd choice, yet it's full of healthy bacteria your body will love… and trying new smoothies is always a good idea!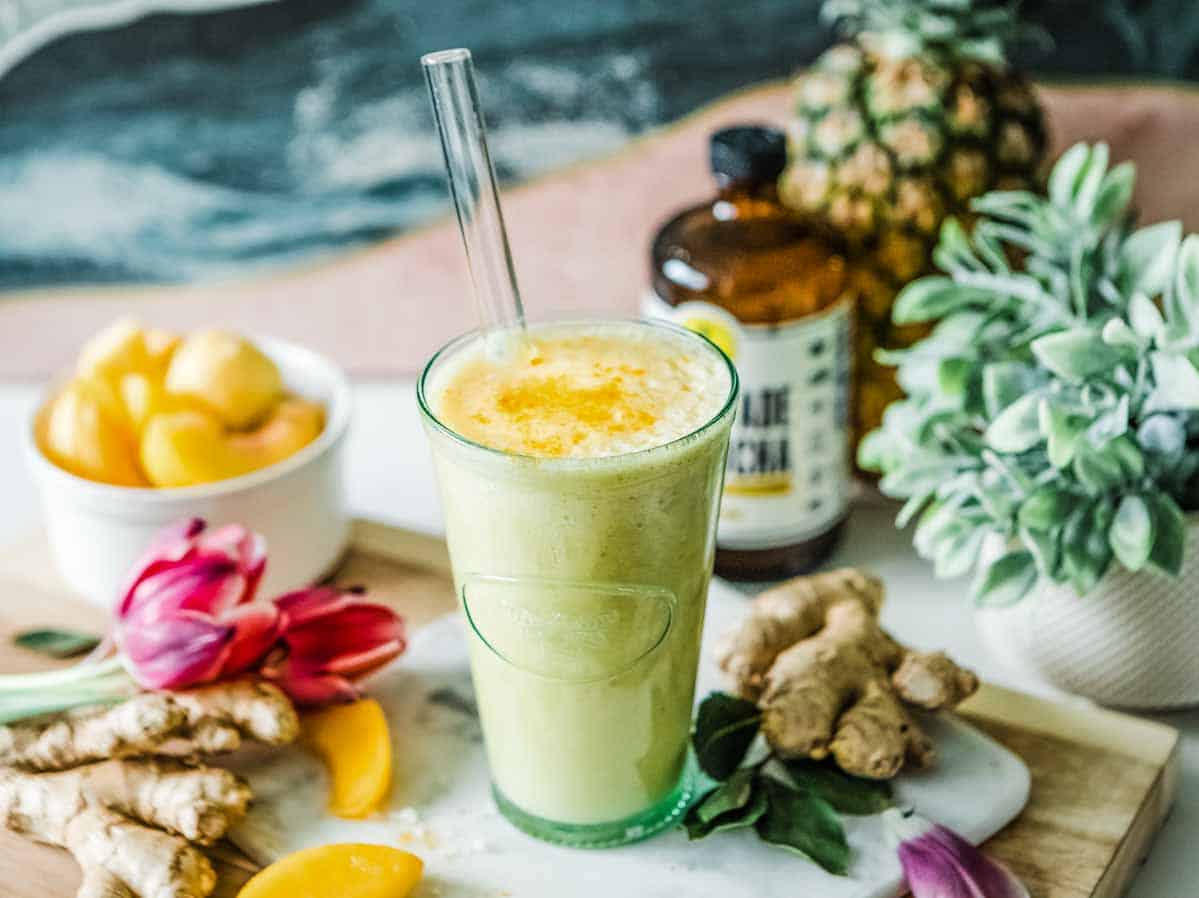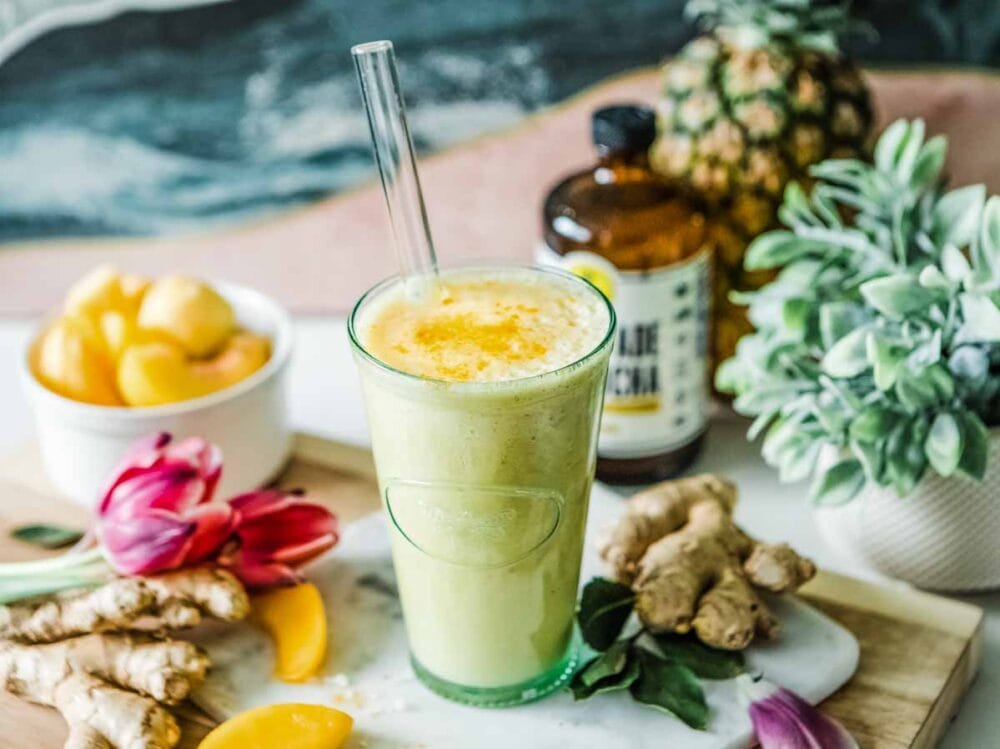 I may have discovered this gem of a recipe on a whim, but I want you to give it a serious try. The benefits of sauerkraut juice are huge for gut health. This sauerkraut smoothie might sound a little different, yet trust me when I say it just might be a new fav for you! I grew up on sauerkraut and fell in love at an early age, and now I'm ready to share that love with you.
Table of Contents
Benefits of Sauerkraut Juice
Probiotics are the reason I like sauerkraut as an adult. They are basically living bacteria that help the good bacteria already in your gut stay good. If eating living bacteria seems crazy to you… then you might need to rethink that yogurt, kombucha, kimchi, pickles, olives, or really any other pickled veggie in your fridge.
Sauerkraut juice contains living bacteria as well, so adding it into your diet can really help keep your gut in check.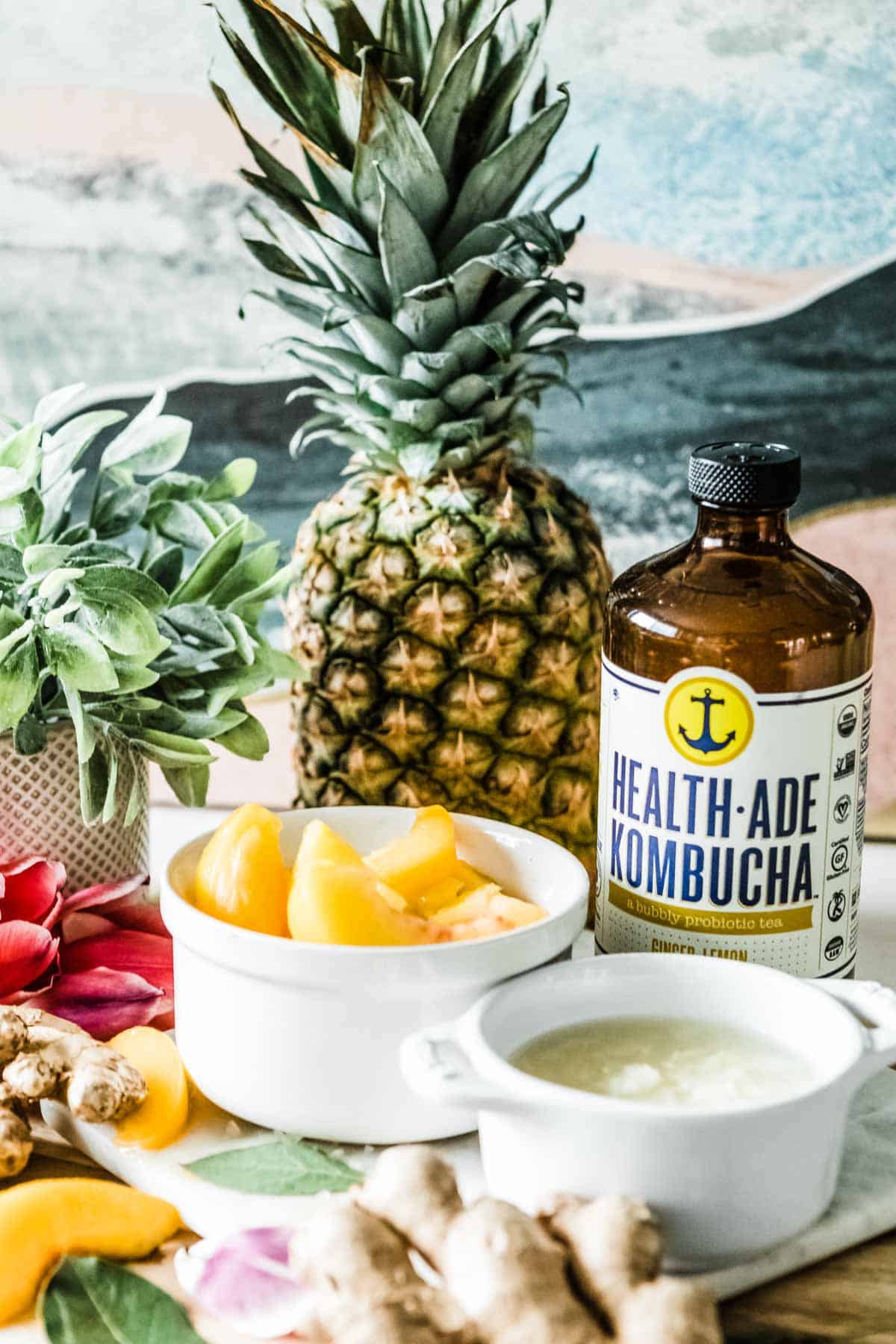 How to buy quality kraut
It's pretty easy to find a jar of sauerkraut at the grocery store. Yet check out the nutrition label, because it's probably got all kinds of additives, preservatives, and 'natural flavors.' None of that sounds like stuff I want in my body.
So I like to shop for preservative-free, 100% real ingredients that I can pronounce, and real spices for flavor. My fav brands are Bubbies and Cleveland Kitchen. You can enjoy the delicious sauerkraut, then save the sauerkraut juice for this smoothie. If these are hard to find, then I encourage you to learn how to make your own!
Ferment your own veggies
A Couple Cooks has a great recipe for homemade kraut with all the good stuff and none of the bad. All you really need is cabbage, salt and water. I like to add in some peppers or garlic for a special kick, yet start with the basic recipe if this is your first time. You can always get more creative with each batch.
Making your own ensure you know exactly what's in that sauerkraut juice for this smoothie recipe.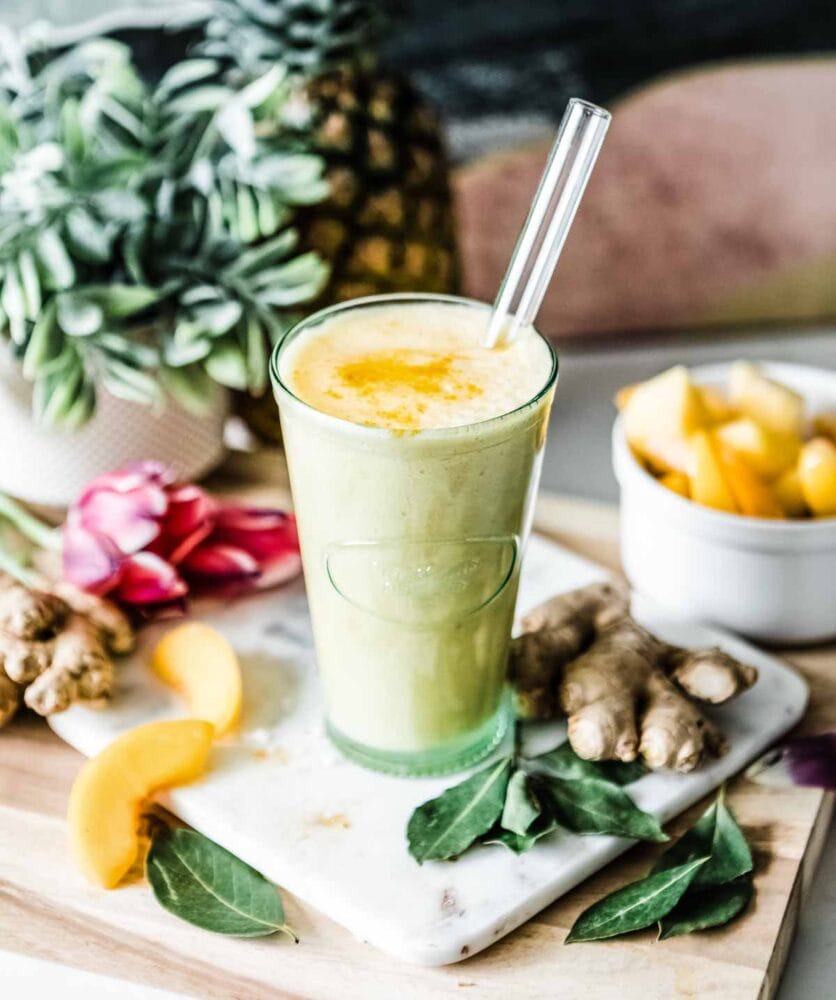 Sauerkraut juice smoothie
If you take the leap and blend this smoothie, I promise you won't be disappointed. The sauerkraut juice doesn't dominate in flavor, yet provides all the healthy benefits. The kick from ginger pairs well with the fizzy kombucha, and is well balanced by the sweet peaches and pineapple.
There are lots of liquid variations you can use to make this smoothie a winner. Swap out the ginger kombucha with a flavor of your choice. If kombucha isn't your thing, then use seltzer water or filtered water.
If peaches are hard to find, then swap with mango or nectarines. Depending on the kind of blender you're using, you may want to dice up the fresh ginger to make it easier to blend.
Let me know in the comments if this smoothie is a Yay! or Nay!
More probiotic recipes
Here at Simple Green Smoothies we love learning about gut health, and the importance of eating for your gut. Inside Rawk the Year, my plant based meal planner, a whole section is dedicated to learning about gut health. You'll learn why it's important as well as get a bunch of recipes to make that promote healthy bacteria. Make your own sauerkraut juice for this smoothie!
Interested? Then start a 14-day free trial now and see what all the hype is about. Cheers to your gut!
FAQs
Is it okay to drink sauerkraut juice?
Yes! It may be an acquired taste for some, but is okay to drink. Just remember to always read your labels when buying from a store, to ensure there aren't added preservatives.
What does sauerkraut juice taste like?
It is a vinegar-y taste and a bit sour. It really depends on the type of sauerkraut you buy/make. So if the first kind you try is a no-go, then try anther brand!
Can you drink sauerkraut juice daily?
You can have too much of a good thing, even with probiotics. I suggest varying the ways you get in probiotics, between fermented veggies, yogurt, kombucha and more to keep the variety steady.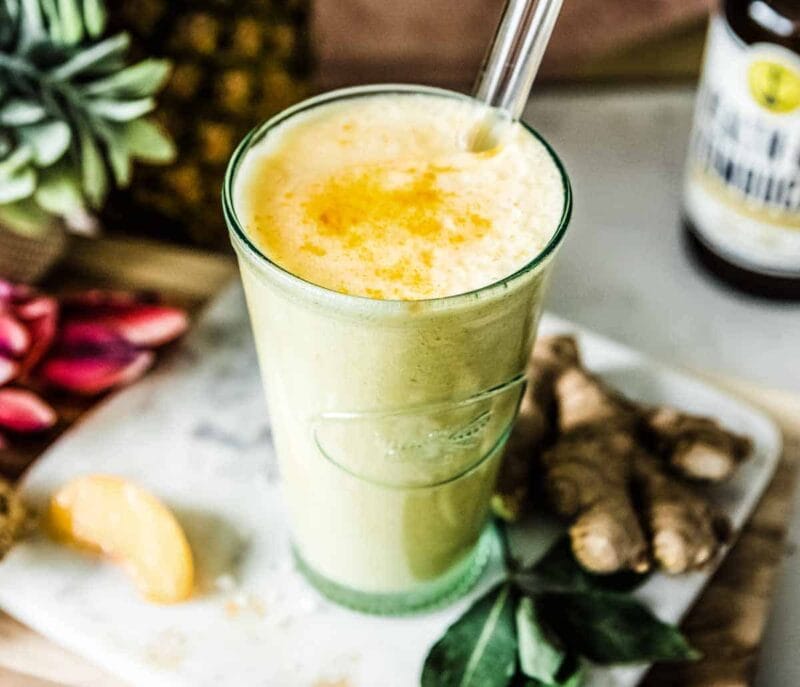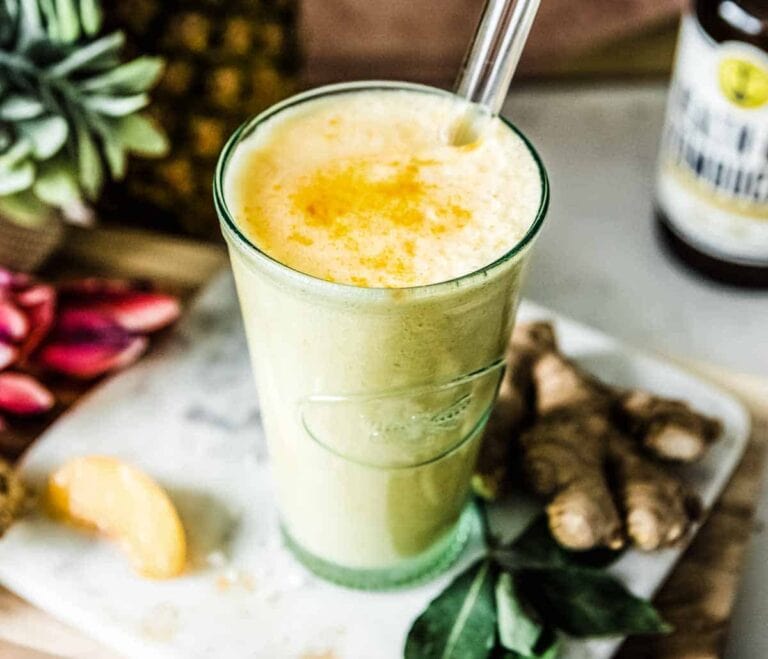 Sauerkraut Juice Smoothie
Make your gut do a happy dance with this great probiotic smoothie. Ginger kombucha + sauerkraut juice provide some healthy bacteria and add a little zing to the pineapple and peach smoothie combo. 
Ingredients
1

cup

kombucha

ginger

1

cup

pineapple

frozen

½

cup

peach

frozen

1

tbsp

raw sauerkraut juice

refrigerated

½

inch

ginger root
Instructions
Blend all ingredients until smooth.

Pour into a glass and enjoy!
Notes
Swap kombucha with seltzer water or regular water
Fresh ginger root can be diced to make it easier to blend.
Nutrition
Calories:
178
kcal
,
Carbohydrates:
45
g
,
Protein:
2
g
,
Fat:
1
g
,
Saturated Fat:
1
g
,
Polyunsaturated Fat:
1
g
,
Monounsaturated Fat:
1
g
,
Sodium:
101
mg
,
Potassium:
479
mg
,
Fiber:
5
g
,
Sugar:
41
g
,
Vitamin A:
372
IU
,
Vitamin C:
30
mg
,
Calcium:
47
mg
,
Iron:
1
mg