Are you pregnant or planning on becoming pregnant soon? That's super exciting and we're cheering you on! You're prob also wondering how to make sure you and the baby are as healthy as possible. I've got a healthy smoothie for pregnancy right here for you.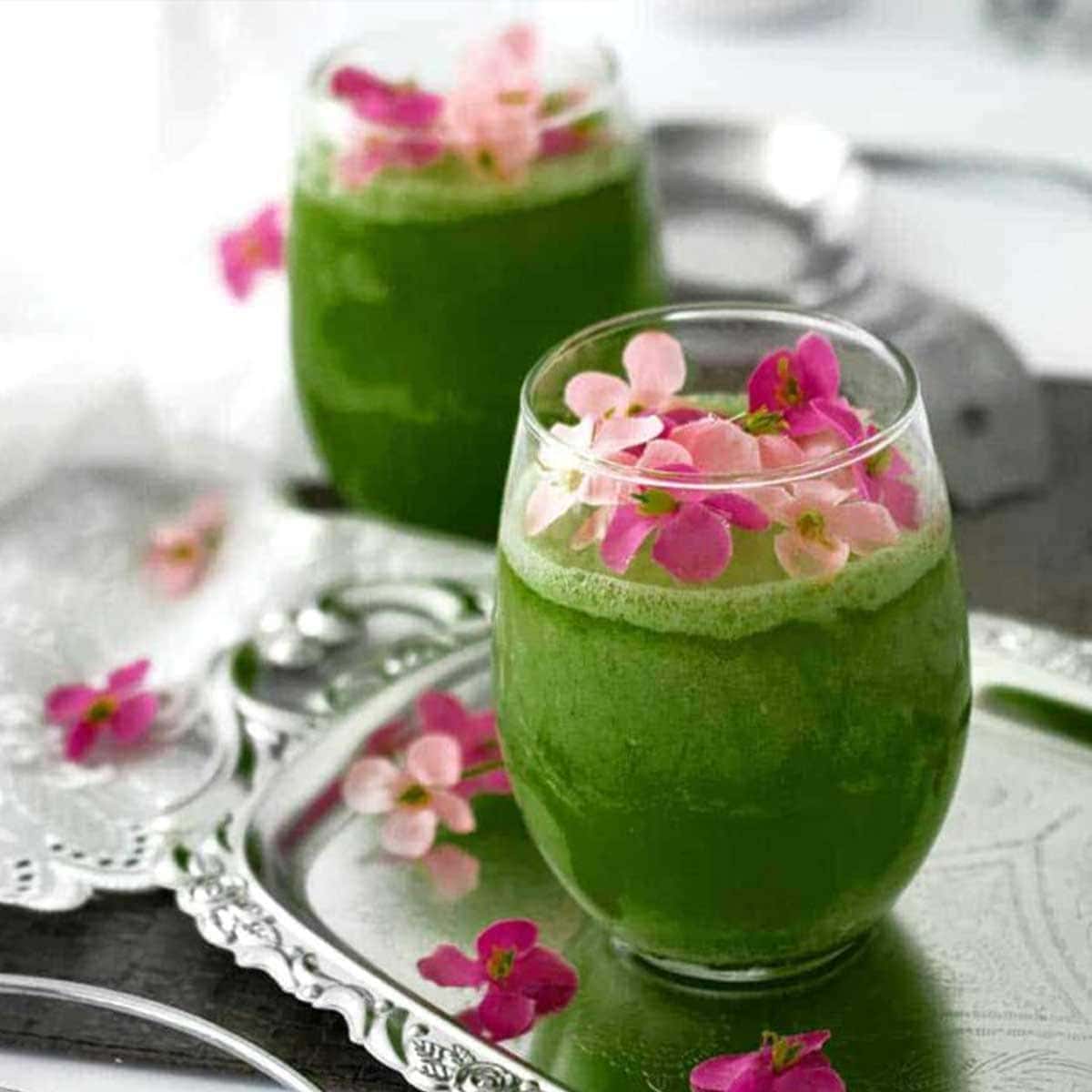 "I'm pregnant!" has to be one of the most exciting moments for a woman. I know for me I'll never forget seeing those 2 lines on the pregnancy test for the first time. Knowing that your body is now creating a precious little human is enough to make your heart explode, yet also knowing its health falls on your shoulders can make your stomach drop.
I know all about it – I, Jen have a son, Jackson and a daughter, Clare. Life changes when you are growing a baby inside of you.
Question: What can you do throughout your pregnancy to make sure your baby (and you) are as healthy as can be these next 40 weeks?
Answer: Drink green smoothies.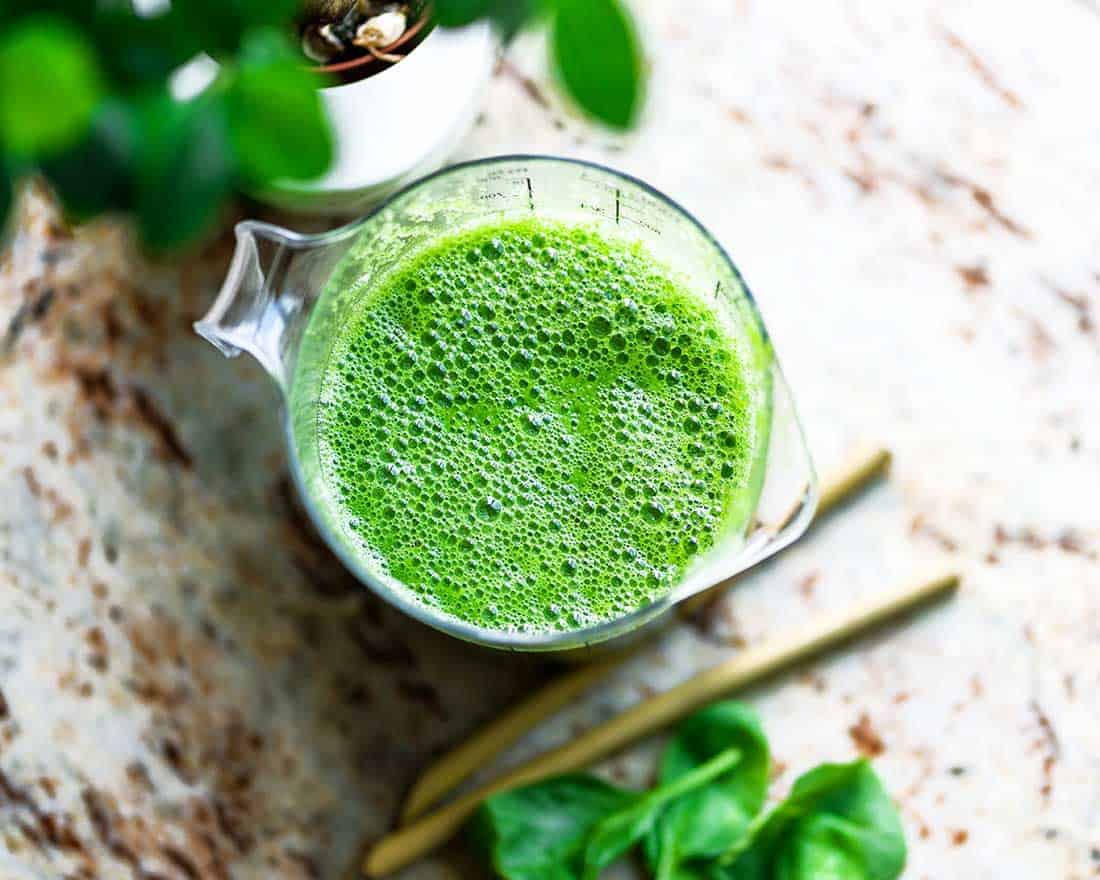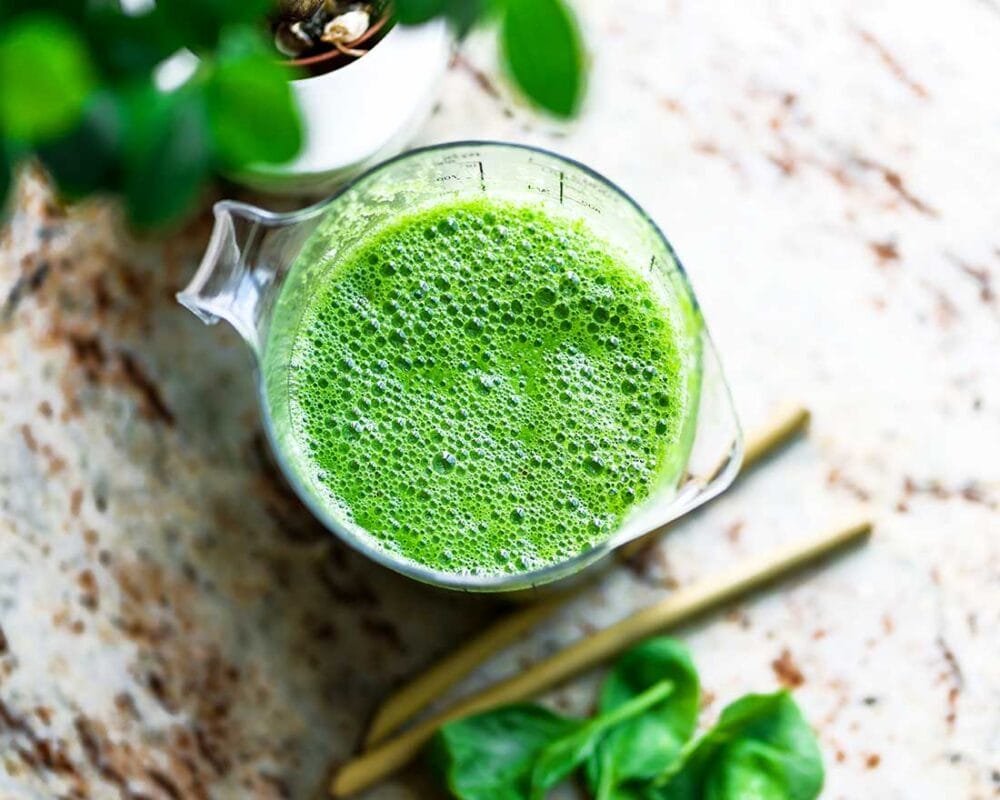 Smoothies for Pregnancy
It's as simple as that. When you are pregnant it is important that you are giving your body a wide variety of nutrients—proteins, folic acids, calcium, omega 3s, magnesium, tons of vitamins, and more!
Green smoothies have an abundance of these nutrients that are helpful for your growing baby and you.
It's recommend that you eat 4-6 small meals a day while pregnant (instead of the traditional 3 meals), so feel free to make one of those meals a green smoothie.
Essential Nutrients for Pregnancy
To help you blend your best during your pregnancy, we have included the following here:
a list of nutrients and foods to focus on
a list of things to avoid
two recipes we created specifically for you and your lil' rawkstar
Folic Acid
Getting a good dose of folic acid is good for all sorts of healthy cell production. It is especially important during the first month of pregnancy.
Folic Acid is naturally found in the form folate which leafy greens (especially spinach and collard greens), strawberries, and beets are packed with.
Calcium
Calcium helps create healthy bones and a healthy heart, and your baby needs both! Aim for getting calcium in non-dairy forms.
Leafy greens, Almonds/Almond milk, Sesame Seeds, Flax Seeds
Fiber
Eating foods with fiber regularly will keep your regular during pregnancy, as well as lowering your blood pressure. The fiber is good for your baby, but even better for you! This smoothie for pregnancy has 44% of your daily value of fiber. Pretty amazing!
Leafy greens (especially turnip greens and mustard greens), Raspberries, Cinnamon, Pear, Flax Seeds, Beets, Carrots, Oranges, Strawberries
Iron
Iron is one of the best ways to keep your blood healthy, and it also does a decent job boosting your immune system–both are necessary during pregnancy.
Leafy greens are PACKED with iron (especially spinach and swiss chard)
Protein
Protein is all about building your baby's body, and your baby does a ton of growing during the 2nd and 3rd trimester.
Our Protein Smoothie Boost is the perfect, clean + organic powder to add to your smoothies – 10 g per scoop! There are no icky fillers, sweeteners or gums like in other powders (and that we don't want to feed our precious little growing ones anyhow). Read more about it here and when you're ready, you can find it in our Rawkstar Shop.
Leafy greens (especially spinach, swiss chard, and mustard greens), Almonds/Almond milk, Hemp protein powder (does not have same affects as "hemp"), Simple Green Smoothies Protein Smoothie Boost
Omega 3s
Our brains are very delicate and need to be maintained properly, but they especially need healthy development in the womb. Consuming omega 3s is one of the best ways to help your baby's brain, and you should experiment with getting them in another way besides fish.
Chia seeds, Flax seeds, Walnuts
Magnesium
Magnesium is necessary for tissue growth and repair, and both your bodies' tissues are working overtime during your term.
Leafy greens (especially spinach and swiss chard), Coconut water
Potassium
Potassium does a variety of things for your body: maintains electrolyte balance, sends nerve impulses, helps muscles to contract, and helps to capitalize on potential energy from fats, proteins, and carbohydrates. Who doesn't need an energy boost when pregnant?
Leafy greens (especially spinach and swiss chard), Beets, Carrots, Banana, Avocado, Coconut water
Vitamin B6
Many B vitamins are helpful during pregnancy, but vitamin B6 is one of our favorites! The two most important things it does for your baby are creating new red blood cells and antibodies, and aiding in healthy brain development.
Leafy greens (especially spinach and turnip greens), banana, avocado, pineapple, cantaloupe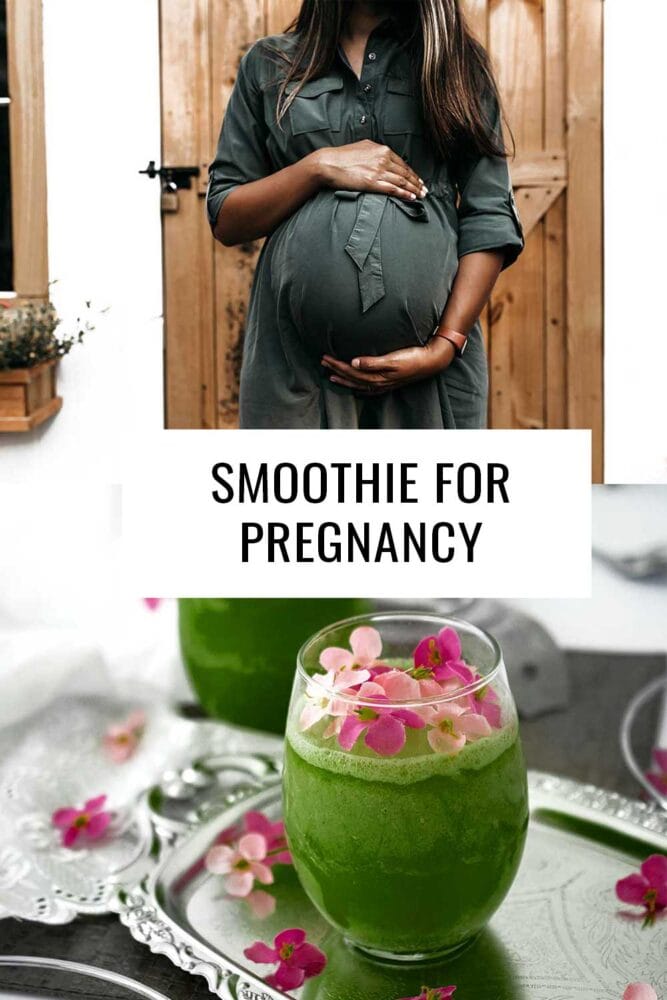 Food to Avoid When Pregnant
Heavy doses of herbs
Cilantro is a heavy metal cleanser. Parsley can cause gestation issues. Plants are powerful— and helpful when used right! You don't have to avoid herbs all together, just don't make them a staple in your diet.
Unwashed fruits and veggies
There can be harmful pesticides and chemicals on fruit that hasn't been properly washed. Learn how to wash produce in this blog post.
Excess caffeine
This isn't normally a problem with green smoothies, unless you are using green tea as a liquid base. Use it in moderation. In the smoothie for pregnancy below, we use coconut water as the base to hydrate you as much as possible and replenish your electrolytes.
Spiked smoothies
We heard of some rawkstars spiking their smoothies with alcohol, but pregnancy probably isn't the time to start.
One quick word of caution! Green smoothies and eating healthy are great things to do while pregnant, but avoid doing a full-blown cleanse (drastic changes in eating habits can cause a detox, too). If your body begins to detox while pregnant, then these nasty toxins will leave your body any way possible–including through the placenta and into your baby.
Doing a body cleanse is a great thing to do, but just make sure to do it when your baby isn't dependent upon you to nourish it.
Now, here's what you've all been waiting for! This green smoothie recipe for pregnancy is PACKED with the essential nutrients we discussed above. Cheers to you and your baby's health!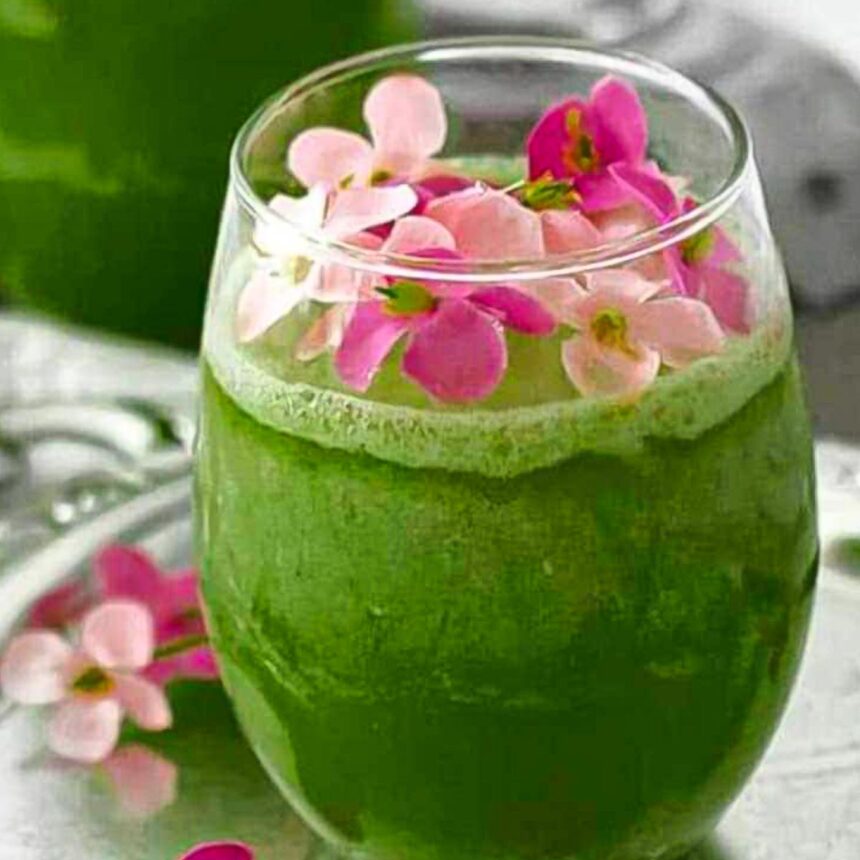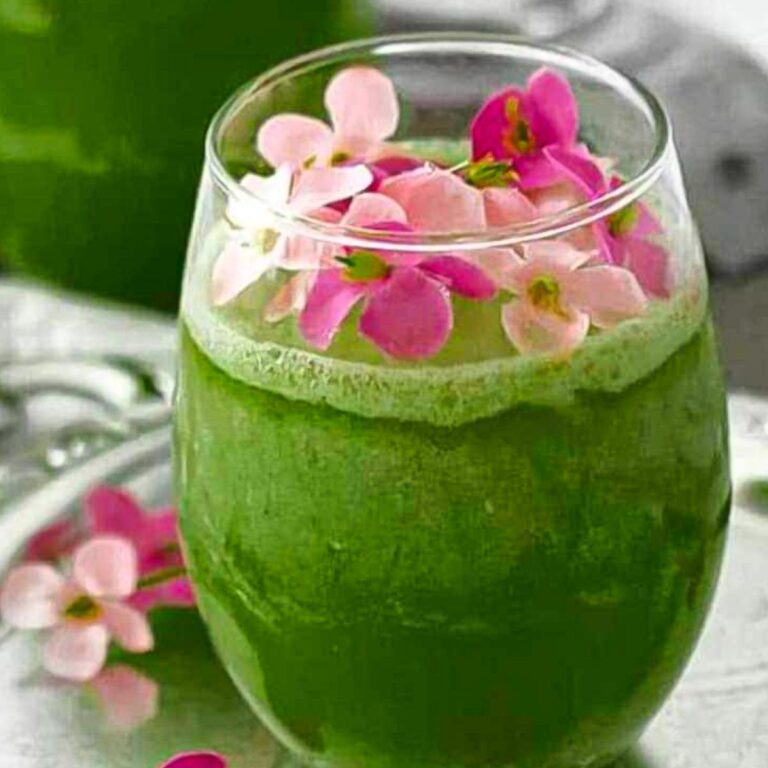 Smoothie for Pregnancy
This smoothie is specially crafted for pregnancy with ingredients formulated for the health and wellness of mama and baby.
Ingredients
1

cup

spinach

fresh

1

cup

coconut water

unsweetened

½

banana

½

cup

pineapple

frozen

2

carrots

peeled and chopped

1

tbsp

chia seeds
Instructions
Blend spinach and coconut water until smooth.

Add remaining ingredients and blend again. Pour into a glass and enjoy!
Notes
Use at least 1 frozen fruit for a refreshingly cool smoothie.
To lower the natural sugar in this recipe, swap 1/2 banana for 1/4 avocado.
Swap chia seeds with 1 serving plant based protein powder.
Use the leafy greens of your choice in place of the spinach.
Nutrition
Calories:
255
kcal
,
Carbohydrates:
51
g
,
Protein:
7
g
,
Fat:
5
g
,
Saturated Fat:
1
g
,
Polyunsaturated Fat:
3
g
,
Monounsaturated Fat:
0.3
g
,
Trans Fat:
0.02
g
,
Sodium:
363
mg
,
Potassium:
1508
mg
,
Fiber:
14
g
,
Sugar:
28
g
,
Vitamin A:
23287
IU
,
Vitamin C:
66
mg
,
Calcium:
217
mg
,
Iron:
3
mg
Congratulations! I wish you a healthy pregnancy and many special moments ahead. I would love to share pic of you drinking a green smoothie while pregnant. If you have any you would like to share with us, send us an email at: hello(at)simplegreensmoothies.com.
Lastly, here's a few more tasty smoothie recipes that you and that jelly bean will love: