Try our tamari oven roasted almonds recipe to have a simple, yet filling, snack. Just one handful has 8 grams of protein, 5 grams of fiber and 18 grams of healthy fat; talk about a snack that works for you! Whether you use this as a healthy snack for the kids, while following a clean diet, or as a healthy snack for work, these tamari almonds are a winner.
Table of Contents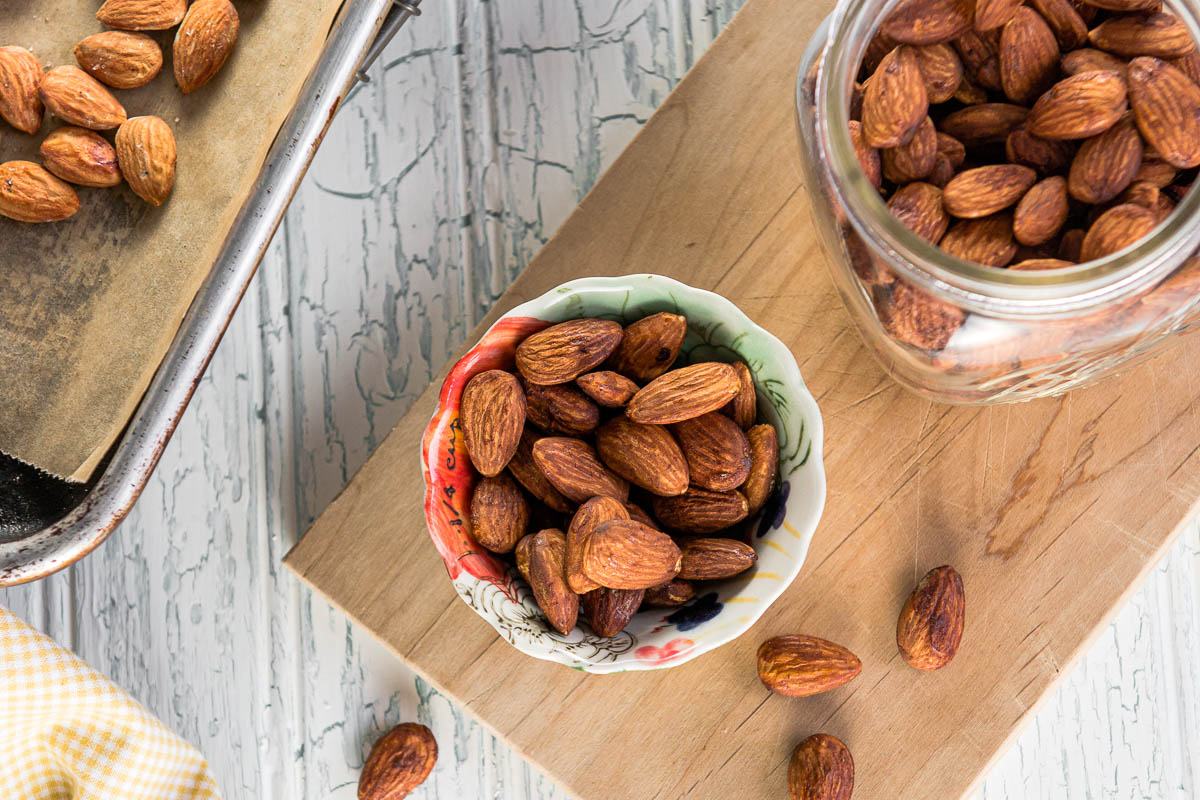 Tamari Almond Recipe Ingredients
This recipe is so simple, only two ingredients! Yet don't sleep on this one, it's a delicious snack that you'll fall in love with.
Raw almonds: Use whole, raw almonds for this recipe. You can find these in any bulk food store or in the nut section of most grocery stores.
Tamari: This is a gluten-free version of soy sauce. It still contains soy, so if that bothers you then swap it out for coconut aminos, a similar-tasting sauce without soy. You can find this in the international aisle of your local grocery store, or in an Asian supermarket.
I love the smoky, deep flavor these tamari almonds bring to my day and I can't get over how simple they are to make.
How to Make Oven Roasted Almonds
With only two ingredients, you can guess that this is a fairly easy recipe to make. Yet nuts can quickly go from roasted to burnt, so this is not a recipe you want to forget about while in the oven.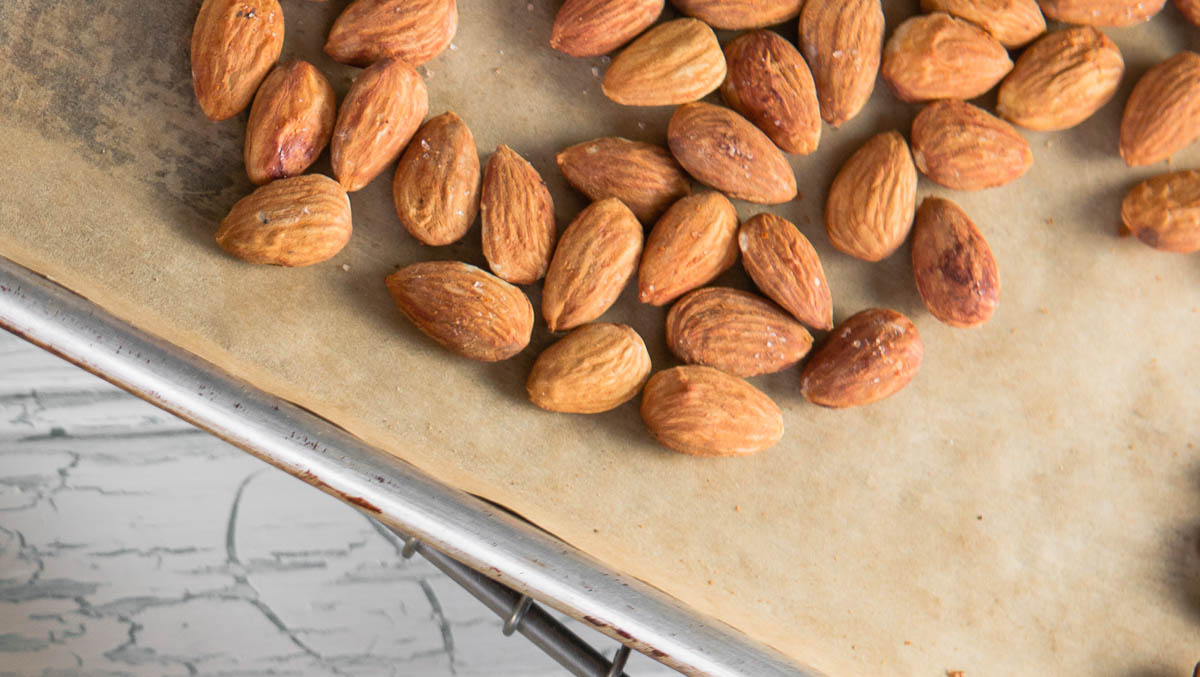 Preheat the oven to 350°F. Line a rimmed baking sheet with parchment paper. Add raw almonds and tamari sauce to a mixing bowl and mix thoroughly to coat the almonds. There will be some liquid leftover yet that's okay!
Pour the almonds out onto the parchment-lined baking sheet and spread out evenly. Pour any remaining tamari from the bowl over the nuts to coat. All liquid will be soaked up into the almonds or evaporated during baking, so they won't stay wet.
Bake 10-15 minutes, closely watching to ensure the nuts don't burn. Remove from oven and cool completely on the tray. Store in an air-tight container until ready to enjoy.
Tips for Roasting Almonds
1. If the almonds aren't touching the sauce, then you won't get the tamari flavor after toasting. Be sure to mix them well, then pour any remaining liquid from the bowl onto the almonds on the tray to ensure they are completely covered.
2. It is easy to burn almonds when roasting in an oven. If you know your oven runs hot, feel free to lower the bake time and check on them frequently to avoid burning.
3. Once roasted, this snack will last a while if you store it in a jar with a tight-fitting lid in a cool, dry place.
4. If you want extra crispy almonds, bake them closer to 15 minutes. Watch closely so you can whisk them out of the oven before they burn.
How to Use Tamari Almonds
While I love snacking on a handful while working or running errands, that's not all these oven roasted almonds are good for! Roughly chop them once roasted and use as a crunchy topper for a kale caesar salad or mixed in with roasted butternut squash.
They make a great addition to a vegan charcuterie board or tossed into a healthy pasta salad. Basically, go nuts! Get creative with how you use them and have fun.
Oven Roasted Almonds FAQs
How long does it take to roast almonds in the oven?
Bake at 350°F for 10-15 minutes, depending on how hot your oven runs. Start checking on them around the 8-minute mark as nuts can go from done to burnt very quickly.
Do I need to soak almonds before roasting?
No need to soak almonds before roasting. I simply toss mine in a bit of tamari sauce to add a deep, salty flavor, then toss them on a baking sheet and stick them in the oven.
How do you make roasted almonds crispy?
The trick is to get them thoroughly roasted without burning them. I don't recommend baking at high heat but instead, keep the oven at 350°F. The longer the roast, the crispier they will be. Just keep a close eye on the oven to ensure they aren't getting too dark, and remember that they will get crispier while cooling on the baking sheet.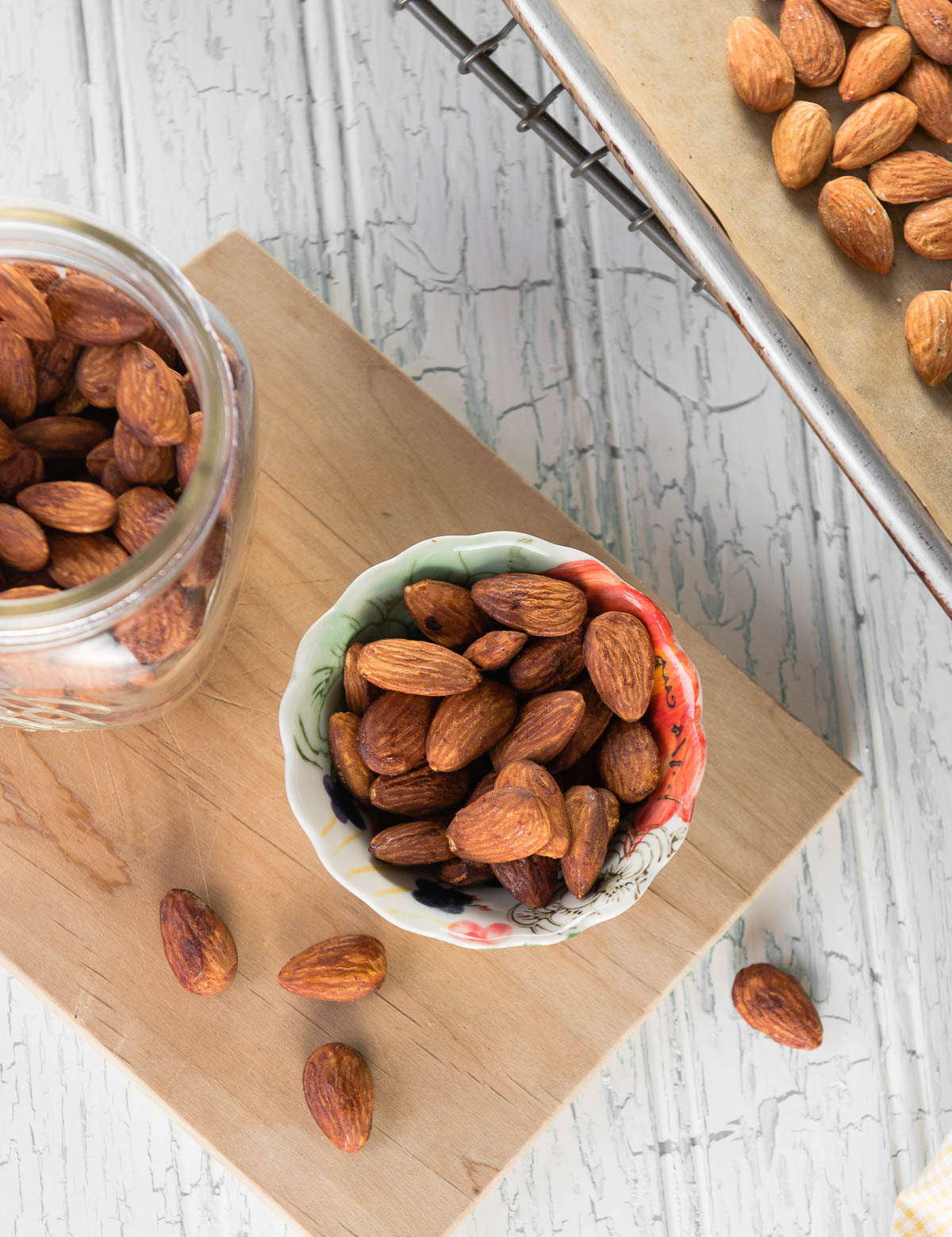 More Filling Snack Recipes
Snack time is my fav time of day, so you know I've got a whole list of go-to recipes to fuel me throughout the day. Here are a few easy ones to get you started:
I can't wait for you to try this simple but irresistible snack. Would you please rate it once you've tried it? Add any feedback you have in the comments; we read all of them and love hearing what you have to say!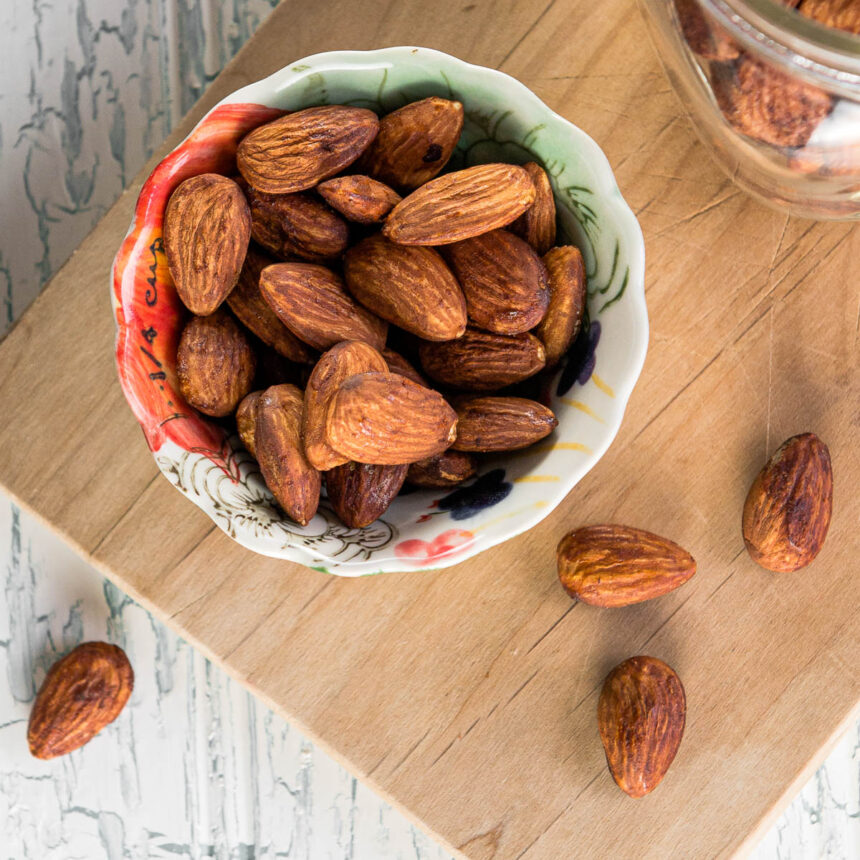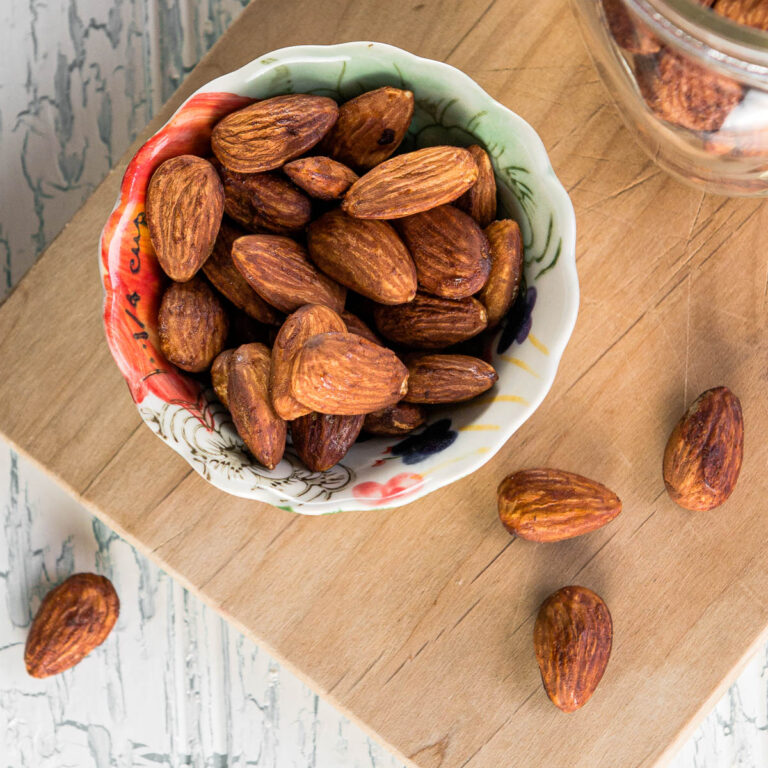 Tamari Oven Roasted Almonds
Tamari, the deeper flavored cousin of soy sauce, goes splendidly with toasted almonds. Eat as is for a quick, filling snack or roughly chop and use as a savory salad topping.
Equipment
oven

baking sheet

parchment paper
Ingredients
1

cup

raw almonds

1

tbsp

tamari
Instructions
Preheat oven to 350°F. Line a baking sheet with parchment paper.

Place almonds in a mixing bowl and pour tamari over the top. Stir well. Spread almonds on the baking sheet and drizzle any remaining tamari from the mixing bowl over the top. It will all be absorbed as the almonds are toasting.

Bake for 10-15 minutes. The almonds will be dry to the touch and golden when they are finished. Let cool completely on the baking sheet.

Store in airtight containers until ready to eat.
Notes
Swap almonds for the nut of your choice, or use mixed nuts.
Coconut aminos can be used in place of tamari for a soy-free option.
For some variations:
Sweet: 1 cup raw almonds, 1 tablespoon pure maple syrup, ½ teaspoon vanilla extract, pinch sea salt
Spicy: 1 cup raw almonds, 2 teaspoons fresh lime juice, pinch each: cayenne and sea salt
Nutrition
Calories:
210
kcal
,
Carbohydrates:
8
g
,
Protein:
8
g
,
Fat:
18
g
,
Saturated Fat:
1
g
,
Polyunsaturated Fat:
4
g
,
Monounsaturated Fat:
11
g
,
Trans Fat:
0.01
g
,
Sodium:
252
mg
,
Potassium:
272
mg
,
Fiber:
5
g
,
Sugar:
2
g
,
Vitamin A:
0.4
IU
,
Calcium:
97
mg
,
Iron:
1
mg