This vanilla matcha protein shake is perfect as a satisfying breakfast or delicious mid-morning snack. Softened cashews, coconut water, cashew milk, matcha powder, frozen banana and vanilla come together for a tasty protein-packed, antioxidant-rich matcha smoothie recipe.
The moderate level of caffeine along with mood-stabilizing L-theanine in the matcha powder provides sustained energy without any of the anxious jittery sensations you experience from a cup of coffee. While I've got some regular Green Tea Smoothie recipes, matcha is a bit different and you def have to give it a try!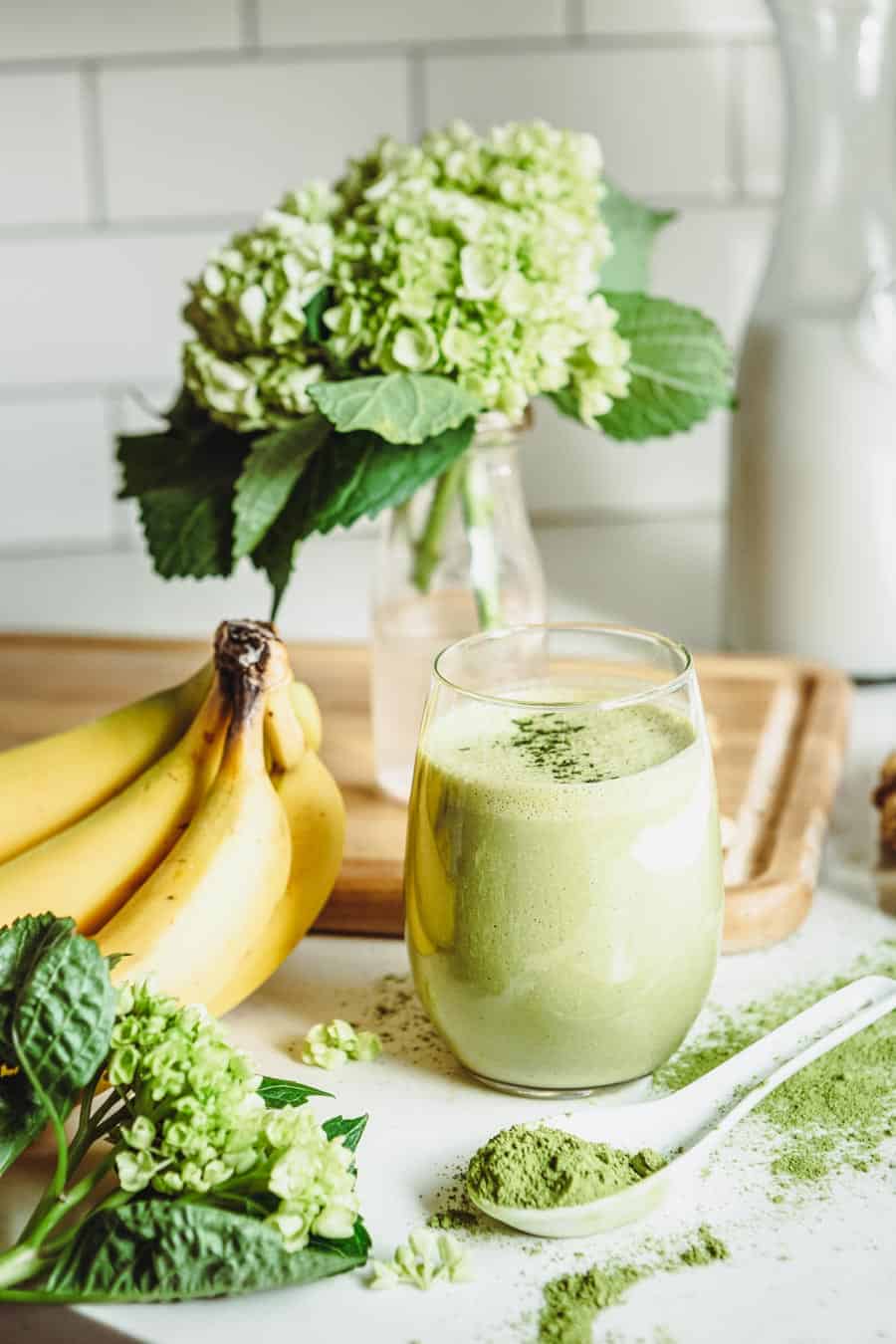 Table of Contents
How to Make a Matcha Smoothie
It's incredibly easy to make a green tea smoothie:
Soak raw cashews in the 1/4 cup coconut water for 20 minutes to soften. You can skip this step if you're crunched for time, yet this makes the smoothie creamier.
Add the cashews + coconut water, cashew milk, matcha powder, banana, ginger and vanilla to blender.
Blend until smooth.
Cashew milk provides the creamiest result, yet you can swap it with oat milk, almond milk, or the plant milk of your choice. Matcha powder has an earthy taste, so the banana in this recipe helps balance it out. You may swap the banana with cauliflower or avocado for lower sugar, yet you will also lose the sweetness.
Make sure both the coconut water and cashew milk are unsweetened.
Beneficial Ingredients
Adding matcha powder to this smoothie is an easy way to incorporate a load of health benefits into your diet. Matcha tea is a powdered form of green tea leaves. Just ¼ to ½ teaspoon of matcha powder has the same antioxidant content as 8 to 10 cups of green tea.
Matcha is a great source of L-theanine, a rare amino acid which promotes well-being, relaxation, concentration and focus.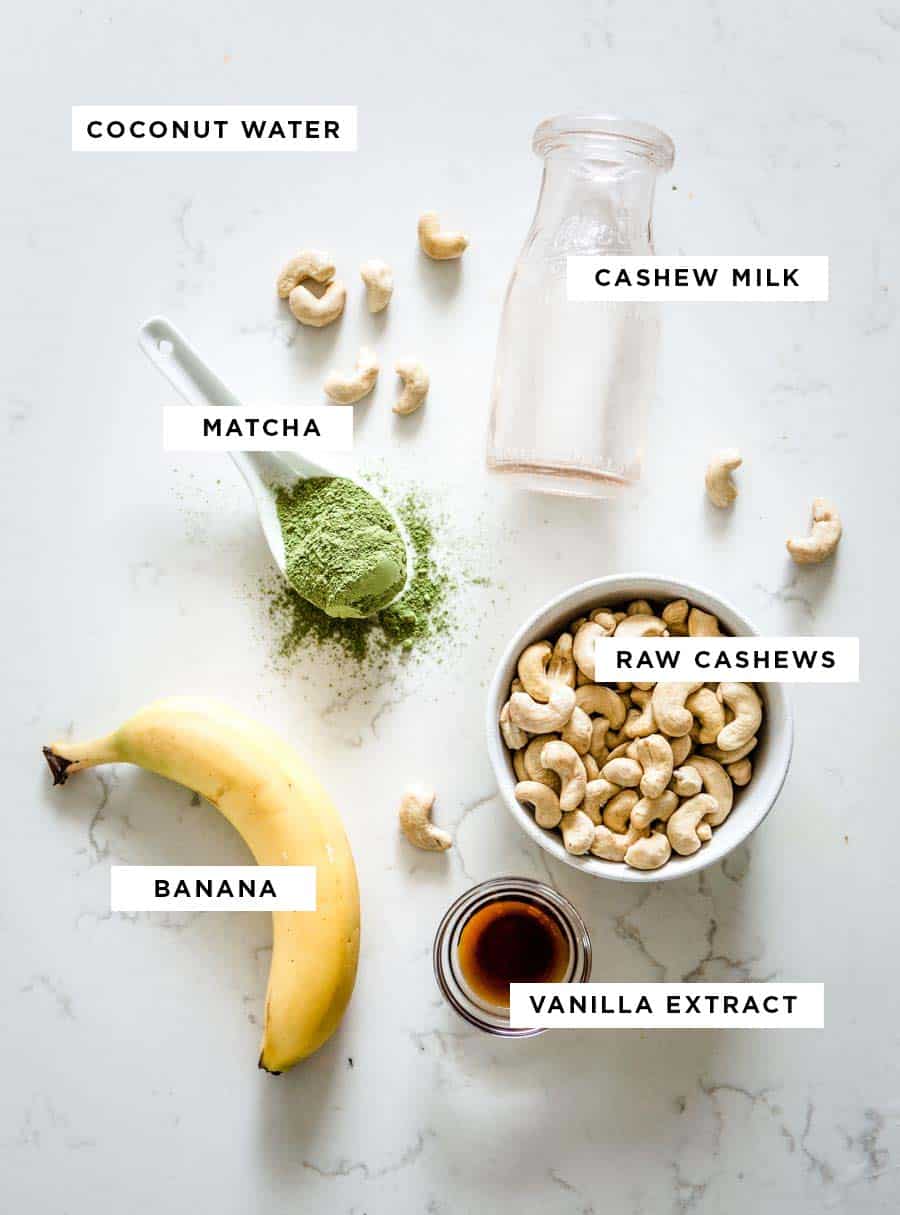 A scientific literature review found that green tea catechins have a number of health benefits, including protecting against cardiovascular disease, aiding in cancer prevention, and possessing anti-inflammatory properties. But that's not all!
I specifically chose the ingredients in this smoothie for their super powers:
Cashews and cashew milk: This protein-packed nut is good for your heart.
Coconut water: This thirst-quenching water alternative is packed with electrolytes.
Matcha powder: Scoop this antioxidant-rich powder into your smoothie.
Banana: Banana adds sweetness without causing your blood sugar to spike. With low-glycemic sugars and pectin, bananas thicken your smoothie.
Vanilla: Adds a low-calorie boost of flavor while providing magnesium.
Tips for a Creamy Smoothie
This smoothie is a cream machine, which is why I call it both a matcha smoothie AND a matcha shake… it really does have a shake-like texture. To achieve this, I take the extra step to soak the raw cashews before blending. Here are a few different ways you can soak your cashews:
Method #1: soak the cashews overnight for 8 hours in the coconut water. If you choose this method, put the cashew/coconut water mixture in the fridge.
Method #2: Soak the cashews in boiling hot water for 10 minutes. This is what I call the "flash-boil" method when there's no time to waste. Drain and then add to blender. You'll lose some nutrients, yet you'll still get the cream factor. Add the coconut water directly to the blender since it wasn't part of the soaking in this method.
Make this incredible matcha smoothie recipe for breakfast or snack and enjoy a delicious and energizing drink full of health benefits!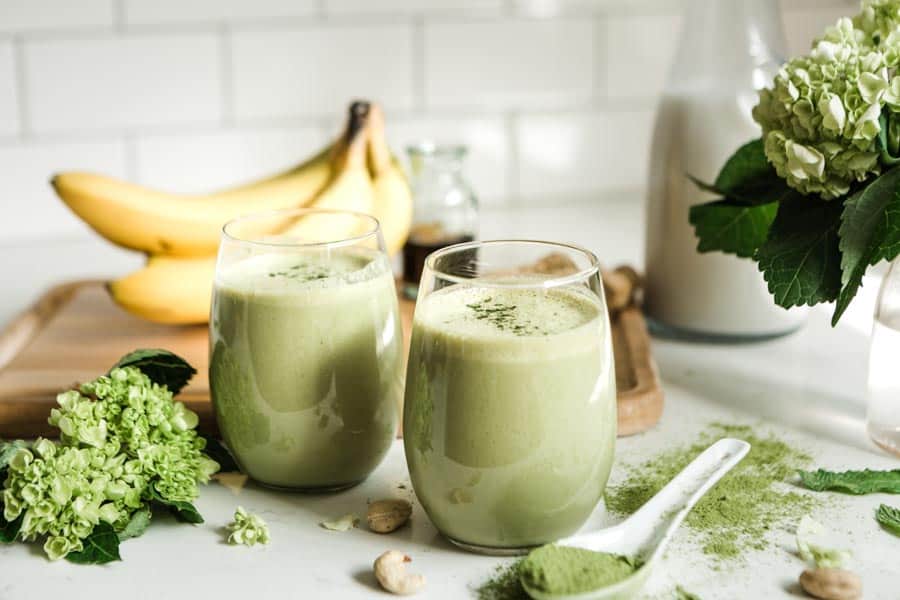 Matcha Smoothie FAQs
Is matcha effective in a smoothie?
Yes! Matcha bought in America is pretty much always going to be found in powder form. So you'd use the same kind of powder for tea as you would in this smoothie. Just scoop it in and enjoy the natural caffeine + antioxidants.
What fruit goes well with matcha?
Since matcha powder has a strong, earthy flavor, pairing it with naturally sweet tasting fruit helps to balance out the earthiness. I chose bananas for my matcha smoothie recipe, as well as fresh ginger to add another flavor profile.
Does matcha help you lose weight?
Green tea is found in most weight loss supplements. Studies show that it may speed up your metabolism which helps you burn more fat.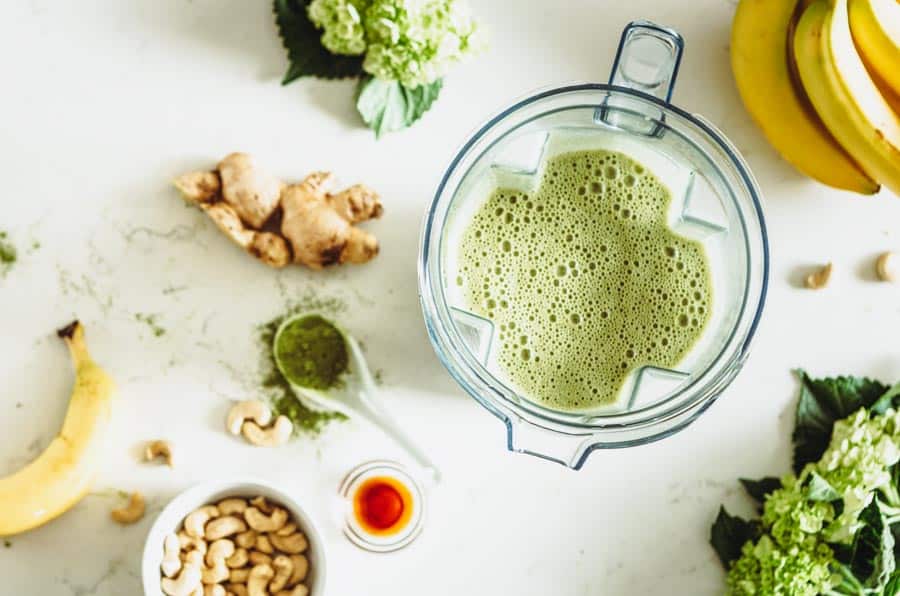 Protein Shakes for Everyone
Green smoothies are great and all, yet sometimes I just wanna drink a protein shake. But… store-bought protein shakes are notorious for weird ingredients, additives, fake flavors and way too many ingredients. So I opt to make my own. Here are a few of my fav recipes that definitely match up to the matcha protein shake below:
Which flavor is calling your name? Let me know which one of these becomes your go-to… they're too delicious not to make it into the smoothie rotation!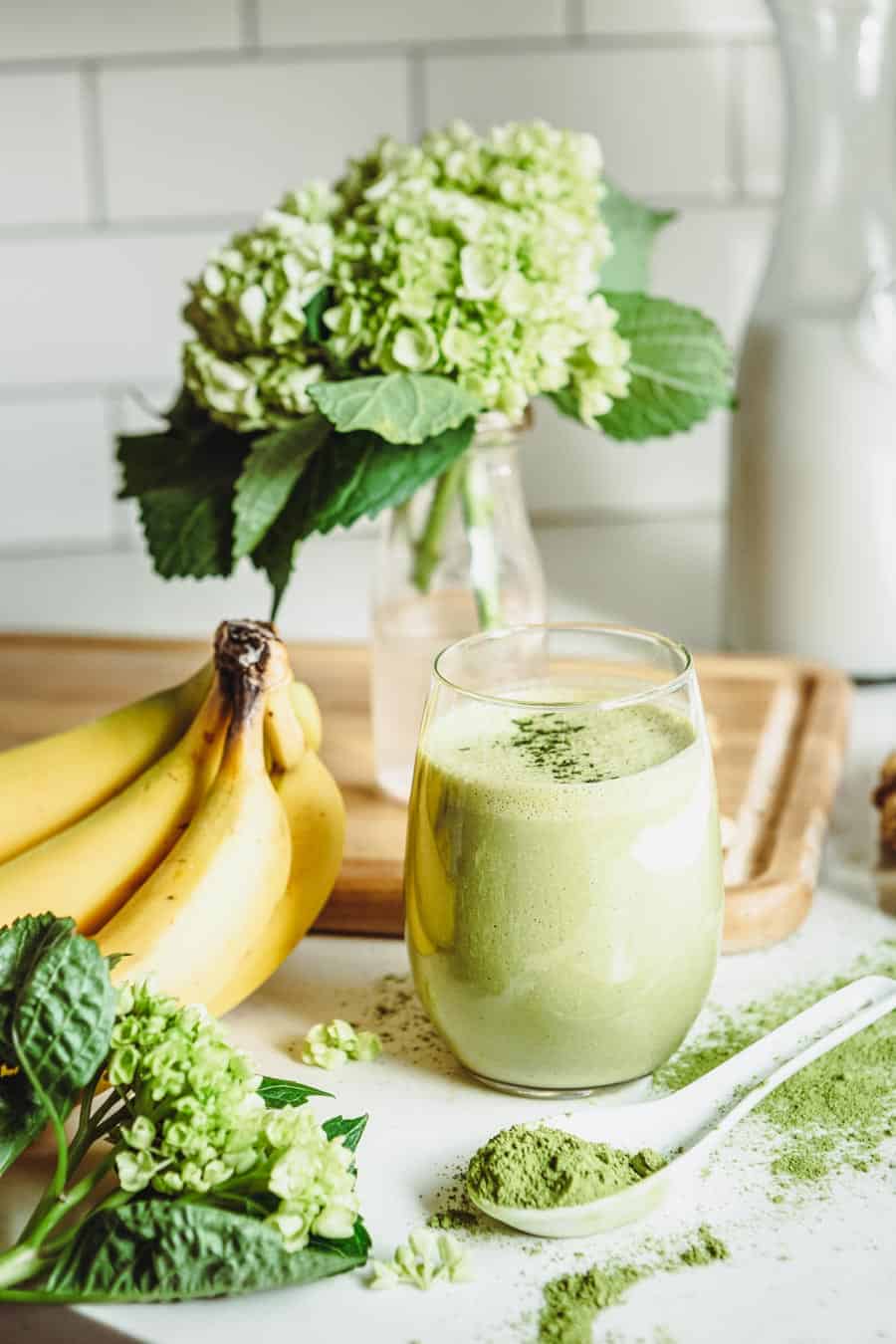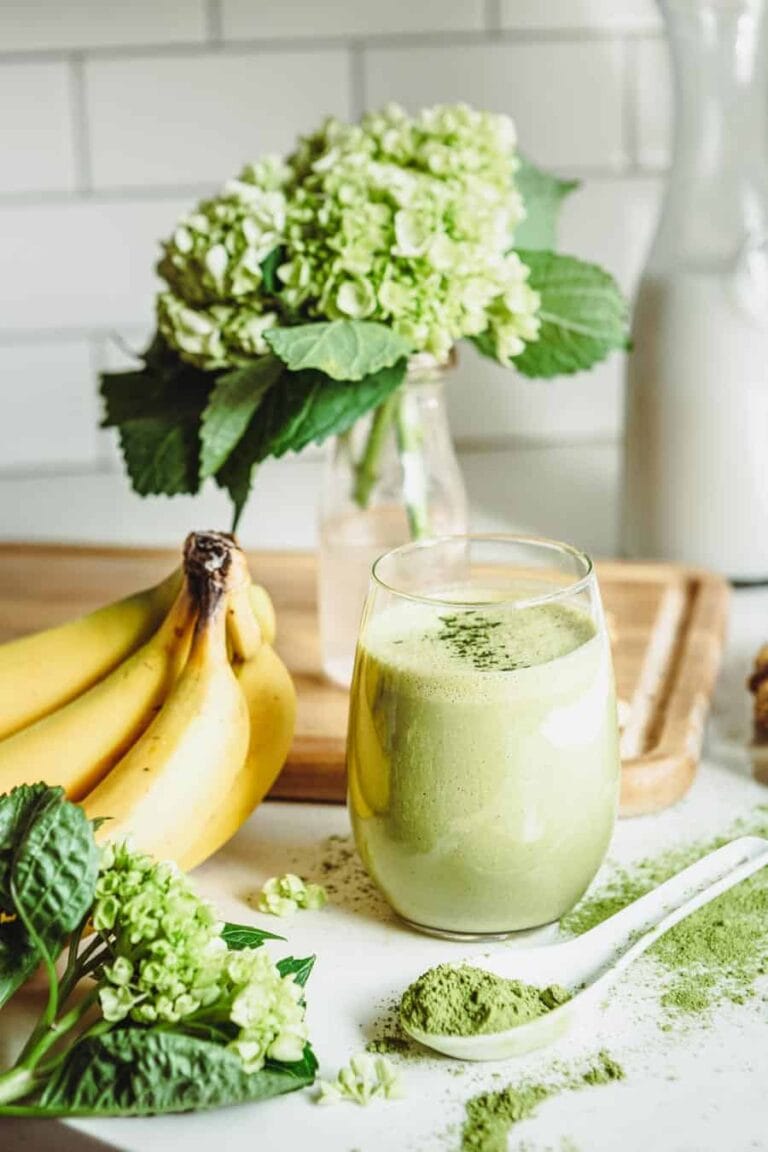 Vanilla Matcha Smoothie
The mellow taste of matcha with sweet vanilla, blended into a delicious, creamy smoothie. Enjoy any time of the day, this recipe is perfect for breakfast, pre- and post-workout and midnight snacks, too!
Ingredients
2

tbsp

raw cashews

¼

cup

coconut water

¾

cup

cashew milk

1

tsp

matcha

or more, if desired

1

banana

frozen

1

tsp

vanilla extract

optional

¼

tsp

ginger root

optional

1

scoop

homemade protein powder
Instructions
Soak cashews in coconut water for 20 minutes to soften. You can skip this if in a hurry, yet it will be creamier if you soak.

Add cashews with water to blender.

Add cashew milk, matcha, frozen banana, ginger and vanilla to blender.

Blend until smooth and creamy.
Notes
If you prefer a sweeter matcha, add 2 pitted Medjool dates to the blender.
Swap raw cashews with oats and cashew milk with oat milk or the dairy-free milk of your choice.
Use at least 1 frozen fruit for a refreshingly cool smoothie.
Nutrition
Calories:
370
kcal
,
Carbohydrates:
37
g
,
Protein:
17
g
,
Fat:
11
g
,
Saturated Fat:
2
g
,
Polyunsaturated Fat:
2
g
,
Monounsaturated Fat:
6
g
,
Sodium:
187
mg
,
Potassium:
712
mg
,
Fiber:
10
g
,
Sugar:
18
g
,
Vitamin A:
276
IU
,
Vitamin C:
12
mg
,
Calcium:
28
mg
,
Iron:
3
mg