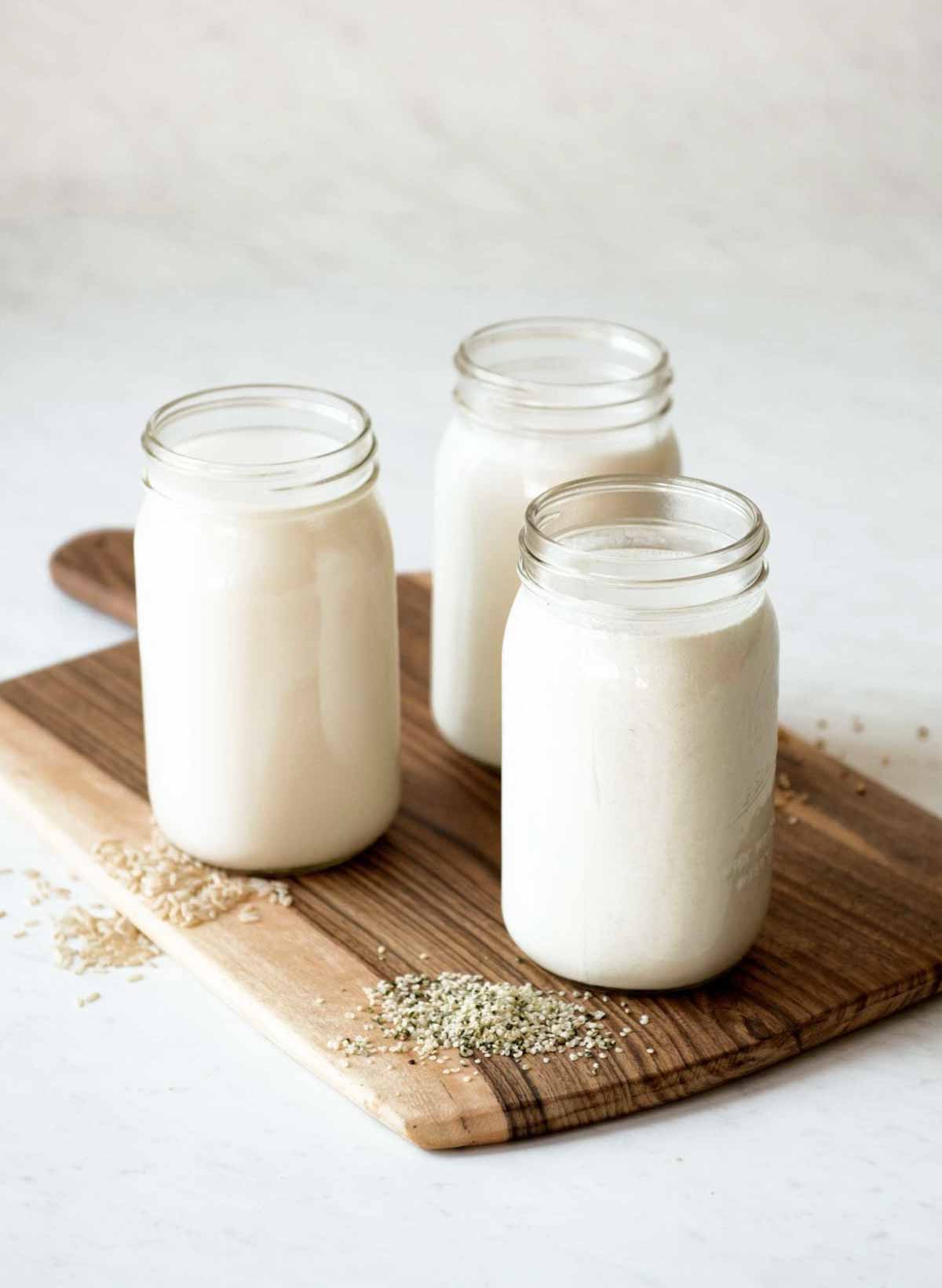 Non dairy milk is all the rage right now and for good reason. More and more people are discovering sensitives to dairy products. While not everyone has severe dairy allergies, we realize how much better we feel when limiting dairy in our diets. Just like all other 'healthy foods' sold in grocery stores, not all vegan milk is created equal. I've curated the best vegan milk recipe for a variety of non dairy milk. I can make my milk and drink it too!
Why Say No to Dairy?
While we know not everyone has an issue with dairy, what doesn't kill you doesn't always make you stronger. Dairy does have some nutritional value, yet it seems to do more harm than good:
Simple Green Smoothies has a manifesto that starts with, "I eat real food to fuel my awesome life." While we understand dairy milk is real food, we like to fuel our bodies with foods that energize and give us longevity, not food that slows us down.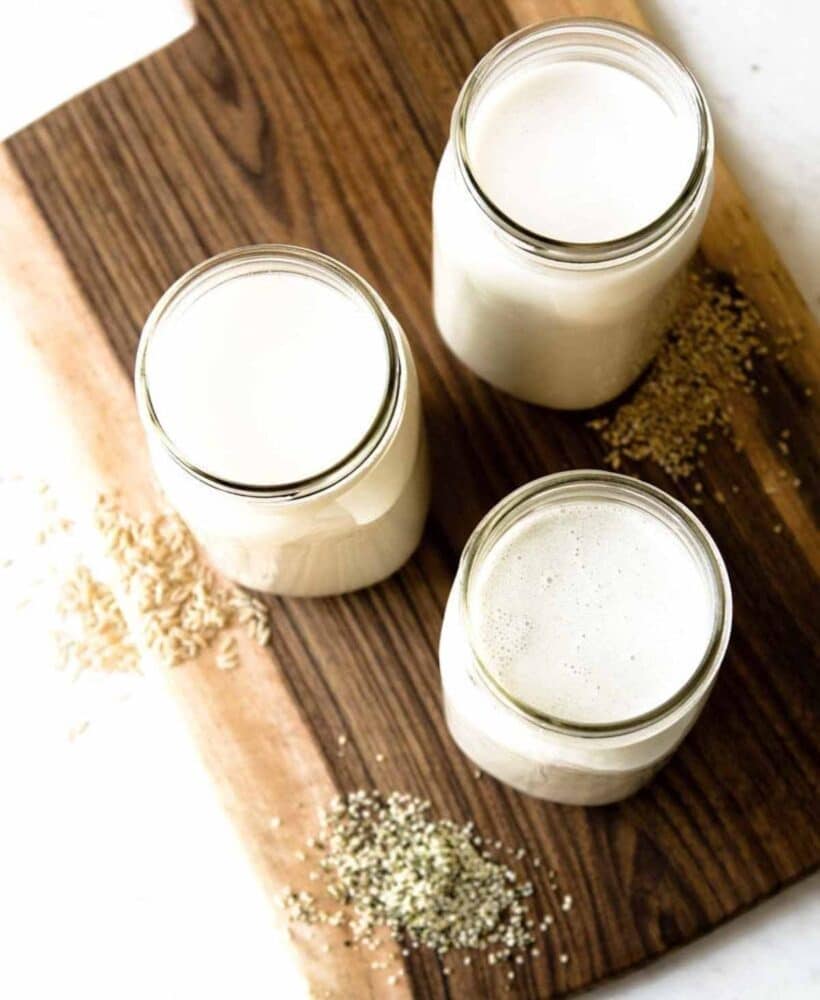 Vegan Milk Revolution
So now that you've decided to give vegan milk a try, how do you know the best option? The great part about this new craze is there are endless plants to 'milk.' Depending on the meal, smoothie, or baked good I want to make, there is a plant-based milk for it!
Cashew milk is super creamy and a great addition to cold brew coffee. Almond milk is full of calcium and delicious on a cold night in my incredible spiced almond milk. Hemp milk is chock full of protein and can also provide energy in a post-workout smoothie. The number of options makes me dizzy!
My fav store bought plant milk
I know this post is about a super simple homemade vegan milk recipe, yet not everyone has time for that. So my team's done the legwork to test the 2 most popular types of plant milk to help make your buying decisions easier.
Check out my posts for the best almond milk and the best oat milk. I want you to feel empowered while shopping for plant-based ingredients, and these 2 lists really do help! Plus, they're updated annually, so I've always got the newest brands for you.
Homemade vegan milk
Another great reason to try vegan milk is the ease in making it at home. A variety of nuts and seeds, as well as legumes, can be used in homemade plant-based milk. I personally love: coconut, almond, hemp, oat, and cashew.
Check out the recipe below for the best vegan milk recipe that can be used with any of the above nuts or plants. Don't forget to rate + review this recipe once you've tried it; as well as let me know what kind of milk you made!
Storage for DIY milk
A typical vegan milk recipe makes 4-6 cups, depending on the recipe. I always store my plant milk in a glass container, with a good fitting lid. Since this milk is super fresh, it is also super perishable. I try to use up a batch within 4-5 days. Also, give that milk container a good shake before pouring some out, as the contents will settle (especially with oat milk!).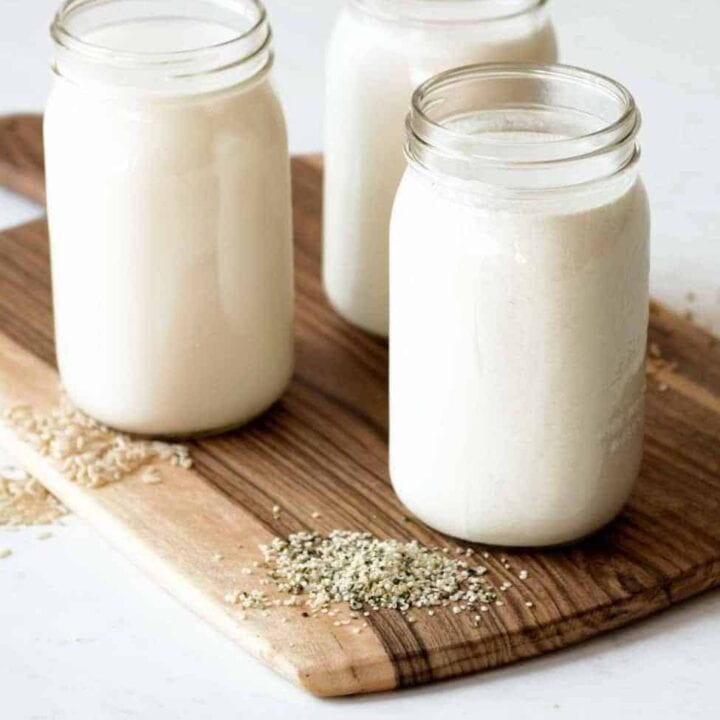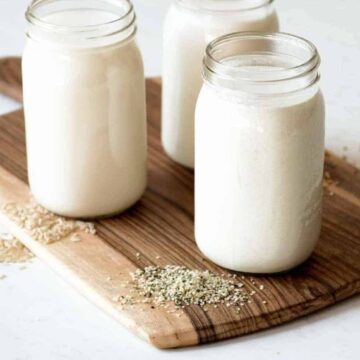 DIY Non Dairy Milk Recipe
Rate this Recipe
Print Recipe
There are some delicious dairy-free alternatives that you can whip up in your blender! When making this non dairy milk recipe, you can substitute 1 cup of plants such as oat, rice, hemp, coconut, almond, cashew, etc.
Ingredients
1

cup

hemp hearts

(or steel-cut oats, cooked brown rice, almonds, or cashews)

3

cups

water

1

tablespoon

coconut oil

(optional)

2

tablespoons

maple syrup

(optional)

½

teaspoon

vanilla extract

(optional)

Pinch

sea salt

(optional)
Instructions
Place the hemp hearts (or soaked steel-cut oats, or cooked brown rice, or nuts) and water in a high speed blender.

Blend on high speed for about 2 minutes, or until fully liquified.

Strain through a nut milk bag or cheesecloth into a wide glass bowl.

Discard the pulp from the bag.

Rinse the blender and pour the milk back into the blender from the bowl.

Add the coconut oil, maple syrup, vanilla, and salt. Blend for 10 seconds.
Notes
Soak steel-cut oats in a covered bowl of water for 20 minutes prior to blending.
Soak almonds/cashews 8 hours or overnight in 2 inches of water
To make Coconut Milk, click here
Nutrition (estimated)
Calories:
279
kcal
(14%)
Carbohydrates:
8
g
(3%)
Protein:
15
g
(30%)
Fat:
21
g
(32%)
Saturated Fat:
4
g
(25%)
Polyunsaturated Fat:
14
g
Monounsaturated Fat:
3
g
Sodium:
8
mg
Potassium:
19
mg
(1%)
Fiber:
1
g
(4%)
Sugar:
5
g
(6%)
Vitamin A:
207
IU
(4%)
Calcium:
69
mg
(7%)
Iron:
6
mg
(33%)
Smoothies with vegan milk
If you're looking for some smoothie recipes to make with your fresh batch of homemade milk, then check out this list:
And remember, just because a recipe has one kind of milk doesn't mean you can't swap in what you have on hand!