Pesto is such a fun + versatile topping that can be used on everything from healthy pizza recipes to healthy soup recipes, veggies and veggie wraps. Grab one of these vegan pesto recipes and go wild! Let your tastebuds revel in these homemade pestos like never before made with bright herbs, quality olive oil and a few unique ingredients as well.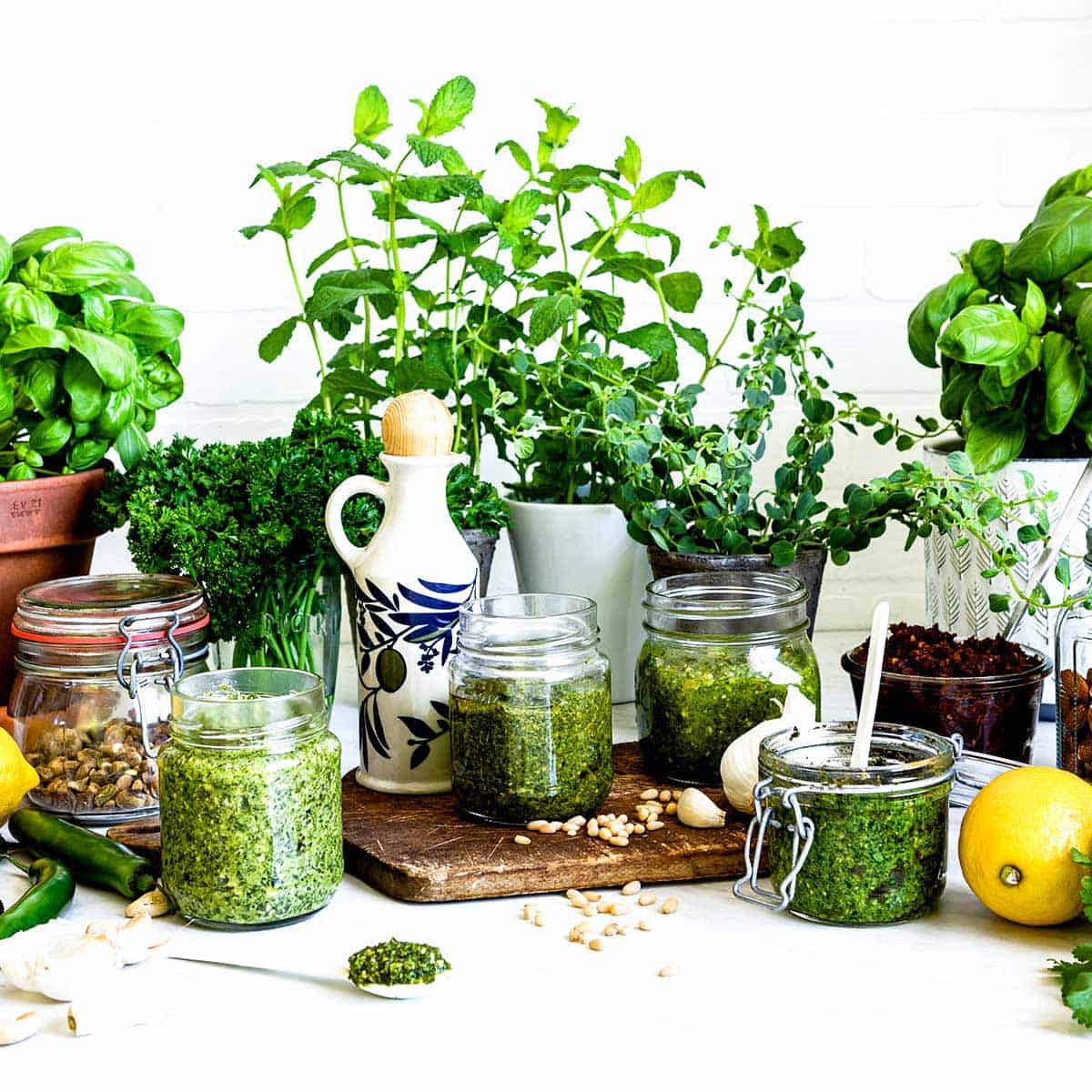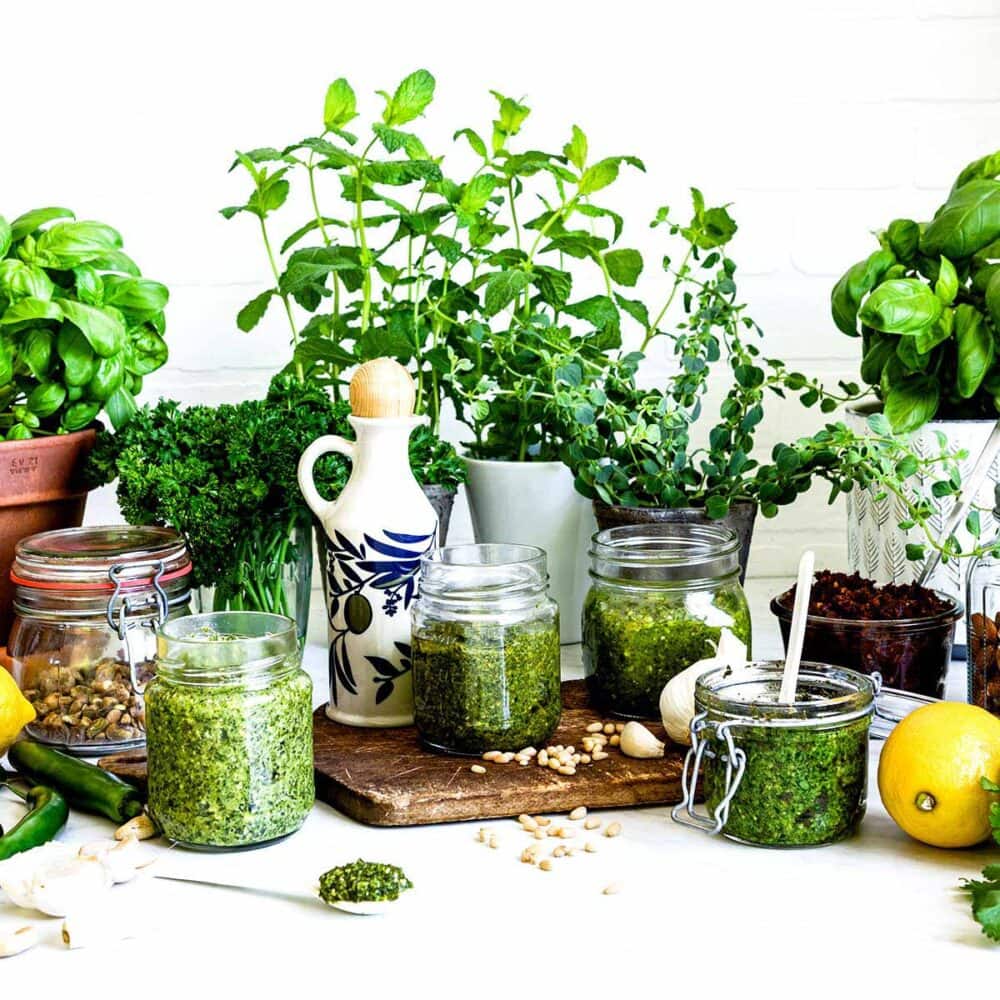 Enjoy my top 5 vegan pesto recipes to add more flavors, as well as variety, to your diet. When I started eating more plant-based foods, I remember feeling so sad saying goodbye to cheese (the main food group that was giving my digestive system issues galore). It was even more devastating when I thought I had to say goodbye to pesto.
Yet after a bit of research, I learned that there is a whole world of vegan pesto recipes (and they are amazing!). Follow along so that you'll be able to make your own homemade pesto, or just try some of my creations below.
Table of Contents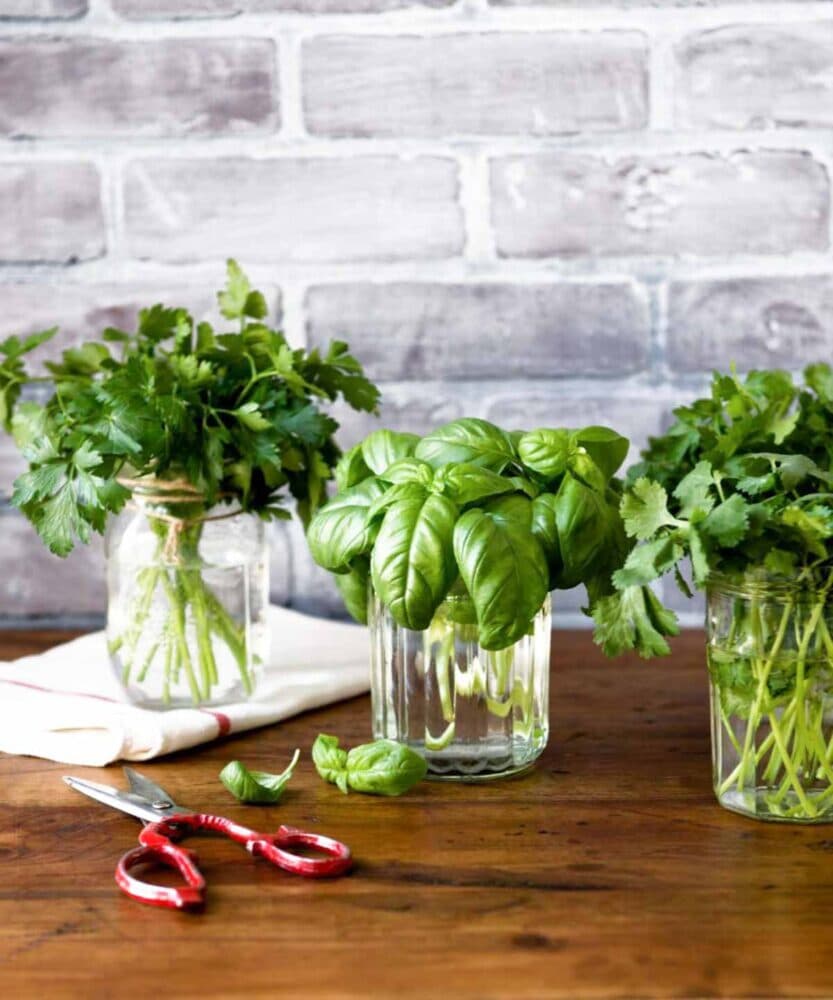 What's in Pesto?
Pesto is a combination of oil, herbs, nuts and plant-based seasoning crushed into a paste that is flavor-packed. Traditional pesto contains some sorta Parmesan style cheese. Yet in these vegan pesto recipes, we've left out the cheese and bumped up the flavors. Honestly, you won't even miss the dairy in the taste or the texture of this pesto recipes.
Tools to Make Pesto
The word "pesto" in Italian means "to pound or crush". Back before food processors and blenders reigned, if you wanted to make pesto, you had to grab a trusty mortar and pestle, then put some elbow grease into it.
Of course nowadays, every kitchen counter seems to be home to all sorts of gadgets. (I still think there's a place for a pestle in every kitchen!) This tutorial instructs the use of a food processor or blender. If using a blender, make sure to use the low speed or pulse setting so you don't liquify your pesto.
Please know that you can also use a mortar and pestle. The mortar is the bowl and the pestle is the pounder.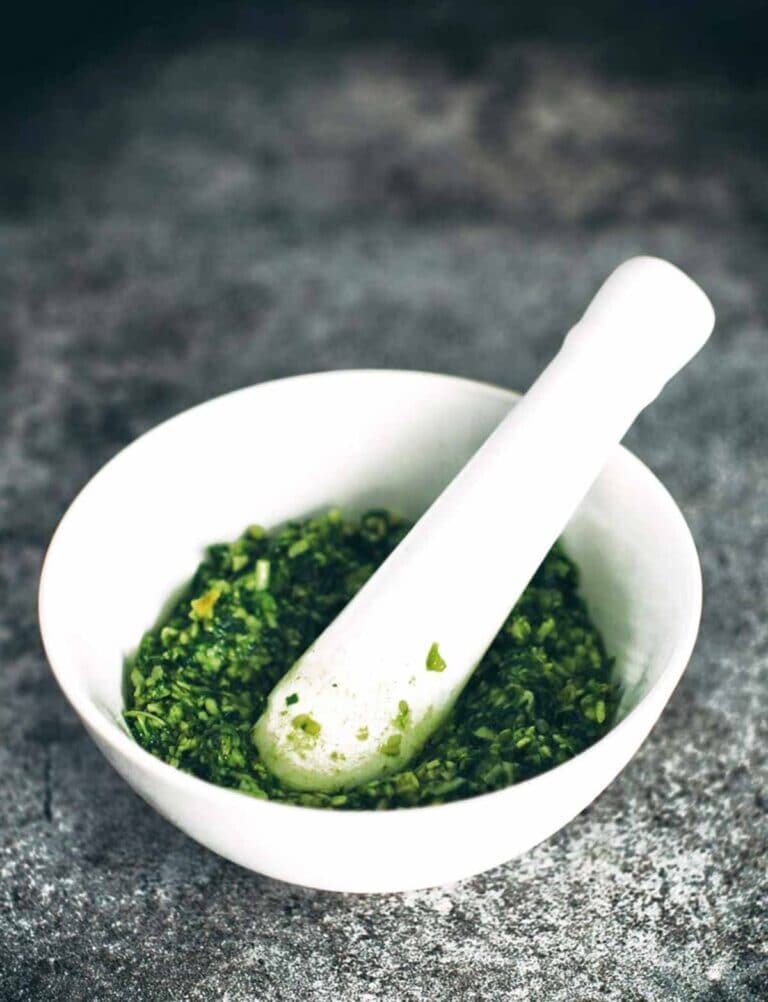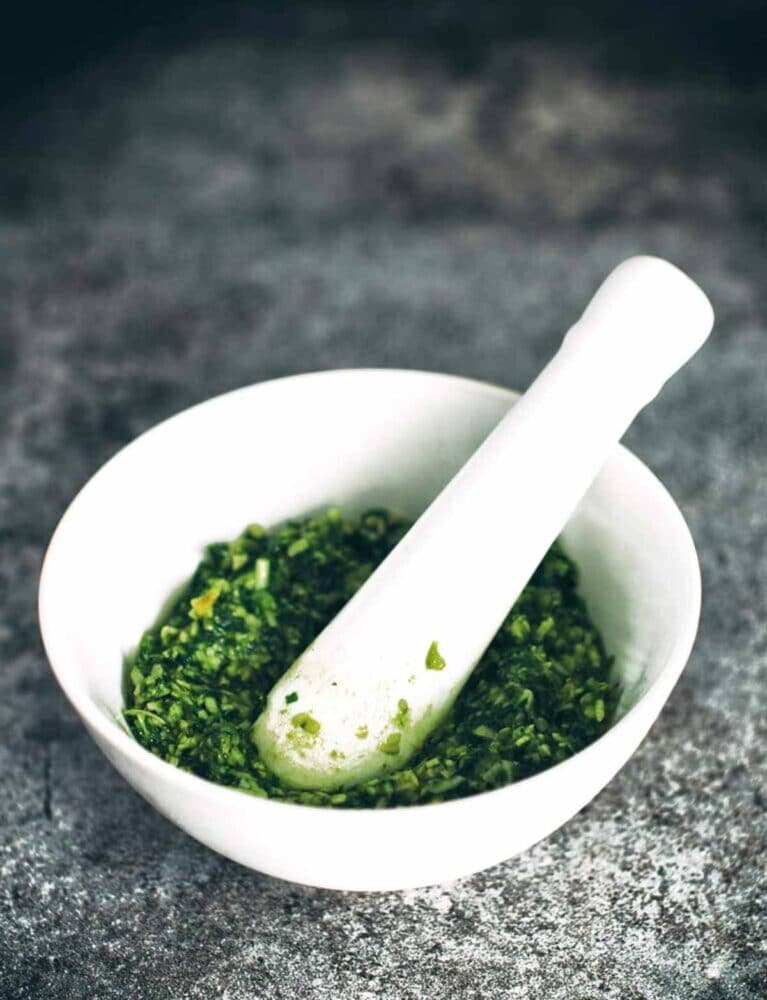 How To Make Vegan Pesto
Pesto usually contains finely grated parmesan or Romano cheese. But pesto doesn't really need cheese at all! That's about the only change needed to make vegan pesto. Pick from the items below to make your own homemade pesto, or scroll down to check out 5 tried and true vegan pesto recipes.
Fresh herbs, leafy greens + vegetables: Basil, cilantro, parsley, kale, broccoli, mint
Plant-based Oil: Olive, avocado, macadamia, hazelnut, walnut oils all work. If you wanna go oil free, then just use water.
Nuts: Pine nuts, cashews, walnuts, almonds, pecans, pepitas, pistachio
Seasoning: Garlic, chives, green onions, lemon, lime, olives, salt, pepper, tamari, miso, ginger, sun-dried tomatoes, nutritional yeast, jalapeños
5 Vegan Pesto Recipes Ideas
Now that you know all the components that go into making homemade pesto, you'll find 5 recipes below that'll rawk your world! Click on any of them to get to the recipe and enjoy the incredible fresh herbs and plant-based protein boost from a variety of nuts and seeds.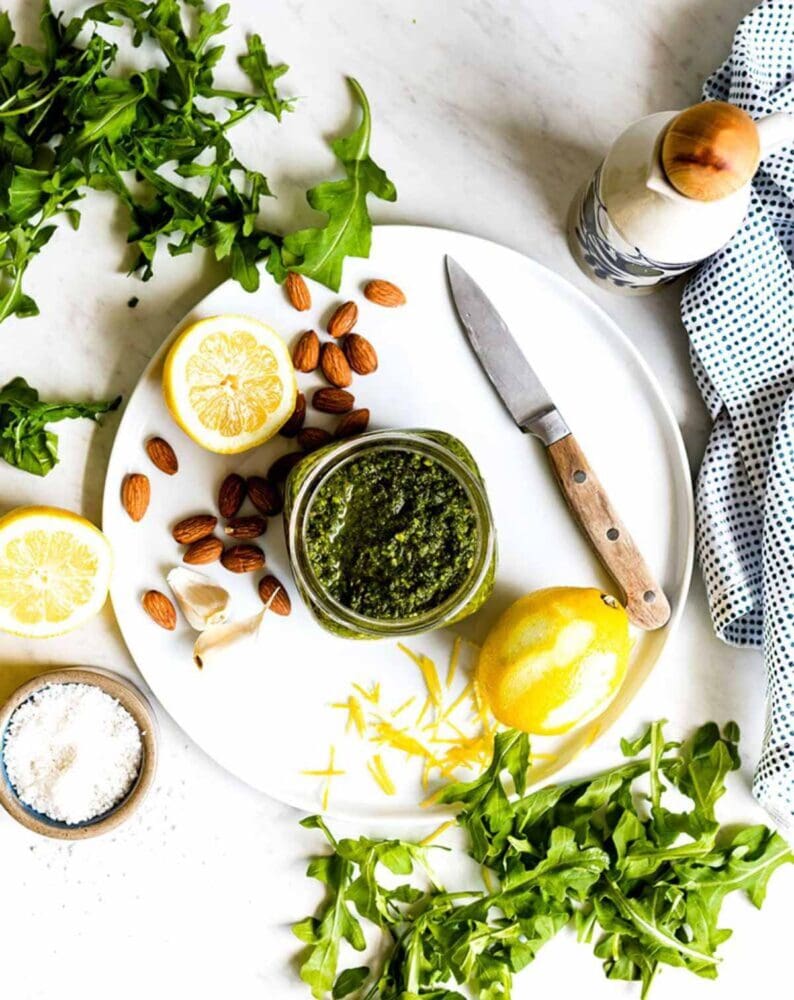 The arugula's fresh peppery flavor blends nicely with the brightness of lemon to create an addictively healthy vegan pesto. Arugula is in the leafy green family and is packed with vitamin K and folates, as well as other numerous nutrients). Works great on a variety of dishes, from salad to spaghetti squash or even pasta.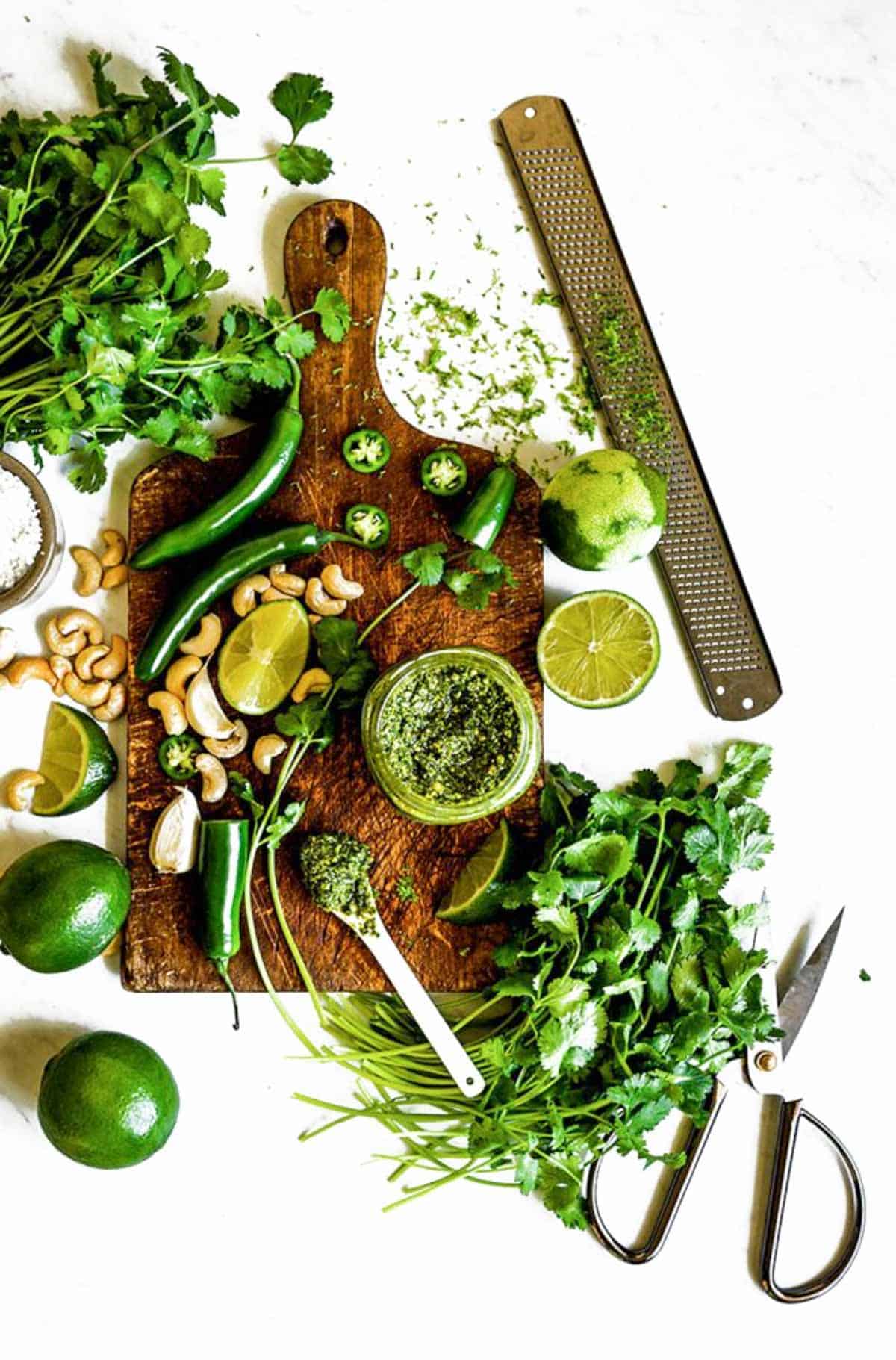 This homemade pesto recipe is one of my favs I've ever made. I love how good it is on chips. It's insane! Serve it with pasta, tacos or toast… I'd encourage putting it on all three!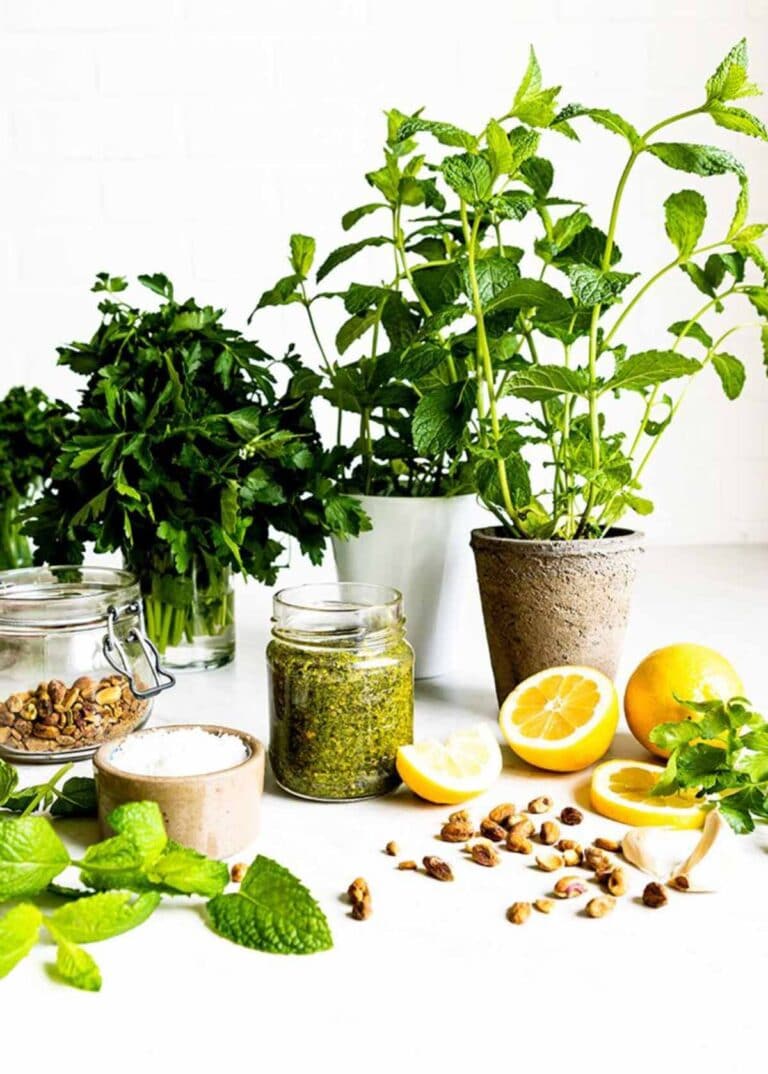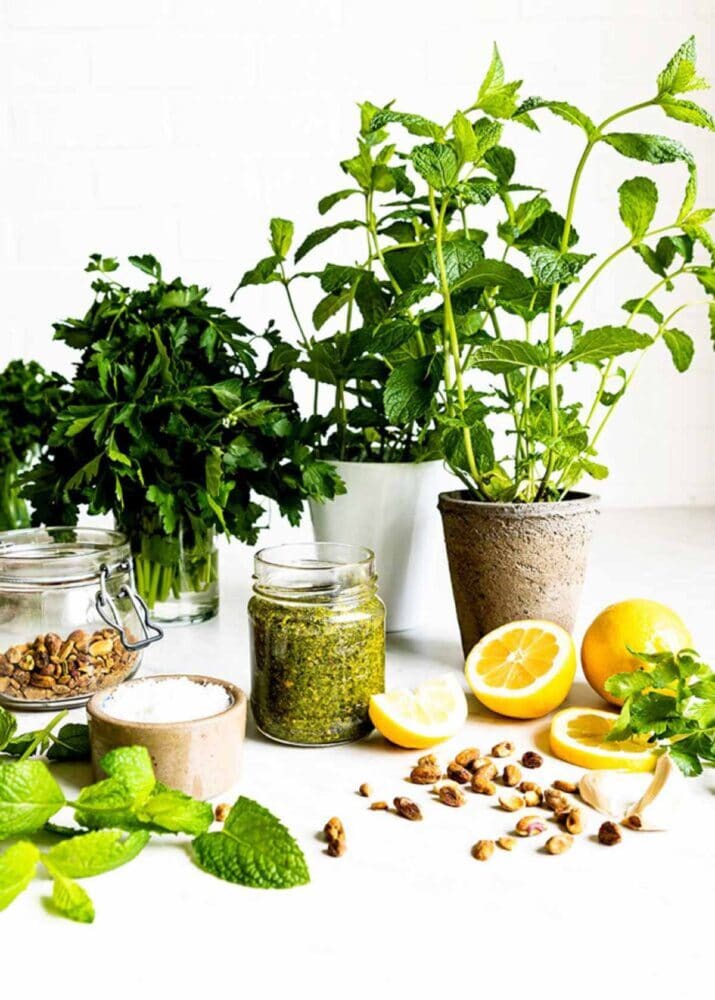 I've always had a love for pistachios and they bring a wonderful depth to this vegan pesto recipe. Serve it as a dip for veggies, toast, crackers, chips…. as well as a soup garnish, salad dressing and on pizza. Honestly, the list of what pesto can do is endless.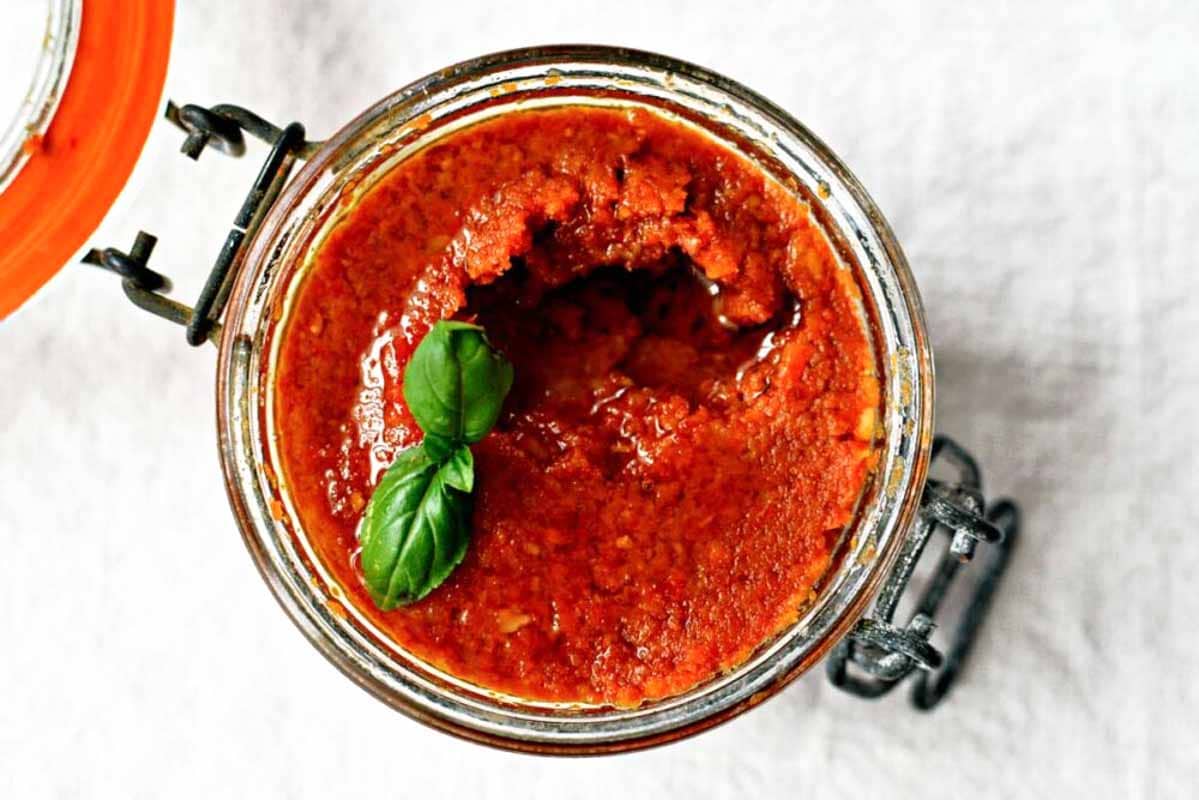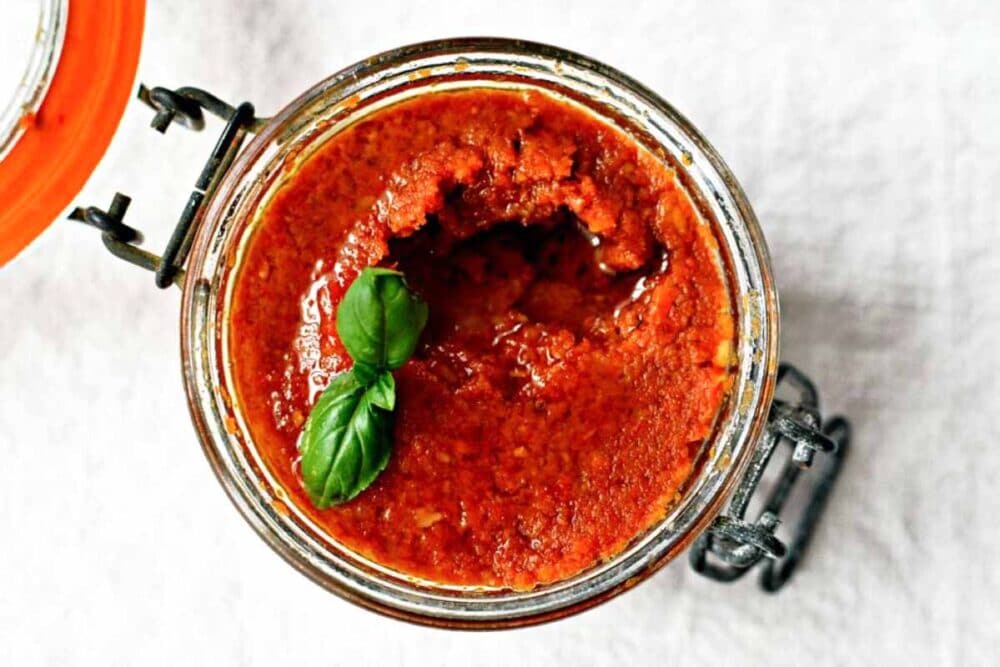 The first time our food photographer and recipe creator, Lindsey mentioned creating a Sun-Dried Tomato pesto recipe for Simple Green Meals, I wasn't very excited. Yet her excitement was contagious, so I easily gave in. I'm so glad I did because this is my favorite pesto recipe to use on veggie bowls!!! It's also amazing on pizza and in pasta— so don't be scared because it looks so different. This homemade pesto is absolutely worth making!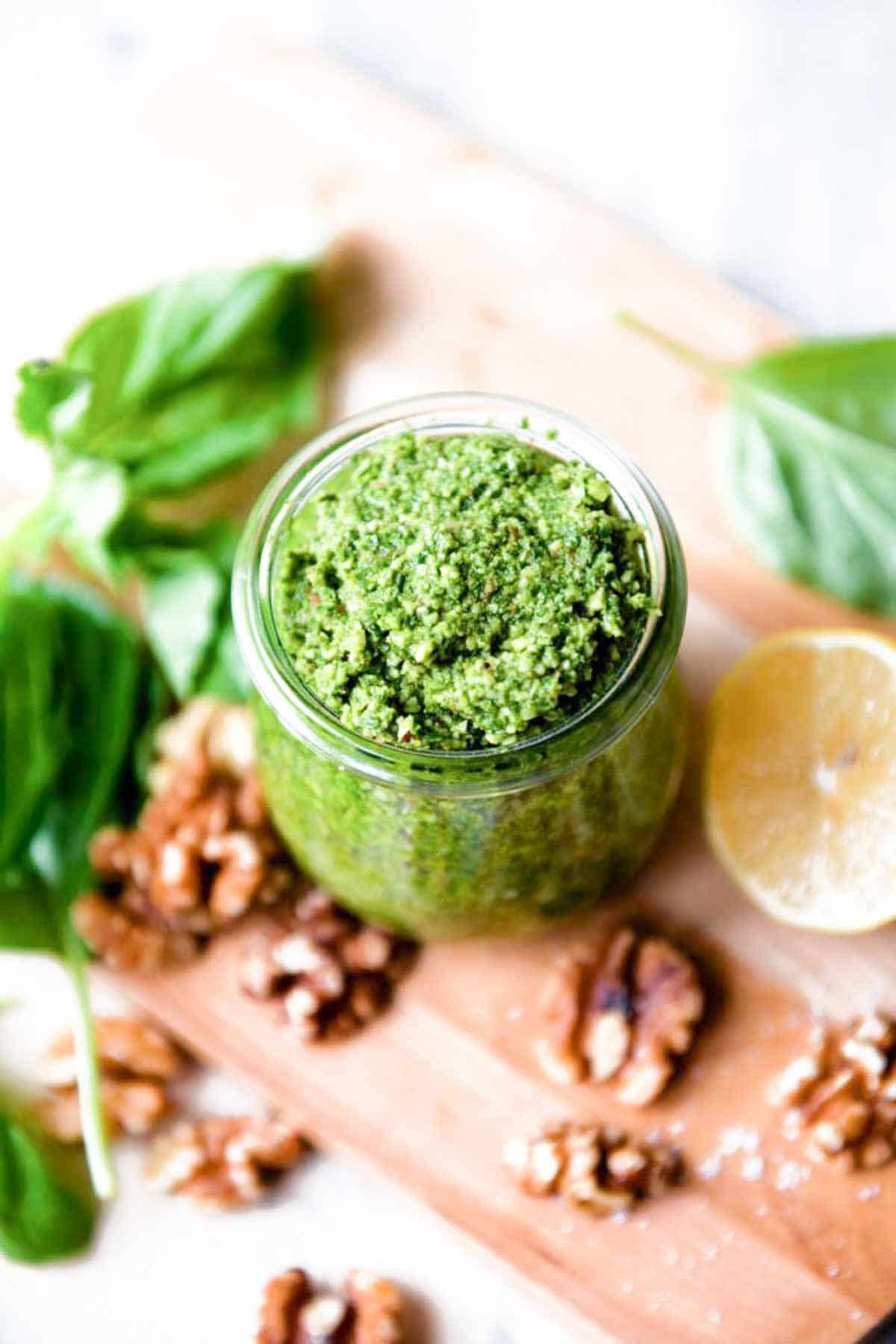 This classic pesto recipe was upgraded with heart-healthy walnuts. Yummy! If you like to keep the classic pesto a bit more classic, then swap out the walnuts with pine nuts (super easy!). Once again, the options are endless with pesto and that's why we love it around here so much!
How to Serve Pesto
Pretty much everything and anything works with vegan pesto. Whether you need to avoid dairy, or just want to make delicious pesto, there's a vegan pesto recipe for you. Here are my top 5 ways to use a vegan pesto recipe:
Toss it on pasta: The flavors come alive and also you're boosting the nutrients.
Serve it as a dip: Works great with crackers, chips and veggies
Add it to toast: I love a hearty piece of toast. Adding a dollop of pesto pretty much makes it a meal in my book.
Swap it for pizza sauce: We take Friday night pizza night pretty seriously at our house. We order takeout a lot, but we also make it from scratch a lot too. We love all kinds of pizza… especially when pesto is the base.
Hope this guide was helpful and you try some of these pesto recipes! I appreciate any comments or questions you want to leave in the comments section below.