This smoothie recipe is inspired by my favorite treats at Disney World—the Dole Whip. Along with being much healthier treat, it also works as a great weight gain smoothie for those needing to increase their calories.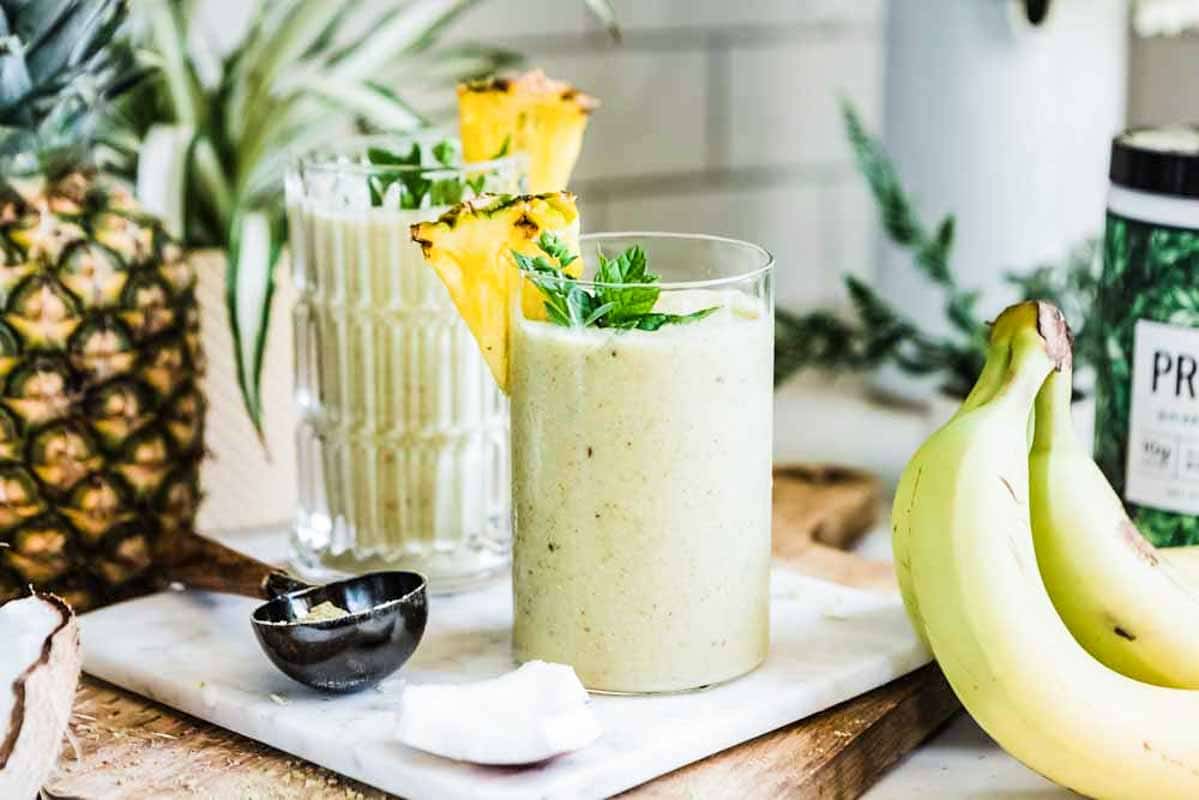 Tropical Ingredients
A traditional Dole Whip screams pineapple and coconut— yet if you read the ingredients label you'll find a lot more. For example, dextrose, maltodextrin, citric acid, artificial color, natural and artificial flavors and cellulose gums.
The recipe we're making today is just 4 ingredients and they are all plant-based whole foods. In other words, our version of a classic dole whip recipe will do your body some serious good! It includes:
coconut milk
pineapple juice
frozen pineapple
banana
If you really wanna boost the calories, you can add a scoop of homemade protein powder and coconut flakes.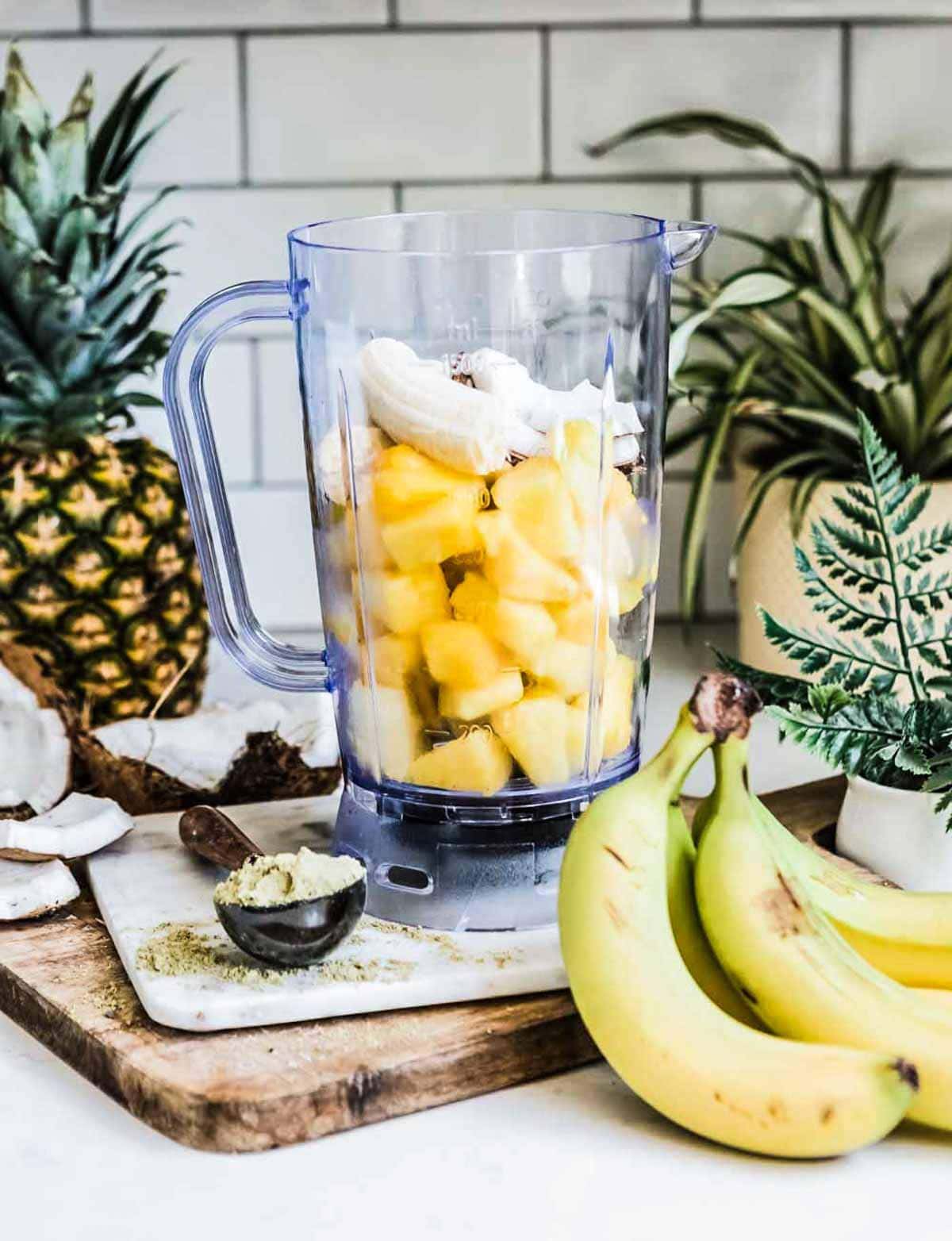 Best Smoothie Recipes for Weight Gain
Whether your fitness routine requires some extra calories, you have a supercharged metabolism or an underlying medical condition, this delicious smoothie is perfect for sneaking in some added calories the healthy way.
There's a right way to make a smoothie for weight gain, and the formula includes a balanced ratio of protein, carbohydrates and healthy fats. The ingredients in this smoothie come from whole foods that are calorically dense and packed with nutrients. And with this smoothie, we've dialed in the taste to make it amazingly good!
Protein: Increasing your protein intake results in lean body mass gains. Non-dairy yogurt, non-dairy milk (unsweetened soy, almond, cashew or oat milk), nut butter, protein powder are all great sources of protein to use in a weight gain smoothie.
Of course, we're partial to our greatest creation: homemade protein powder. It's made with the highest quality of organic plant-based proteins.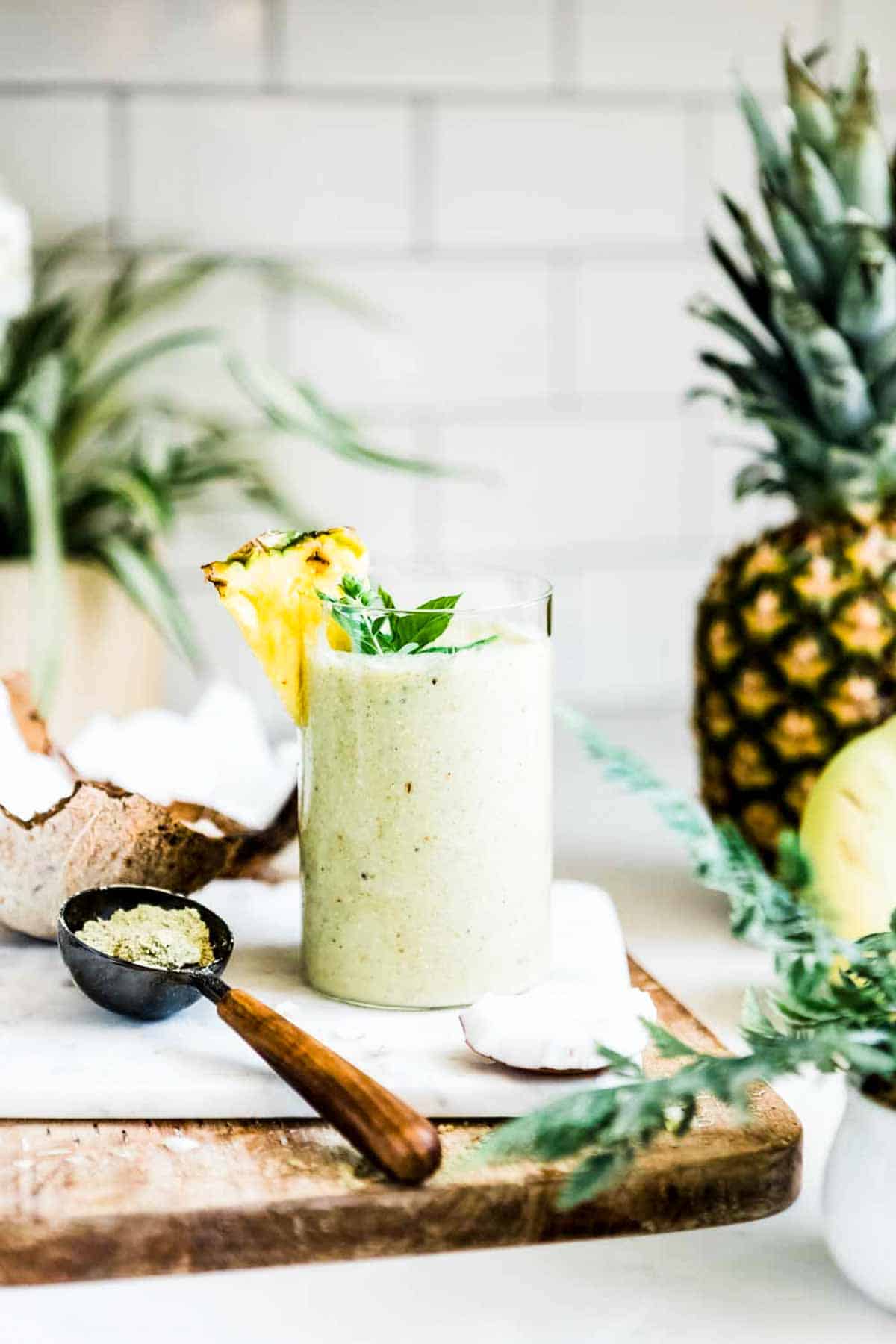 Carbohydrates provide essential nutrients like fiber, vitamins and minerals to a smoothie while increasing the calories. Oats, banana, berries, mango and pineapple are great carb-heavy ingredients.
Healthy fats are usually high in calories, and can help you gain a healthy amount of weight. Coconut cream, whole fat coconut milk, peanut butter, almond butter, avocado, soaked cashew nuts all blend nicely into smoothies.
Extras: cinnamon, turmeric, leafy greens (spinach, kale), vanilla, coconut flakes, flax and chia seeds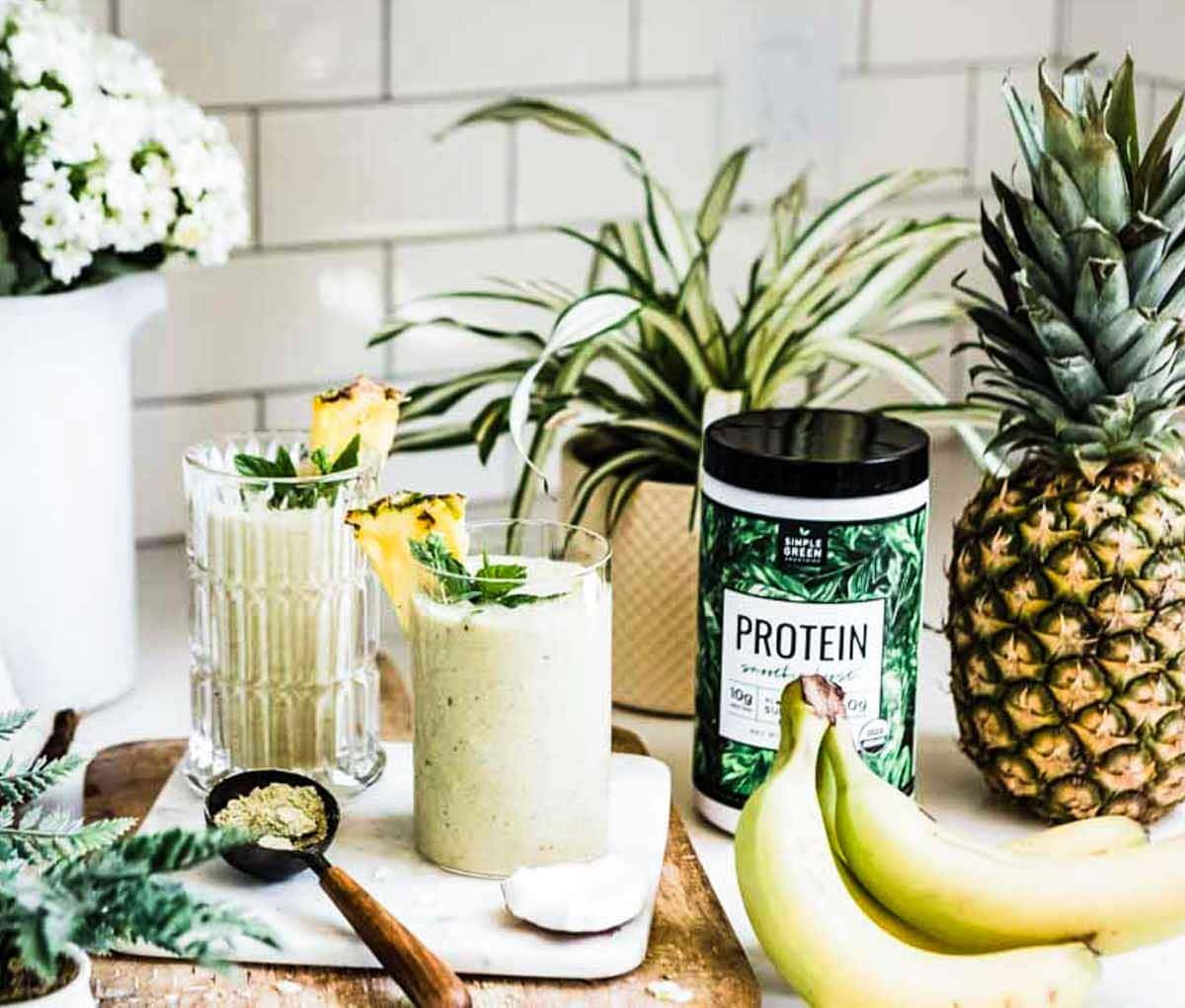 How to Make a Weight Gain Smoothie
When you need to gain weight, it can be difficult to get additional calories from regular meals. Adding a high calorie smoothie to your diet is a great option to maximize calorie intake. Drink a weight gain smoothie as a snack in-between meals to up your calorie intake.
Shake the can of coconut milk vigorously to combine the fat and the milk before opening and pouring into a measuring cup.
Add all of the ingredients to the blender and blend until smooth and creamy. To thin the consistency, add more pineapple juice or filtered water.
Serve in a glass with a straw or spoon, depending how thick you made it.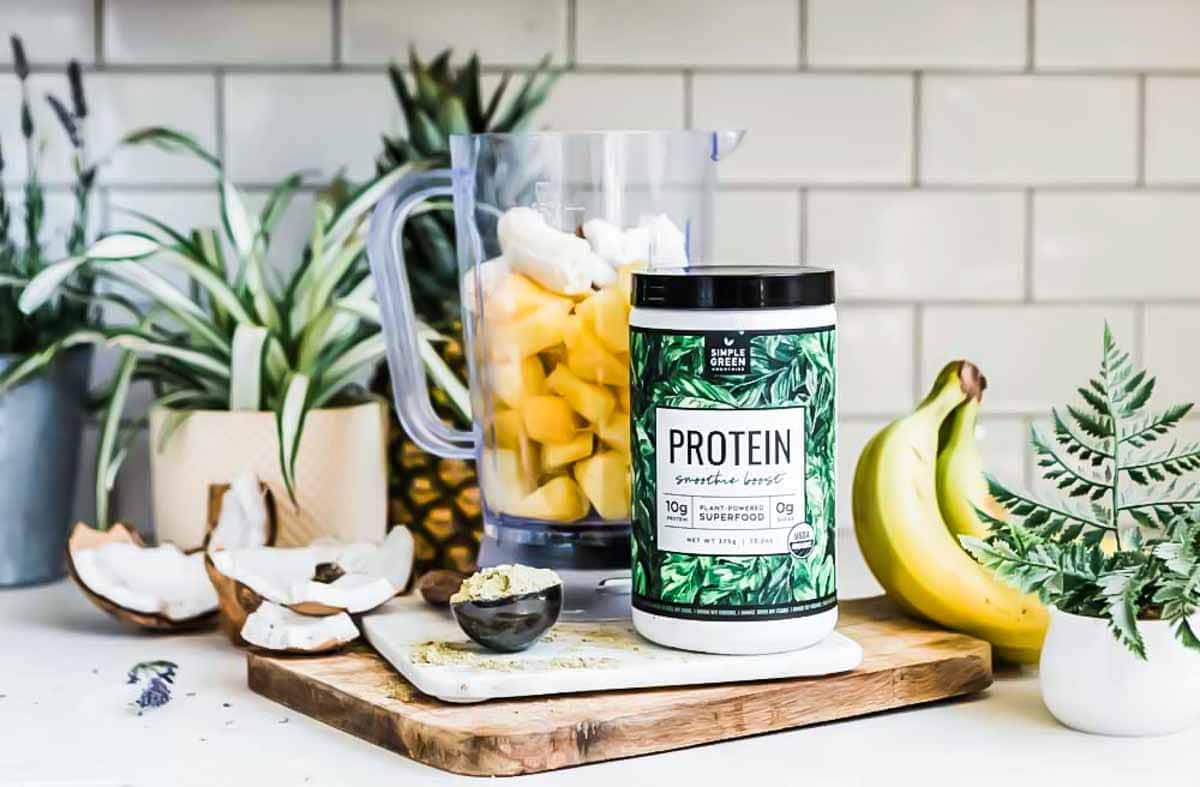 Decrease the Calories in Smoothies
If you're wanting to lighten up this tasty smoothie, use light coconut milk (or just 1/4 cup full fat coconut milk and 3/4 cup of water). You can also skip the pineapple juice and just use frozen pineapple, which still has the fiber to help maintain your blood sugar levels.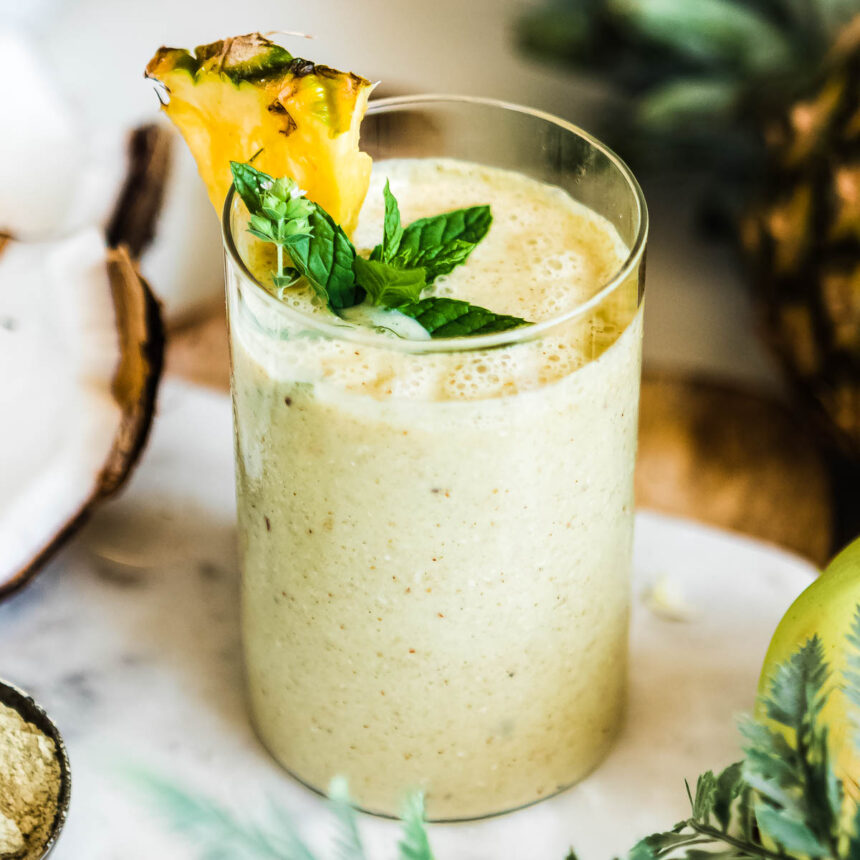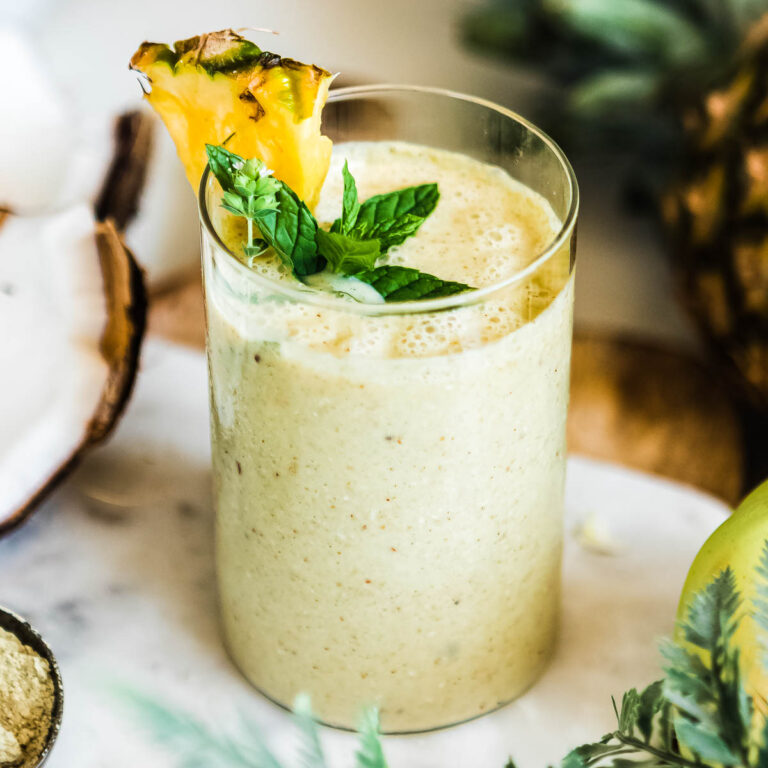 Weight Gain Smoothie
Enjoy this refreshing weight gain smoothie to nourish your body. Packed with nutrient-dense calories to energize and help you achieve your weight goals.
Instructions
Combine all ingredients into blender.

Blend on high until smooth.

Pour into a glass and enjoy.
Notes
To add more calories, use canned full-fat coconut milk vs light coconut milk.
Turn this recipe into a meal replacement shake by adding in 1 serving of my homemade protein powder.
Use at least 1 frozen ingredient for a refreshingly cool smoothie.
Feel free to add up to 1 cup of leafy greens per serving.
Nutrition
Calories:
664
kcal
,
Carbohydrates:
63
g
,
Protein:
7
g
,
Fat:
49
g
,
Saturated Fat:
43
g
,
Polyunsaturated Fat:
1
g
,
Monounsaturated Fat:
2
g
,
Sodium:
33
mg
,
Potassium:
1176
mg
,
Fiber:
6
g
,
Sugar:
37
g
,
Vitamin A:
174
IU
,
Vitamin C:
97
mg
,
Calcium:
76
mg
,
Iron:
8
mg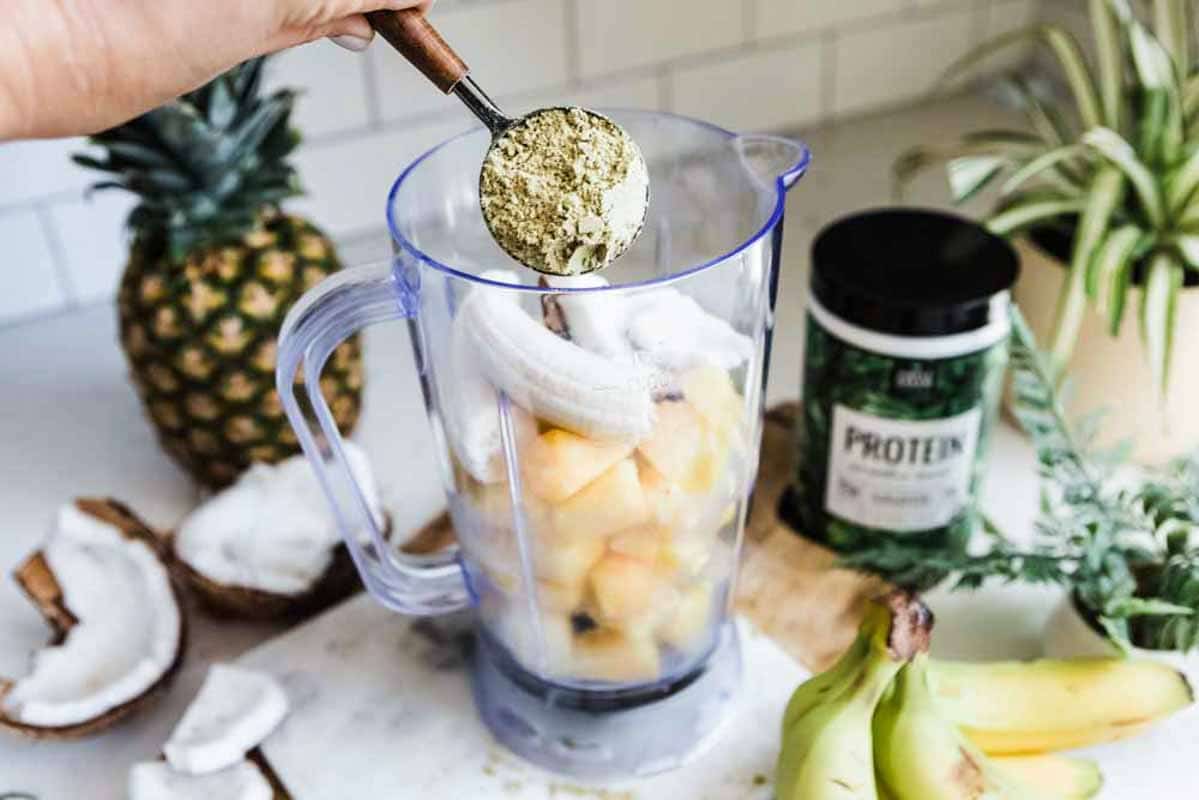 Healthy Weight Gain Smoothie Recipes
Here's more recipes we have that are higher in calories, yet packed with nutrients to make sure you gain weight in a healthy way.