This smoothie recipe is inspired by my favorite treat at Disney World—the Dole Whip. Along with being a much healthier treat, it also works as a great weight-gain smoothie for those needing to increase their calories.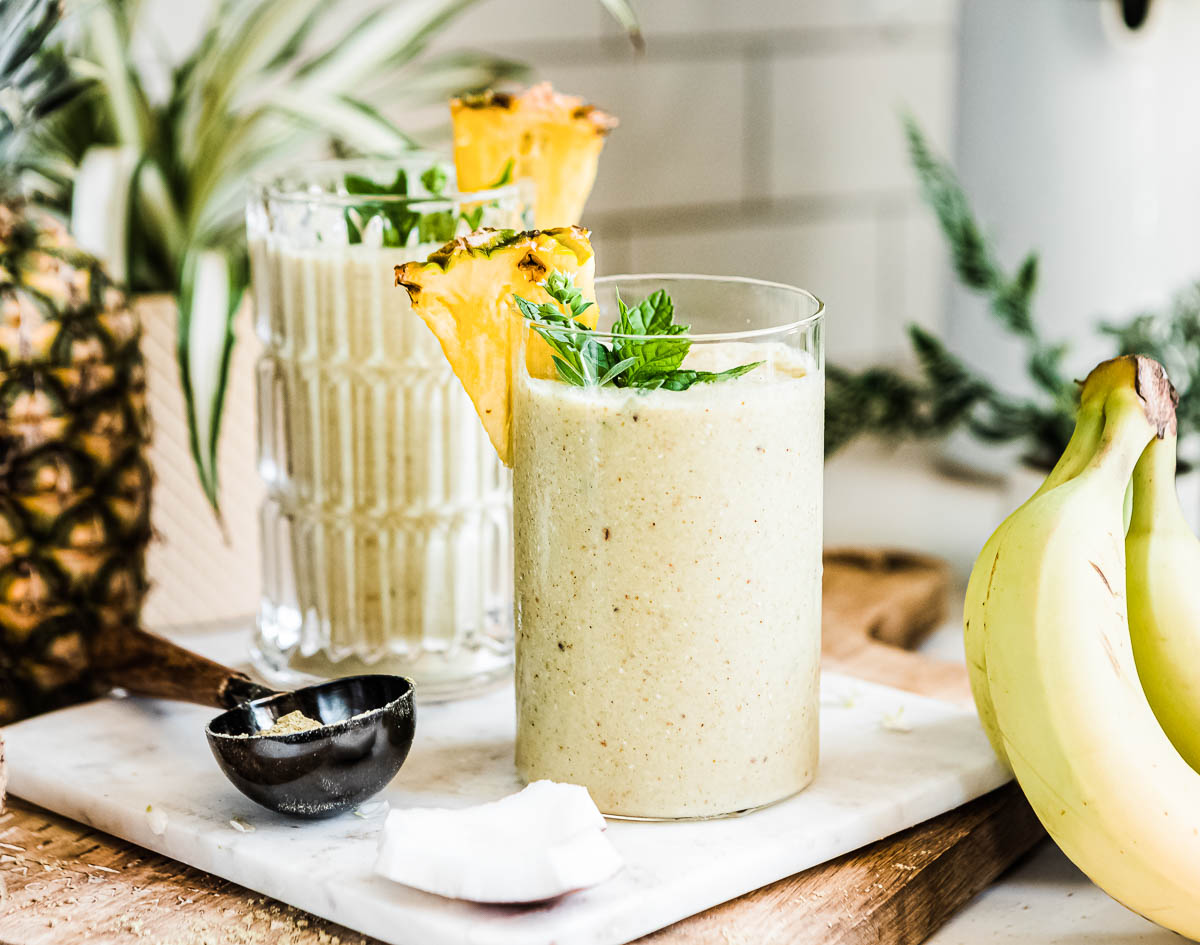 If you need to gain weight or increase your calorie intake, there are a few easy swaps you can make in smoothie recipes to do this. I'm sharing what those are and how to use them to help you consume healthy smoothies that can help you gain weight in a healthy way.
Table of Contents
High Calorie Ingredients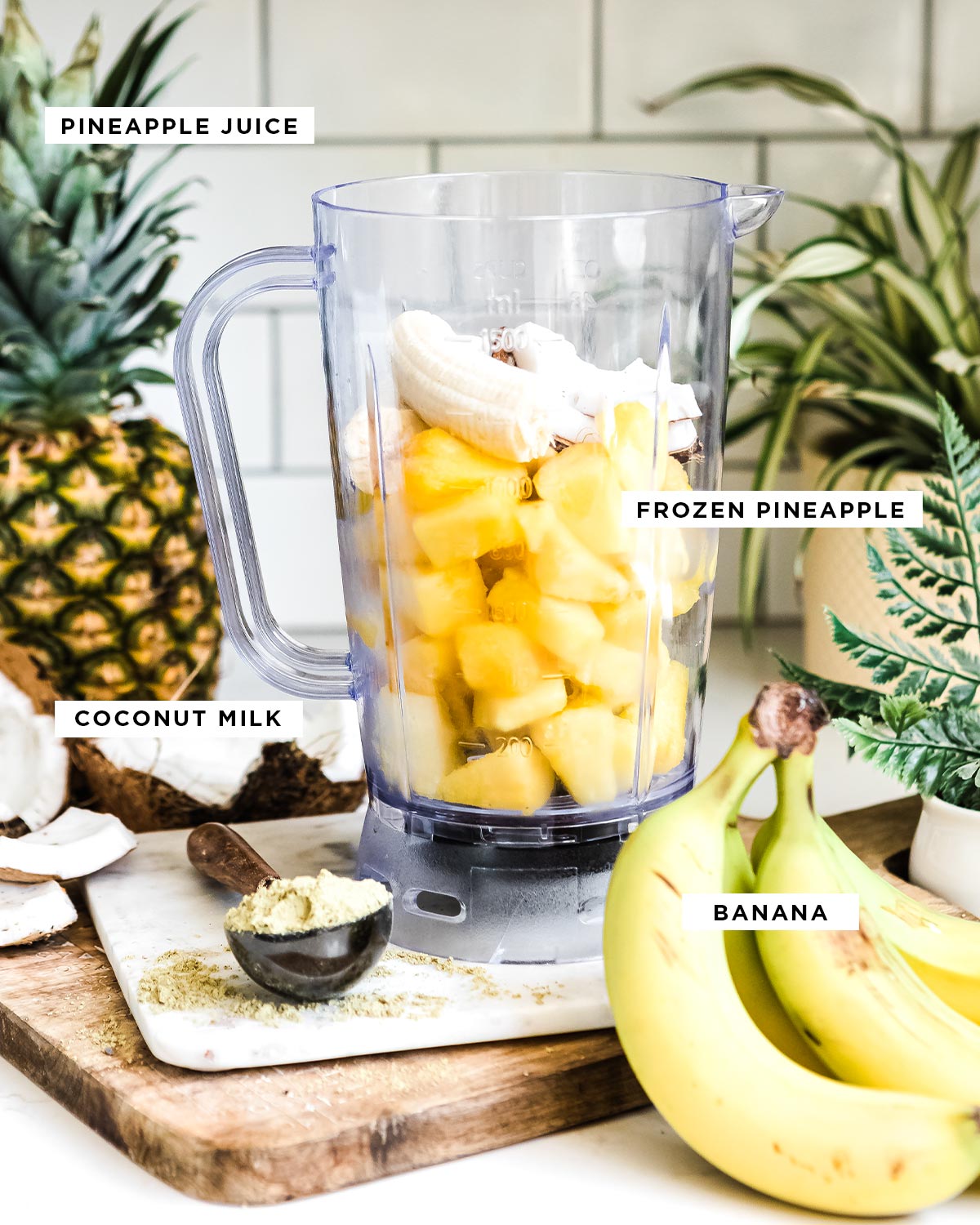 Traditional Dole Whip screams pineapple and coconut, but if you read the ingredient label you'll find a lot more. For example, dextrose, maltodextrin, citric acid, artificial color, natural and artificial flavors and cellulose gums.
The recipe we're making today is just four ingredients, and they are all plant-based whole foods. In other words, our version of the classic dole whip recipe will do your body some serious good! It includes:
I also recommend adding in a plant-based protein powder like my protein powder recipe to turn this smoothie into a meal. You can also add up to one cup of leafy greens for even more benefits.
Healthy Fat Boosts
If you are looking to add more healthy fat to smoothies, you can also include the following:
Hemp hearts
Chia seeds
Coconut flakes
Avocado
It's not hard to boost smoothies with the nutrients you need to help your body thrive, and these are all great options that either add no flavor or add a light, nutty taste to your favorite smoothie recipes.
How to Make a Weight Gain Smoothie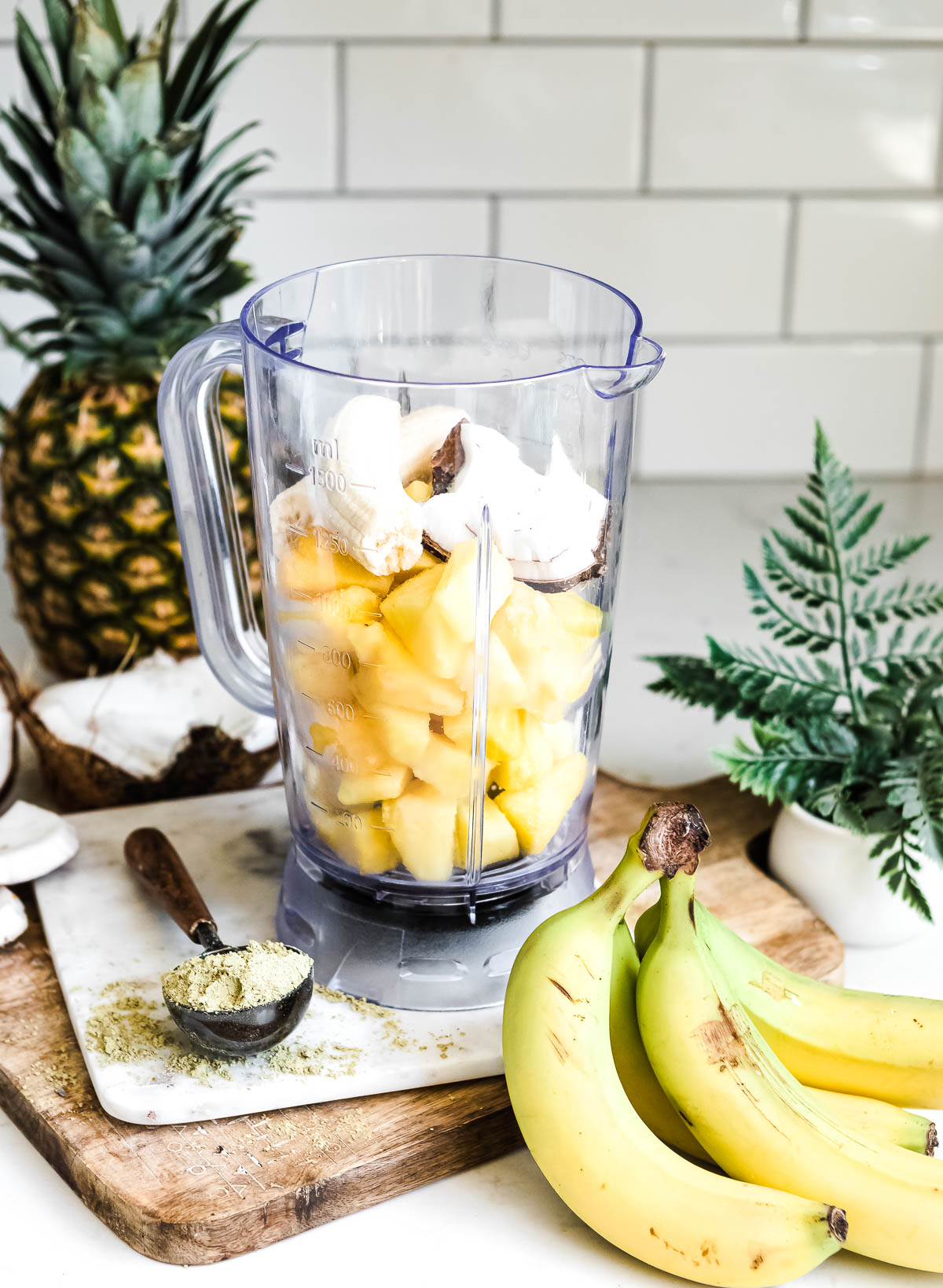 When you need to gain weight, it can be difficult to get additional calories from regular meals. Adding a high-calorie smoothie to your diet is a great option to maximize calorie intake. Here's how I'm blending mine:
Shake the can of coconut milk vigorously to combine the fat and the milk before opening and pouring it into a measuring cup. If the contents are still a little separated when you open the can, whisk until the cream is well incorporated into the liquid.
Add all of the ingredients to the blender and blend until smooth and creamy. To thin the consistency, add a little more pineapple juice or filtered water.
Serve in a glass with a straw or spoon, depending on how thick you made it.
Turn this into a fun dessert by adding coconut whipped cream to the finished product, or sprinkle some chia seeds on top.
Weight Gain SMoothie FAQs
Which smoothie is best for weight gain?
I have a smoothie that tastes like Disney's Dole Whip but is made with 100% real, nutrient-dense ingredients. My recipe uses full-fat coconut milk, pineapple chunks, pineapple juice and banana. It tastes incredible while also giving you the calories you need.
Can you drink smoothies to gain weight?
Yes! Your body will use those whole food plant-based ingredients the way it needs to. If you need to gain weight, then using high healthy fat, high calorie foods can definitely help. My smoothie recipe uses full-fat coconut milk, pineapple juice, pineapple chunks and bananas to give you great nutrients while also giving you needed calories.
How can I gain weight in a healthy way?
Focus on choosing high calorie, nutrient-dense foods like avocado, full-fat coconut milk, fruits that are higher on the glycemic index and more. Add healthy fat like chia seeds and hemp hearts to a variety of recipes, and use full-fat options instead of reduced or fat-free. If you need to gain weight, you can do it by eating whole food.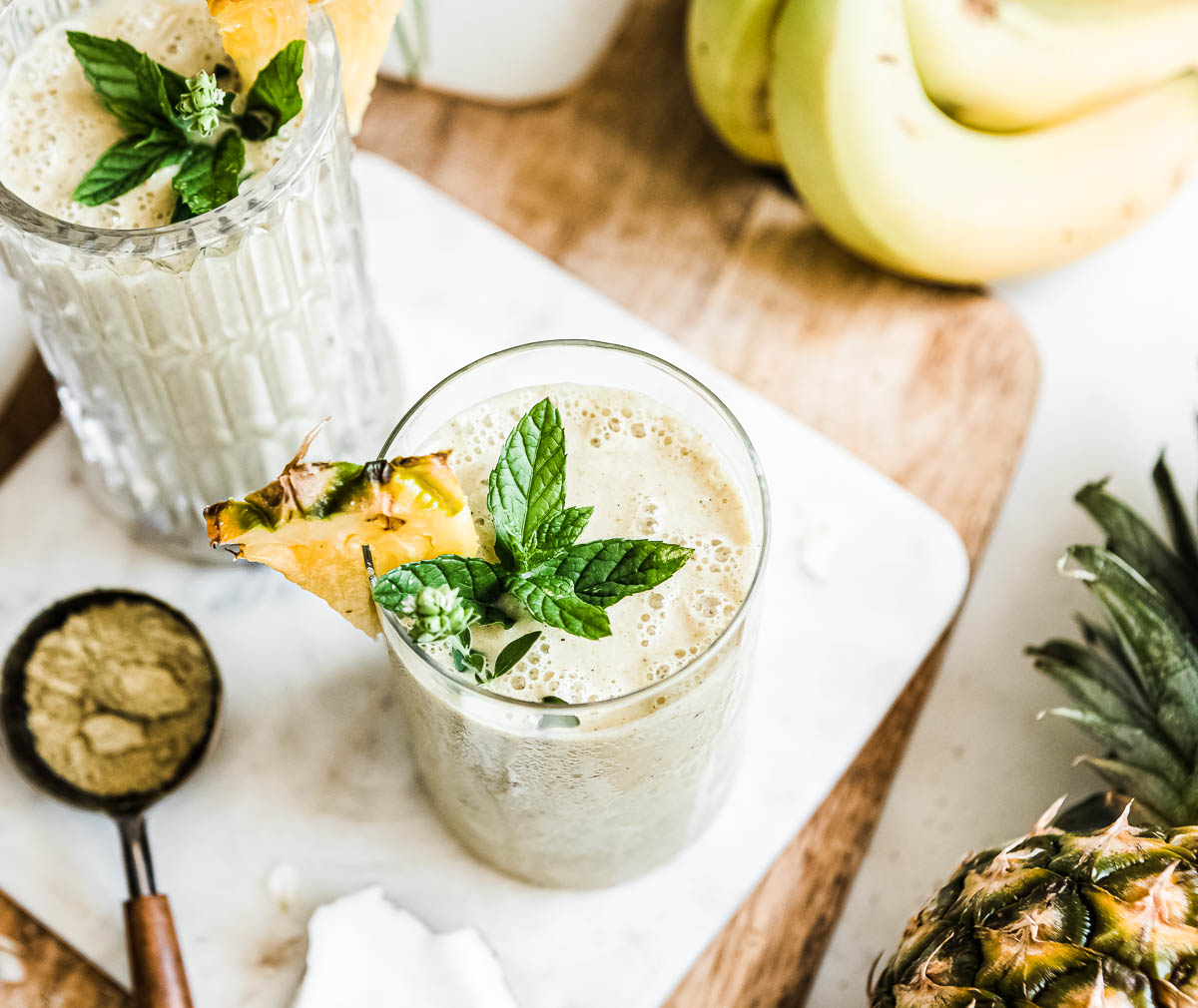 More Healthy Smoothie Recipes
Here are more recipes we have that are higher in calories, yet packed with nutrients to make sure you gain weight in a healthy way.
Would you please rate + review this smoothie once you've tried it? I'd love to hear how yours turns out!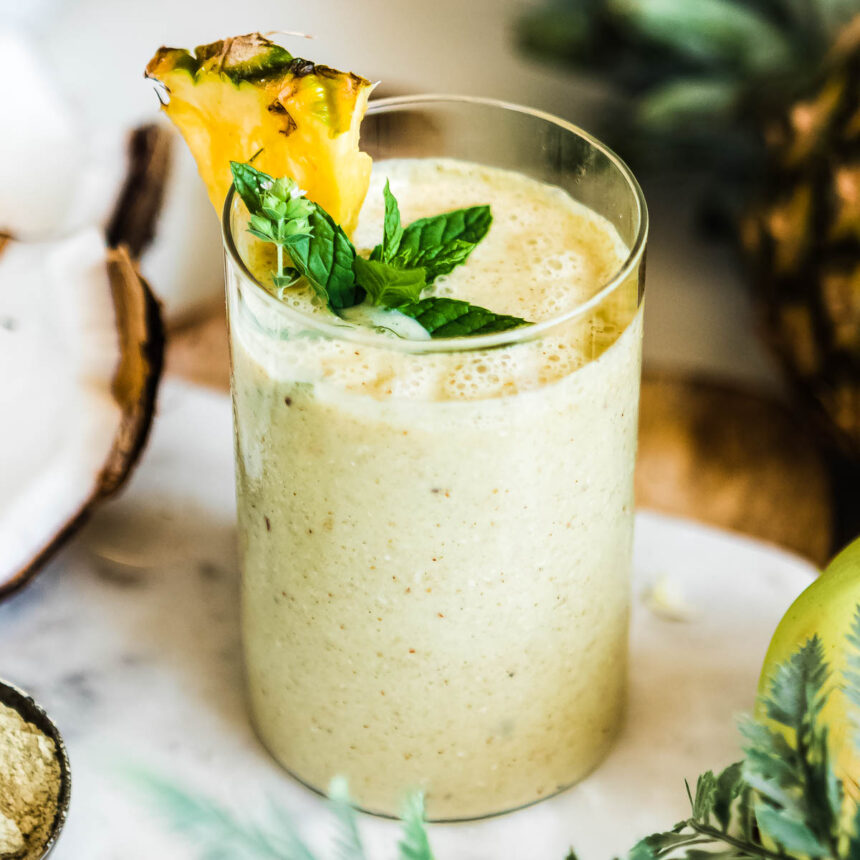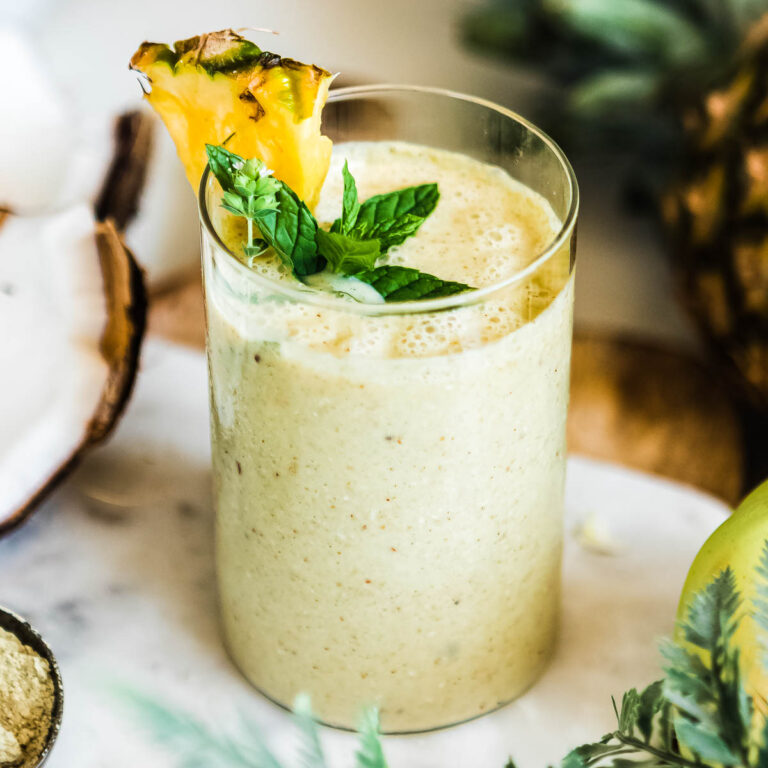 Weight Gain Smoothie
Enjoy this refreshing weight gain smoothie to nourish your body. Packed with nutrient-dense calories to energize and help you achieve your weight goals.
Instructions
Combine all ingredients into blender.

Blend on high until smooth.

Pour into a glass and enjoy.
Notes
To add more calories, use canned full-fat coconut milk instead of light coconut milk.
Turn this recipe into a meal replacement shake by adding in 1 serving of my homemade protein powder.
Use at least 1 frozen ingredient for a refreshingly cool smoothie.
Feel free to add up to 1 cup of leafy greens per serving.
Nutrition
Calories:
664
kcal
,
Carbohydrates:
63
g
,
Protein:
7
g
,
Fat:
49
g
,
Saturated Fat:
43
g
,
Polyunsaturated Fat:
1
g
,
Monounsaturated Fat:
2
g
,
Sodium:
33
mg
,
Potassium:
1176
mg
,
Fiber:
6
g
,
Sugar:
37
g
,
Vitamin A:
174
IU
,
Vitamin C:
97
mg
,
Calcium:
76
mg
,
Iron:
8
mg