Good, easy whole food plant-based recipes for beginners can be hard to find, and often difficult to make! I'm taking the guesswork out of meal planning and prepping by sharing my family's favorite plant-based recipes.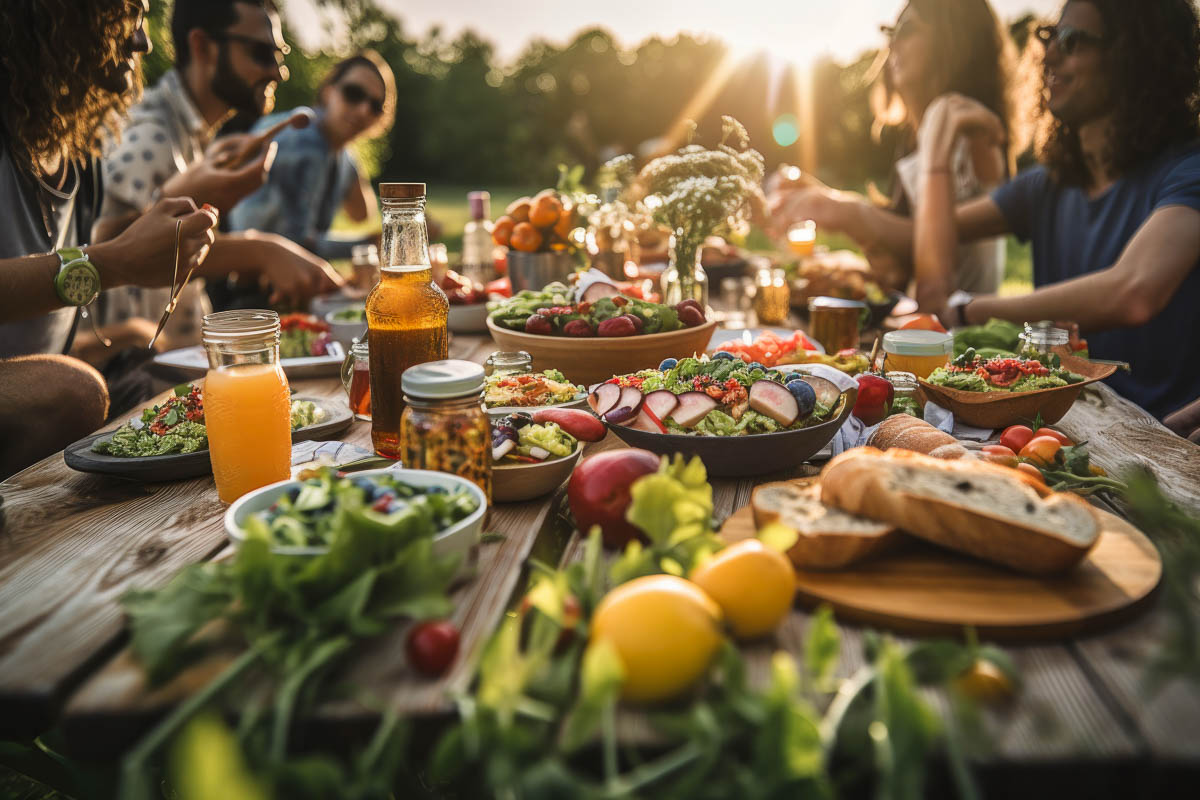 These are easy, simple recipes loaded with flavor and health benefits. They are perfect for the beginner cook, or beginner to the plant-based lifestyle. I've got soup recipes loaded with plant-based protein, main courses exploding with flavor and playing on some easy American favorites like tacos, pizza and more.
Prep easy whole-food plant-based side dishes that pair well with any meal, plant-based or not, as well as snacks that can be made once and enjoyed all week long! Let's dive in.
Table of Contents
Whole Food Plant-Based Recipes for Beginners
If you stumbled upon this post while looking to make some changes to your diet then you've come to the right place. My goal with Simple Green Smoothies is to help as many people as I can eat more plants every day. You don't have to eat all the plants, just more!
A plant-based diet is all about fueling our bodies with foods that are naturally occurring and minimally processed. Many people believe that in order to eat a protein-dense meal you must include meat from animals. I'm here to tell you that's not true! You can have a protein-powered, plant-forward meal without meat.
There are a wide variety of plant-based protein options and I'm not just talking about legumes! I can start my day with a banana smoothie, boasting 18 grams of protein. Then around mid-morning, I'll grab some baked chickpeas with 13 grams of protein. For lunch, I'm going to enjoy some Thai lettuce wraps with 16 grams of protein, then finish off my day with red lentil soup coming in at 22 grams of protein per serving.
That means I've consumed 69 grams of protein, completely from plants! While protein needs vary from person to person, this is 16 grams more than I need in a day according to this article by Harvard.
Intrigued? Let's start planning some meals for you!
Quick Main Dishes
My family likes hearty meals to fuel our very active lifestyles. Here are the recipes that frequent our table and we actually like to eat! They are full of flavor, color and a variety of vegetables yet do not compromise on taste.
A whole food plant-based diet (sometimes seen as WFPB diet) is all about variety; trying to eat as many colors each day as you can. So grab that purple cauliflower, white carrot, or tri-colored peppers to brighten up your next meal.
Easy Plant-Based Soups
I've learned how easy soup can be. Most of mine start with sautéing garlic and onions, then adding in some homemade vegetable stock along with whatever else I want and simmering to perfection.
If I need my meal to-go then I choose a blended soup I can toss into a thermos. If I get to enjoy a meal with my family then I choose one like my Vegetarian Split Pea Soup which pairs fabulously with some crusty bread.
Savory Vegetable Side Dishes
If you're looking for whole food plant-based recipes for beginners then start with these veggie side dishes. They are all simple to make and easy to enjoy. Dress them up for a fancy occasion or enjoy them as-is for a weeknight meal.
Not ready to be completely dairy-free? No worries! You can easily cook many of these recipes in some grass-fed butter or top with cheese for a comforting finish.
The Best Plant-Based Dessert Recipes
Now this is where this list gets fun. Desserts are meant to be enjoyed with abandon, easily indulged with friends or curled up with a good book.
I love a treat just as much as the next person, yet my stomach doesn't love the bloat from dairy-based concoctions so I created my own whole food plant-based recipes out of my favorite desserts and now I can eat them freely.
If chocolate is your flavor of choice, then check out my post dedicated to chocolate desserts.
Vegan Staples
While you don't have to eat vegan recipes to be completely plant-based, there are a lot of kitchen staples that are highly processed with or without dairy. I opt to make my own and like them even better than store-bought versions!
My coconut whipped cream works great on pumpkin pancakes or coconut sorbet. This vegan parmesan cheese tastes like real parmesan cheese and can be added to plant-based pizza, roasted spaghetti squash and many more dishes.
The cashew cream is probably my most used staple! I can add spices to make it sweet or savory, thin it out to a dressing or thicken it up for a dip. I never make vegan tacos without it.
Are Whole Food, Plant-Based Diet Recipes Worth the Hype?
While I've called myself a vegetarian for years, my diet consisted of bean burritos from Taco Bell and Lucky Charms. Sure, I wasn't eating meat, but I was fueling my body with junk. And boy did I feel it! I slept a lot. I was always hungry. I craved candy.
Processed foods contain ingredients mostly found in industrial food manufacturing (aka, not nature). This includes hydrogenated oils, high-fructose corn syrup, food dyes, flavoring and emulsifiers.
A diet of predominately processed food can lead to:
Heart disease: A leading cause of death worldwide. A result of continual eating of processed food according to a recent study by the British Medical Journal.
Unhealthy weight gain: The National Institute of Health conducted a study showing a correlation between a processed food diet and weight gain.
Increased risk of cancer: The correlation between cancer patients and increasingly processed food diets goes up 12% for every 10% of the diet that contains processed food. 
Malnutrition: Processing actually strips food of its nutritional value! This creates empty calorie consumption and minimal nutritional value, even if one feels 'full.'
Addictive eating habits: Processed foods can actually make people addicted to food.
A diet consisting of minimally processed, whole foods can lead to:
Healthy weight loss and gut health: A whole food plant-based diet is high in fiber, which helps the body with excess weight and better digestion.
Lower risk of Type II Diabetes: Vegetarians are at an almost 50% decreased risk of diabetes over those on a non-vegetarian diet.
A lower risk of heart disease: A balanced whole food plant-based diet significantly lowers the risk for heart disease.
Lower risk of cancer: A study by the US National Library of Medicine showed a 43% reduced risk of cancer in those sticking to a vegetarian diet.
And you don't have to figure this out on your own! I have a free seven-day plant-based meal plan that will make your weekly meal planning a breeze. If you're ready to jump into the plant-based lifestyle full on, then try out my Rawk the Year Meal Planner to get weekly meal plans complete with a shopping list, recipes and calendar sent to your inbox every week.
Which one of these epic recipes will you try first? Drop a comment and let me know!