Looking for a simple (non-green) smoothie to start your day off right? Look no further! This vanilla bean yogurt smoothie is not only simple to make, but uses only five whole food ingredients. The best part? You can easily modify it to fit your dietary needs. I like to switch things up and use different non-dairy yogurt alternative.
Make this healthy yogurt smoothie fit your taste buds!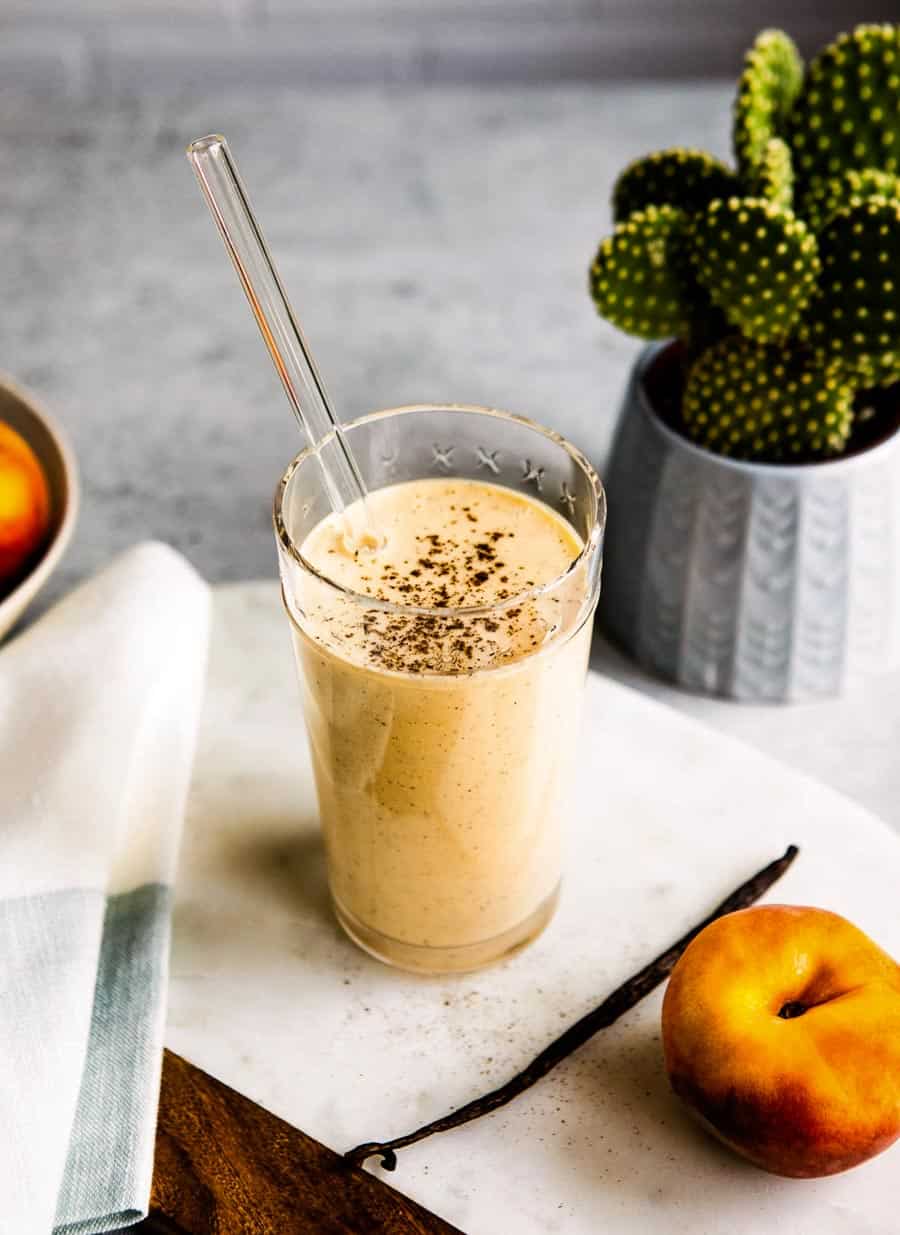 Table of Contents
How to Make a Healthy Yogurt Smoothie
Since this isn't a green smoothie, the blending directions are slightly different (and easier!):
Add all ingredients to blender and blend until smooth. Use frozen peach slices for a cool drink.
Pour into a fun glass and enjoy!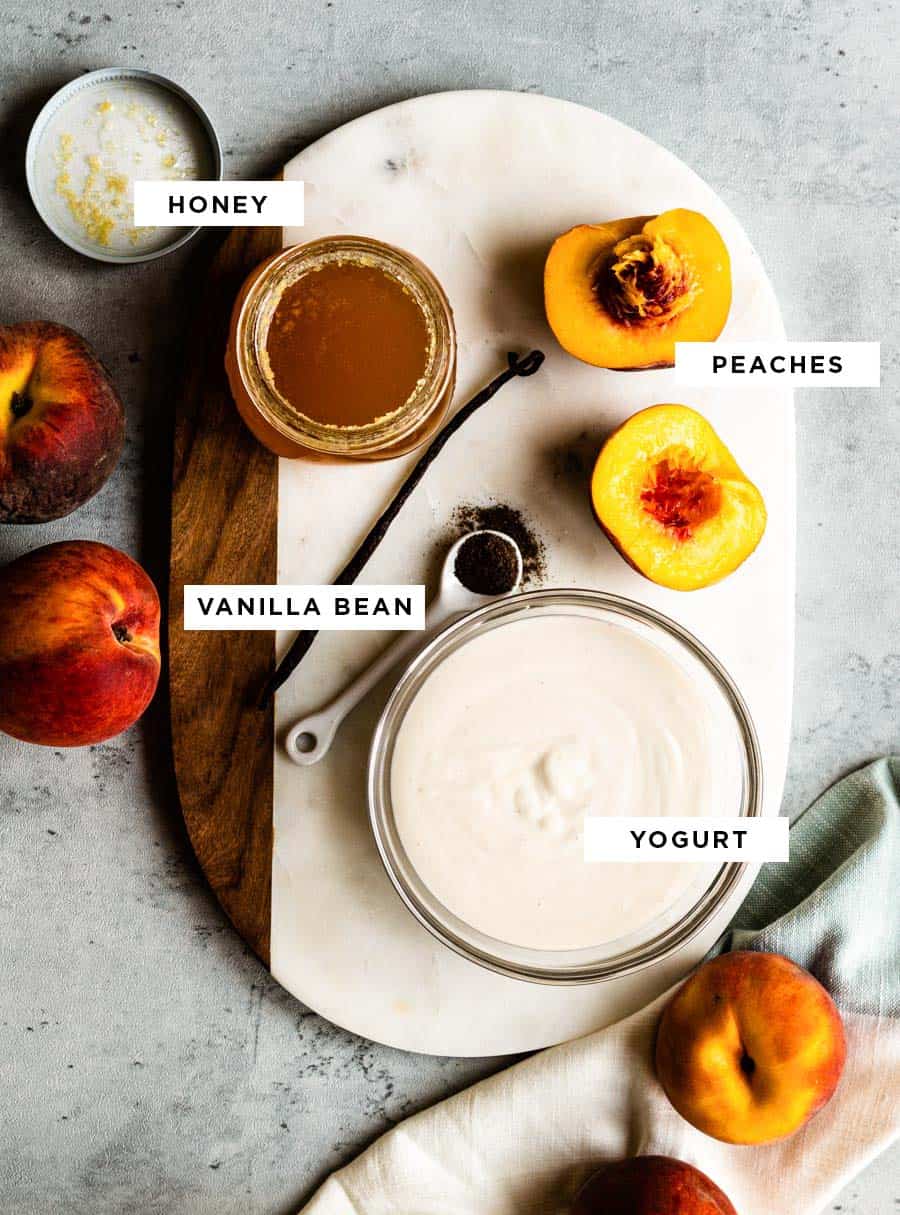 If your smoothie is a little too thick, add 1/4 cup of plant milk (cashew or oat are great in this recipe). If you want to add in a sweetener, add before blending. My recipe below uses organic dairy yogurt, however, feel free to swap in a plant-based option.
Tips for a Creamy Smoothie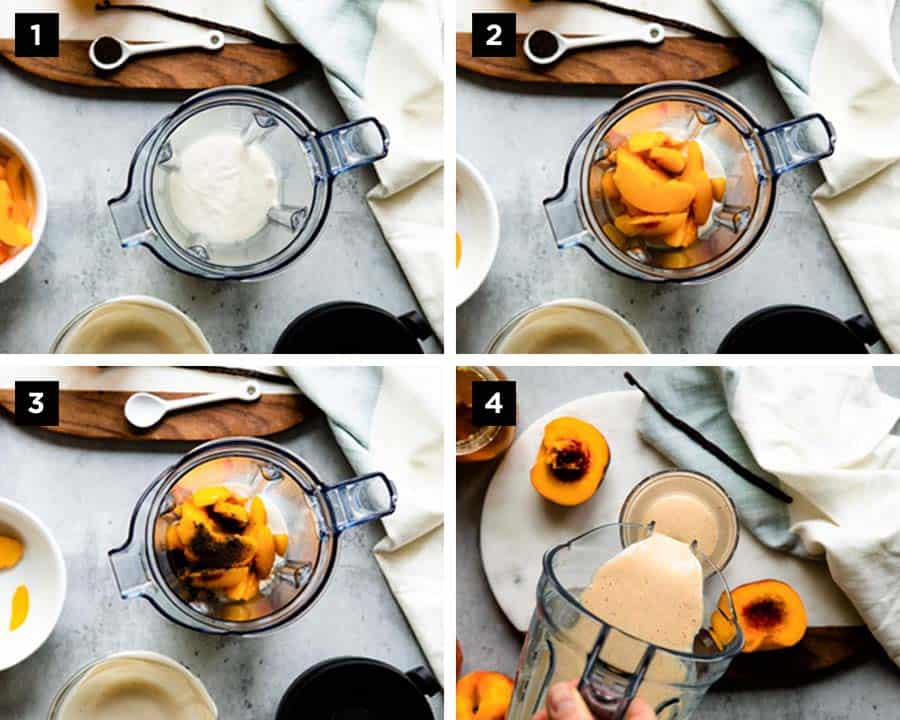 I prefer smoothies that are creamy, not thin. It's harder for me to down a watery smoothie, so I'm always looking for ways to bump up that cream factor.
How do I keep my smoothies creamy? Easy! Just make sure one of these ingredients is included in the blender: mango, yogurt, avocado, banana, cauliflower, hemp hearts or chia seeds. Swapping water with almond, cashew or oat milk also helps.
While this healthy yogurt smoothie is already super thick n' creamy, feel free to add 1/4 cup of plant milk if your blender needs a little help.
Yogurt Smoothie FAQs
Are yogurt smoothies healthy?
They can be! Choose unsweetened yogurt that has a simple ingredient list. Yogurt contains live cultures (yay probiotics!), yet can often be loaded with sweeteners, artificial colors, and additives. So read your labels!
Can you make a smoothie with dairy products?
You sure can 🙂 The problem is 66% of Americans have a dairy intolerance, so it might not make your gut happy. Yet if you can tolerate dairy, then definitely add it. My yogurt smoothie recipe uses whole milk, organic dairy yogurt.
What should you not mix into a smoothie?
I like to make smoothies using 100% whole food ingredients. So the sweetness comes from fruit, the liquid base is typically water or plant milk, and there are usually leafy greens in it. This yogurt smoothie recipe does use organic, unsweetened, whole milk yogurt that provides creaminess + protein. You can swap out the dairy with your fav non-dairy yogurt too.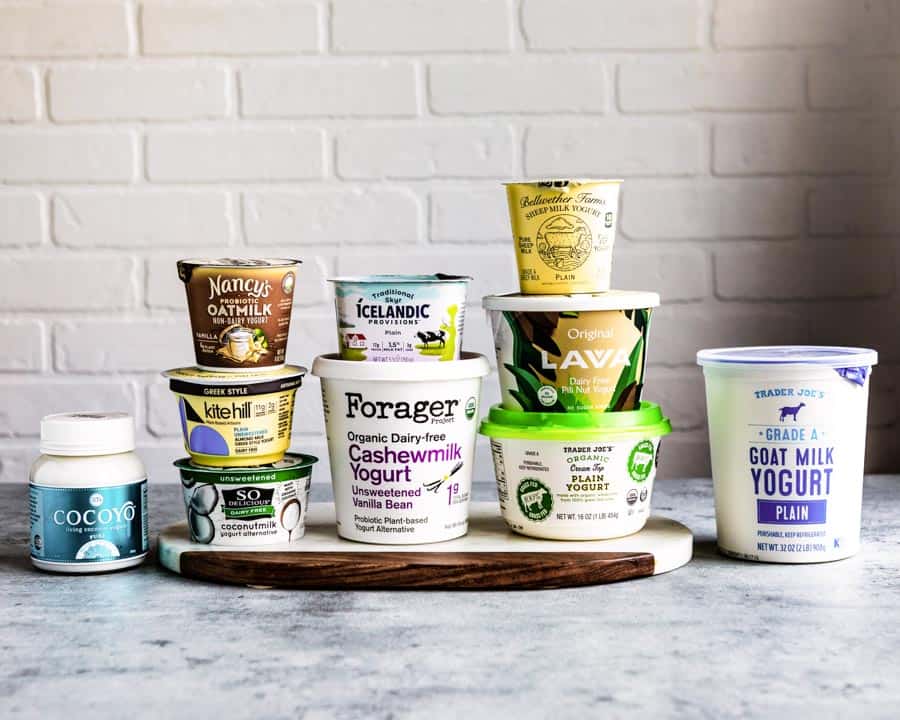 The Best Yogurt for Smoothies
When buying yogurt… you guessed it… READ THE LABEL. Make sure that yogurt doesn't contain added sugar, or other weird ingredients aside from the live cultures. Use Greek yogurt or regular— it's up to you! I like using Costco brand greek yogurt, Stonyfield Organic whole milk plain yogurt or Forager's Cashewmilk yogurt.
If you go the non-dairy route, both cashew milk or coconut milk versions work great. Or try making your own (it's easy!). My version doesn't include probiotics, yet you can easily add them in.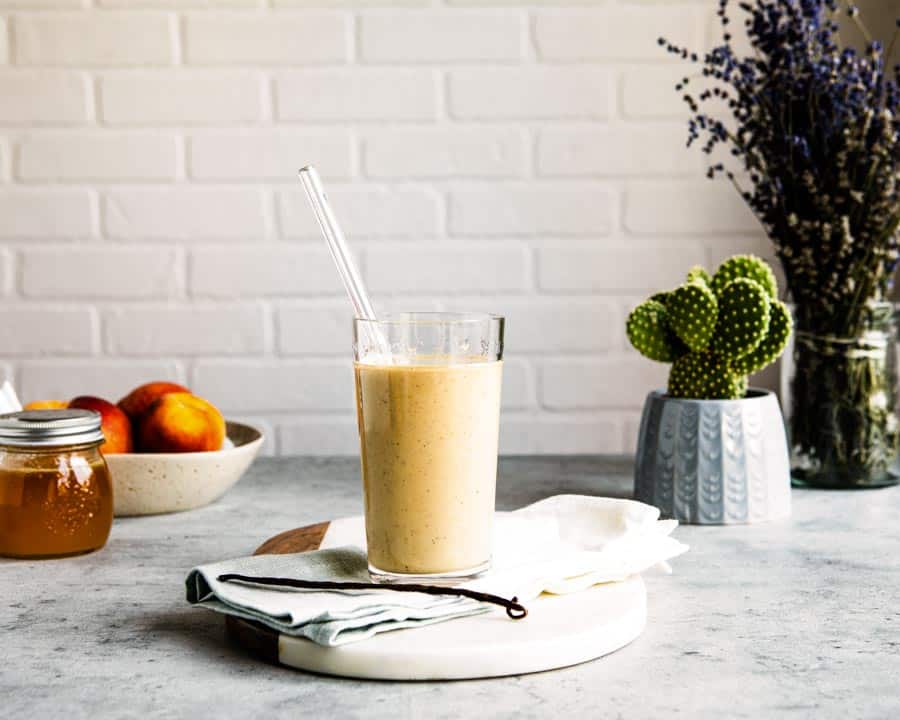 More Creamy Yogurt Smoothies to Try
After trying cashew yogurt (and loving it) I started creating a few smoothie recipes with yogurt. Grab your fav yogurt brand and start blending:
If you like the yogurt for the creaminess it adds, then cashews, bananas, mango, cauliflower or avocado also help you create a silky smooth beverage.
Protein Options for Smoothies
The point of this yogurt smoothie is protein. Yogurt is a fantastic source of protein. Yet if yogurt isn't your thing, then I've got lots of other great protein options for boosting your next smoothie… and they come from plants:
Chia seeds
Hemp hearts
Chickpeas
homemade protein powder
Oats
Nuts (almonds, walnuts, pistachios, hazelnuts, cashews, etc)
What's your fav way to add protein to smoothies? Leave a comment with your answer; I love reading which ingredients everyone prefers.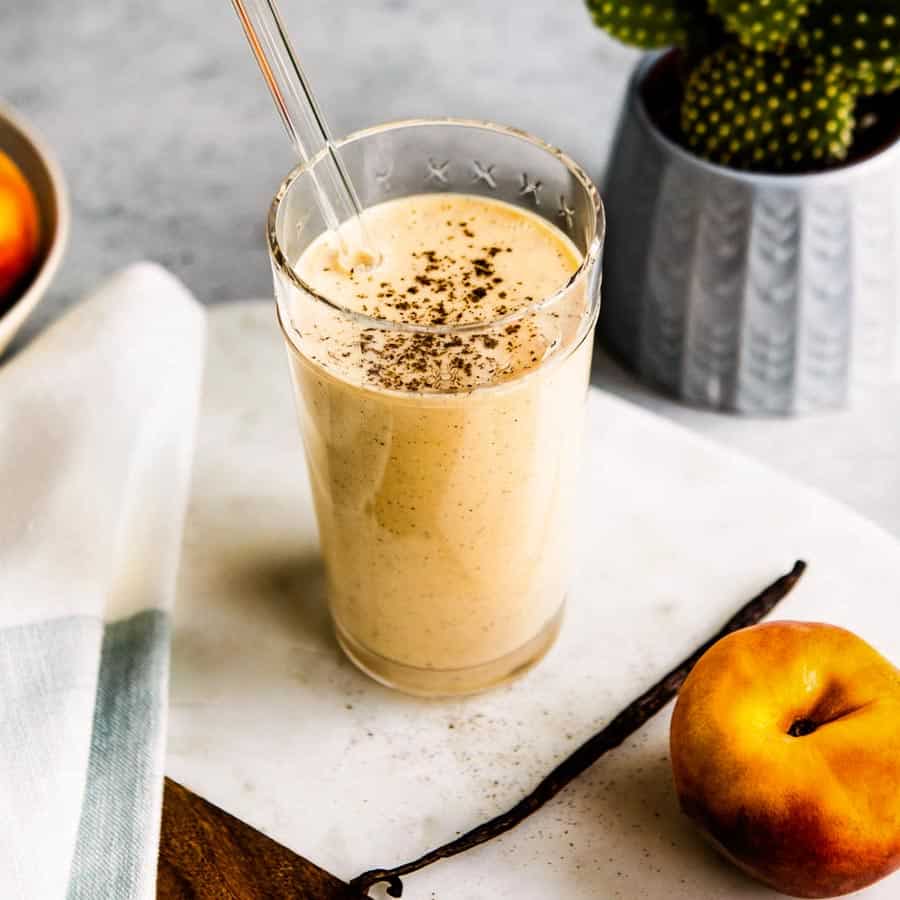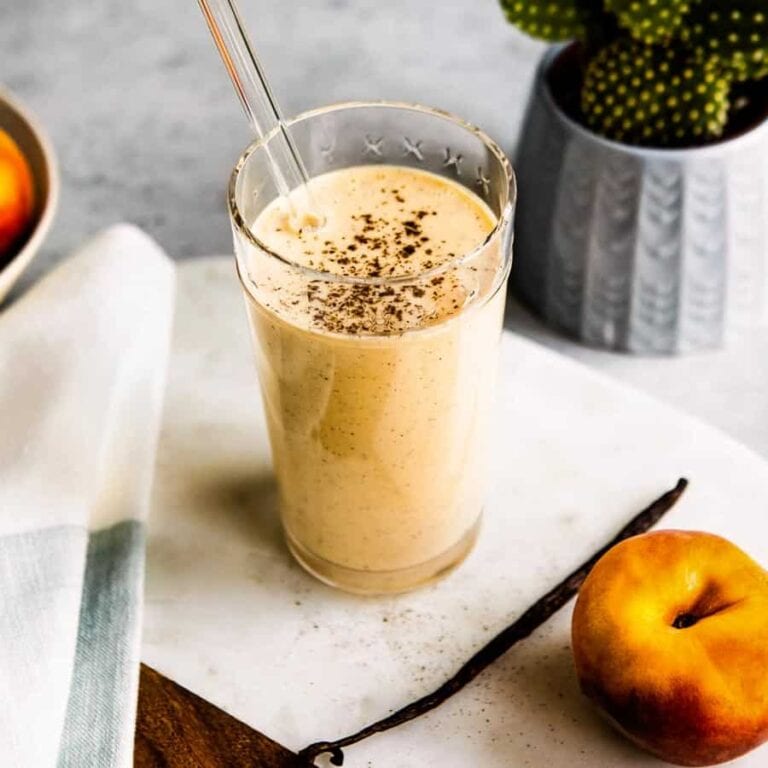 Vanilla Bean Yogurt Smoothie
Whip up this super simple, super delicious vanilla bean yogurt smoothie made with just five ingredients. Switch up the type of fruit according to what's in season for endless possibilities!
Ingredients
1

cup

unsweetened yogurt

1

cup

peaches

frozen

2

tbsp

raw cashews

1

tbsp

honey

½

teaspoon

vanilla bean paste or 1/2 vanilla bean

scraped
Instructions
Place ingredients into blender and puree until smooth.

Pour into a glass and enjoy!
Notes
To alter this recipe, use your favorite yogurt whether it is a dairy alternative like cashew, coconut, almond, or other plant-based option, or an alternative dairy such as sheep or goat milk.
The calorie and nutritional facts will vary according to the actual size of the peach
If the smoothie is too thick when blending, add 1/4 cup plant based milk. 
Swap vanilla bean for 1/2 tsp pure vanilla extract
Nutrition
Calories:
371
kcal
,
Carbohydrates:
48
g
,
Protein:
26
g
,
Fat:
10
g
,
Saturated Fat:
2
g
,
Polyunsaturated Fat:
2
g
,
Monounsaturated Fat:
5
g
,
Trans Fat:
0.01
g
,
Cholesterol:
10
mg
,
Sodium:
95
mg
,
Potassium:
613
mg
,
Fiber:
3
g
,
Sugar:
39
g
,
Vitamin A:
510
IU
,
Vitamin C:
7
mg
,
Calcium:
237
mg
,
Iron:
2
mg