I love a good, chewy breakfast bar and was so excited after learning how to make my own! This is my take on a healthy breakfast bar and it's really quite delicious. Perfect for the lunch box, car snack or post hike treat.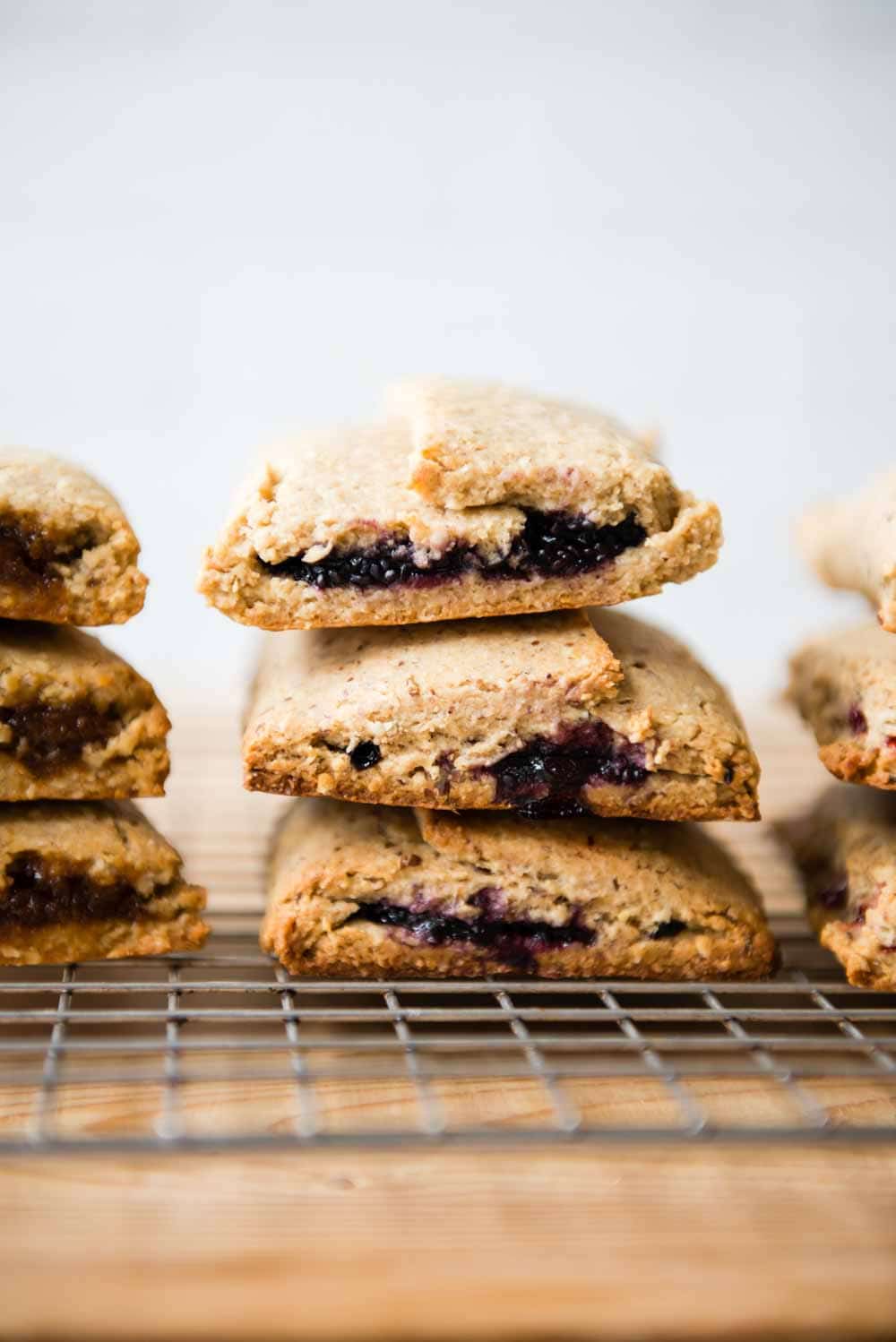 Breakfast can be a struggle in my house, which is why I created this healthy breakfast bar recipe. Not everyone wants the same thing, and often it becomes a grab n' go meal.
I've always been a light breakfast person myself, with a Best Green Smoothie and healthy coffee to fuel my mornings. My kids, on the other hand, want a different start to the day. That's where this healthy breakfast bars recipe comes in. Deliciously light + full of protein, these bars are a win-win.
Table of Contents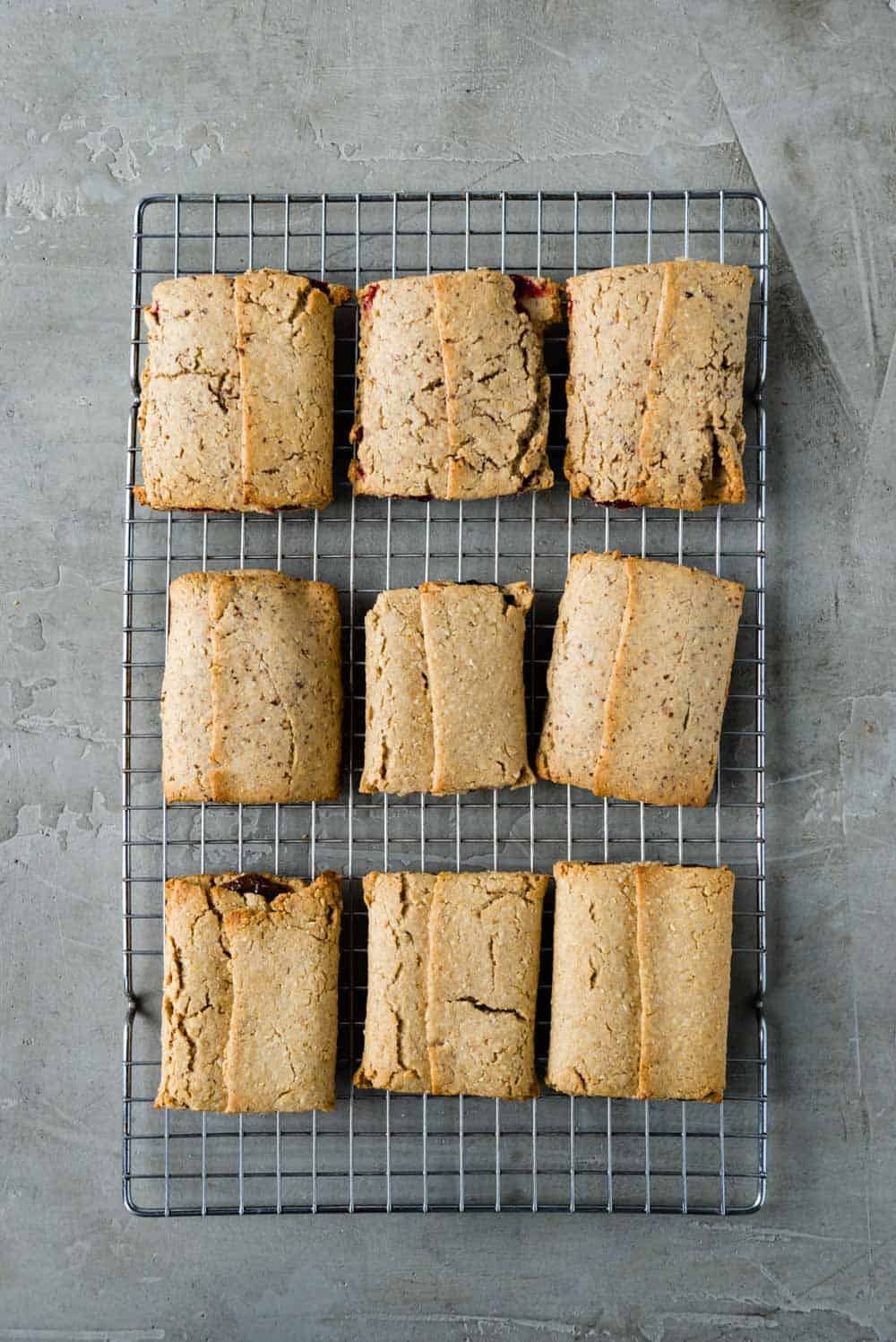 Store Bought vs Homemade
Store-bought cereal bars are sugar-heavy, laden with corn syrup, dyes, excess sugars and chemicals. Wellness experts still tell us breakfast is the most important meal of the day. Meanwhile, the food industry loves marketing the worst kinds of ingredients as 'breakfast food.'
I created this recipe so I could have my cake and eat it too, so to speak. The oatmeal cereal bars of my childhood have ingredients like sugar, dextrose, fructose (all listed in a row), invert sugar, natural flavors, carrageenan, corn syrup, and methyl cellulose. So basically sugar, more sugar, chemicals, and chemical sugar.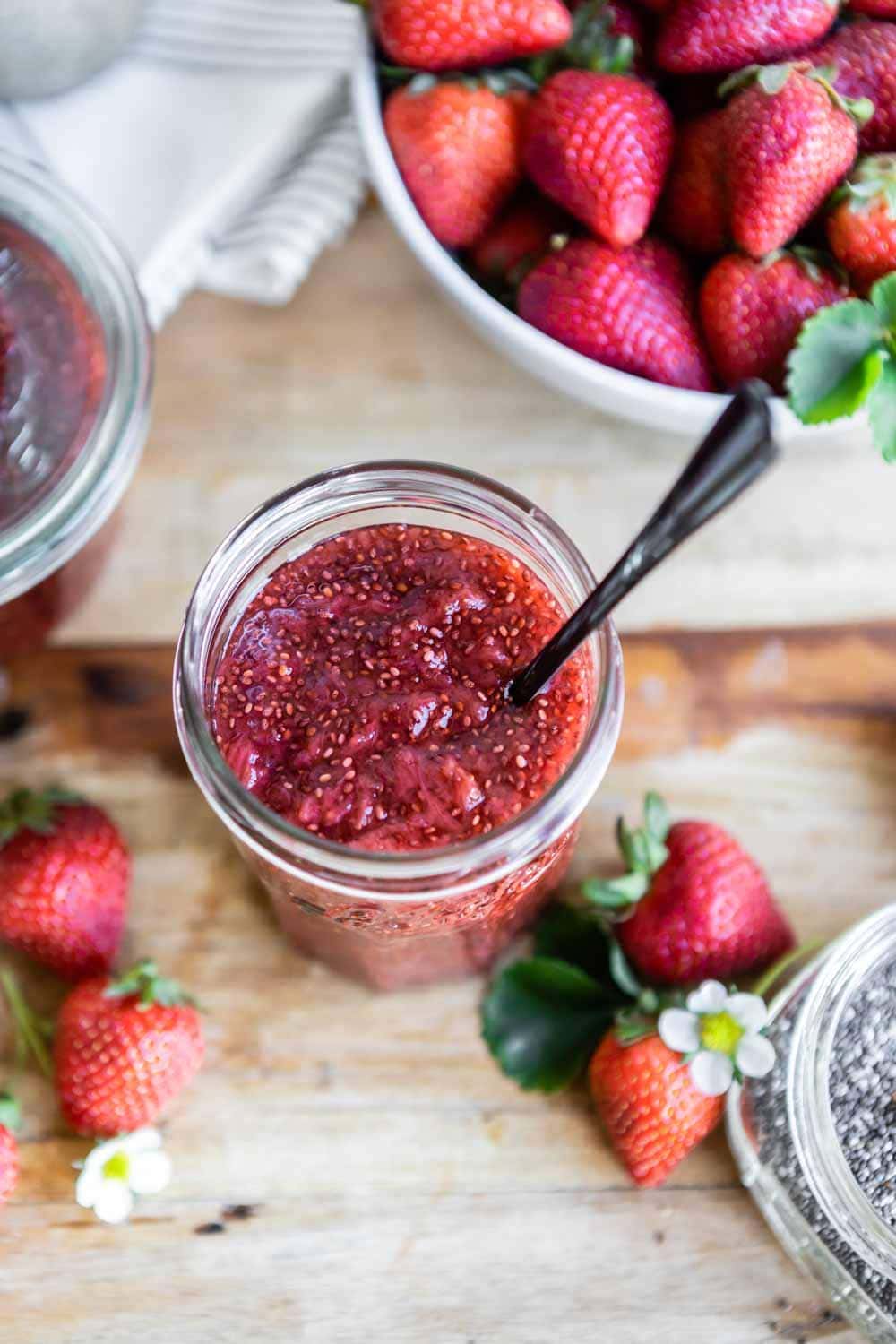 Simple Ingredients
Meanwhile, my version not only has pronounceable ingredients, yet it is also loaded with health benefits:
Rolled oats: most of the carbs in oats come from fiber, so great for digestion, as well as high in Vitamin B1
Whole wheat flour: whole wheat flour is full of antioxidants, fiber, and vitamins
Flaxseed: we love flaxseed for its omega-3 fatty acids that promote heart health
Coconut oil: another healthy fat that the body can quickly turn into energy
Maple syrup: lower glycemic index than processed sugar, and a more natural sweetener
Real fruit filling with no processed sugars, syrups, dyes, thickeners or artificial sweeteners
This specific oatmeal breakfast bar recipe contains 6.2 grams of protein, 6.4 grams of fiber. It also contains 51% of the daily recommended intake of Vitamin C in each bar. Now that's a breakfast option I can get behind!
How to Make Healthy Breakfast Bars
I love this healthy breakfast bars recipe because I can make it with almost any fruit I have on hand. I've shared several different fruit filling options below, leave a comment letting me know which one you'd like to try the most!
You can make them any time of the year, with whatever fruit is fresh. I'd love to try a pumpkin spice version for fall, or maybe one with figs during Christmas time. You can also use strawberry chia jam for the fruit filling.
These can also be made ahead of time and frozen, or packed individually for road trips, or family hikes, as they are easy snacks for kids (and adults!). To make them successfully, make sure you have a good food processor or blender.
Also, don't forget the refrigeration before rolling out and baking; this will literally make or break your bars!
If you make this oatmeal cereal bar recipe, drop a comment letting me know how it went, and who in your family enjoyed them the most.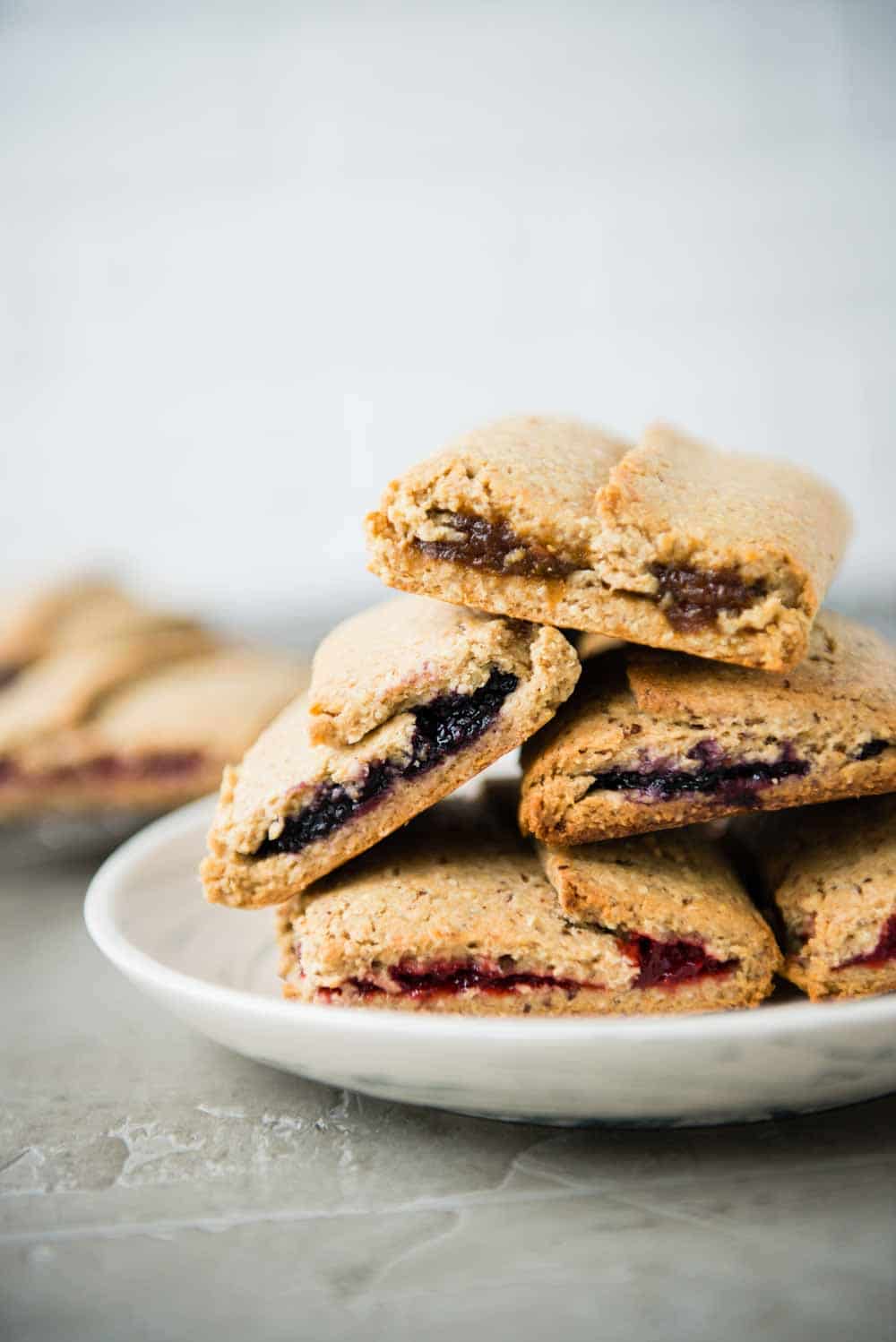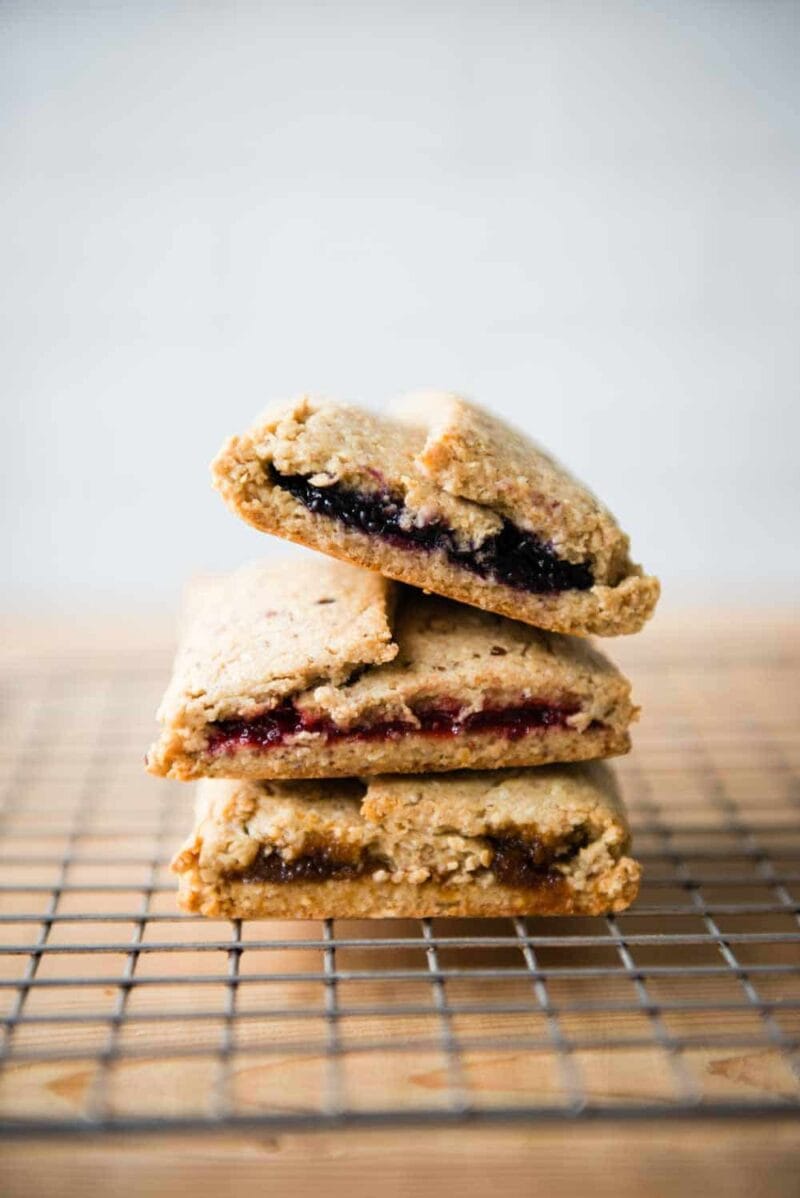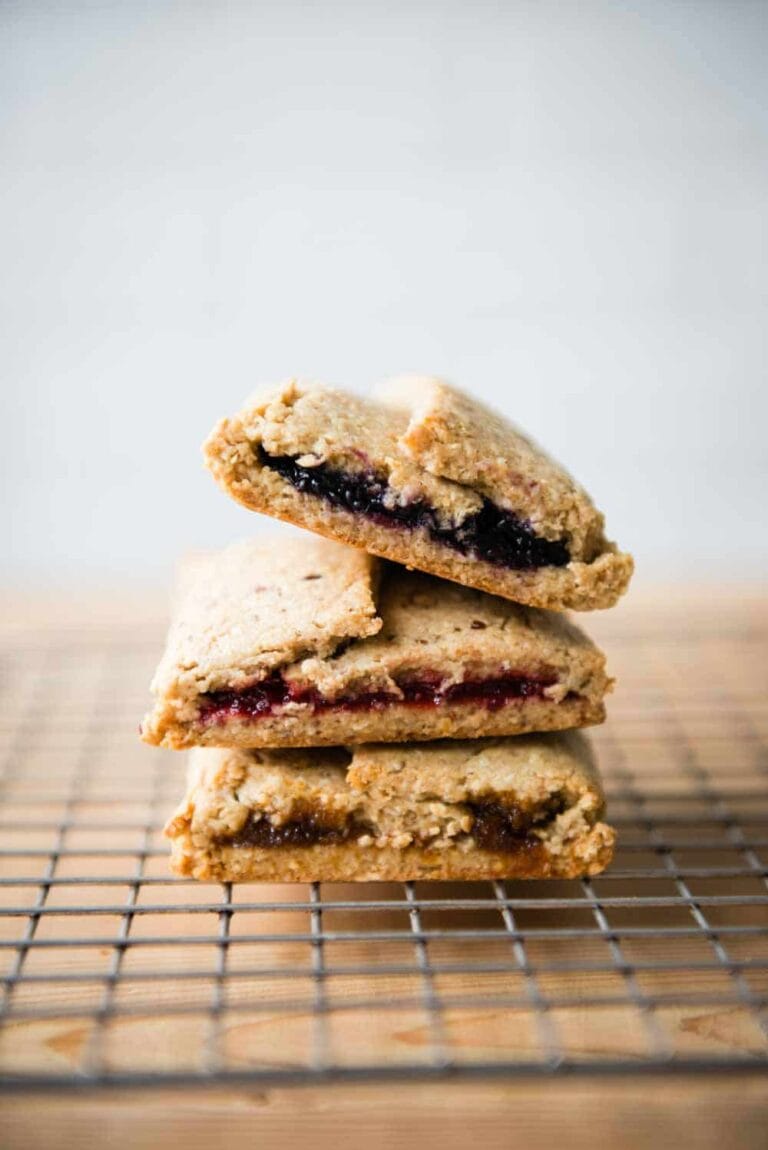 Healthy Breakfast Bar
The classic fruit-filled snack/cereal bar transformed into a healthy breakfast bar recipe. The oat-studded dough is filled with lightly sweetened fruit jam and baked until golden.
Ingredients
½

cup

rolled oats

1 ½

cups

whole wheat flour

⅓

cup

ground flaxseed

ground

1

tsp

baking powder

½

tsp

sea salt

½

cup

coconut oil

¼

cup

maple syrup

1

egg

2-4

tbsp

dairy-free milk

almond, cashew, oat, etc

1

cup

fruit filling
Blueberry Fruit Filling:
3

cups

blueberries

fresh or frozen

1

tbsp

maple syrup

1

tbsp

lemon

juice

Pinch

cinnamon

ground
Strawberry Fruit Filling
4

cups

strawberries

fresh or frozen

2

tbsp

maple syrup

1

tbsp

lemon

juice

½

tsp

vanilla extract
Apple Filling
2

apples

cored, peeled and diced

2

tbsp

maple syrup

1

tbsp

lemon

juice

½

tsp

cinnamon

cinnamon
Instructions
Pulse oats in a blender or food processor to break them up. It doesn't need to be a flour, just finely chopped. Add the whole wheat flour, flaxseed meal, baking powder, and sea salt to food processor. Pulse to combine.

In a glass measuring cup, whisk together melted coconut oil, maple syrup and egg. With food processor running, pour the liquid through the feed hole. Continue processing until the dough comes together. It should be the texture of a sticky cookie dough. If the dough is having a hard time coming together, add a splash of non-dairy milk 1 tbsp at a time until the dough reaches the right consistency. Scrape the sides and bottom of food processor. Pulse again a few times, if needed, to make sure all the ingredients are well-combined.

Turn the dough onto a piece of plastic wrap or parchment paper. Press dough together into a flattened disk. Wrap well. Refrigerate for 30 minutes or up to several days.

Preheat oven to 350 degrees F. Line a baking sheet with parchment paper.

To assemble, cut chilled dough in half. Work with one half at a time, keeping the other half wrapped.

Roll the dough between 2 pieces of parchment paper into a long rectangle that measures 6 by 12 inches. Trim the edges, press the dough together, and roll again, as needed.

Spoon 1/2 cup of the fruit filling horizontally down the center third of the dough. Like folding a letter, carefully and gently fold 1/3 of the dough up over the filling, followed by the other third. If the dough cracks, gently but firmly press it together again so the filling doesn't escape. Cut into 4 equal bars. Transfer to the lined baking sheet. Repeat the process with remaining half of dough.

Bake for 15-20 minutes, or until golden brown and baked through. Let cool completely on baking sheet. Store in an air-tight container at room temperature for up to one week. Will keep longer refrigerated or wrapped well and frozen for several months.
For Fruit Filling:
Place fruit into a saucepan with maple syrup and lemon juice. Cook over medium heat until thickened, 30-60 minutes depending on the type of fruit. Mash the fruit, if desired. Let cool completely before using in recipe.
Notes
Nutrition facts use the strawberry filling.
If doubling or tripling recipe, it might mix better in a blender over a food processor. 
Swap 1/4 cup of the whole wheat flour with 1 serving of homemade protein powder for extra protein + healthy fat + fiber.
Use a chia jam for the filling to also boost the protein and healthy fat.
Nutrition
Calories:
325
kcal
,
Carbohydrates:
38
g
,
Protein:
6
g
,
Fat:
18
g
,
Saturated Fat:
12
g
,
Polyunsaturated Fat:
3
g
,
Monounsaturated Fat:
2
g
,
Trans Fat:
1
g
,
Cholesterol:
20
mg
,
Sodium:
216
mg
,
Potassium:
236
mg
,
Fiber:
6
g
,
Sugar:
13
g
,
Vitamin A:
62
IU
,
Vitamin C:
5
mg
,
Calcium:
82
mg
,
Iron:
2
mg