Looking for a smoothie with a lower glycemic index? Look no further than this cherry smoothie recipe made with just four plant-based simple ingredients.
My family loves cherries and we can't get enough of them. Of course, nothing beats fresh cherries, but frozen ones are often more affordable and can be used year-round.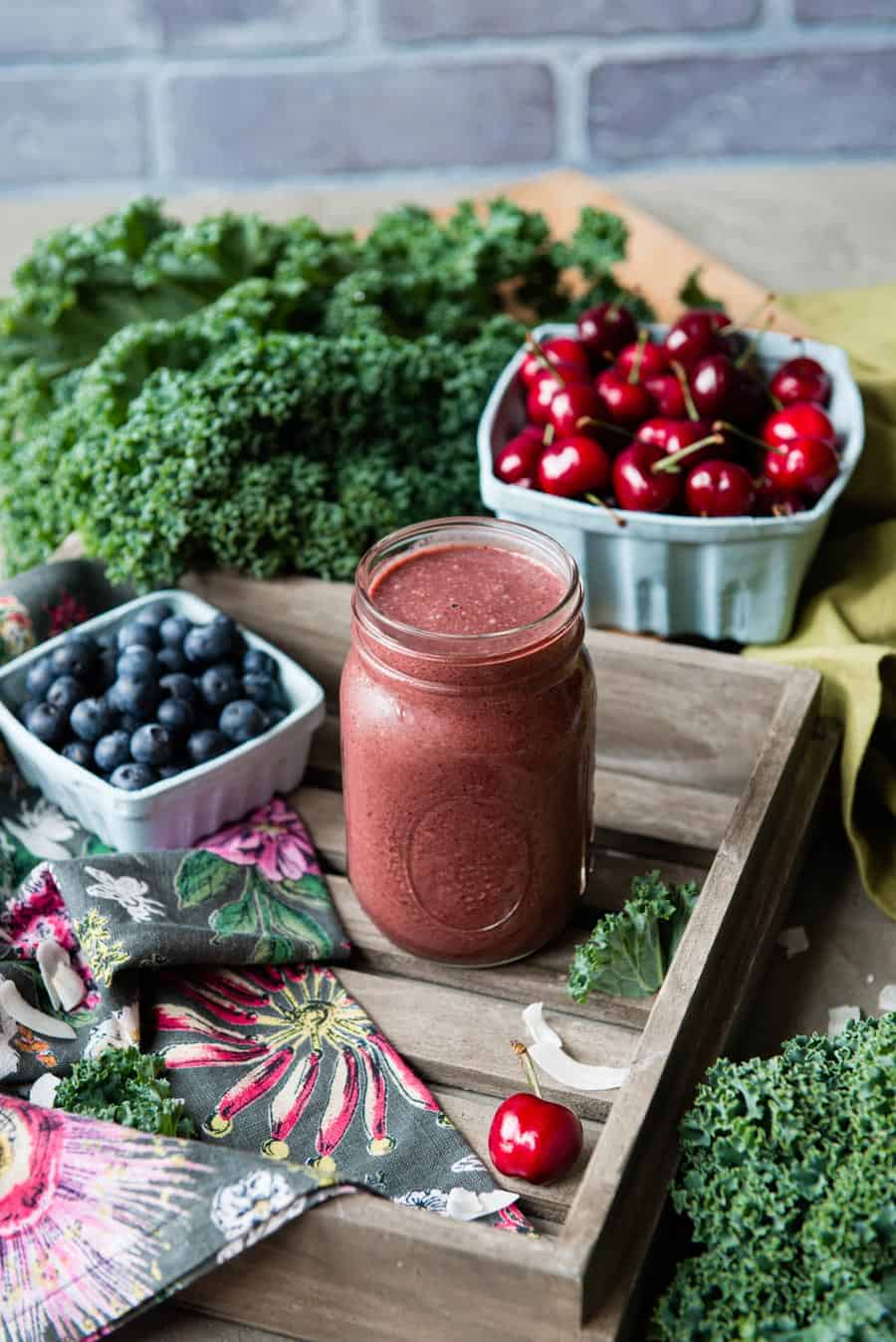 Table of Contents
Cherry Smoothie Recipe
If you want a quick and nourishing smoothie then this four-ingredient one is an easy win:
Blend kale and canned coconut milk until smooth.
Add remaining ingredients and blend again until smooth.
Make sure you pit the cherries before adding them to the blender (I often buy frozen so I can skip this step!). Make sure at least one fruit is frozen to enjoy a refreshingly cool smoothie. Feel free to add in a plant-based protein powder to up the protein and fiber and turn this cherry smoothie into a complete breakfast.
Ingredient Swaps
If kale is a bit too strong for you, swap it out for the leafy green of your choice. All kinds of berries are low in sugar and have antioxidants, so you can use mixed berries or any other berry combo you want.
If you need less fat, use a light canned coconut, or carton coconut milk. Just know that this smoothie might not be as thick with carton coconut milk.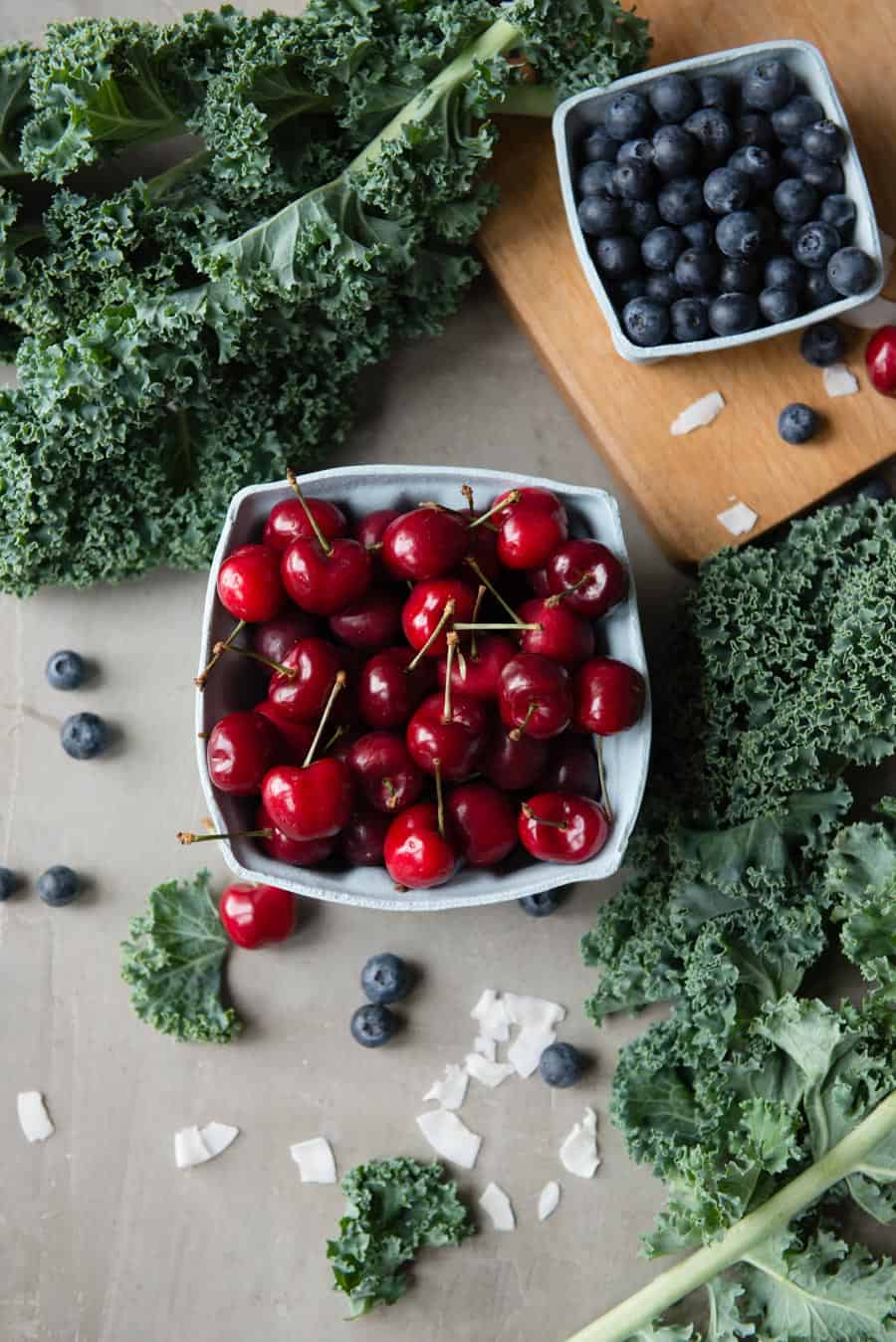 Antioxidant powerhouse
Free radicals are chemicals that can damage our bodies' cells. While we can fight these free radicals with stuff already inside the body, we also rely on antioxidants from food to help in the fight.
Antioxidant supplements tout all kinds of miraculous properties, yet I believe in getting them in through plants like kale and cherries.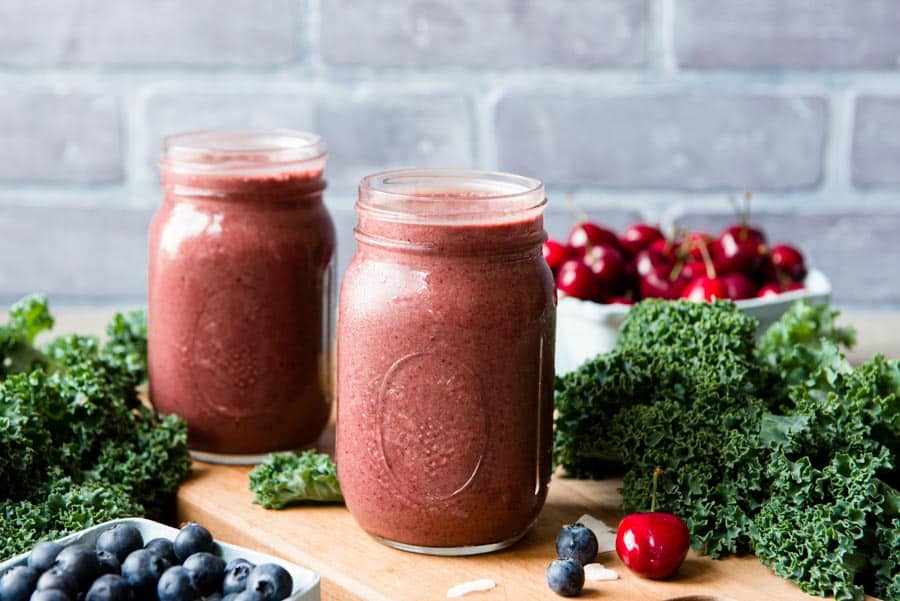 Sweet vs Tart Cherries
Tart cherries are, well, tart, and sweet cherries are sweet. Another distinction is that sweet cherries tend to be bigger and a deeper, darker red, where as tart cherries are brighter red and small. Both are high in antioxidants and great to use in smoothies.
Most studies regarding the health benefits of cherries have been conducted using Montmorency cherries, the most common variety of tart cherries. The cherries, fresh, frozen or dried and their juice can help with muscle recovery after intense physical activity.
Both types of cherries contain tryptophan, an essential amino acid that we associate with sleep. It is a precursor to serotonin and melatonin, both of which help with mood and sleep. Tryptophan supplementation has been shown to reduce irritability, PMS, depression and anxiety.
When blending this cherry smoothie, it's truly up to you which type of cherry you use. All of them are winners in our book!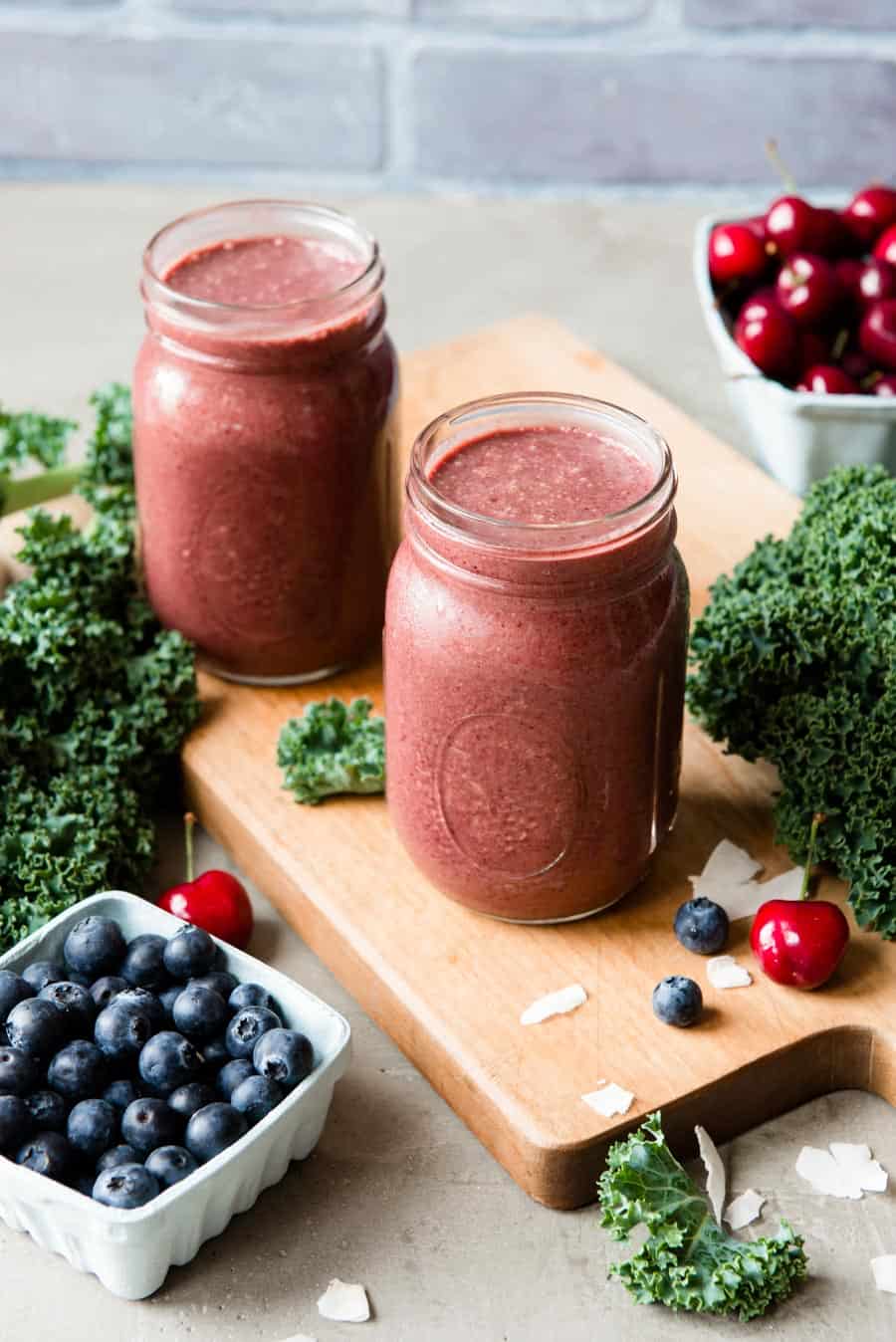 Low Glycemic Fruits for Smoothies
Berries and cherries are low glycemic foods, meaning that eating them won't drastically affect blood sugar levels. These fruits are naturally lower in sugar and high in fiber, which also keeps blood sugar levels steady. Low sugar fruits include:
Cherries
Grapefruit
Apricots
Limes
Lemons
Nectarines
Peaches
Strawberries
Dates
Pears
Apples
Oranges
Plums
Blueberries
Grapes
Kiwi
Prunes
Fun fact: Bananas are often though of as high on the glycemic index, but they are actually considered low glycemic with an index score of 55. (Anything 55 and under is considered low glycemic.)
Tropical fruits tend to be high on the glycemic index. Pineapple, figs, cantaloupe, watermelon and guava are especially high in sugars.
Cherry Smoothie FAQs
What goes well with cherries?
I paired kale with cherries in this smoothie because they compliment each other so well, a little tart and a little sweet. Coconut milk also goes well with cherries, drawing out the natural sweetness of the coconut.
How do you blend cherries?
Make sure your cherries are pitted before blending (no need to blend the pits!). You can use fresh or frozen cherries. If you don't have a high powered blender, make sure the cherries are thawed a bit before blending. Cherries actually blend quite well!
Can I put whole cherries into a blender?
I don't recommend it. The cherry pits will probably harm your blender blades, and you don't really want to eat them. Pit the cherries before blending or just buy frozen, already pitted cherries to save a bit of time.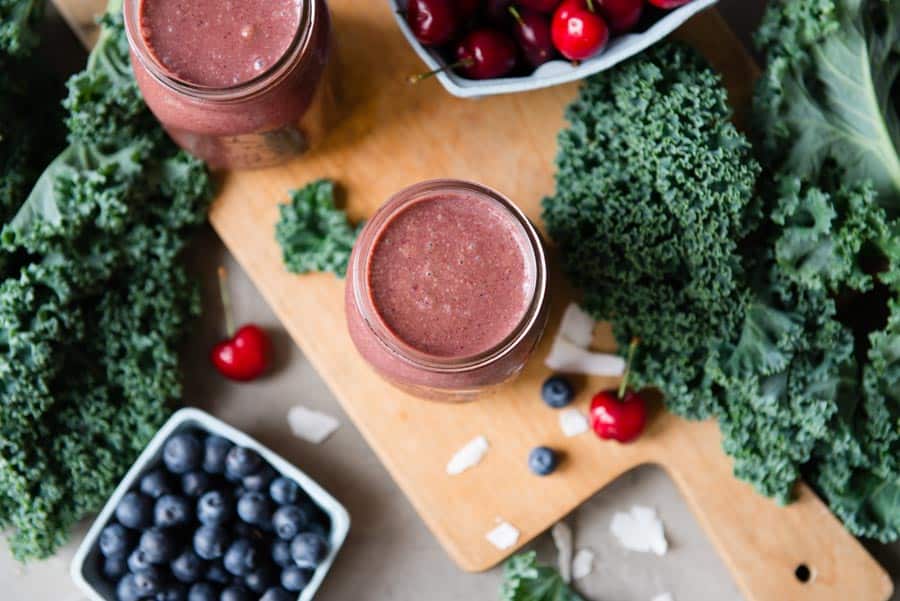 More Berry Smoothies
If you loved this cherry smoothie recipe then you'll love these berry smoothies as well!
So many options, how are you going to choose? Give my cherry smoothie a blend, then get ready to buy bulk fruit next time it goes on sale. You've got smoothies to blend. Don't forget to leave a rating + review once you've tried it!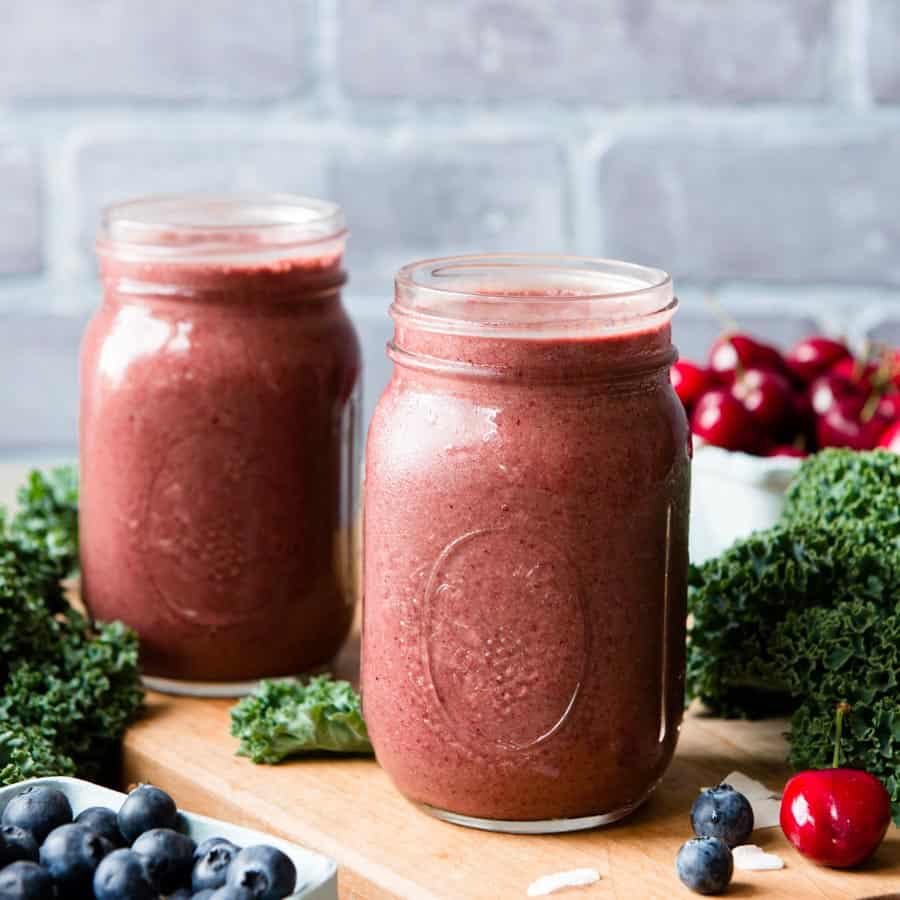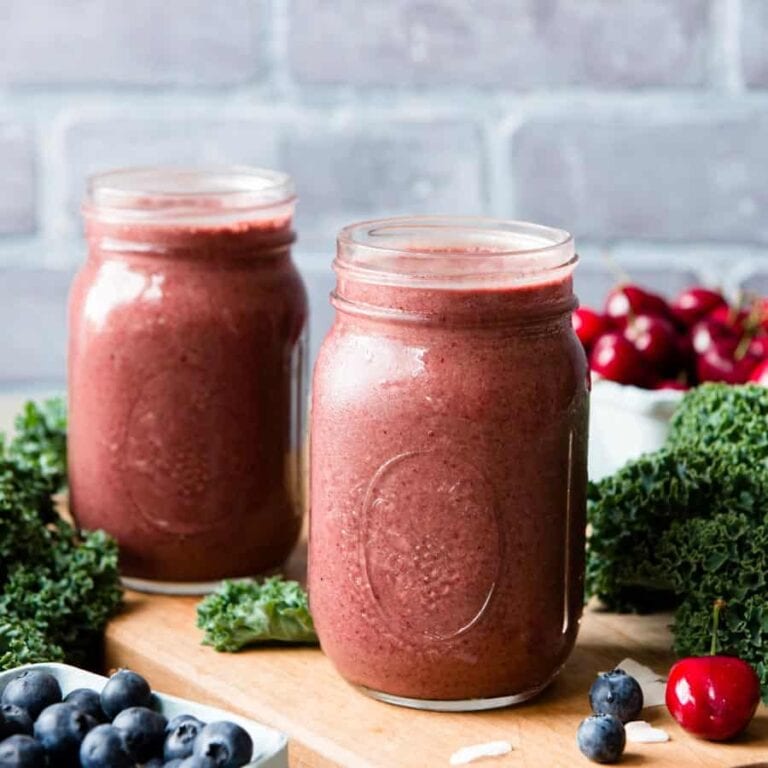 Healthy Cherry Smoothie
Coconut milk is rich in healthy fats, which helps curb your appetite and give you energy. The berries and cherries lower the glycemic index making it a great after dinner treat. This Healthy Cherry Smoothie is a great breakfast.
Ingredients
1

cup

kale

1

cup

coconut milk

canned or carton

1

cup

cherries

½

cup

blueberries
Instructions
Blend kale and coconut milk together until smooth.

Add remaining fruit and blend again.
Notes
Use at least one frozen fruit to make the smoothie cold or serve over ice.
Can substitute cherries + blueberries with any berries or a mixed berry blend.
Swap out the kale with another leafy green like spinach.
Use canned coconut milk for a creamier smoothie with healthy fat, use carton coconut milk for a lighter smoothie with less healthy fat. 
Nutrition
Calories:
221
kcal
,
Carbohydrates:
44
g
,
Protein:
4
g
,
Fat:
6
g
,
Saturated Fat:
4
g
,
Polyunsaturated Fat:
1
g
,
Monounsaturated Fat:
0.2
g
,
Sodium:
36
mg
,
Potassium:
597
mg
,
Fiber:
8
g
,
Sugar:
32
g
,
Vitamin A:
6822
IU
,
Vitamin C:
79
mg
,
Calcium:
291
mg
,
Iron:
2
mg