This immune boosting smoothie recipe employs the natural power of black elderberries, which have nearly double the anthocyanins as other berries. This special type of flavanoid promotes immune support, anti-inflammatory, anti-viral, and anti-cancer benefits.
Blended with antioxidant rich fruits to support a healthy immune system, this recipe is a winner.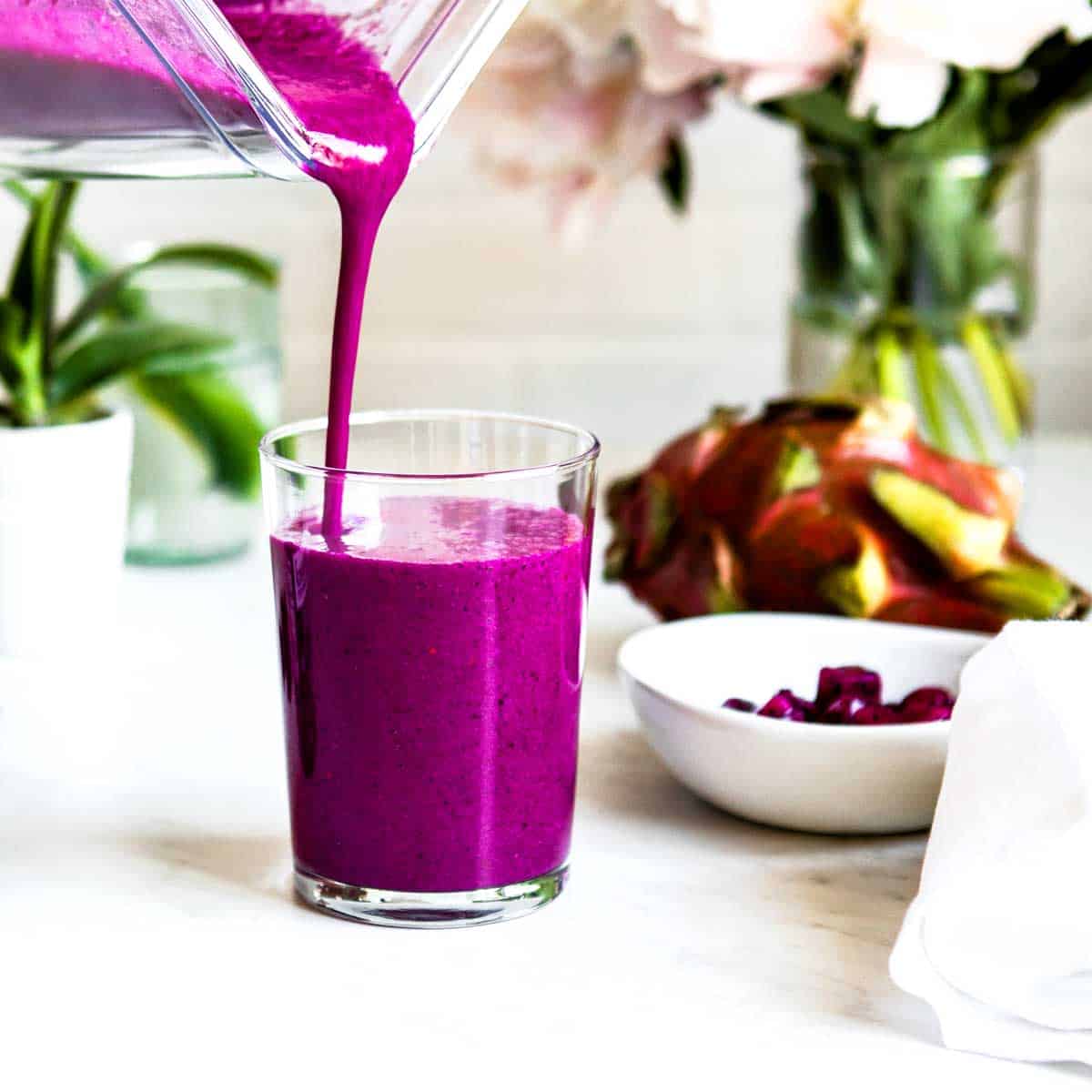 For a few years, my family had no health insurance and I took a proactive approach to health care. We boosted our immune system to help us not get sick in the first place. From green smoothies to plant-based meals to natural remedies— we did anything we could to not get sick….and it worked.
Kids have started going back to school (mine included), restaurants are opening and new COVID cases are still making the headlines, it's vital to build up your body's natural defense: the immune system.
Table of Contents
One of the key immune supporting ingredients I added to our smoothies was elderberry syrup. I've partnered with Sambucol Black Elderberry Syrup to create a tasty immune boosting smoothie recipe.
Where to Buy Elderberry Syrup
You can find Sambucol Elderberry Syrup at Target, Costco, Amazon, major drug stores and also on the Sambucol website. It's been flying off the shelves since COVID-19 became a pandemic, which is exciting to see more and more people lean towards the natural remedies world.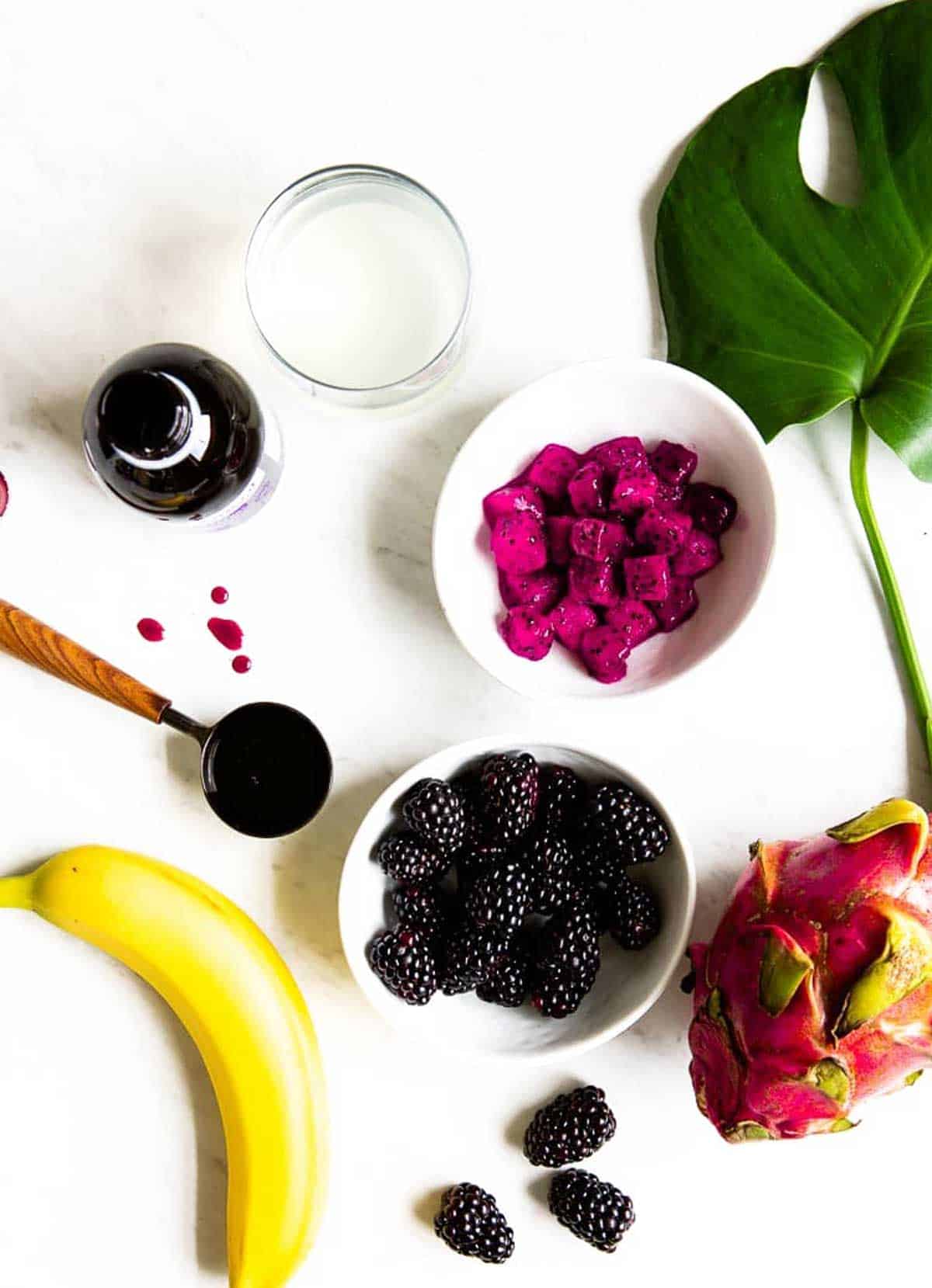 Benefits
Black elderberries are a natural remedy to boost the immune system. I first learned about it from a friend, who's mom and grandmother used it. It's a natural remedy passed on generation to generation because it has been shown to work.
This plant-powered elderberry syrup is rich in a particular antioxidant: flavonoids. Flavonoids help prevent damage from free radicals at the cellular level. A particular flavonoid, anthocyanins, is found heavily in black elderberries.
In fact, the United State Department of Agriculture found that black elderberries contain nearly twice the amount of anthocyanins compared with other berries. Some studies suggest that consuming elderberries can help support and maintain a healthy immune system. Elderberries are also a good source of vitamins A, B, and C, which are also important for immune function.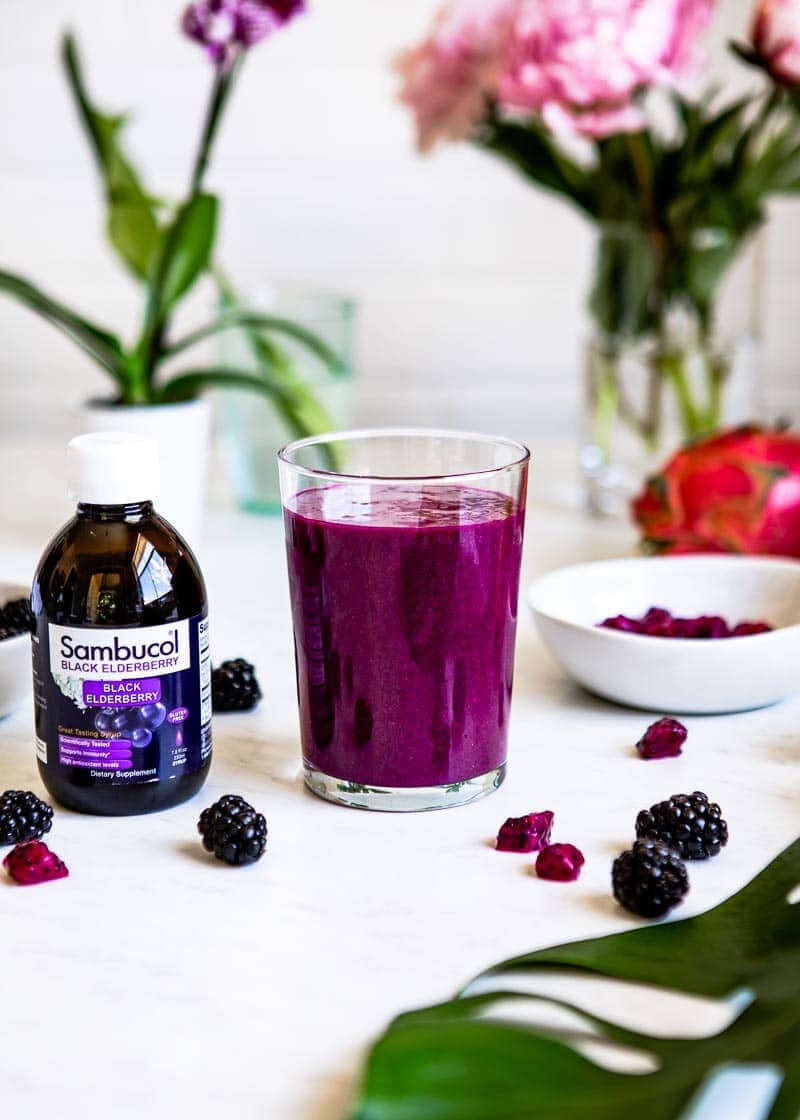 Elderberry Syrup in a Smoothie
I'm sure you've noticed my favorite ingredient in this immune boosting smoothie is elderberry syrup. Along with the delicious berry flavor, elderberry syrup is packed with natural health benefits.
It's important to note that black elderberry syrup is a dietary supplement. It isn't intended to diagnose, treat, cure, or prevent any disease. Yet elderberry syrup is a natural remedy that my family has experienced the benefits of and I'm excited to share it with you today.
You can make your own DIY Elderberry Syrup Recipe, yet it takes more time and money. It's just so convenient to keep Sambucol Elderberry Syrup on hand. Whatever way you go, you can use either syrup interchangeably in this immune boosting smoothie recipe.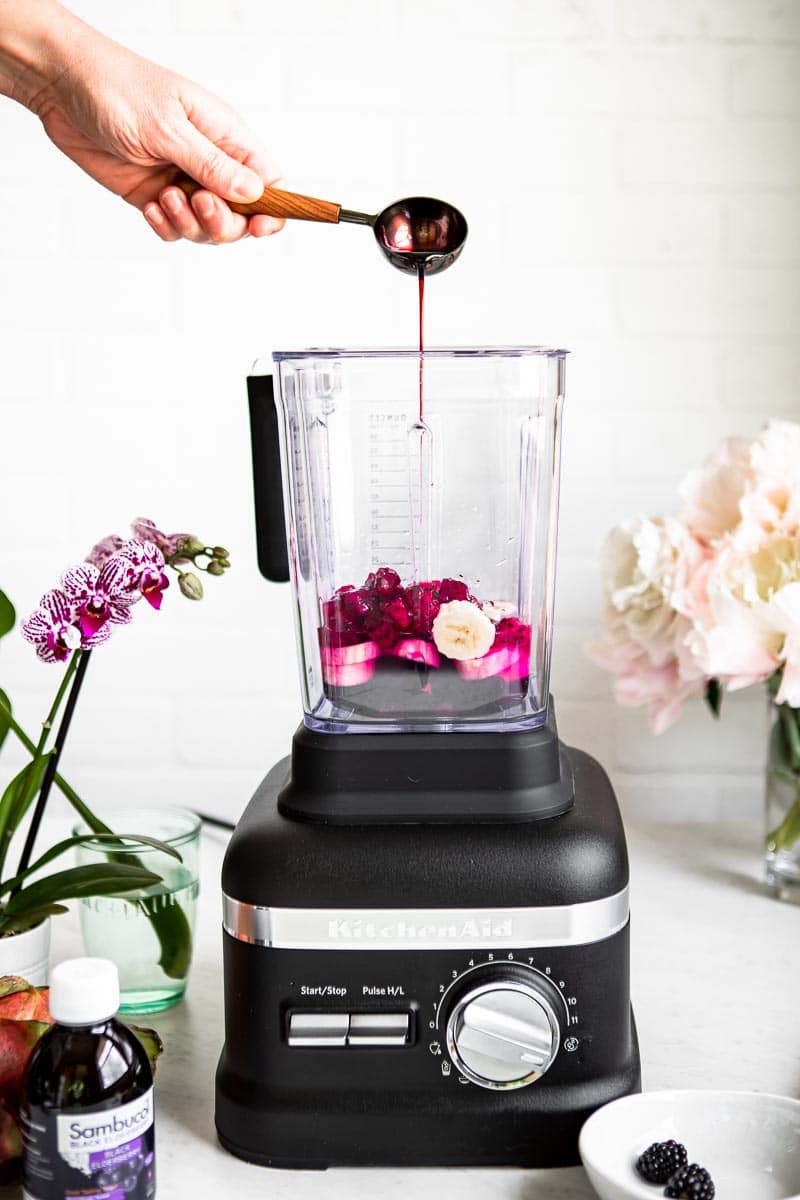 How to Make an Immune Boosting Smoothie
I came up with this unique recipe of fruits and other plants chosen specifically for their immune-supporting properties. I also wanted it to be something that my kids would happily drink. This smoothie does all that with a few fun ingredients.
If you've never had a smoothie with dragon fruit, it's very similar to kiwi both in texture and flavor. A lot of grocery stores now carry frozen puree or cubed dragon fruit. You can use fresh or frozen in this immune boosting smoothie recipe.
Also, I included coconut water because I love that added nutrients. You can easily swap with water or almond milk in this smoothie, if preferred.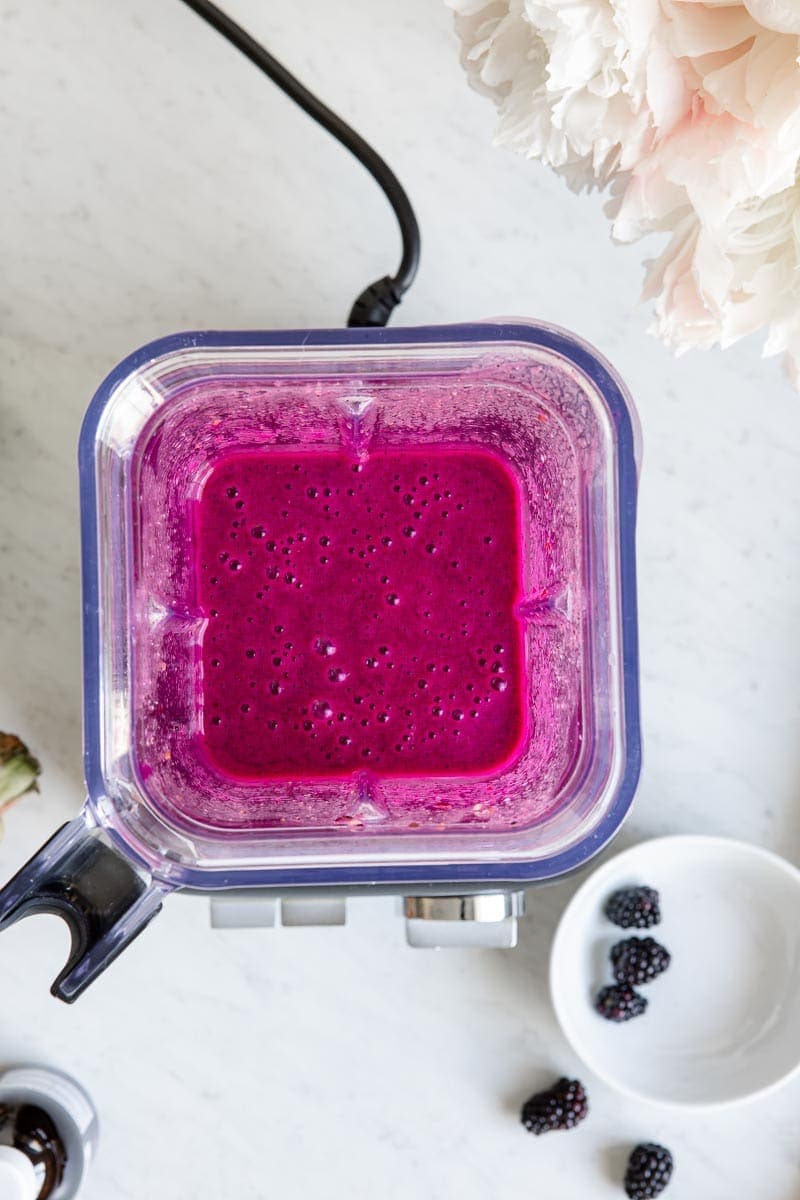 Depending on how many you're making this smoothie for, increase the amount of elderberry syrup accordingly to make sure everyone gets some of it. Plus, the flavor of the elderberries really compliments this smoothie.
For more immune boosting recipes using Elderberry Syrup, check out my Elderberry Smoothie Popsicles and Immune Boosting Smoothie Cubes.
Don't forget to rate + review this smoothie once you make it. I can't wait to read your freedback!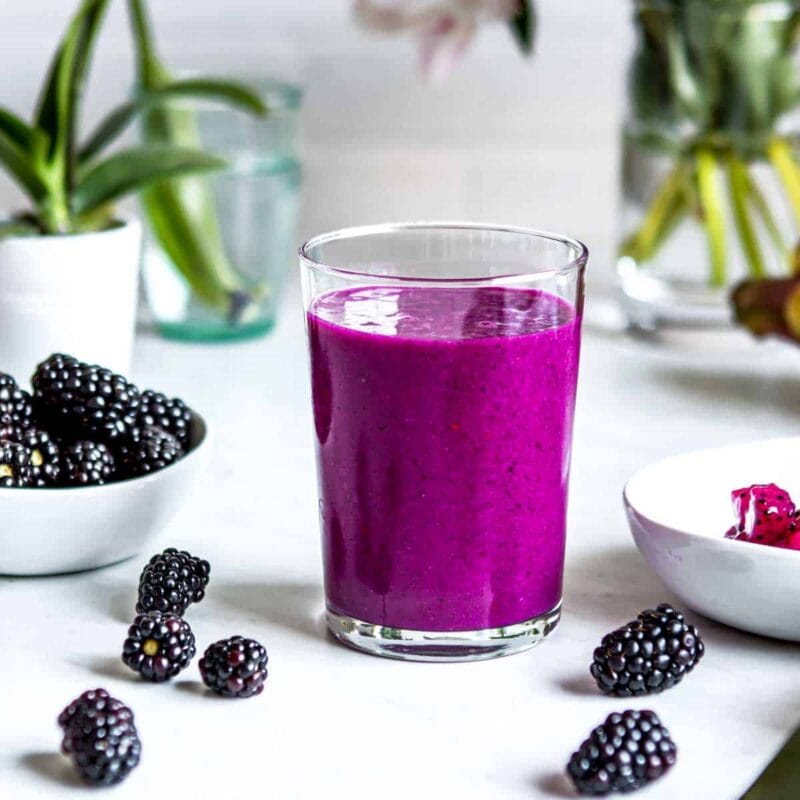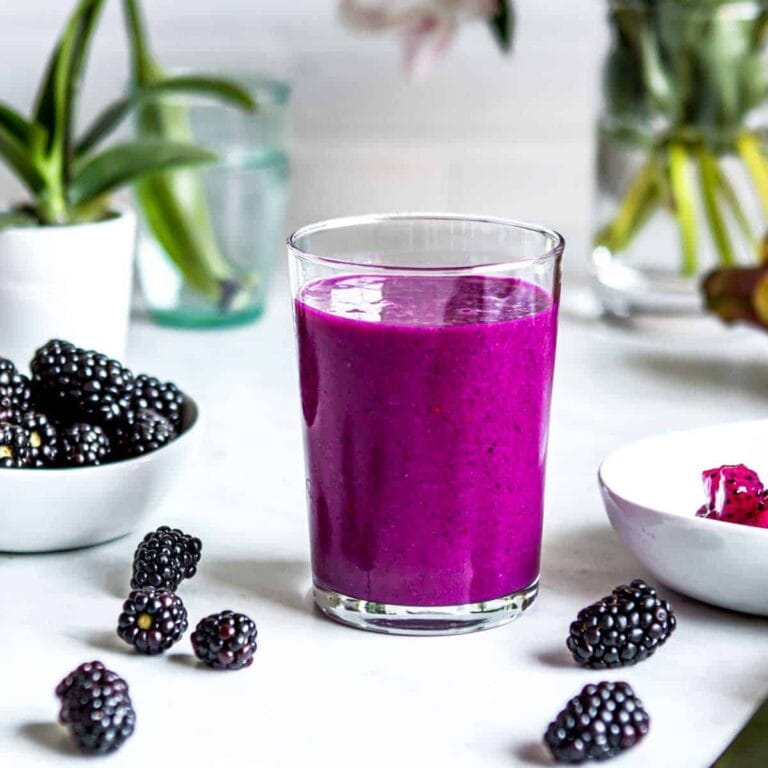 Immune Boosting Smoothie
Give your immune system a boost by blending up this vibrant purple powerhouse smoothie that combines Sambucol black elderberry syrup with antioxidant-rich blackberries and pitaya (dragon fruit). Bottoms up!
Instructions
Place all ingredients into a blender.

Puree until smooth.

Serve immediately.
Notes
Other berries can be substituted for the blackberries. We recommend those high in antioxidants such as blueberries, raspberries, or cranberries.
Make sure to use at least 1 frozen fruit for a refreshingly cool smoothie.
Missing the leafy greens? Feel free to add up to 1 cup!
Nutrition
Calories:
260
kcal
,
Carbohydrates:
55
g
,
Protein:
4
g
,
Fat:
3
g
,
Saturated Fat:
1
g
,
Polyunsaturated Fat:
1
g
,
Monounsaturated Fat:
1
g
,
Sodium:
325
mg
,
Potassium:
1167
mg
,
Fiber:
11
g
,
Sugar:
34
g
,
Vitamin A:
289
IU
,
Vitamin C:
35
mg
,
Calcium:
88
mg
,
Iron:
3
mg