Cold and flu season is upon us once again and searches for natural chest decongestants and homemade vapor rubs are on the rise. The beginnings of a cold – the congestion, achy body and head, runny nose – always have me reaching for a green smoothie. Once that cold has taken residence, I have to ride it out. Bleh.
Creating this DIY vapor rub has helped my family so much over the years and I'd love for it to become a staple in your home, too.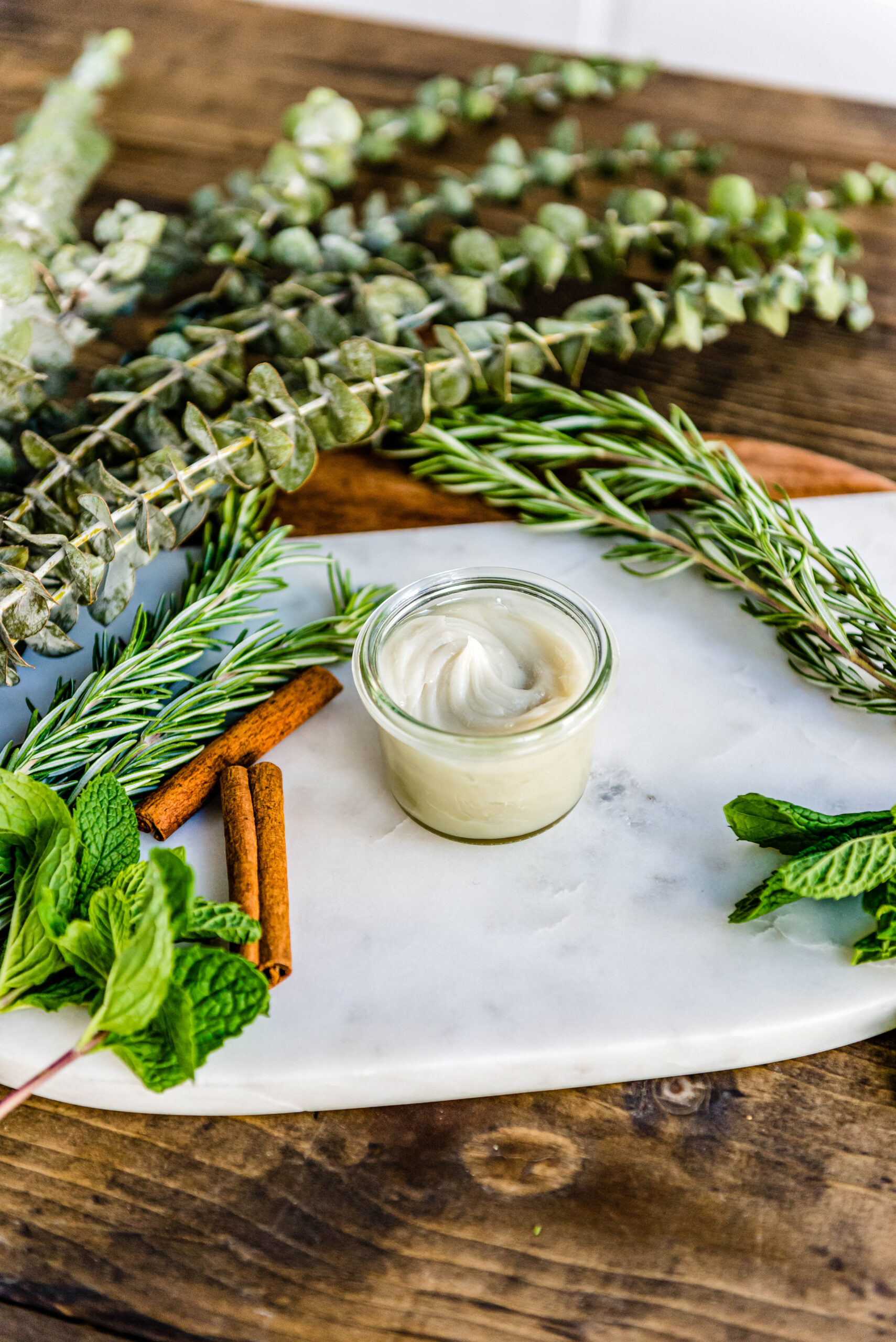 One of the most uncomfortable parts of being sick is chest and sinus congestion. I had to take action! This homemade vapor rub is made with all-natural ingredients that you should be able to easily find.
Table of Contents
Recipe Ingredients
I don't buy a vapor chest rub anymore. I make it! It's easy, but the real benefit comes from knowing you are using something natural rather than a concoction of unsafe chemicals and icky things. Here's what I put in mine.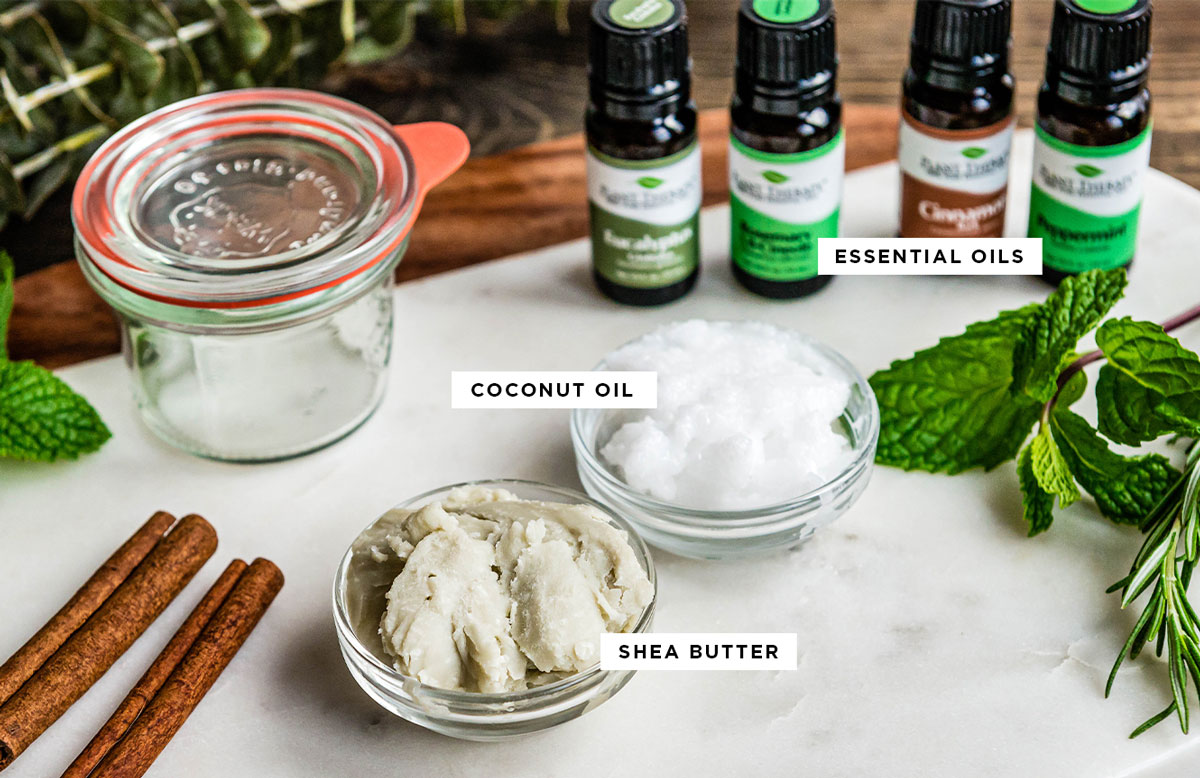 Coconut oil: This is used as a carrier oil in this recipe, as well as super moisturizing on the skin.
Shea butter: Helps to thicken up the salve as well as provide moisture.
Essential oils: Eucalyptus, peppermint, rosemary and cinnamon oils are mixed together as they are naturally designed to promote healing as well as soothe swollen tissues. This allows for you to breathe easier while fighting congestion from a cold or allergies.
**Note that different oils should not be used on young children. Adjust the recipe accordingly depending on who needs relief.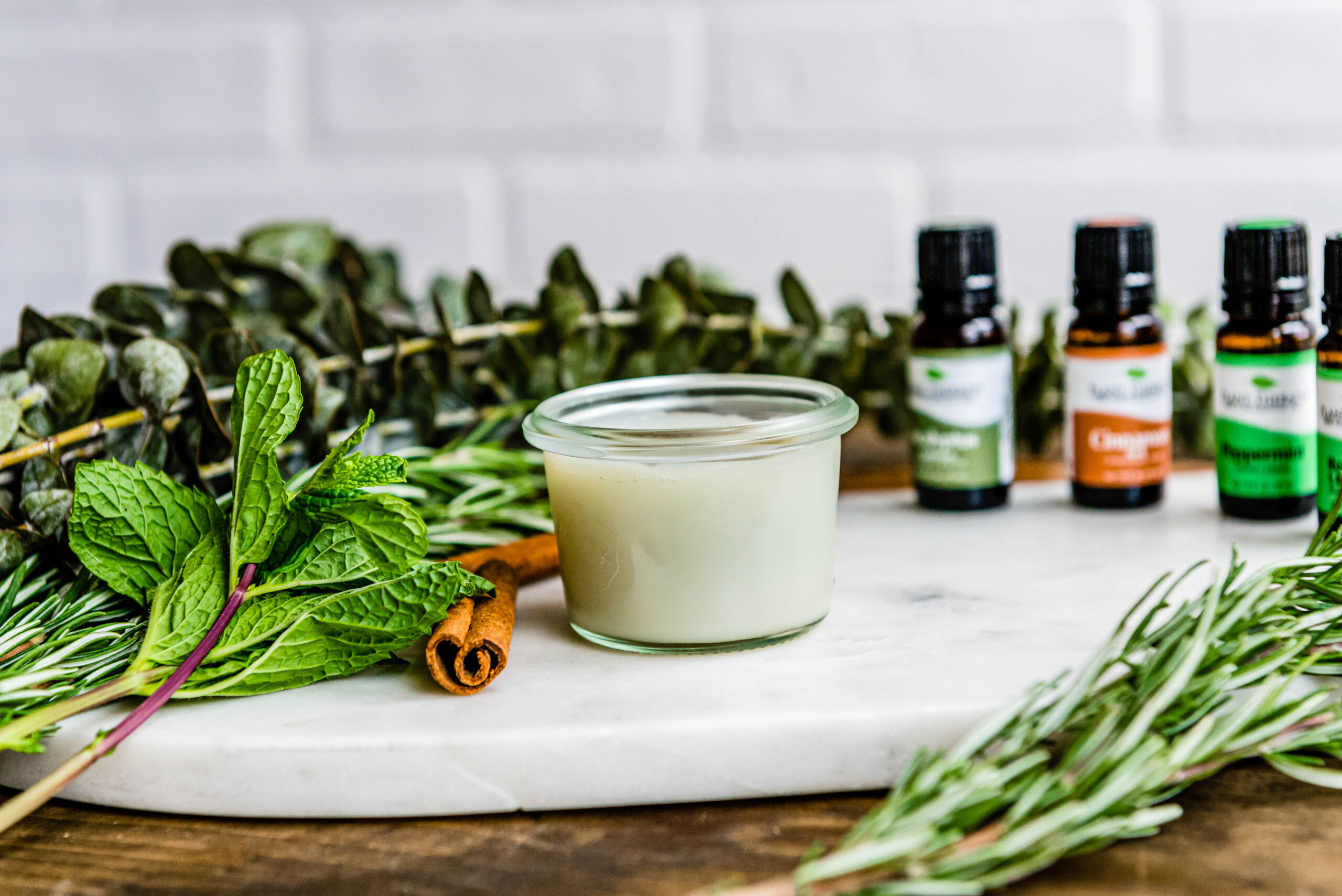 Natural Decongestants vs Store-Bought
Store-bought medicines may contain unsafe chemicals and even 'natural ingredients' can be processed. Always read labels, even on more natural-looking brands, as these can sneak in ingredients that aren't necessary and are harmful. According to the Mayo Clinic, popular store-bought options contain toxic ingredients.
Even though it is a topical treatment, these chemicals are absorbed through the skin. This means they can still cause harm even if they aren't ingested. I'll stick to ingredients I know are safe, and a natural chest decongestant recipe that actually works!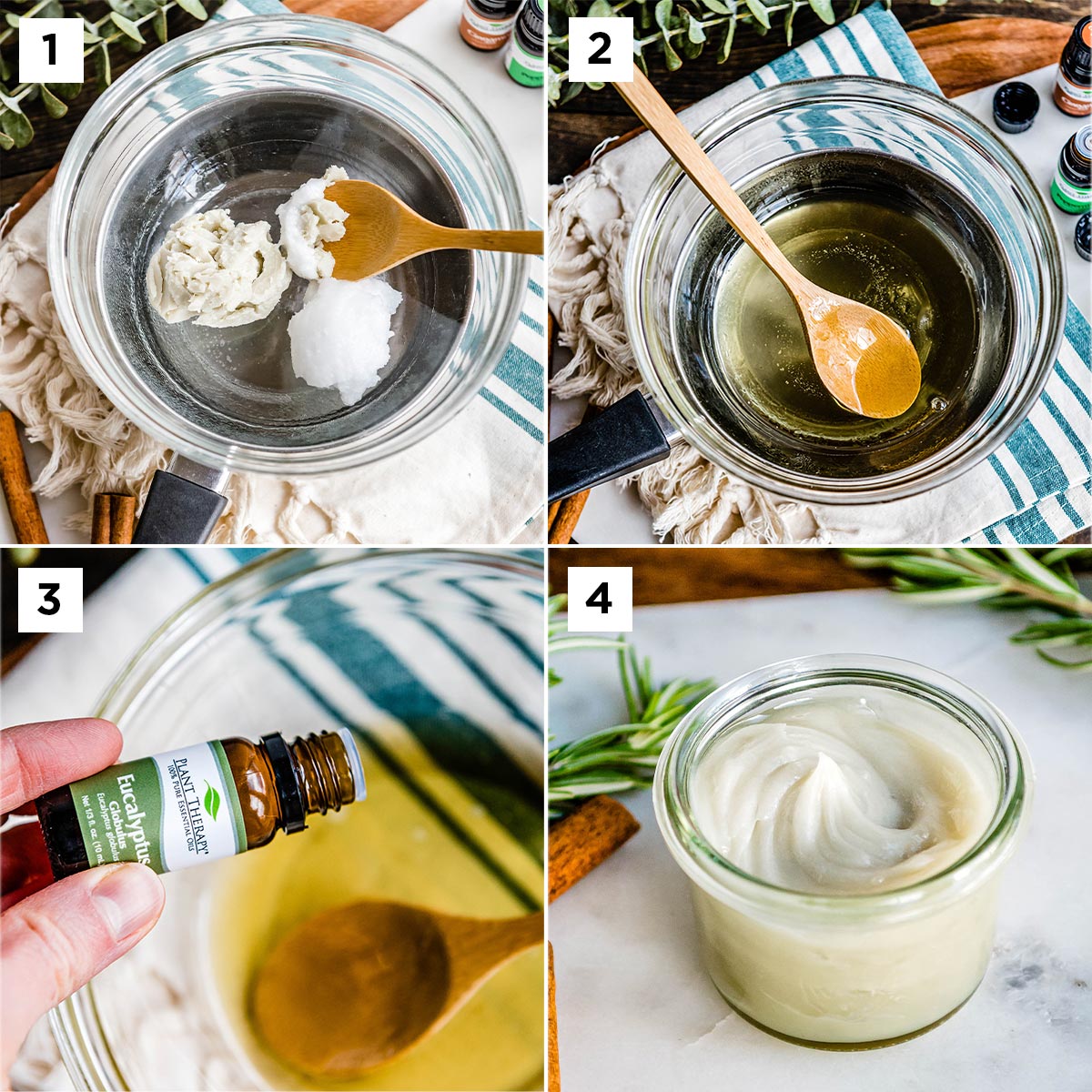 How to Make Homemade Vapor Rub
This recipe is super quick to make and one recipe should last you all season!
Start by melting the coconut oil and shea butter in a double boiler (or a heat-safe bowl over boiling water).
Once these ingredients are completely melted, remove from heat and transfer to a heat-safe jar with a tight-fitting lid. Add the essential oils and mix to combine. Then let the mixture cool down and solidify completely.
Store in an airtight container until ready to use. This has a shelf life of about six months.
When you're ready to use, scoop out a small amount with clean hands. Apply gently over the chest area and feet (if desired). I recommend wearing an old t-shirt and thick socks when using this product so that the oil doesn't stain bedding or any other surfaces.
Note: After the application of my natural decongestant, be sure to wash your hands with a carrier oil (not just water). I like to use coconut oil, yet olive oil is a great one as well. This helps get any essential oil remnants off of your hands so that you don't rub them into your eyes inadvertently.
FAQs
How do you make homemade vapor rub?
My recipe uses coconut oil as the carrier oil and pairs it with shea butter and a variety of other essential oils designed to open up your passageways for easier breathing as well as calm inflammation in the sinuses. Melt down the butter and oil then add the essential oils and let cool until it becomes solid once more. Then use as needed!
Can you make your own vapor rub?
Yes! It's super easy and this way you know exactly what's going on in your body. Grab coconut oil, shea butter and the essential oils in my recipe and get ready to make your own.
How do you use vapor rub?
I use this natural remedy as a natural chest decongestant by rubbing it on my chest and feet. The essential oils in it will help calm down inflammation in your sinuses and encourage drainage to help you breathe better during cold and flu season. I also use it after marathons and long trail runs to help get my breath back and loosen up the congestion that comes.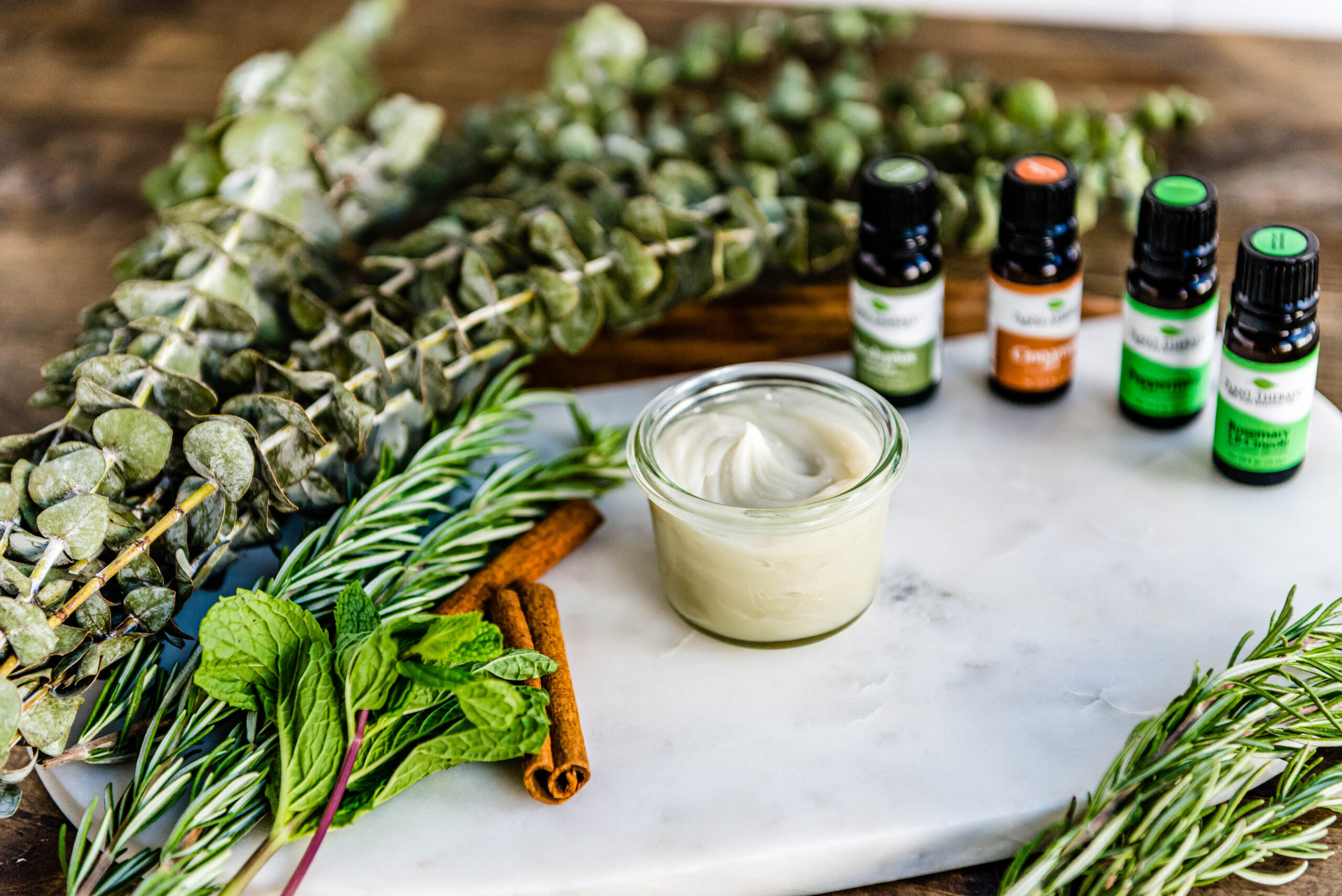 More Natural Decongestants
When a cold or flu hits and congestion sets in, I use all the tools I've got to get rid of it quickly and naturally. Here are some of my favorite natural chest decongestants:
Humidifier: This is a super simple way to add moisture into the air, which helps your ability to breathe. I keep one in each of my kid's rooms so they can use it whenever they feel stuffy.
Saline nasal rinse: I was a bit skeptical about pouring salt water into my nose until I tried it. This is a great way to relieve pressure, push out snot and open your sinuses.
Spicy food: Seriously! I love spice, and use it liberally when I start to feel congested.
Diffusing essential oils: Specific scents can help calm the mind and body and help you breathe better. I love the brand Plant Therapy, because its products are USDA Organic and top quality. This natural decongestant is going onto your body so using good ingredients is essential.
Don't forget to rate and review this recipe once you've tried it. I'd love to know how it compares to other decongestants you use!
More Natural Remedies
I don't want to use something unless it works, and I love when I find natural remedies that work better than over-the-counter medicines. I've used these recipes for years and share them with everyone I know.
We should all feel empowered to take control of our health and do it through plants. Check out more rawkstar recipes like my natural chest decongestant and share them with your family too!
Do you have some favorite natural remedies you swear by? Let me know in the comments after you try this recipe and rate it. I'd love to try them too!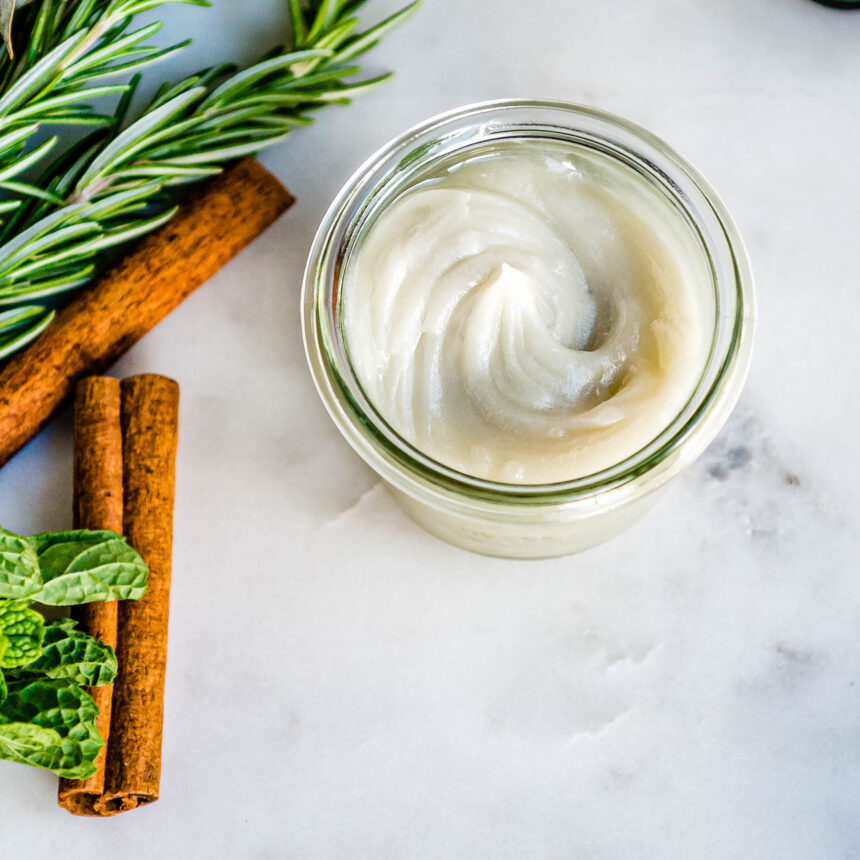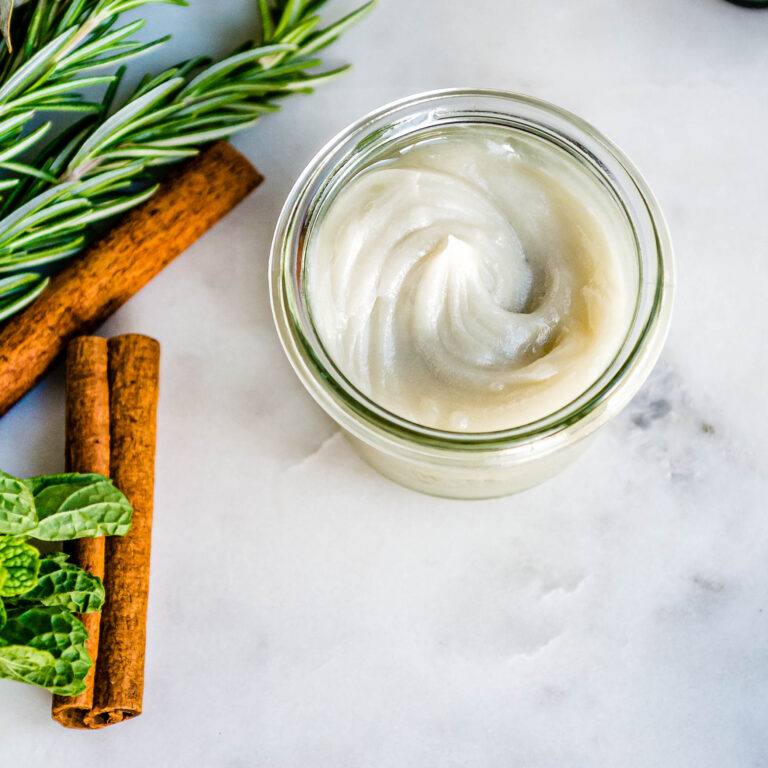 Homemade Vapor Rub
Ditch the nasty chemicals and make your own homemade vapor chest rub to soothe and ease congestion. Made with top quality essential oils, coconut oil and shea butter.
Equipment
mixing bowl

air tight container

double boiler
Ingredients
2

tbsp

coconut oil

2

tbsp

shea butter

10

drops

eucalyptus oil

for ages 3+, use only 3 drops for children

10

drops

peppermint oil

for ages 3+, use only 3 drops for children

4

drops

rosemary oil

for use in ages 10+

4

drops

cinnamon oil

when making to use for children, use cinnamon leaf instead
Instructions
In a double boiler, gently melt coconut oil and shea butter. Remove from heat and let cool for a few minutes.

Stir in the essential oils. Pour into a clean container with tight-fitting lid. Allow to solidify and cool completely before using.

Store in a cool, dry place for up to six months. To use, rub a small amount between the palms to soften and apply to the chest as needed.
Notes
Eucalyptus and peppermint oils should only be used in ages 3+ and in very small amounts.
If making for children, use Peppermint and Eucalyptus essential oils.
Other oils that can be beneficial for a children's vapor rub are lavender, tea tree, spruce and pine.
You can find essential oils at your local health food store or at https://www.planttherapy.com/.