Start your day with a sunny, tropical immune-boosting mango smoothie. With mango, cashew yogurt, turmeric and orange, this sweet and refreshing mango smoothie recipe is the perfect way to boost your health. Plus, it's a no-banana smoothie for anyone wondering!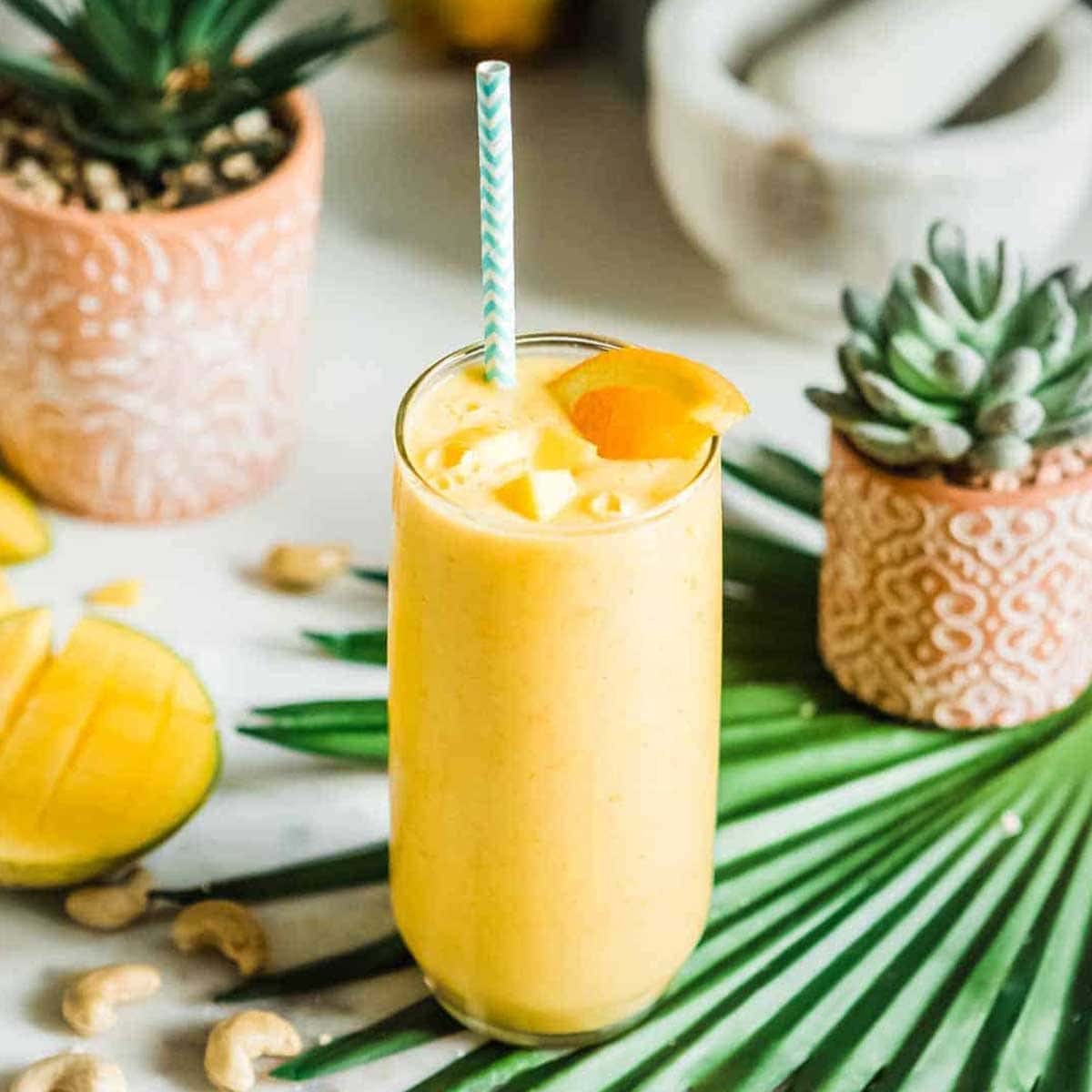 Table of Contents
Ingredients + Health Benefits
When it comes to keeping your immune system healthy, this nutritionally-dense mango smoothie is just what your body needs. It's packed with powerful antioxidants like vitamin C, and also contains anti-inflammatory compounds from the turmeric. Enjoy it for breakfast, as a healthy snack or as a refreshing post-workout treat.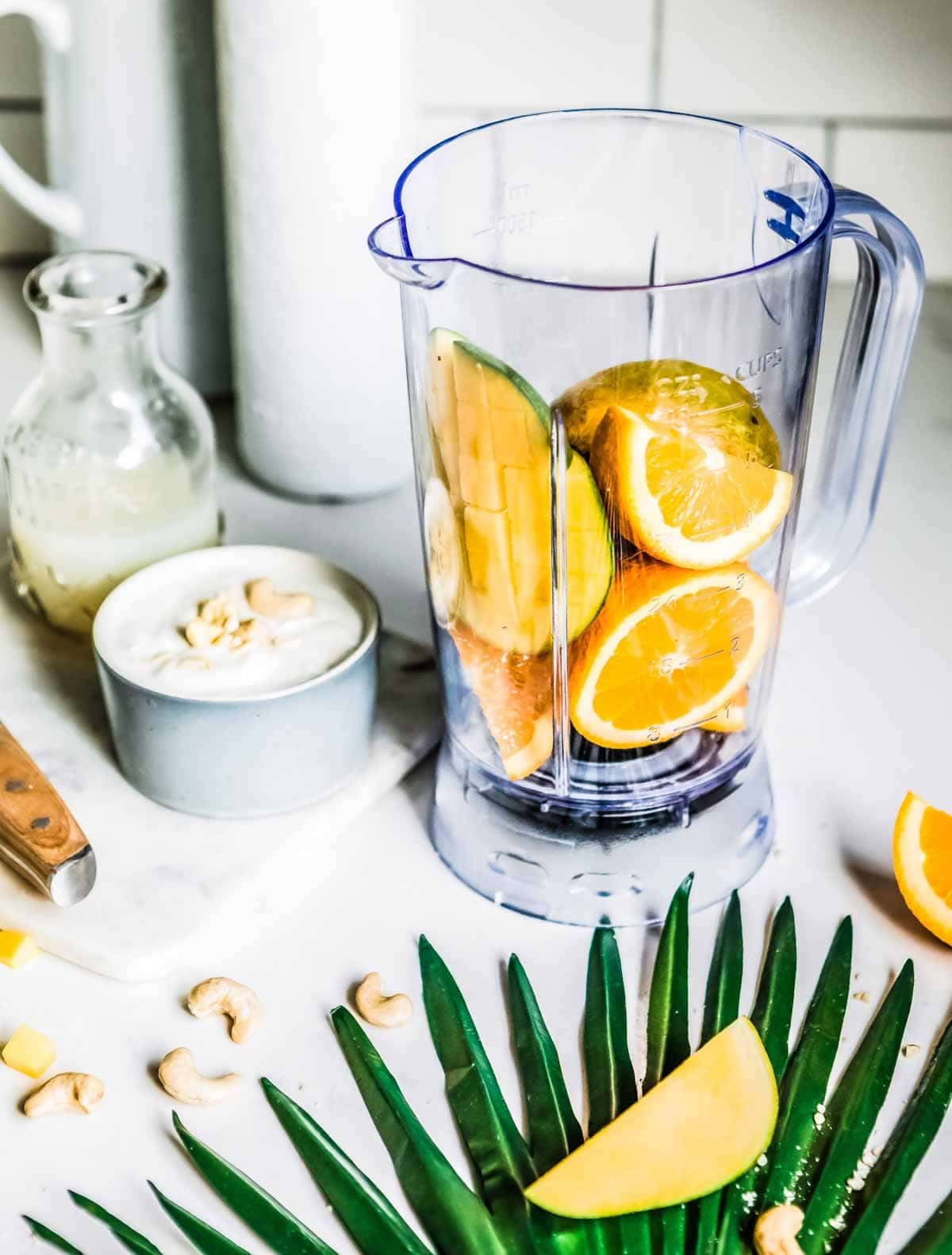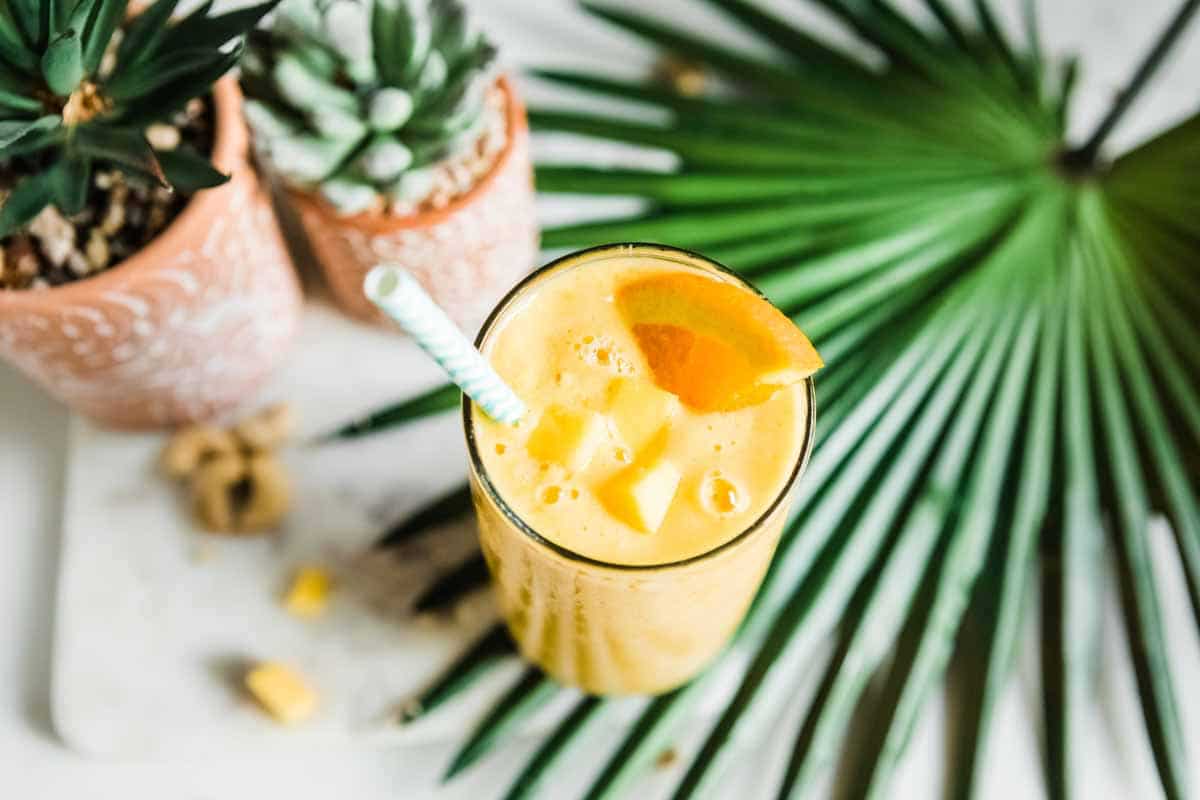 Fresh vs Frozen Mango
Personally, I typically buy frozen mango from Costco, because the price can't be beat. Yet if it's on sale, or fresh from a market, then I'll spring for non-frozen. If you're using a fresh mango, then I've got some tips to help you easily peel + core a mango.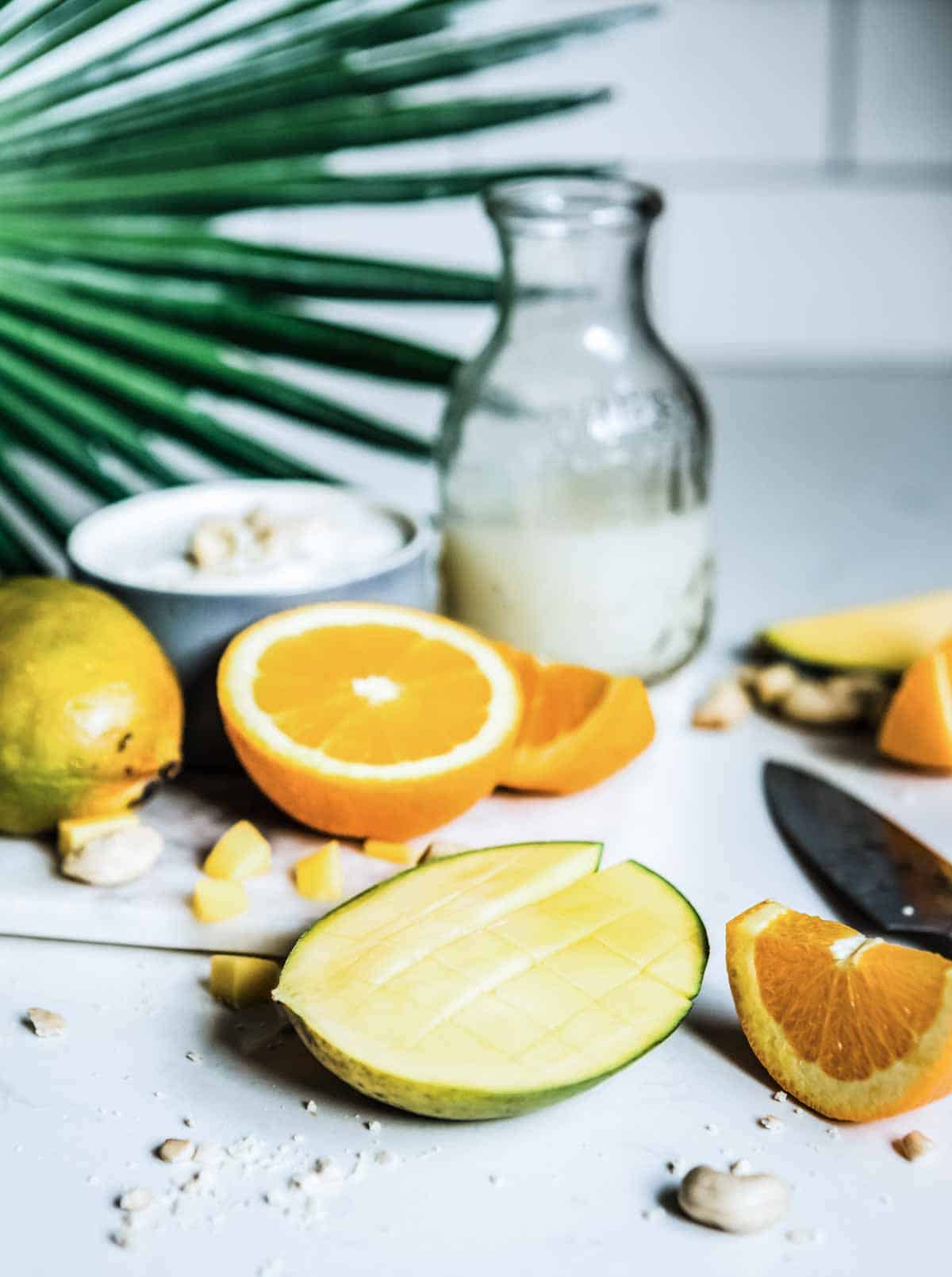 How much does one mango yield?
It all depends on the size of the mango. A small mango may only yield ½ to 1 cup of mango flesh. Yet I've been able to get 2 full cups out of some mangos! If using fresh, it's okay to eyeball the measurement before adding it to your mango smoothie. The more mango, the better, right?!
Mango Smoothie Recipe
Add the cashew milk, cashew yogurt, mango, orange and turmeric to the blender. Blend until smooth. Add more cashew milk or water for a thinner consistency.
Unlike green smoothies, this smoothie doesn't have leafy greens that need to be chopped up before adding other ingredients. So don't be afraid to toss all the ingredients in at once.
Thick, creamy and tropical, this nourishing mango smoothie recipe is the perfect way to start your day! Enjoy often during cold and flu season for a healthy immune boost!
More smoothies with mango
I could probably add mango to any smoothie I make, I love it that much! Here are a few more of my fav smoothie recipes with mango:
Did you sneak in some leafy greens when you blended this mango smoothie, or did you blend as-is? Leave a comment + review and let me know what you thought!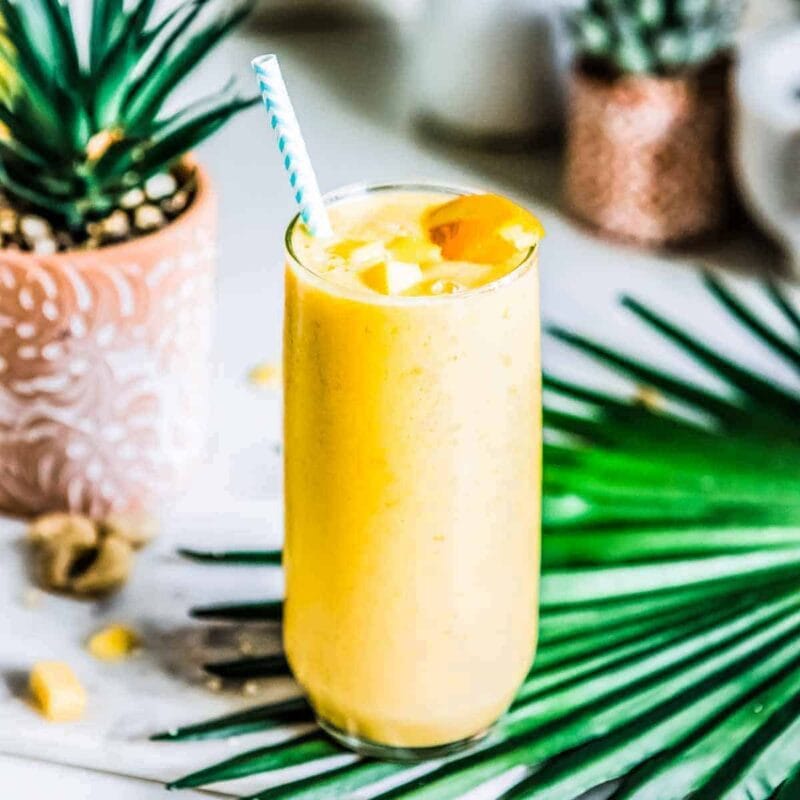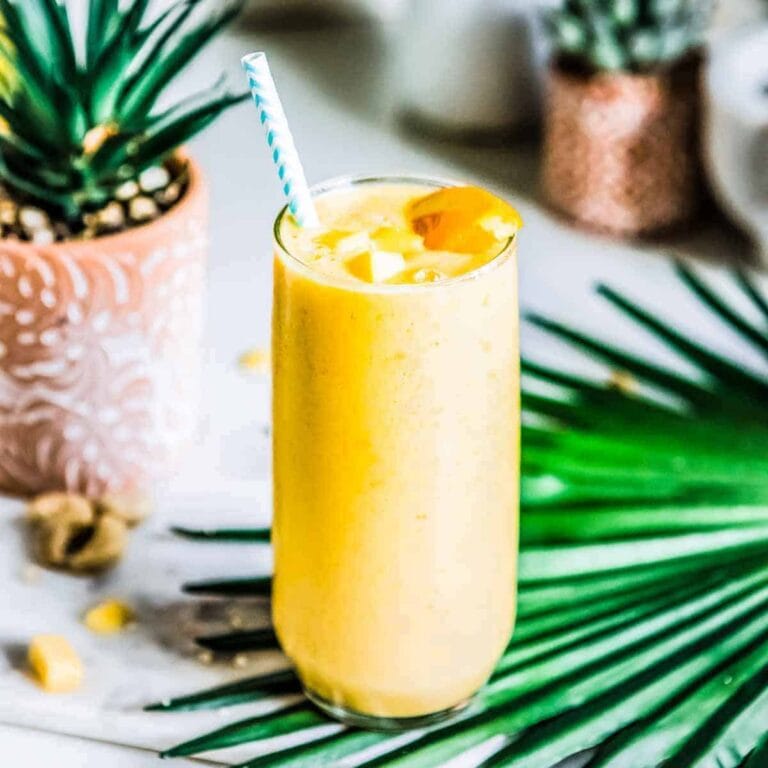 Creamy Mango Smoothie
This is a super creamy + delicious mango smoothie with just the right sweetness. Be careful, it might easily become your new fav snack smoothie!
Instructions
Blend all ingredients in blender until smooth.

Pour into a glass and enjoy.
Notes
Cashew milk can be swapped out for any non-dairy milk
Cashew yogurt can be swapped out for any non-dairy yogurt
Add up to 1 cup of leafy greens per serving for even more nutrients
Use at least 1 frozen fruit for a refreshingly cool smoothie
Nutrition
Calories:
221
kcal
,
Carbohydrates:
39
g
,
Protein:
6
g
,
Fat:
6
g
,
Saturated Fat:
3
g
,
Polyunsaturated Fat:
1
g
,
Monounsaturated Fat:
2
g
,
Cholesterol:
16
mg
,
Sodium:
139
mg
,
Potassium:
611
mg
,
Fiber:
4
g
,
Sugar:
34
g
,
Vitamin A:
2054
IU
,
Vitamin C:
96
mg
,
Calcium:
194
mg
,
Iron:
1
mg