Today I'm giving you a Red Velvet Smoothie recipe loaded with rich chocolate flavor and just the right amount of sweetness. Plus, it's got a velvety texture that you want in a creamy dessert. Where does it get that lovely red color, you ask? Why a little bit of beet! (Don't worry, you can't even taste it.)
This luscious red smoothie satisfies my sweet tooth, gives me natural energy and provides a festive treat to share with a loved one.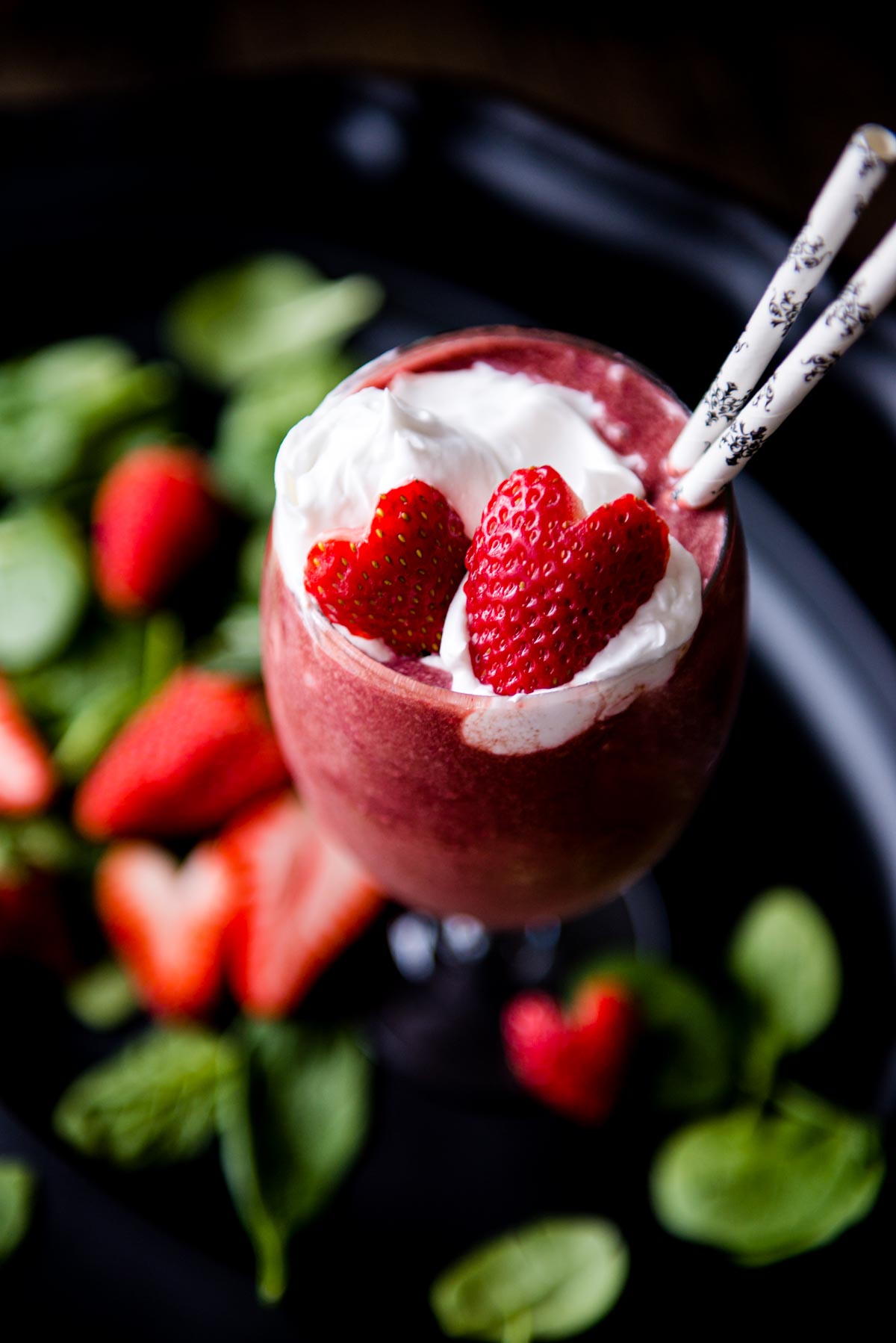 Don't let the spinach fool you. If you're looking for a dessert smoothie, then this is a winner!
Table of Contents
Red Velvet Smoothie Recipe
I like blending my smoothies in two steps for the smoothest result:
First, blend spinach and coconut milk (canned or carton, your choice) until smooth. If you're not using a high-speed blender, then whip the canned coconut milk before adding to the blender to stir the fat into the liquid.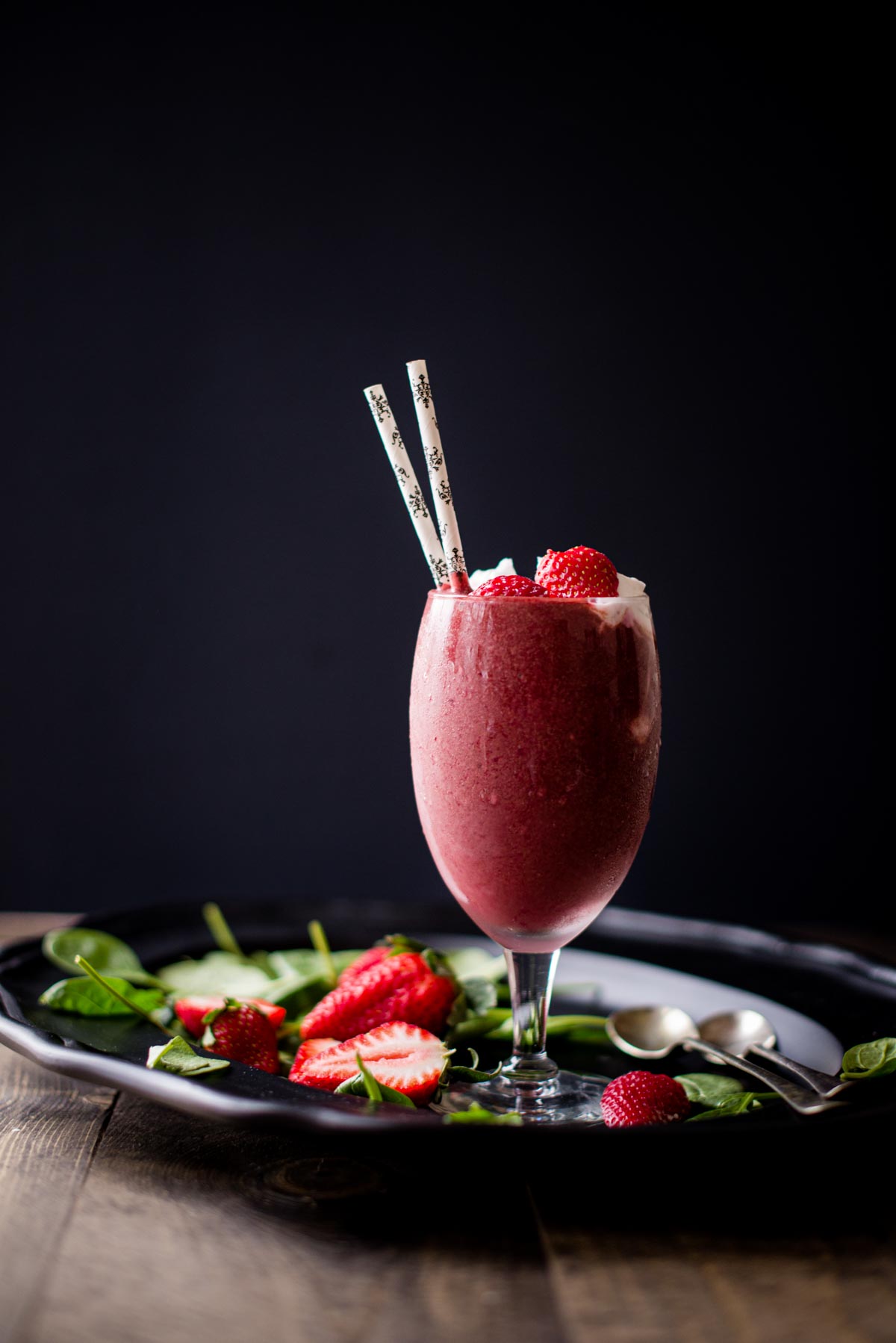 Then add the strawberries (frozen), Medjool dates, beet, cacao powder and vanilla extract to the blender. Blend until smooth.
If you're serving this as a dessert, feel free to add a dollop of coconut whipped cream to the top and turn it into a festive shake.
Tips for the Best Blend
To ensure the Medjool dates are thoroughly blended, let your blender run on medium speed for a bit, then slowly increase to high. If you're using a non-high-powered blender, swap the dates with maple syrup for an easier blend.
Canned coconut milk (full-fat or light) gives you a milkshake texture. The beet adds the iconic deep red velvet color. You can also swap it with beet powder.
Using frozen strawberries ensures a refreshingly cool red velvet smoothie, or you can refrigerate before serving (give it a good shake).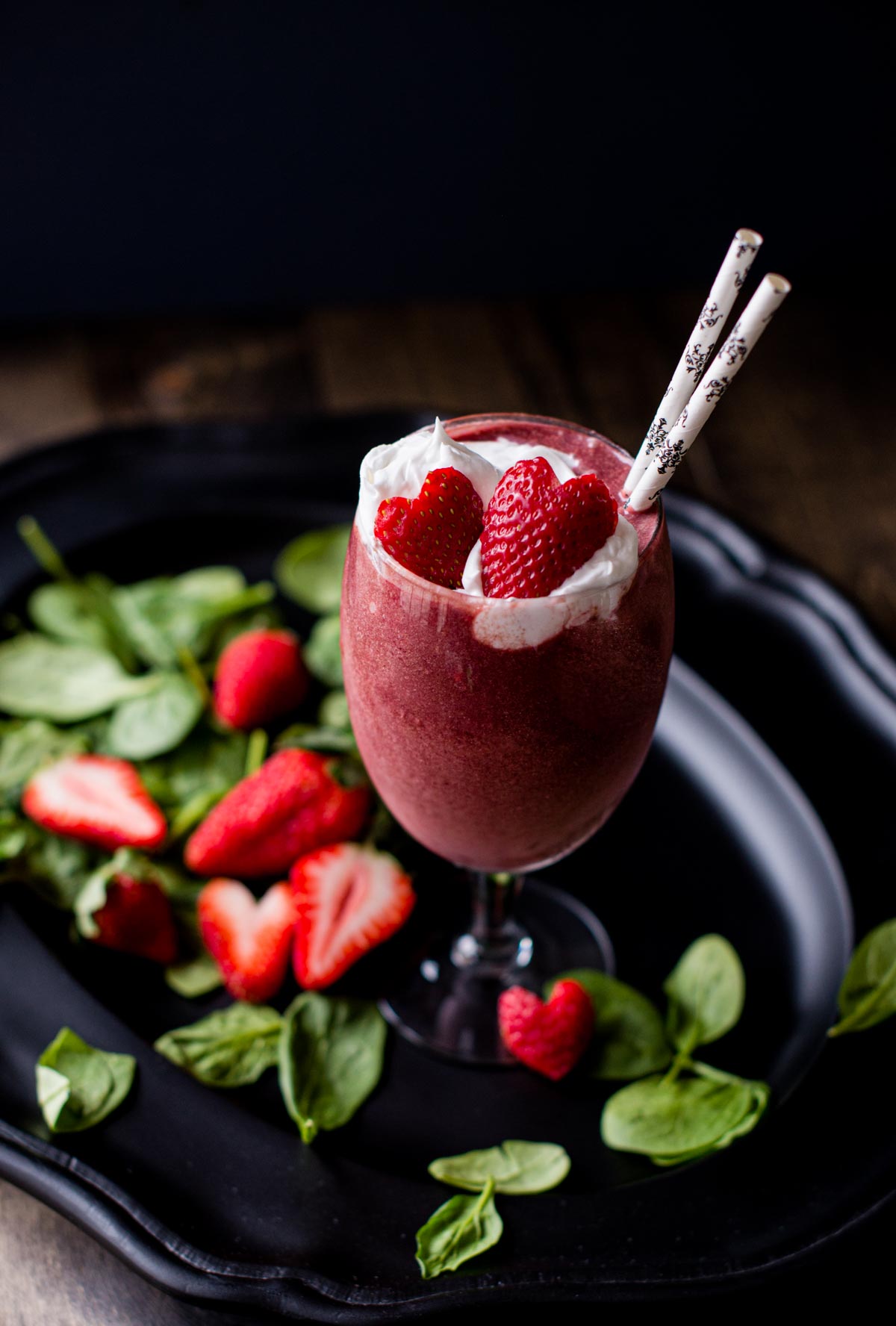 Sweetener Swaps for Dessert Smoothies
I love the caramel flavor of Medjool dates, but you could use several natural sweeteners for this low-sugar red smoothie. Here are a few more options:
Maple Syrup– Use two tablespoons of maple syrup to replace two dates. Maple syrup is a great swap if you're not using a high-powered blender.
Date syrup– This newer sweetener is a great option too! Start with one tablespoon, then add more to taste.
Banana– 1/4 a banana (fresh or frozen) can add creaminess along with sweetness. It's a great swap if you're using carton coconut milk.
Red Velvet Smoothie FAQs
What kind of coconut milk is best for smoothies?
It depends on the texture you want. Canned coconut milk gives a thicker, creamier texture. Carton coconut milk is much thinner and offers a tropical taste when paired with other tropical fruits like pineapple and dragon fruit.
Should I use cocoa or cacao in smoothies?
I recommend unsweetened cocoa or cacao in smoothies. Both are great options with a slightly different taste. It's up to you to determine which you like better. Just make sure they are unsweetened; no need to add in extra sugar.
How do I make a red velvet smoothie?
Blend spinach and coconut milk until smooth. Add strawberries, Medjool dates, beet, cacao powder and vanilla extra to the blender and blend again until smooth. Pour into a fancy glass and enjoy!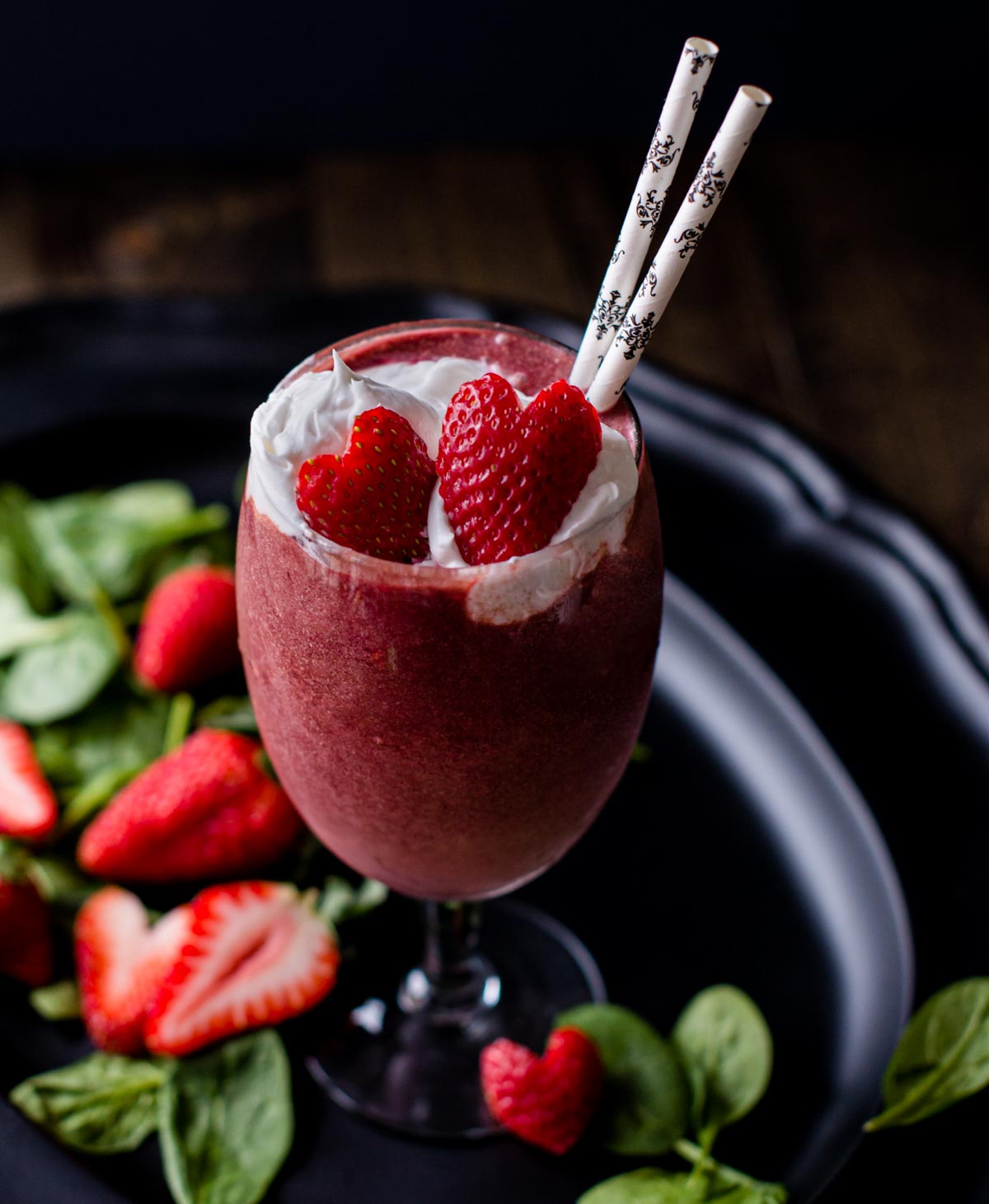 More Dessert Smoothies
If you're craving a smoothie and have a sweet tooth, try blending one of these decadent recipes. Perfect for an afternoon pick-me-up or an easy dessert.
Who knew plants could be so delicious? Which one of these do you want to blend first? Don't forget to try this Red Velvet Smoothie recipe as well, then leave a rating to let me know what you think. It truly is like cake in a cup!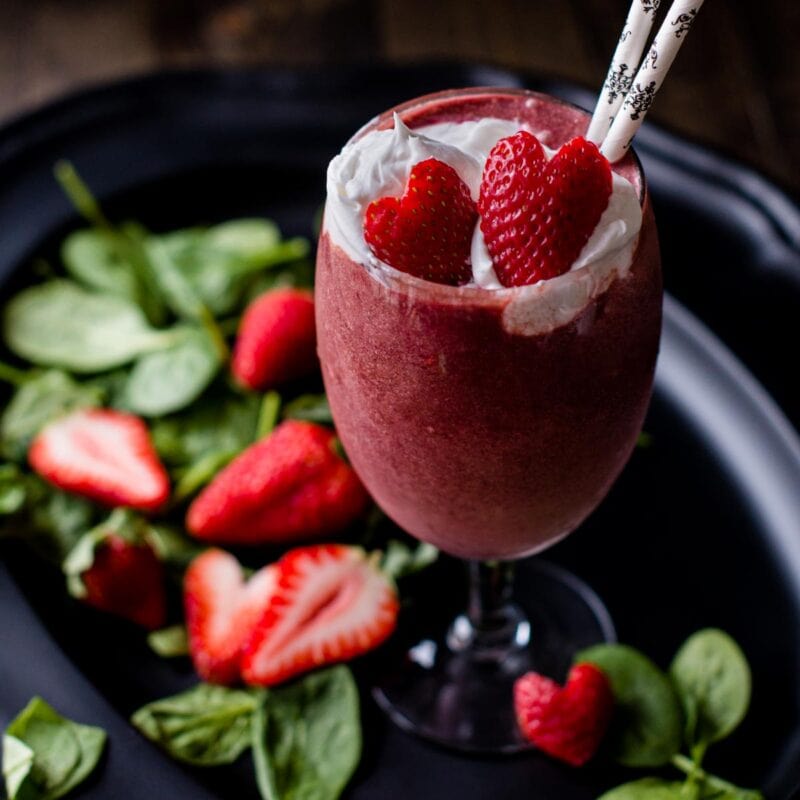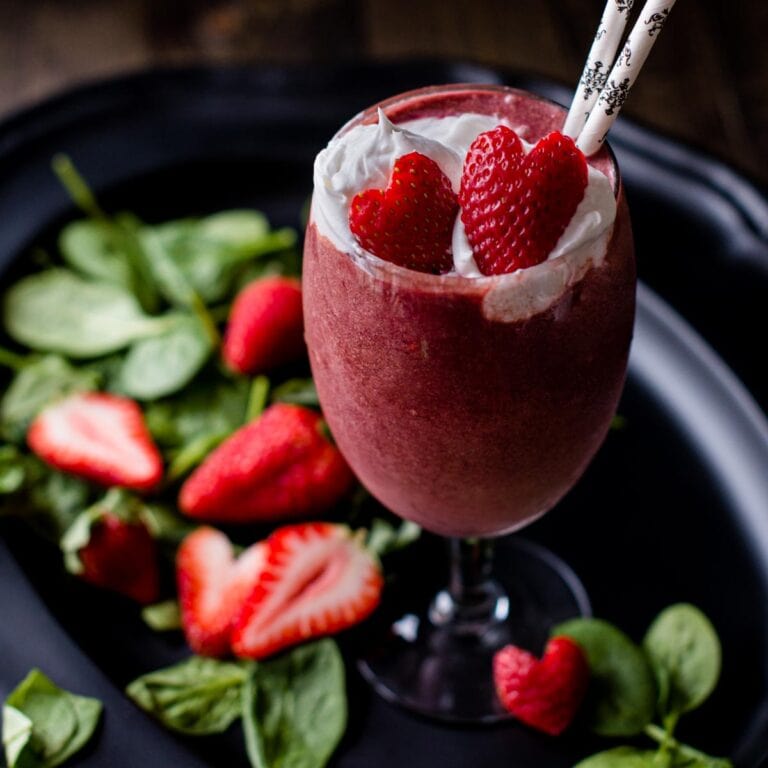 Red Velvet Smoothie
Give your heart a healthy boost with cacao (unsweetened cocoa) in this green smoothie recipe. Serve it in a fancy glass with two straws so you and your loved one can enjoy it together!
Ingredients
1

cup

spinach

1

cup

coconut milk

1

cup

strawberries

frozen

2

medjool dates

pitted

2

tbsp

beet

raw or cooked

1

tbsp

cacao powder

½

tsp

vanilla extract
Instructions
Blend spinach and coconut milk until smooth.

Add remaining ingredients, and blend until smooth.

Top with a dollop of coconut whipped cream, if desired.
Notes
Use frozen fruit to make smoothie cold.
Swap spinach for the leafy greens of your choice.
Swap Medjool date with the natural sweetener of your choice (maple syrup, honey, etc.)
Use canned coconut milk for a richer, creamier smoothie.
Use carton coconut milk for a lighter smoothie.
Unsweetened cacao powder can be swapped with unsweetened cocoa powder.
Nutrition
Calories:
289
kcal
,
Carbohydrates:
35
g
,
Protein:
4
g
,
Fat:
15
g
,
Saturated Fat:
14
g
,
Polyunsaturated Fat:
1
g
,
Monounsaturated Fat:
1
g
,
Sodium:
216
mg
,
Potassium:
655
mg
,
Fiber:
7
g
,
Sugar:
18
g
,
Vitamin A:
2842
IU
,
Vitamin C:
95
mg
,
Calcium:
70
mg
,
Iron:
2
mg