This Superfood Smoothie is chock full of superfoods and antioxidants that aid the body's healing process and give the immune system a boost.
Superfood smoothies give us a kickstart as we jump into eating healthier. But we also know they can be a great way to help our bodies heal, too.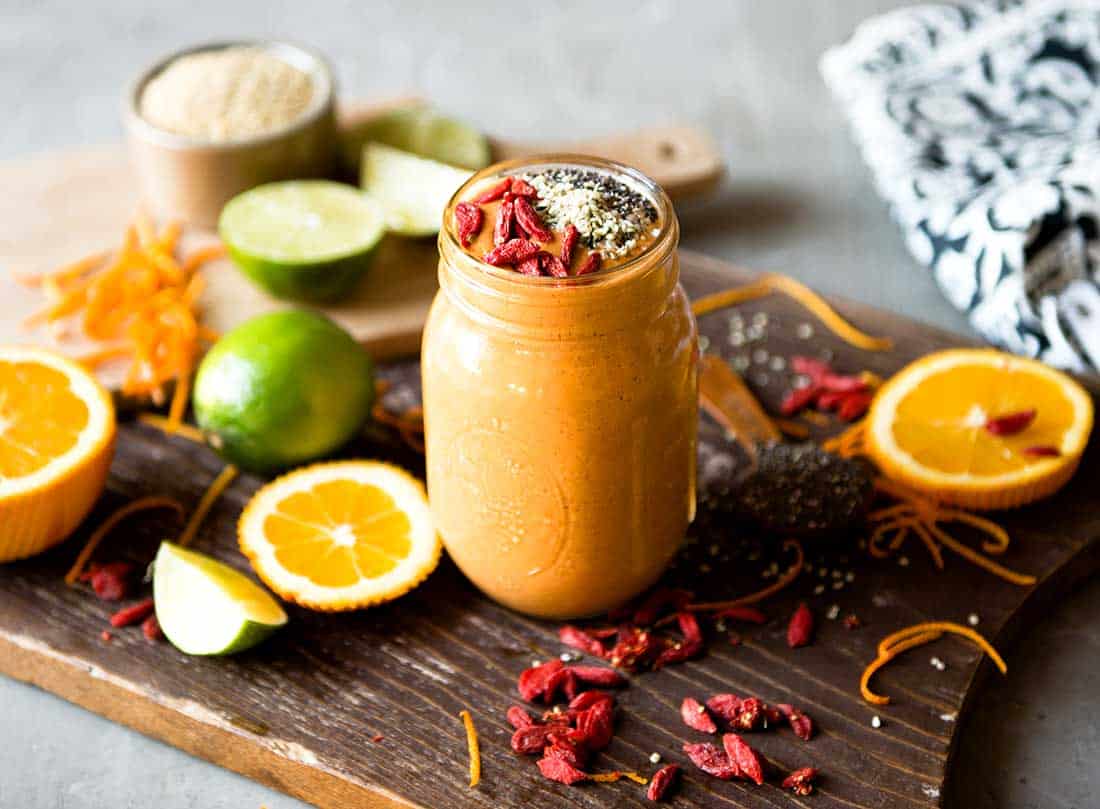 Packing nutrition into a daily smoothie isn't hard to do. Yet superfoods can take that smoothie's nutrition, and your health, to the next level.
Rawkstars Matt and Amanda entered one of our giveaways a few years ago. They shared how Amanda started making superfood smoothie recipes to help Matt, her husband, in his battle against brain cancer.
Health Benefits in Superfood Smoothie
Amanda's research led her to new ingredients that she began adding to their daily smoothies. In addition, our community requested some of their recipes and they graciously shared their favorite superfood smoothie below, along with their research.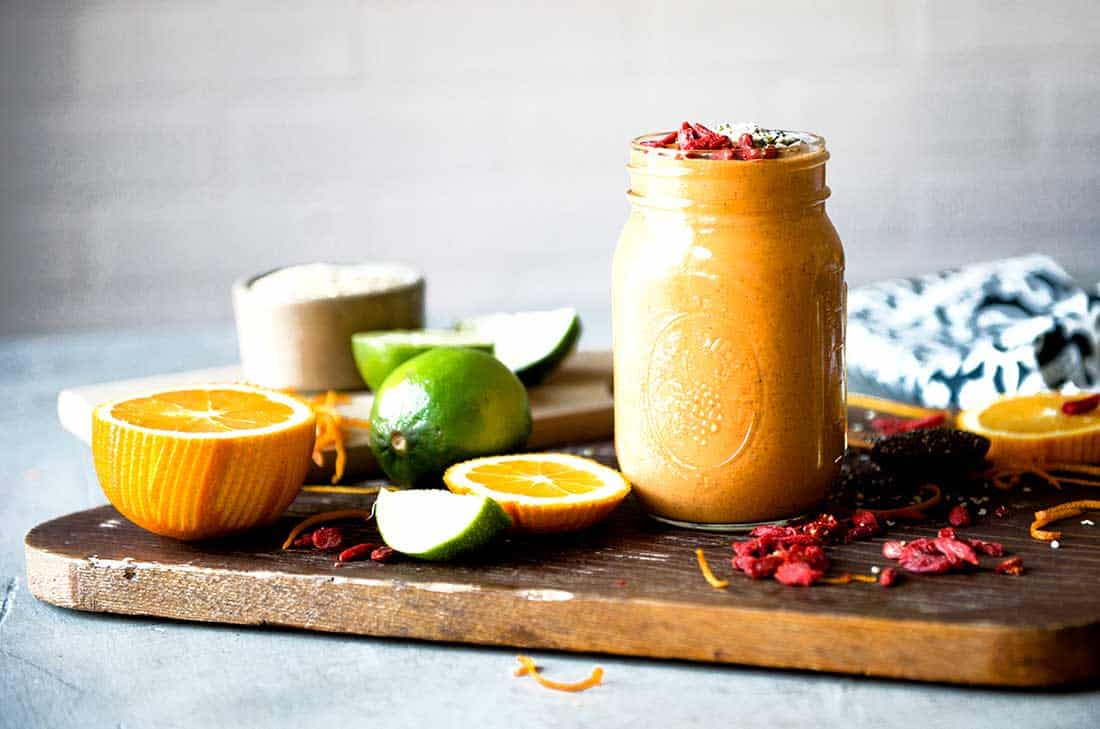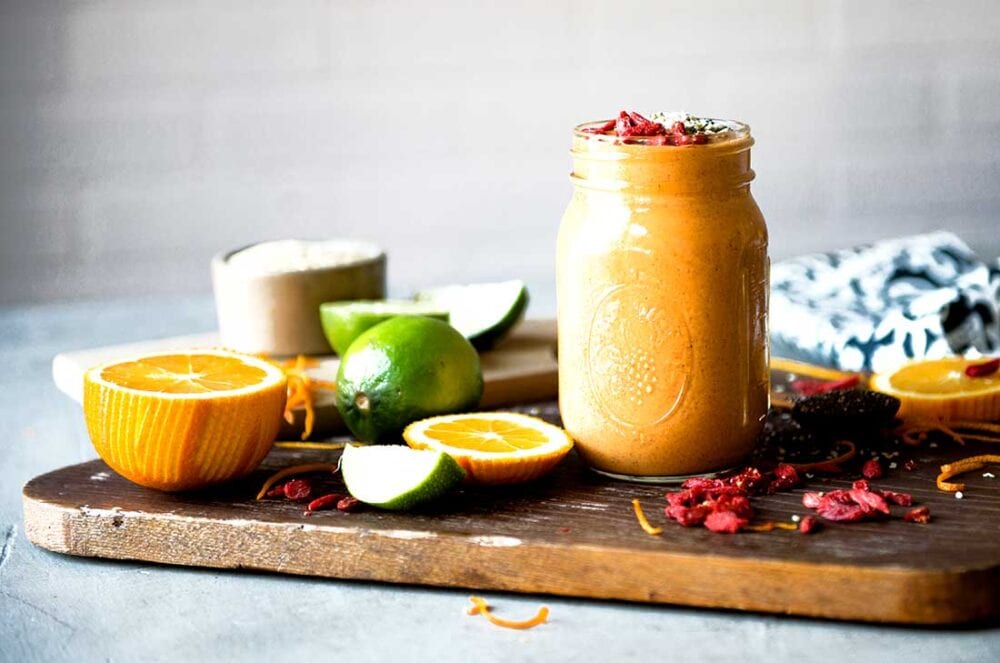 Citrus fruit
The zest of citrus fruits (organic only please!) contain flavonoids that penetrate brain cancer cells and facilitate their death by apoptosis. They also lower the potential for the cancer to invade neighboring, healthy tissues. Citrus juice contains vitamin C, which is a powerful antioxidant that aids the liver in detoxification of carcinogens.
Also, orange and lime juice can help increase alkalinity in the body.
Bananas
Bananas are full of magnesium and potassium. These two minerals release energy slowly to prevent blood sugar spikes. Also, bananas are full of vitamin B6 which can help keep blood levels stable during chemotherapy. The natural sweetness from banana gives this superfood smoothie a delicious boost, while also providing great nutrition.
Goji Berries
Goji berries aren't new. They're a superfood used in ancient medicine all over Tibet, India, Mongolia, and regions of China. They contain polyphenols which stimulate detoxification of blood, and also the elimination of carcinogens in the body.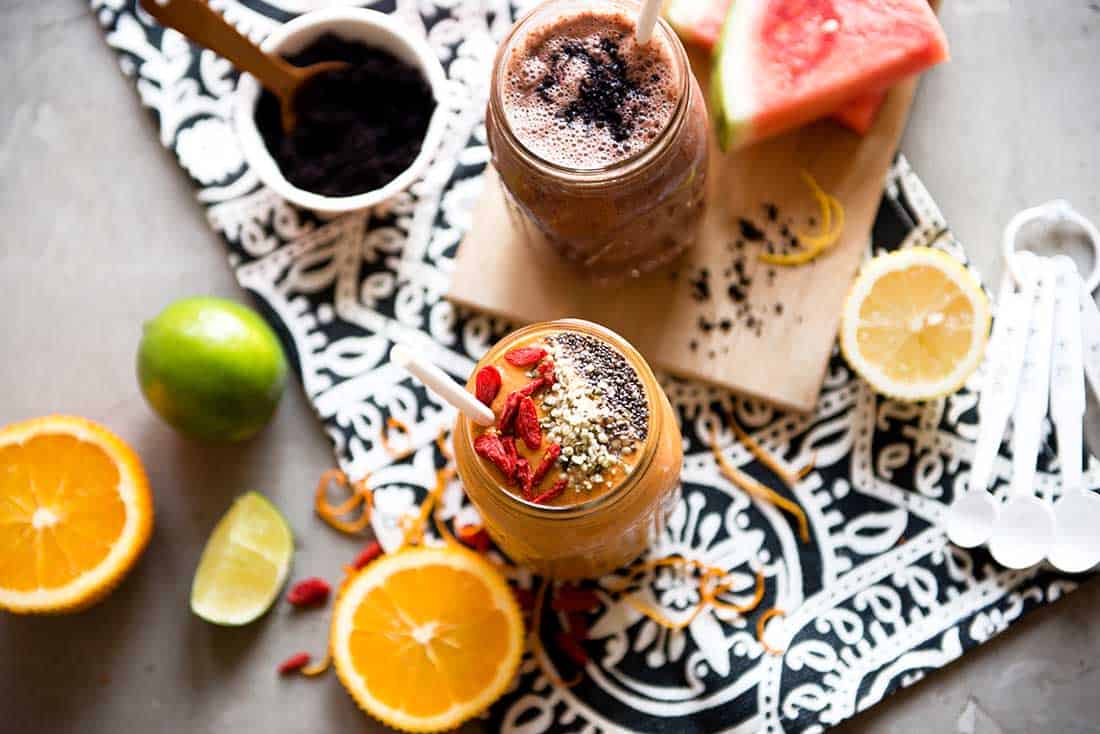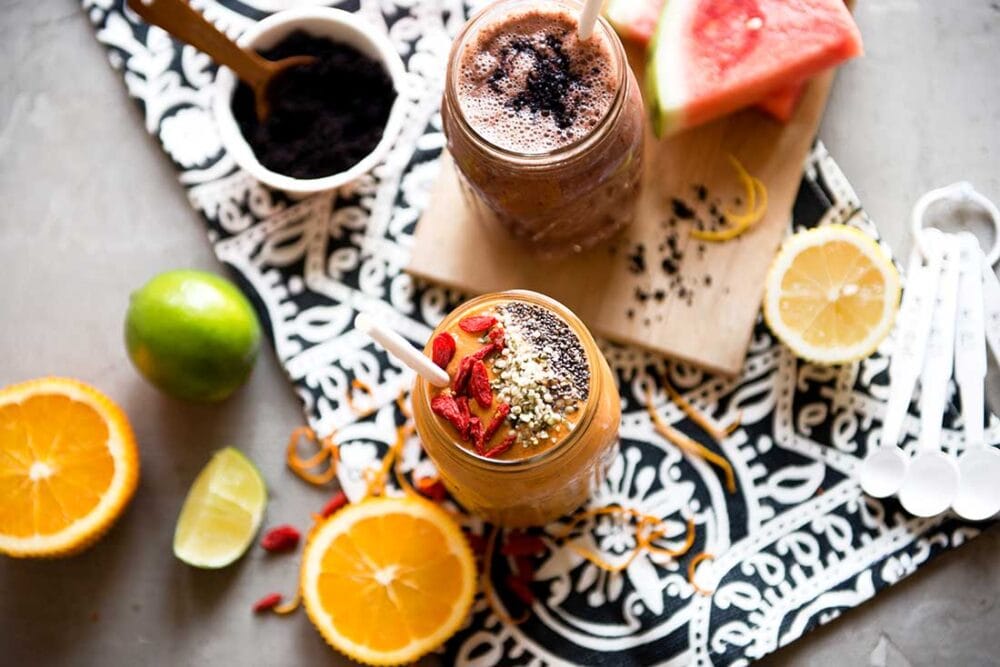 Hemp Hearts
Healthy fats, protein, alpha-linolenic acid and linolenic acid from hemp hearts give the lymphatic system a boost. This superfood is gaining in popularity, and can be found in most grocery stores (and is the main ingredient in our Protein Smoothie Boost).
Chia Seeds
Chia seeds add sustainable energy, antioxidant power, slow absorption of sugars, and add protein. Mayan warriors and tarahumara ultra runners both use chia seeds for endurance support.
Coconut Water
Coconut water is hydrating and replenishes the body, which Amanda says is important for Matt during chemo. She buys the Symbiosis Brand brand, because it's free from preservatives and additives. In addition, it's also not packaged in boxes lined with BPA.
Also, one of the most amazing ingredients in this orange smoothie is TOCOS, short for Tocopheranols and Tocotrienals. TOCOS is stabilized rice bran solubles. They contain numerous vitamins (A, B1, B2, B3, B5, B6, C, D, E, Folic acid, Biotin) and minerals like Calcium, Potassium, Magnesium, Phosphorus, Iron, Zinc, Manganese, and other Trace Minerals.
TOCOS are a potent form of Vitamin E that work as a cancer fighter. They also add a creamy, vanilla flavor which turns this into a powerhouse smoothie that tastes amazing too.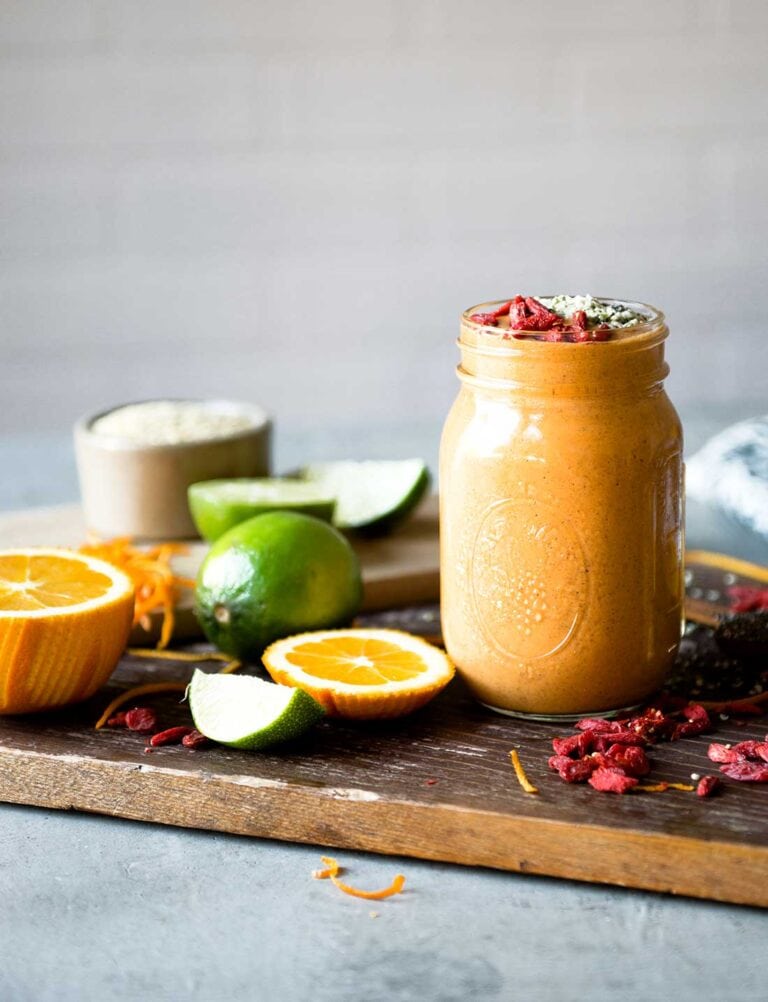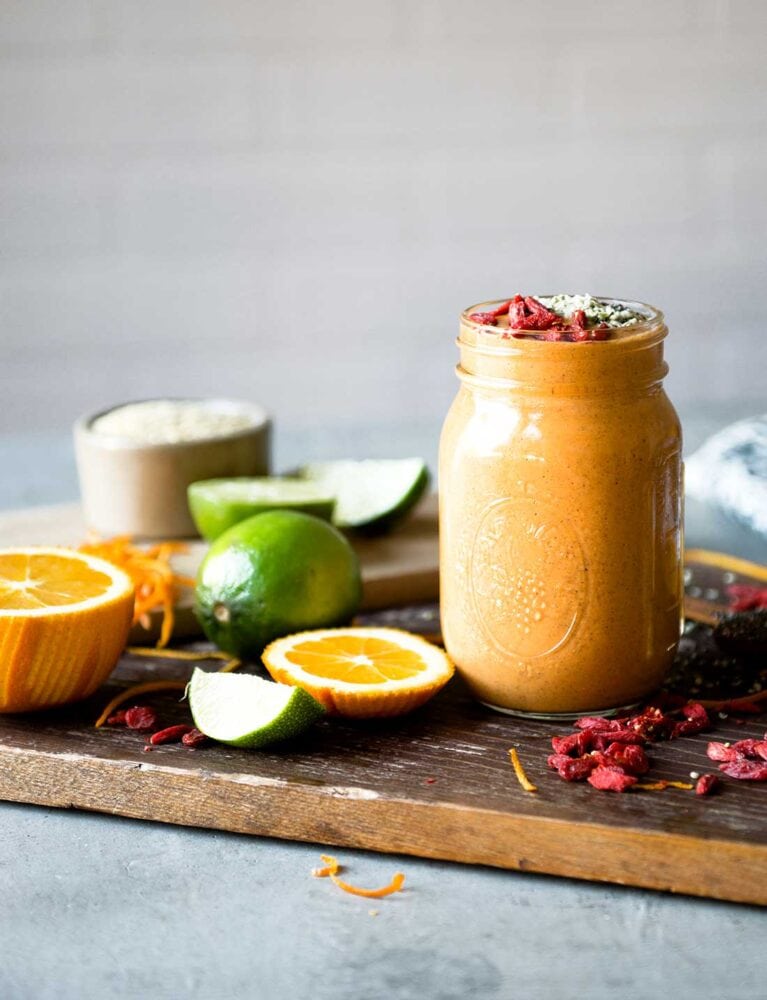 How to make a superfood smoothie
Making a smoothie as super as this does take some time to shop. Some superfoods are specialty items that are nutrient-dense and sometimes harder to find. To help, I recommend checking out Thrive Market, the online supermarket where I get the best deals on organic, non-GMO superfoods.
Not all superfoods have to be special ordered though. Here are some of my fav plant based options, which can all be found at my local grocery store:
Superfood Meal Planner
If you're interested in embracing a plant based diet to supercharge your health, check out Rawk the Year. This meal planner gives you access to 400+ tasty plant-based recipes, which include smoothies, snacks, meals and desserts. You can customize your weekly meal plan to work best for you and your family.
Free 14-Day Trial to our Plant-based Meal Planner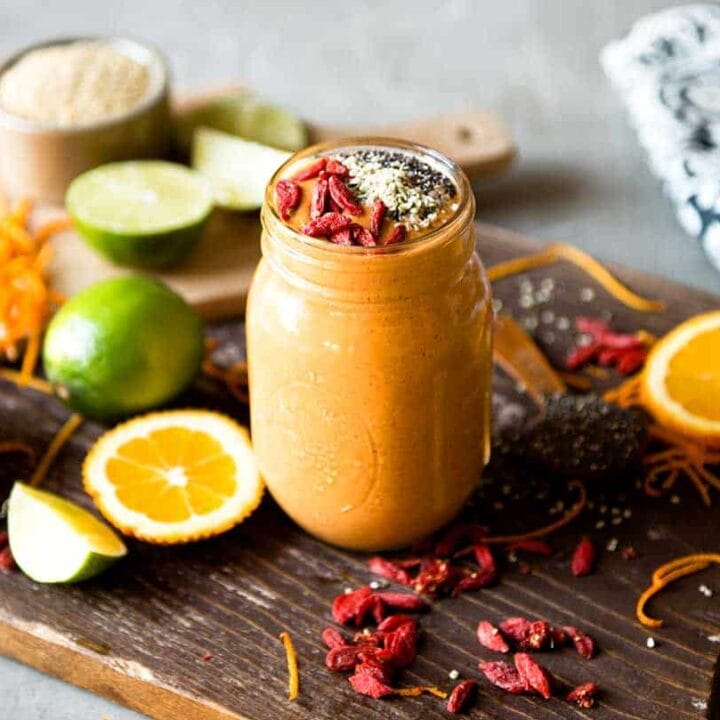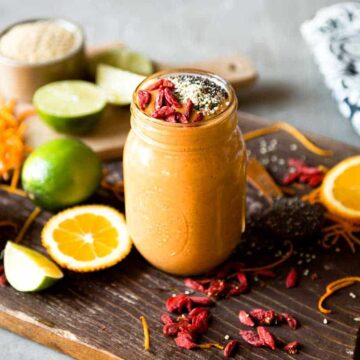 Orange Superfood Smoothie
Rate this Recipe
Print Recipe
This refreshing citrus superfood smoothie is paired with the natural sweetness of banana and soluble rice bran powder.
Ingredients
1

orange

(peeled and seeded)

½

banana

¼

cup

coconut water

1

tablespoon

goji berries

1

tablespoon

hemp seeds

1

tablespoon

chia seeds

1

tablespoon

TOCOS

(soluble rice bran powder)

1

tablespoon

lime

(juice)

½

cup

ice

1

serving

Protein Smoothie Boost

(optional)
Instructions
Blend the oranges and other ingredients, except the ice, until smooth.

Add the ice and blend again.
Notes
Use 1 frozen fruit to make this smoothie cold (the banana is a great option!)
Nutrition (estimated)
Calories:
275
kcal
(14%)
Carbohydrates:
38
g
(13%)
Protein:
10
g
(20%)
Fat:
11
g
(17%)
Saturated Fat:
1
g
(6%)
Polyunsaturated Fat:
8
g
Monounsaturated Fat:
1
g
Trans Fat:
1
g
Sodium:
72
mg
(3%)
Potassium:
665
mg
(19%)
Fiber:
10
g
(42%)
Sugar:
21
g
(23%)
Vitamin A:
424
IU
(8%)
Vitamin C:
81
mg
(98%)
Calcium:
172
mg
(17%)
Iron:
3
mg
(17%)
More Superfood Smoothie Recipes
Here's 5 more recipes that use superfoods to enhance the healing process and boost the immune system naturally.