While my smoothies typically have one or two superfoods in them, today I'm whipping up this Superfood Smoothie with four superfoods! I love it when a superfood smoothie recipe can taste delicious and do a whole lot of good in one jar.
Let's learn how to use superfoods to give our bodies the boost they need.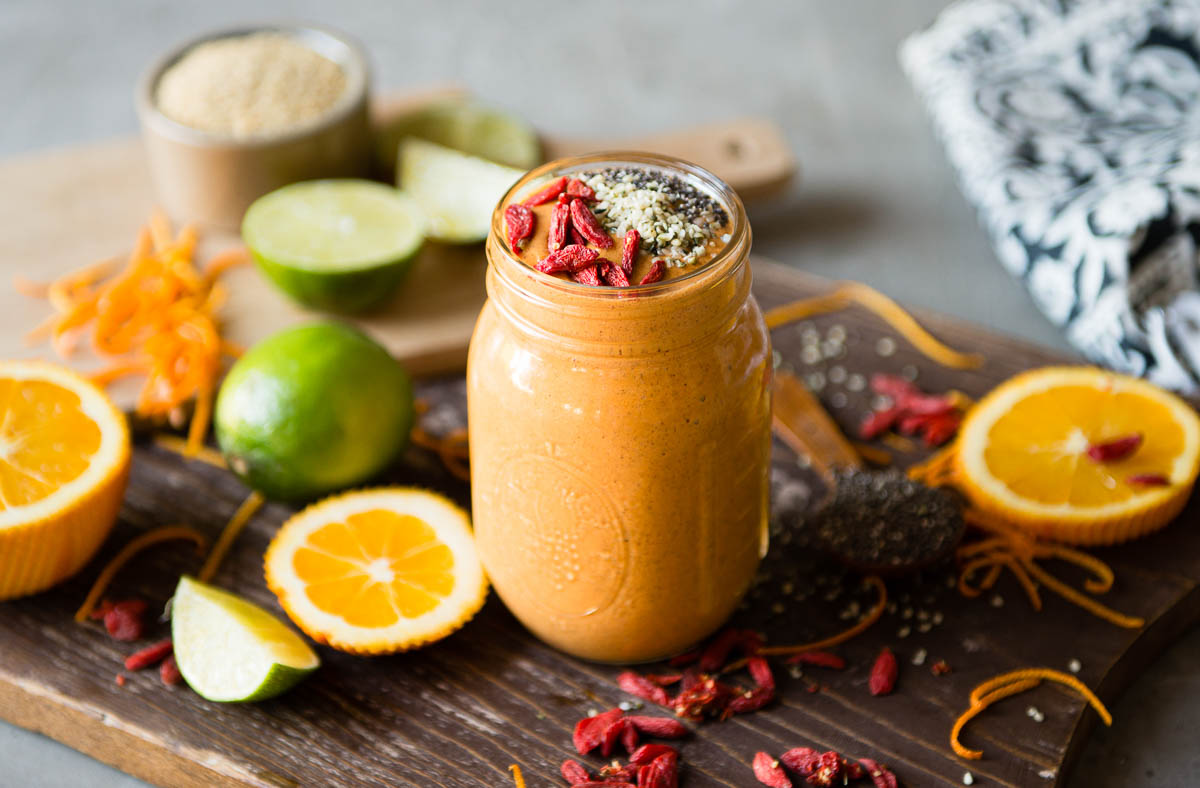 Packing nutrition into your daily smoothie isn't hard to do. Yet superfoods can take that smoothie's nutrition, and your health, to the next level.
Table of Contents
Rawkstars Matt and Amanda entered one of our giveaways a few years ago. They shared how Amanda started making superfood smoothie recipes to help Matt, her husband, in his battle against brain cancer.
Amanda's research led her to new ingredients that she began adding to their daily smoothies. In addition, our community requested some of their recipes and they graciously shared their favorite smoothie below, along with their research.
Recipe Ingredients + Health Benefits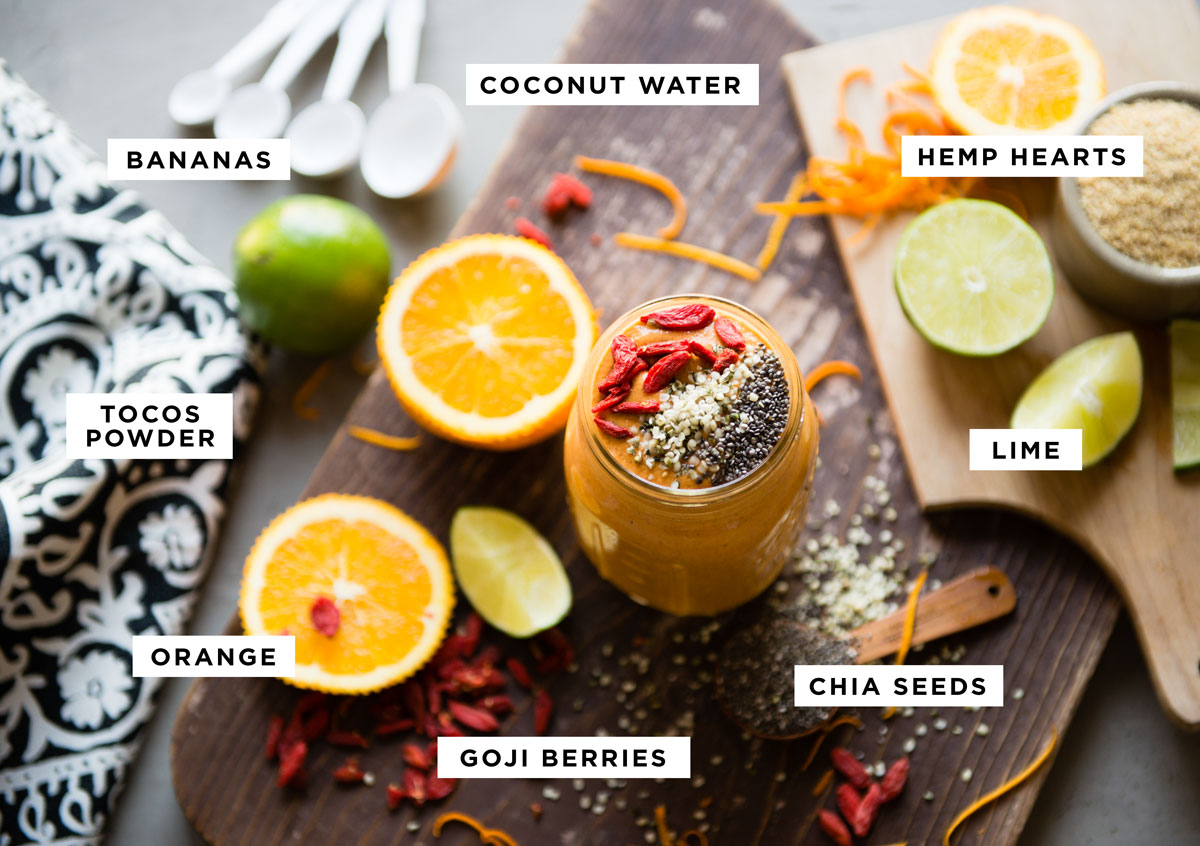 This citrusy fruit smoothie recipe was created to maximize health benefits as well as be something that Matt could easily gulp down. Here's what they're blending:
Fun fact: Eating citrus fruit can lower your risk of kidney stones!
More Boosters
As you can see, this orange smoothie is a powerhouse of benefits. Yet if you feel like adding even more then go for it! Toss in some spinach or kale to get in your daily dose of leafy greens. Add turmeric root, ginger root or fresh ground cinnamon for a flavor and nutrition boost.
Blueberries, strawberries or blackberries can work alongside goji berries, or replace them if you aren't able to find the more uncommon goji berries at your grocery.
Bananas can be replaced with avocado or cauliflower to keep the creaminess level high and lower the natural sugar in this superfood smoothie recipe.
How to Make a Superfood Smoothie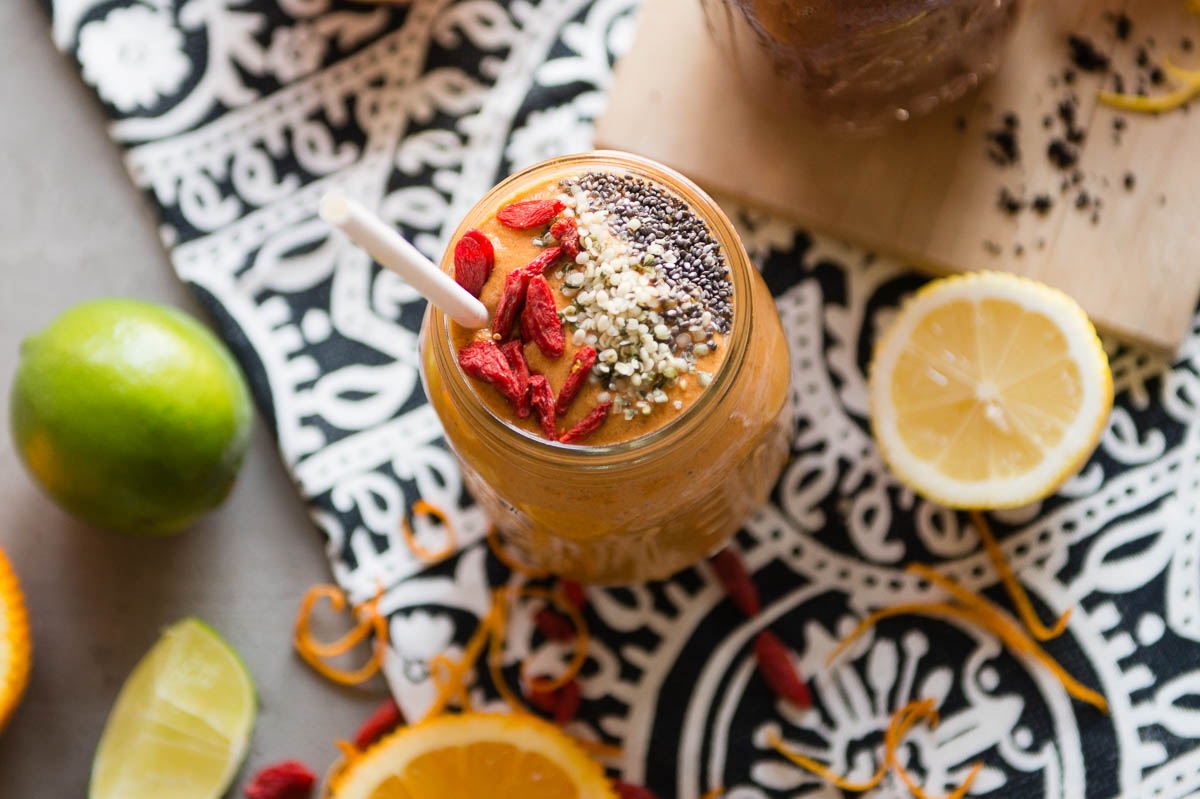 Grab your blender and whip up this dairy-free smoothie in minutes! It's super easy to make, especially if you're using a high-powered blender.
Add all ingredients except for ice to your blender and blend on high until smooth. Stop and scrape down the sides as needed to eliminate any chunks. If you aren't using a high-powered blender, be sure to peel the citrus fruit well as the white pith won't blend up as easily.
Add the ice and blend again. Alternatively, use a frozen banana or frozen berries in place of the ice for a refreshingly cool beverage.
Be patient if you want a chunk-free result. It will happen! Feel free to top your smoothie with a few extra chia seeds or hemp seeds.
FAQs
Are superfood smoothies good for you?
Yes! Smoothies made with whole fruits and vegetables and boosted with foods like hemp hearts, chia seeds and more can add healthy fat and protein along with a wide variety of nutrients. Stick to real ingredients, minimally processed, for the best results.
What is the healthiest thing to put in a smoothie?
Honestly, the healthiest ingredient in a smoothie depends on the person! Make smoothies with a variety of fruits and vegetables vs. making the same smoothie every day. Variety is most important! Choose different colors of fruit, try a leafy green from another family, boost with hemp hearts one day and chia seeds or avocado another.
What superfoods can you put into a smoothie?
There are so many great superfoods that can easily be added to smoothies. Hemp hearts, chia seeds and flaxseed add fiber, healthy fat and protein. Other seeds and nuts can add a wider variety of nutrients targeting specific needs you have like brain health, help with inflammation, the ability to lower blood sugar and more. And in different berries for even more nutrition, cacao for natural energy (and a chocolatey treat). Play around and find combinations that taste good to you as well as advance your health goals.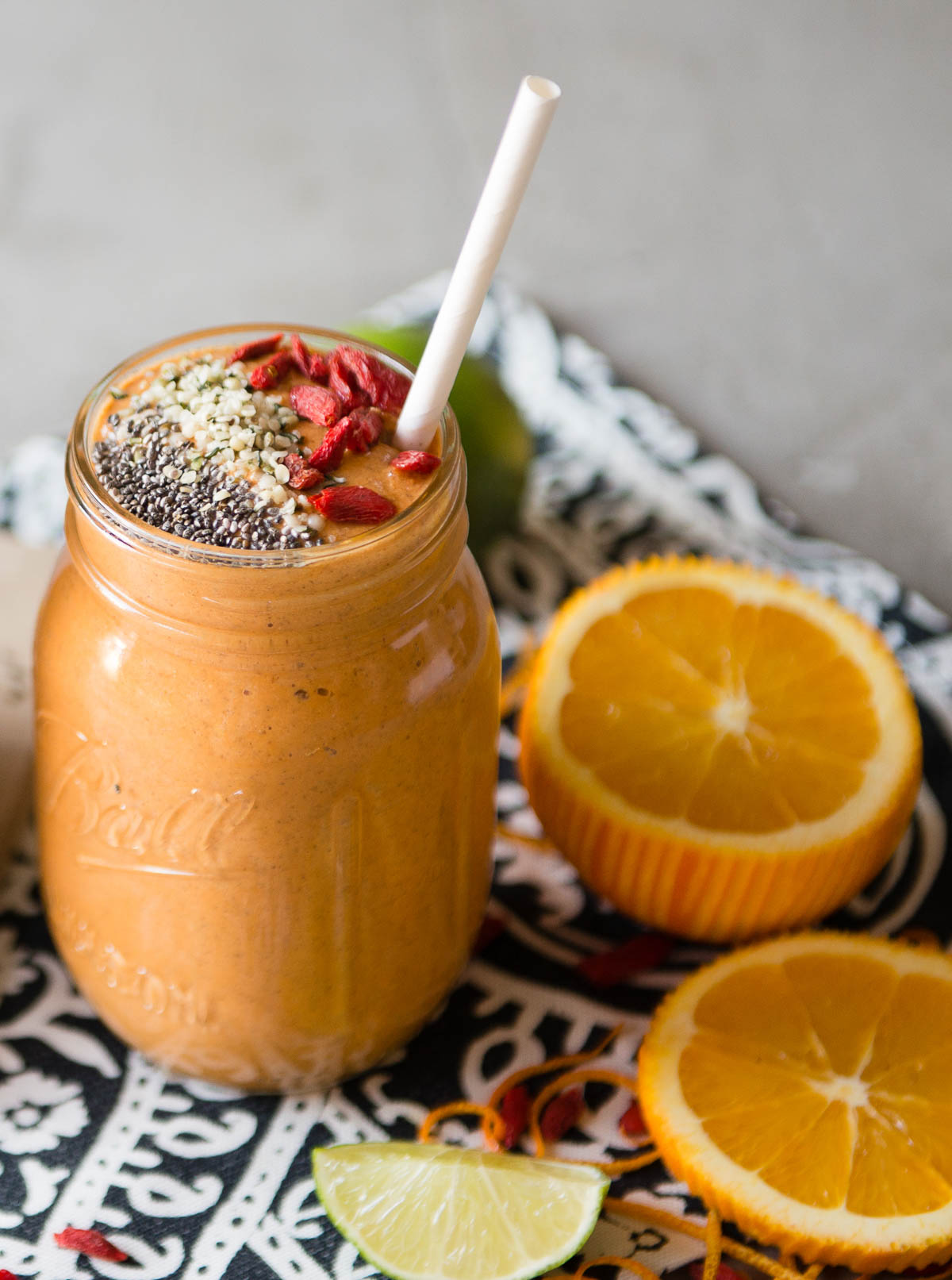 More Superfood Smoothie Recipes
Here are five more recipes that use superfoods to enhance the healing process and boost the immune system naturally.
Don't forget to rate + review this recipe once you've tried it. I'd love to know what you think!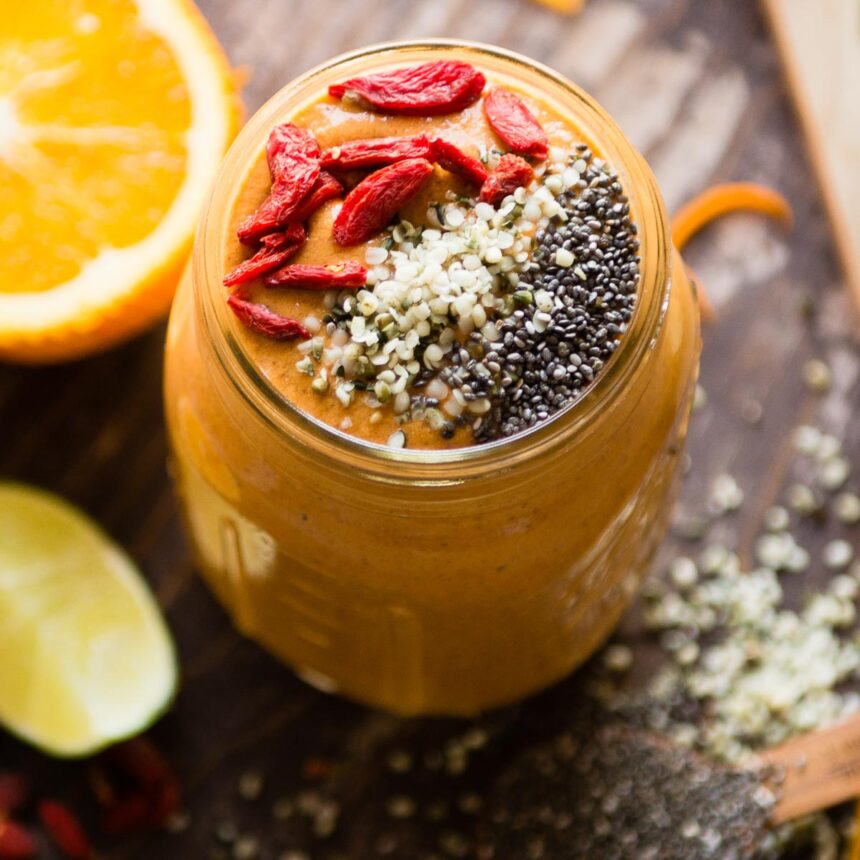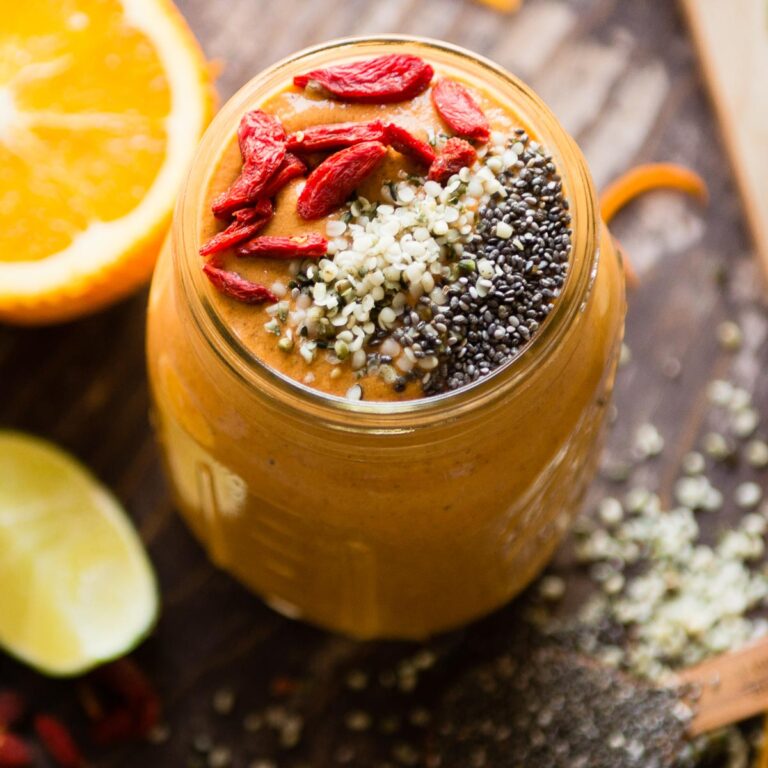 Orange Superfood Smoothie
This refreshing citrus superfood smoothie is paired with the natural sweetness of banana and soluble rice bran powder.
Instructions
Blend the oranges and other ingredients, except the ice, until smooth.

Add the ice and blend again. Pour into a glass and enjoy!
Notes
Use one frozen fruit to make this smoothie cold (the banana is a great option!). Learn how to freeze bananas so you've always got some on hand.
Add up to one cup of leafy greens for added nutrients.
Swap coconut water with regular water.
TOCOS powder is added for its high concentration of vitamin E. Swap with pumpkin seeds, almonds or peanut butter.
Nutrition
Calories:
275
kcal
,
Carbohydrates:
38
g
,
Protein:
10
g
,
Fat:
11
g
,
Saturated Fat:
1
g
,
Polyunsaturated Fat:
8
g
,
Monounsaturated Fat:
1
g
,
Trans Fat:
1
g
,
Sodium:
72
mg
,
Potassium:
665
mg
,
Fiber:
10
g
,
Sugar:
21
g
,
Vitamin A:
424
IU
,
Vitamin C:
81
mg
,
Calcium:
172
mg
,
Iron:
3
mg