What's better than a rich cup of hot chocolate on a cold day? Kids and adults alike can enjoy this fun beverage. I'm taking it up a notch with my hot chocolate smoothie, the chocolaty taste you love with a healthy twist. And my version tastes like a chocolate hazelnut shake.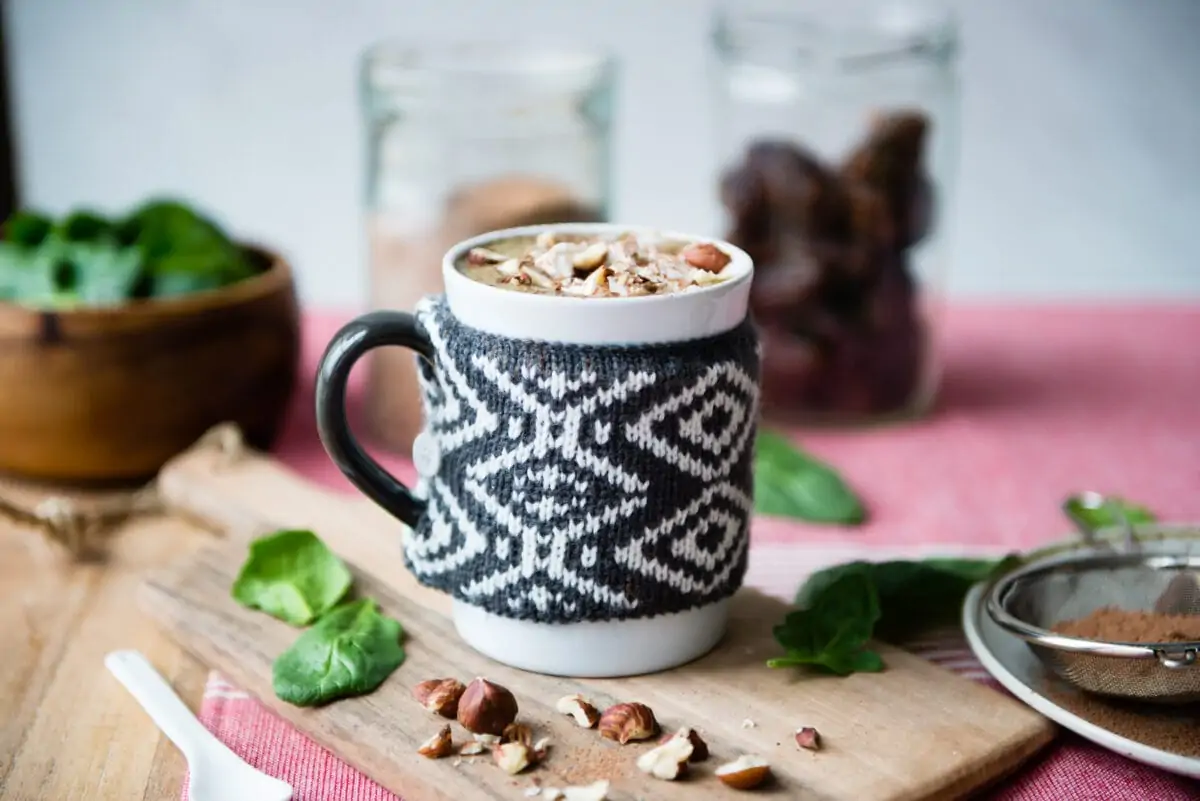 I try to get my leafy greens whenever I can, yet it's got to taste good. This warm smoothie recipe is a great way to add greens while also satisfying your sweet tooth.
Table of Contents
Is Chocolate Healthy?
Heck yes! Unsweetened cacao and cocoa powder are loaded with natural energy, antioxidants and anti-inflammatory properties. Read your ingredients to ensure you're buying 100% cacao or cocoa with no additives (because you don't need them!).
Also, if you are sensitive to caffeine, then enjoy this hot chocolate smoothie in the morning to capitalize on the natural energy and still sleep soundly at night.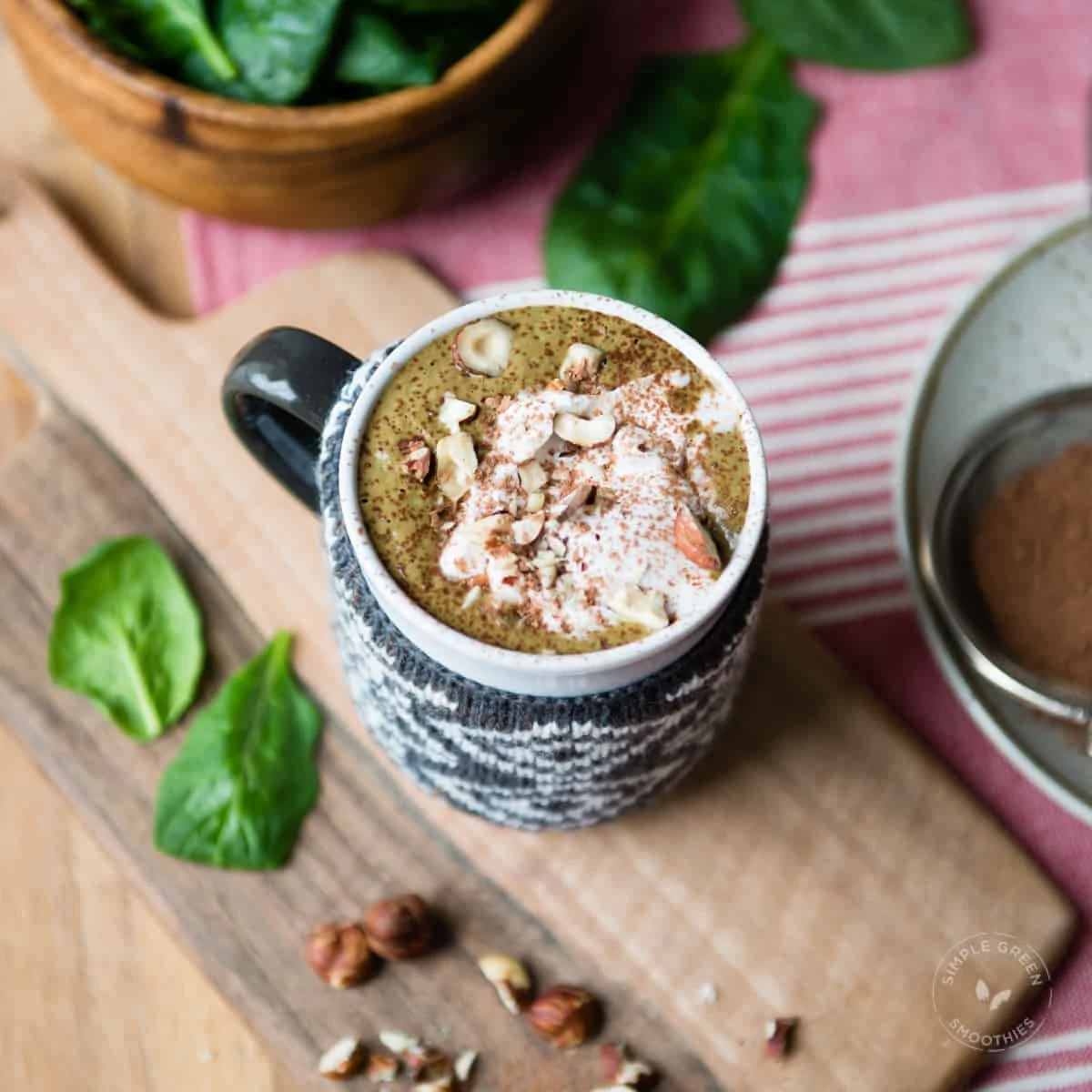 How to Make a Warm Green Smoothie
While the phrase 'warm green smoothie' might sound odd, you have to try one! They still have all the plants we crave, just wrapped in a warm mug. Here are a few tips when making a warm smoothie:
Don't use frozen ingredients. This is the perfect time to use fresh fruits and veggies.
Make sure your blender is rated for hot liquids. Most high-powered blenders use their power to heat up the contents, but if you don't have one you can still make a warm smoothie. My hot chocolate smoothie can be blended until smooth, poured into a microwave safe mug then heated to the desired temperature.
If your warm smoothie has leafy greens, make sure to use my two-step blend method. First, blend the leafy greens and liquid, then add the remaining ingredients and blend again. This gives the greens time to break down into a creamy drink.
The hot chocolate hazelnut shake below may make you fall in love with warm smoothies.
More Warm Smoothie Recipes
You read that right. I've got more recipes like this hazelnut chocolate shake! I know drinking refreshingly cold smoothies isn't easy when the weather is anything less than sunny, so I have a list of warm smoothies (as well as a list of healthy winter recipes) that I turn to during the cooler months.
Give one a try and let me know what you think:
Don't forget to rate + review this smoothie once you've made it. I can't wait to get your feedback!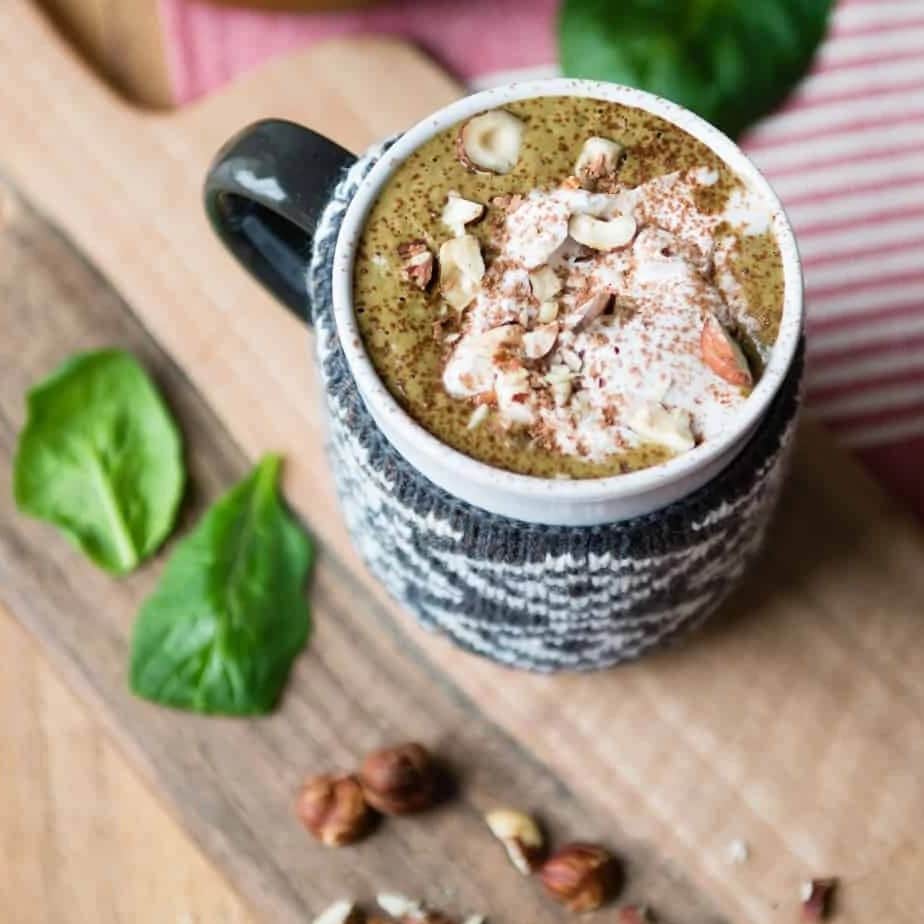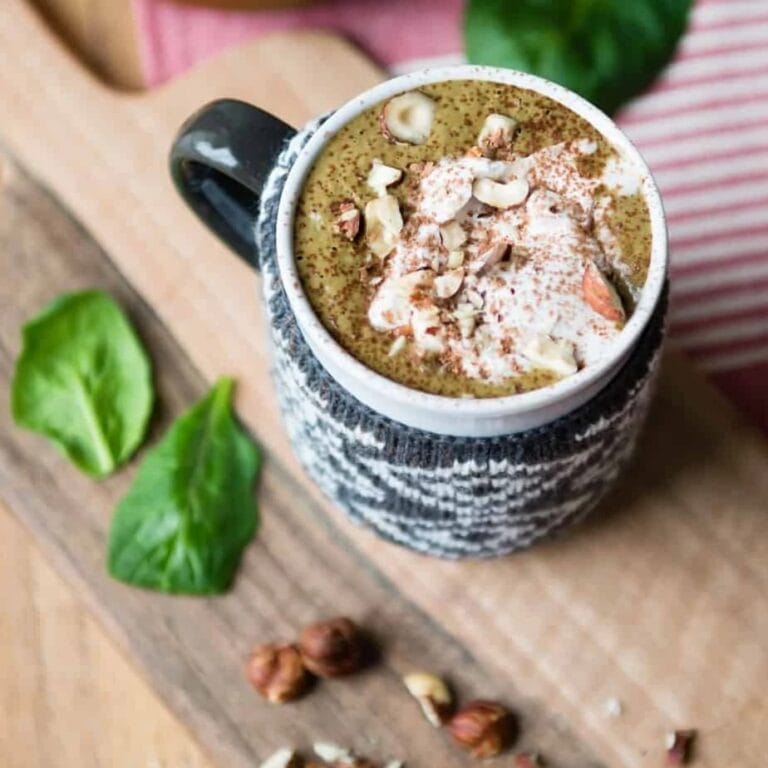 Hot Chocolate Smoothie
This dessert-like smoothie is perfect for a cool day or healthy treat. It's packed with chocolaty flavor as well as ingredients like spinach and hazelnuts.
Instructions
Blend spinach and almond milk until smooth.

Add the remaining ingredients, except coconut whipped cream. If using a high-speed blender, start blending again on low speed working up to high speed. Blend for 3-5 minutes, or until very hot. If using a regular blender, blend until smooth and heat gently on the stove or transfer to mugs and heat in a microwave.

Top with coconut whipped cream and cacao nibs.
Notes
Use caution when blending hot liquids. Be sure to let the lid vent so the liquid doesn't leak or splatter. Blend on low speed, working up to high speed until smooth.
The pear adds additional sweetness and makes the smoothie thicker, but it can be omitted for a thinner consistency.
The Medjool dates bring most of the natural sugar content. Use just one date for less natural sugar. 
If you aren't able to find cacao powder, you can use 100% unsweetened cocoa powder instead.
Nutrition
Calories:
443
kcal
,
Carbohydrates:
63
g
,
Protein:
10
g
,
Fat:
23
g
,
Saturated Fat:
2
g
,
Polyunsaturated Fat:
4
g
,
Monounsaturated Fat:
16
g
,
Sodium:
352
mg
,
Potassium:
964
mg
,
Fiber:
14
g
,
Sugar:
43
g
,
Vitamin A:
2913
IU
,
Vitamin C:
14
mg
,
Calcium:
416
mg
,
Iron:
4
mg