Plant-based protein powder is on the rise, and for good reason. People are taking control of what they put in their bodies, and turning to vegan protein powder as a cleaner option. I'm here to break down what kinds protein bases are the best (and worst)… as well as explain why hemp protein powder won't make you high.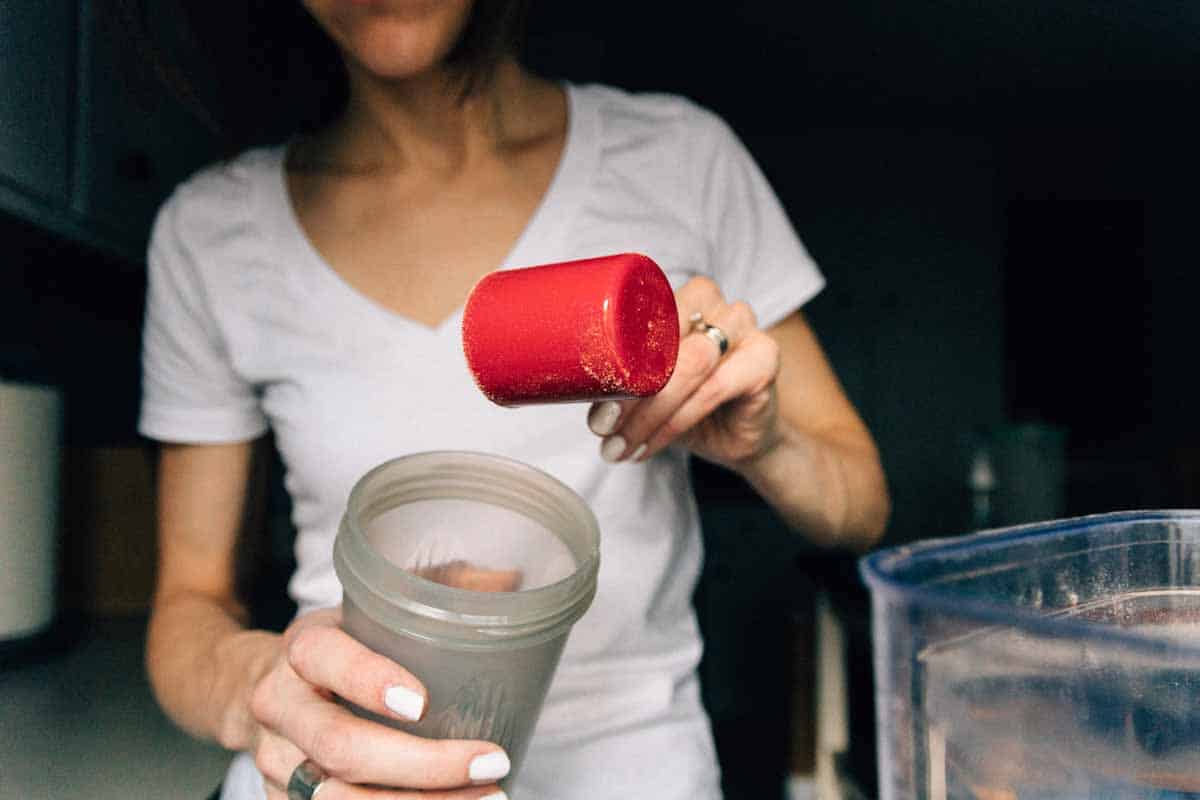 The Importance of Protein
Protein is used to build and repair tissue (like muscle). It also helps the body create hormones, enzymes and other essential chemicals, and, bottom line: makes your hair, skin, and fingernails look great. Basically your whole body needs protein to function properly.
Yet the body also needs carbs + healthy fat to help break down the protein you just ingested. So when you are looking for a great plant-based protein powder, look for one that also has fat as well as fiber to help break down that protein.
Biggest Questions About Plant-Based Powder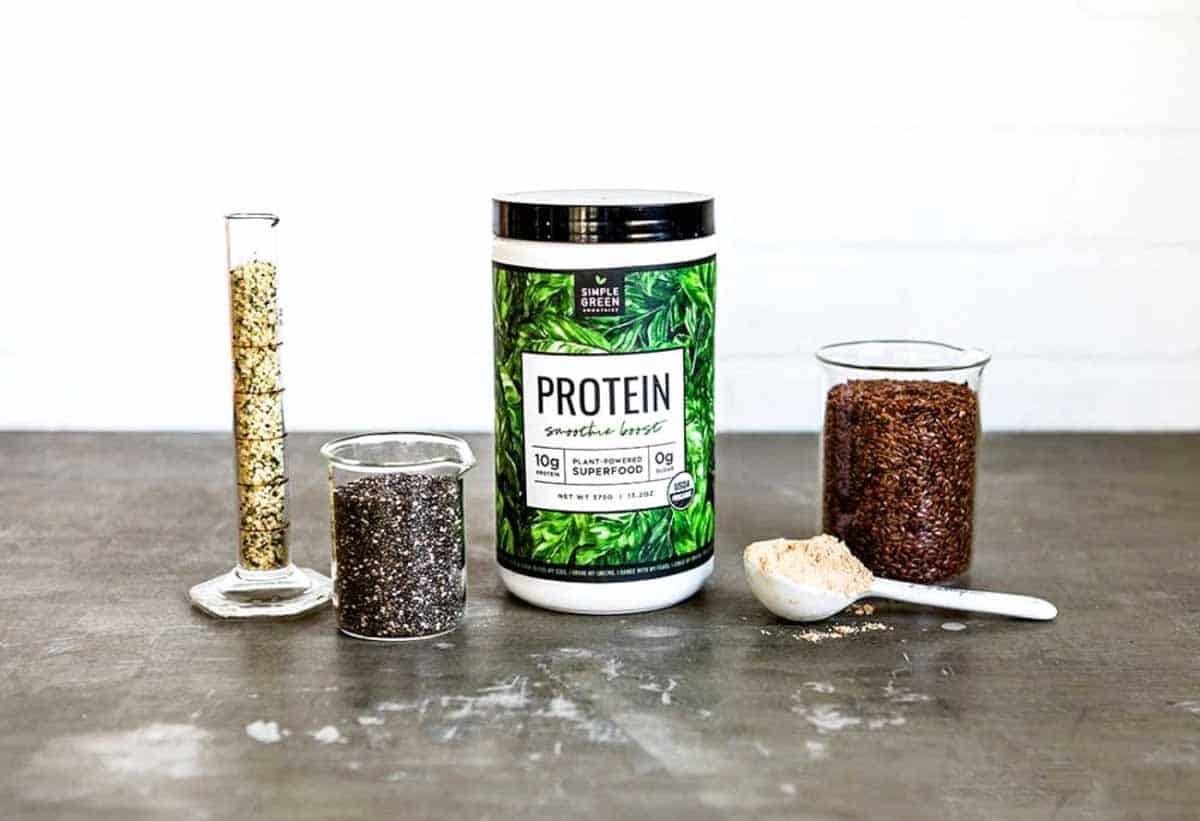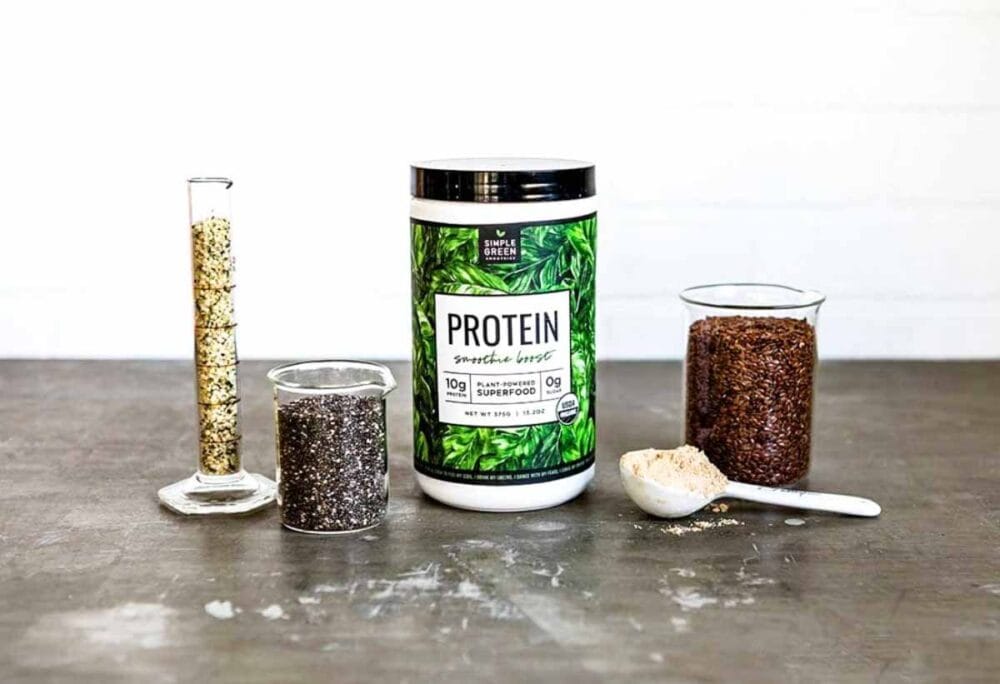 Is plant-based protein powder bad for you?– No, but… read your labels. You're reaching for a plant-based option because it sounds healthier, right? Yet make sure that option isn't loaded with the same chemicals found in many other powders. Minimal, pronounceable ingredients without fillers is the goal.
Can you build muscle with plant-based protein powder?– The short answer is, kale yeah!! I am an ultra runner that can't afford to lose muscle while I train. Protein powder should have the ability to not only provide protein, but also healthy fats + fiber to help your body turn that protein into energy.
What is the cleanest plant-based protein powder?– Protein powder in general is typically loaded with all kinds of additives. Everything from food dyes to flavor additives just to make it palatable. But guess what?! You don't even need that! Seriously, when I started creating my hemp based protein powder, I tried it with all the extras and I hated it. So I kept it both simple and clean, and it is oh so deliciously clean.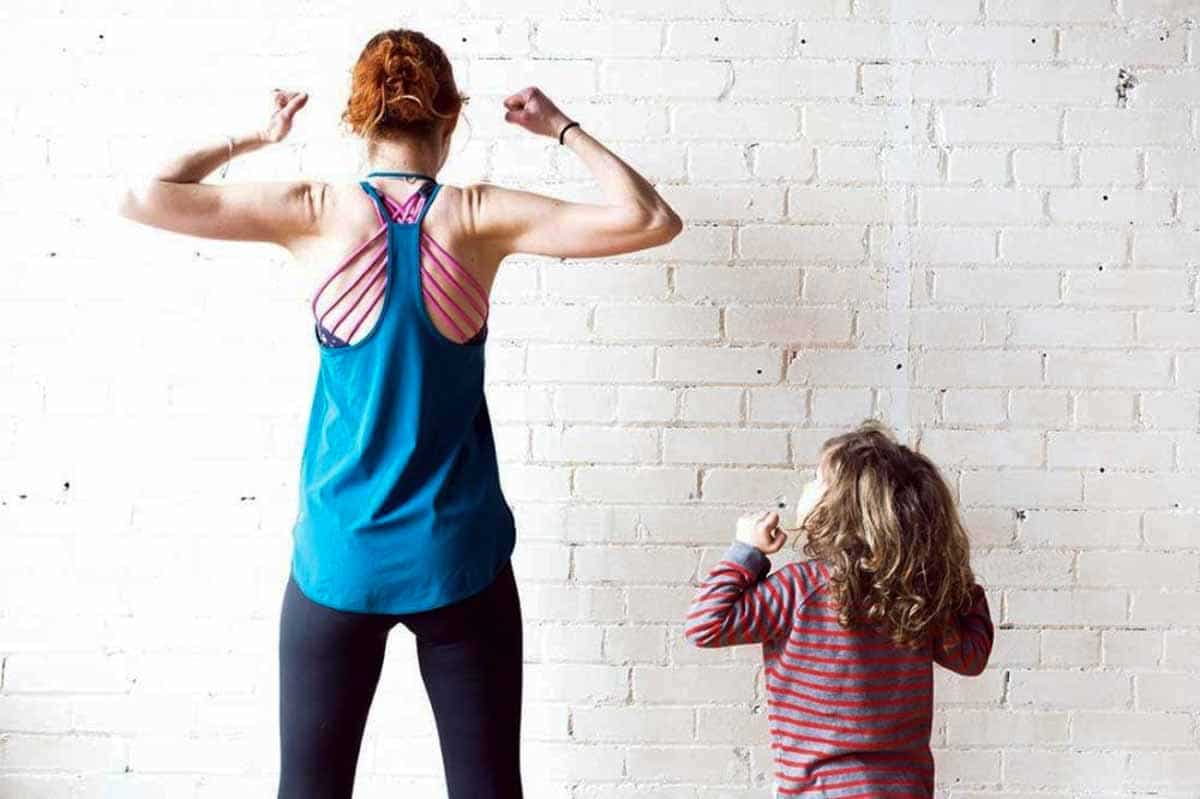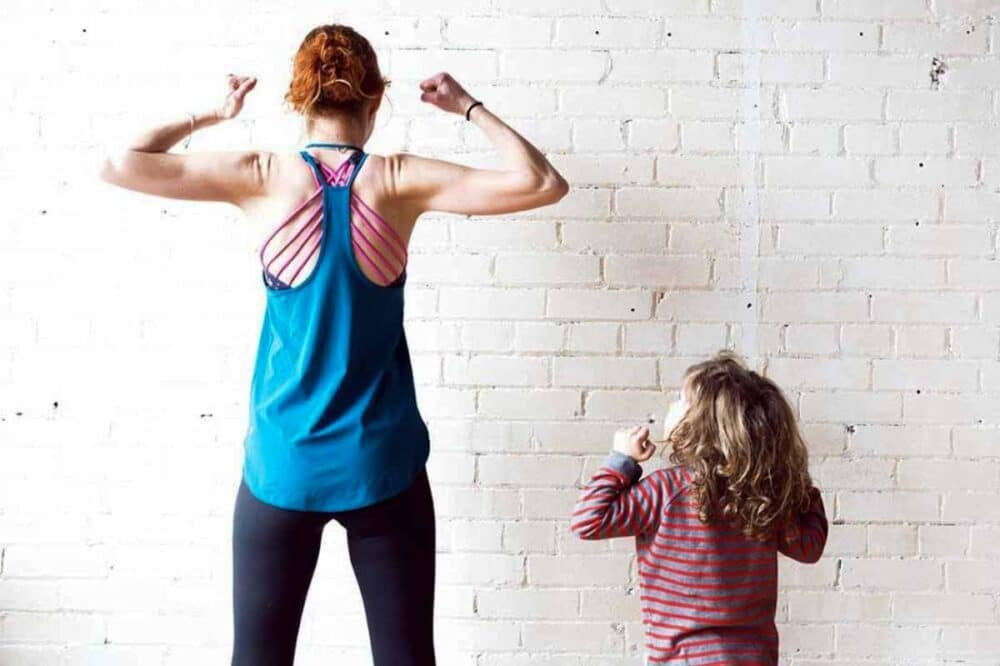 Who Should Use Protein in Smoothies?
Let me be clear: bodybuilders don't own the rights to protein powders (vegan or otherwise). Any active athlete looking for an easier way to increase their protein intake should consider using a protein powder. Those who regularly work out need double the amount of protein over those with a more sedate lifestyle. It's also helpful for people looking to…
Increase muscle mass
Lose weight
Lower cholesterol or blood pressure
Strengthen the immune system
Make quick healthy meals
If you said yes to any of the above, then a protein powder supplement might be right for you. Protein boosted smoothies can help you:
Gain Muscle. This is probably the most widely known benefit of protein powders. Added protein helps muscles rebuild faster after a workout. Because of the direct ways protein affects the muscles, the best time to consume protein powders are after a workout.
Lose weight. Protein is also a great way to stop any unwanted snacking. You stay full longer after that green smoothie when you boost it with plant-based protein powder. It also boosts the metabolism, burning fat and keeping cholesterol and blood pressure levels low.
Protect the Immune System. Protein doesn't just strengthen muscles, it also strengthens every cell in the body. This makes them less likely to be infected- keeping you strong and healthy.
Commit to a healthy diet. Using a protein powder with healthy fats can turn a daily smoothie into a meal replacement. This is truly the healthiest "fast food" there is as well as an easy habit to embrace daily.
Shakes and smoothies are the best way to consume protein powders. I love adding hemp protein powder to my daily smoothie, workout or not. It helps me stay full longer and be more productive with my day, as well as help me recover faster from a workout.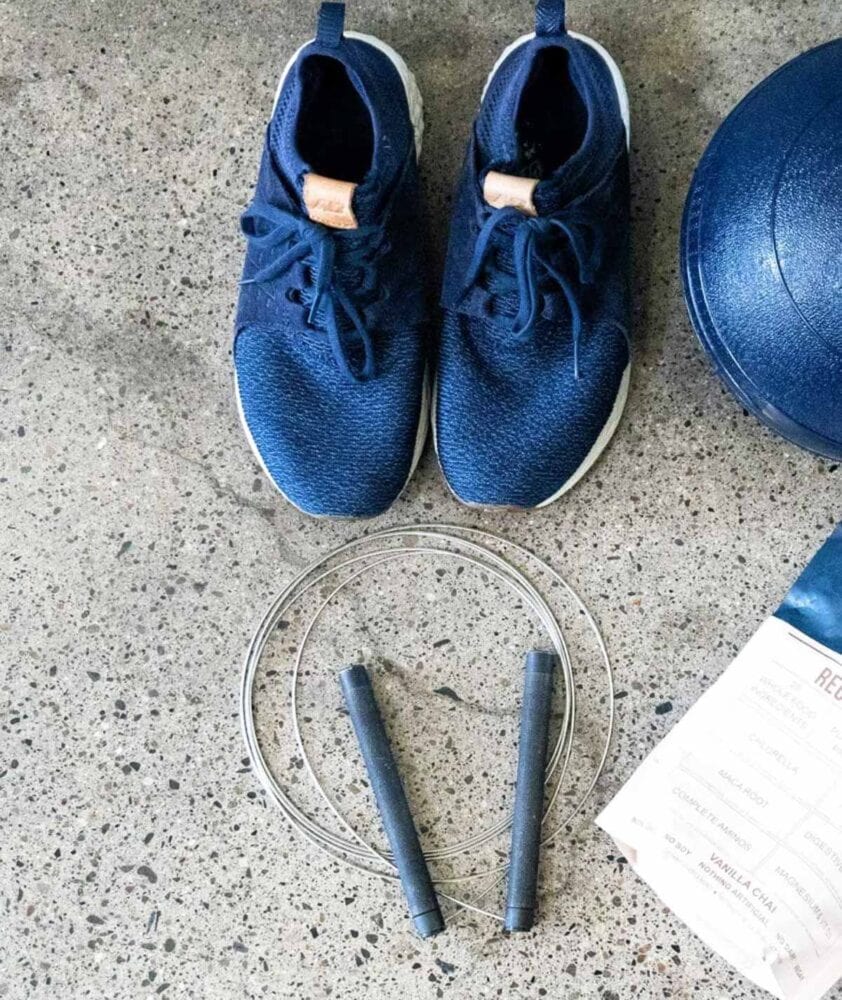 What Makes Protein Powder Vegan?
Protein powders most commonly start from whey protein, casein, or soy. Whey protein as well as casein comes from dairy. If you have any kind of dairy intolerance, then be sure to check the label on your protein powder! These are not naturally occurring ingredients, so I lean toward plant-based protein powder.
Vegan Protein Options
Soy based protein powders are the number one vegan protein powder option. Soy is a complete protein, yet is a bit controversial in terms of helping or harming the body. I take an even more natural route in using hemp protein powder.
Hemp protein is also a complete protein, yet it ranks even higher than soy in terms of quality. It not only contains all 9 essential amino acids, it also contains healthy fat and fiber, as well as other essential minerals. Hemp protein powder starts out with a slightly nutty flavor, so no need to cover up the taste like you do with whey, casein, or soy based powders.
A side note: while hemp is part of the same plant family as marijuana, it contains little to no THC and therefore does not have any mind-altering effects.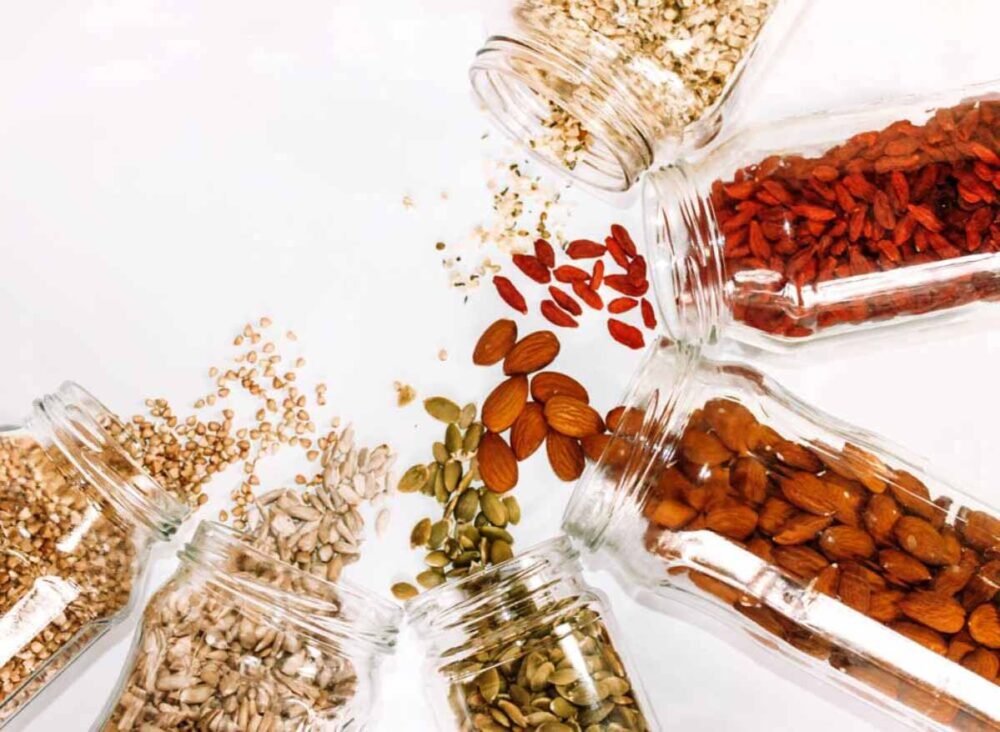 Heavy Metals in Protein Powders
Protein powders can also contain heavy metals like arsenic, lead, and cadmium that easily build up in the body. These known carcinogens are harmful to the immune system. These elements are found in our soil (which in turn grow in plants that cows eat or plants grow into). You cannot completely avoid it, yet you can be aware and use brands that test their levels and are conscious of this.
Oftentimes, heavy metals go unnoticed because protein powders are considered a supplement and do not need to be approved by the FDA. Your protein powder brand should pay for "heavy metal testing" as well as easily disclose the results to you when asked. As you can see, it's not easy to find a vegan protein powder for smoothies that you can feel really good about!
Plant-Based Protein Powders
I decided if I was going to invest in my body, then I needed fuel it with real ingredients. I refused to buy into the lie that said certain ingredients were necessary to make a product marketable, or tasty. And I knew organic was the right path to take. Also, amino acids were at the top of my list to include, since our bodies don't produce them naturally.
Plant-based protein powders can give you the same results that other powders do. They just leave out all the antibiotics, toxins, and lactose.
Plant-based protein powders also have an impressive side effect. By grinding up the plants, the nutrients are pre-digested and ready for your body to absorb immediately. The vitamins, amino acids, and minerals become easily accessible to the body.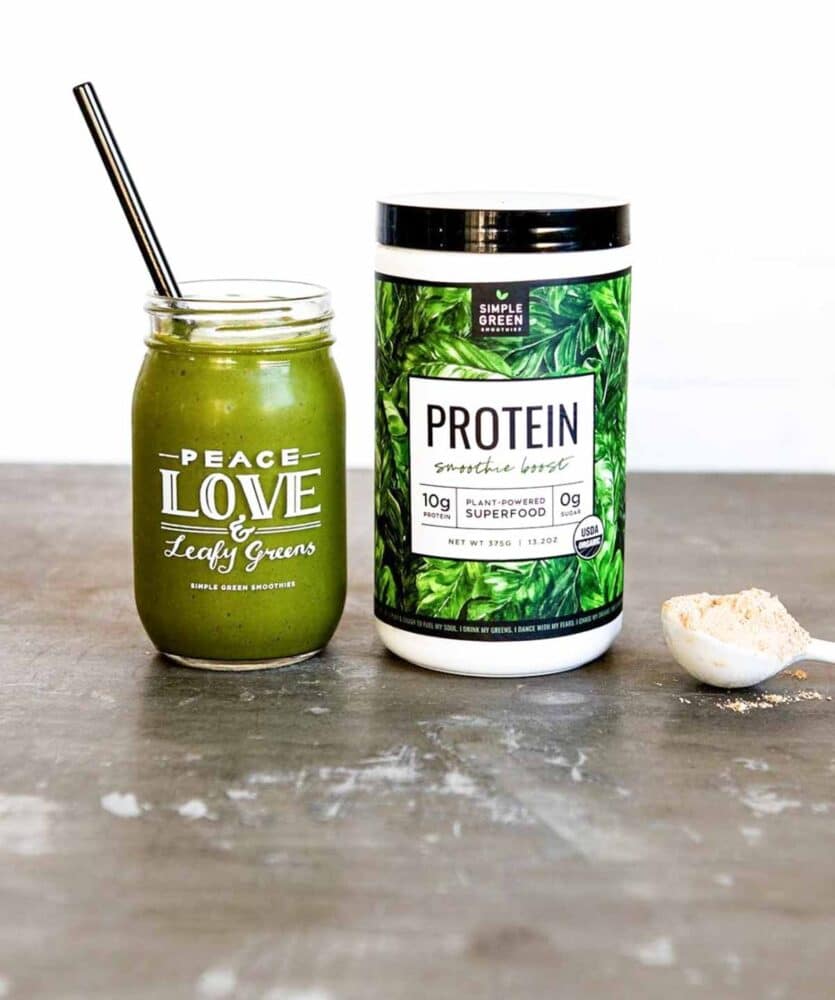 Best Protein for Smoothies
After years of trying to find a powder that I enjoyed adding to my smoothies, I gave up. It didn't exist. There was either too much junk in it, or not enough of the right stuff. I went on a quest to create my own powder that I could use every day and love how it tasted, what was in it and the results I got. And I couldn't be happier with the outcome.
homemade protein powder is the best sourced plant-based protein powder that isn't gritty, tastes good in a fruit smoothie and is good for you. I think you'll be pretty impressed with the results. homemade protein powder is a certified organic blend that contains all 9 essential amino acids.
I used 100% organic ingredients, packed in 10 grams protein boost per serving, with no sweeteners of ANY kind. No stevia, no monk fruit, no artificial sweeteners, no sugars at all. (That's what the fruit in your smoothie is for!)
Create Your Own Protein for Smoothies
You can take any of my smoothie recipes and add one serving of protein powder to it. Or you can follow the below formula to make your own incredibly delicious, protein boosted smoothie that tastes delicious:
Add 1 cup greens of your choice (spinach, chard, kale, or none!)
Pour 1 cup non-dairy milk (cashew milk, oat milk, almond milk, etc)
Scoop 1 serving DIY Protein Powder (see recipe below)
Blend 1 frozen banana + 1/2 cup frozen berries or cherries (to chill the smoothie, add natural sweetness and creaminess)
Finish with spices and flavor boosts: cacao, cinnamon, vanilla
Now, time for you to spill all your protein secrets with me! Please share in the comments your fav protein to add to smoothies, or what you're looking for (and not finding) in a vegan protein powder.