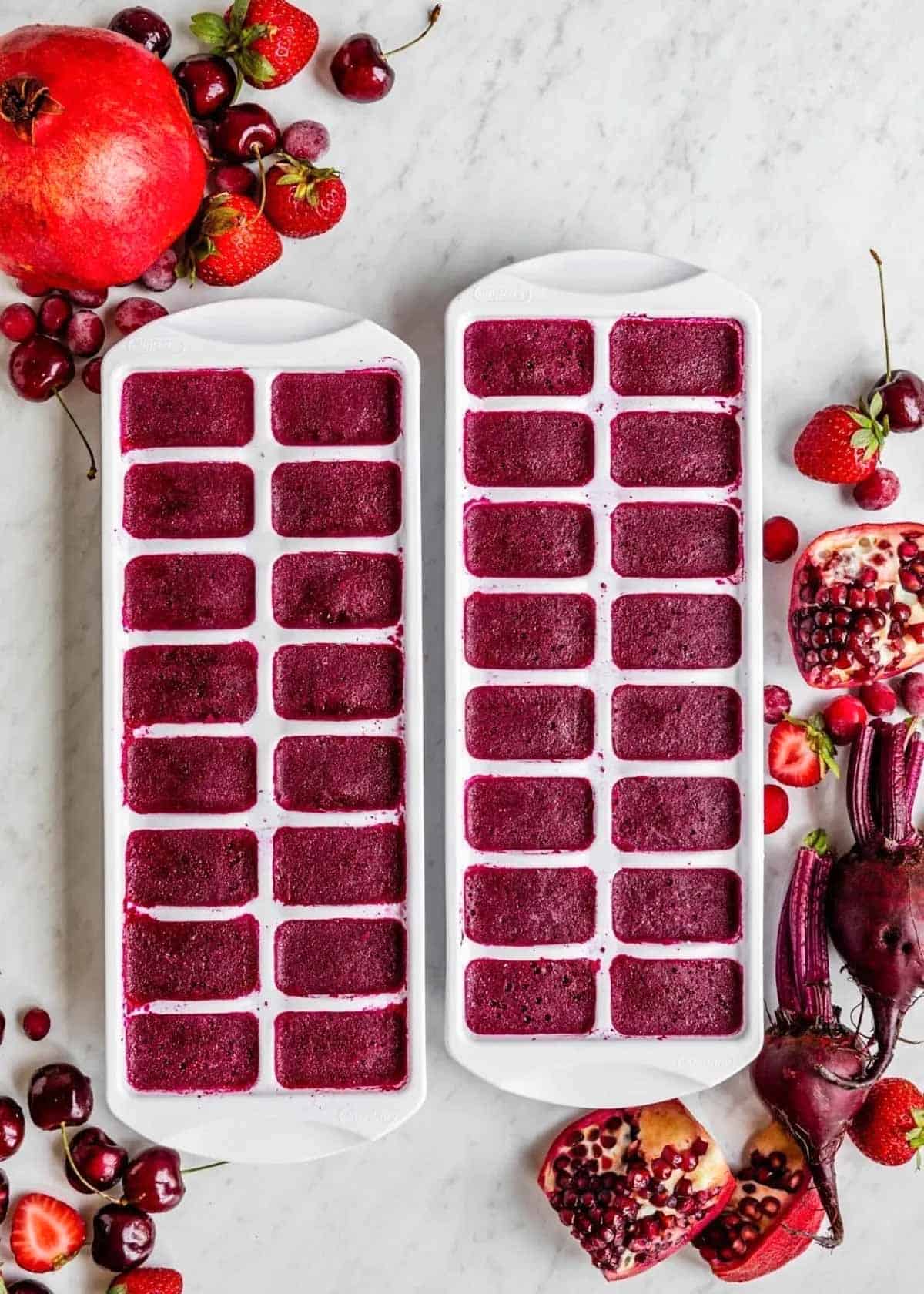 A lot of health and wellness experts like throw around words like antioxidant… but what does it mean and why do I need it? After experiencing several members in my family battle cancer more than once, I started researching antioxidant foods and how foods high in antioxidants can help not only keep me healthy, but fight for me too.
Best antioxidant rich foods
If you're looking to up your intake of antioxidant rich foods, then take this list to the grocery store:
| | | |
| --- | --- | --- |
| Artichokes | Dark chocolate | Pomegranate |
| Beets | Goji berries | Raspberries |
| Black berries | Kale | Red cabbage |
| Blueberries | Orange vegetables | Red grapes |
| Cherries | Pecans | Red kidney beans |
| Cranberries | Plums | Strawberries |
(carrots, butternut squash, sweet potatoes, acorn squash)
Why we need antioxidants
FAQs
Which foods have the most antioxidants?
What drinks are high in antioxidants?
Are antioxidants bad for you?
Antioxidant rich smoothies
Many people in the Simple Green Smoothies community come looking for how to easily incorporate foods high in antioxidants into their diets. So I've created several smoothies using these powerhouse ingredients:
While these are a great starting point to boosting your health, I've gone even deeper to bring you some supercharged smoothie cubes that are loaded with antioxidant foods.
How to use antioxidant foods in smoothies
The recipe below is for antioxidant smoothie cubes. I use smoothie cubes to boost target nutrients like fiber, vitamin C, healthy fat, and electrolytes as well as to aid in eliminating inflammation in my body. These cubes pack a whole lot of natural health into small rectangles, and are a great smoothie booster to have on hand.
To utilize various antioxidant foods, blend up the below recipe, pour into ice cube trays, then freeze. Once frozen, store in a freezer safe container. To use, simply replace 1/2 to 1 cup of fruit in your next smoothie with a few of these antioxidant cubes, and enjoy.
Give your smoothie a viscous boost of ruby red goodness with these our natural DIY antioxidant berry cubes you can make at home.
Some of the most vibrant of fruits and vegetables are ruby-hued beets, pomegranates, cranberries, strawberries, and cherries. Their beautiful colors come from being rich in antioxidants, which are vital to us aging more gracefully. (and I need all the help I can get right now!)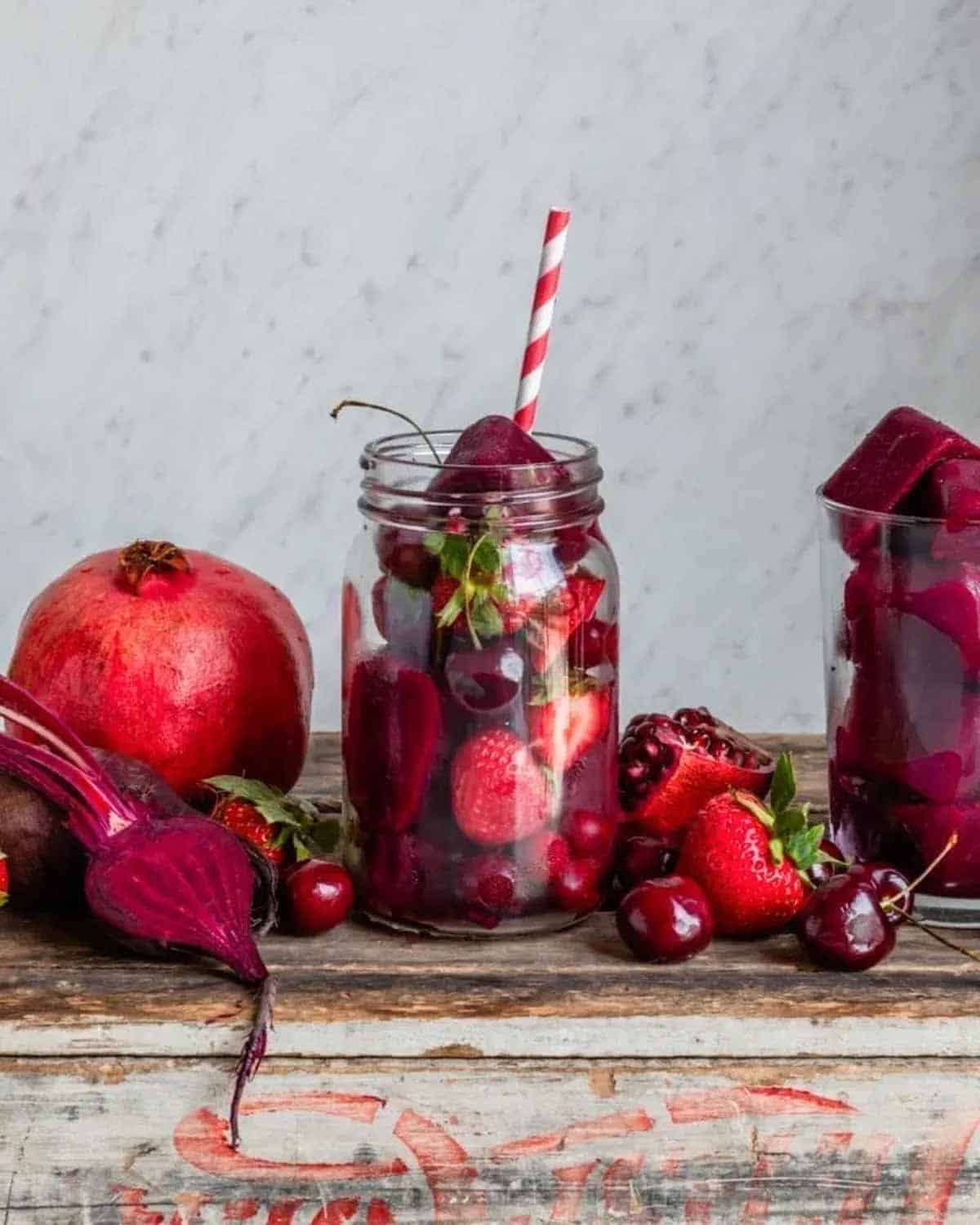 Do antioxidants help our body?
Absolutely! Antioxidants help protect against disease and illness by counteracting or protecting cells from damage done by free radicals. Free radicals are the toxic by-products of oxidation and damage healthy, living cells by creating "oxidative stress."
Did you know that bright, jewel-toned fruits and vegetables are high in the antioxidant, anthocyanin. This antioxidant gives these foods their gorgeous color and may help improve eyesight, reduce inflammation, prevent certain cancers, lower blood pressure, and protect the liver.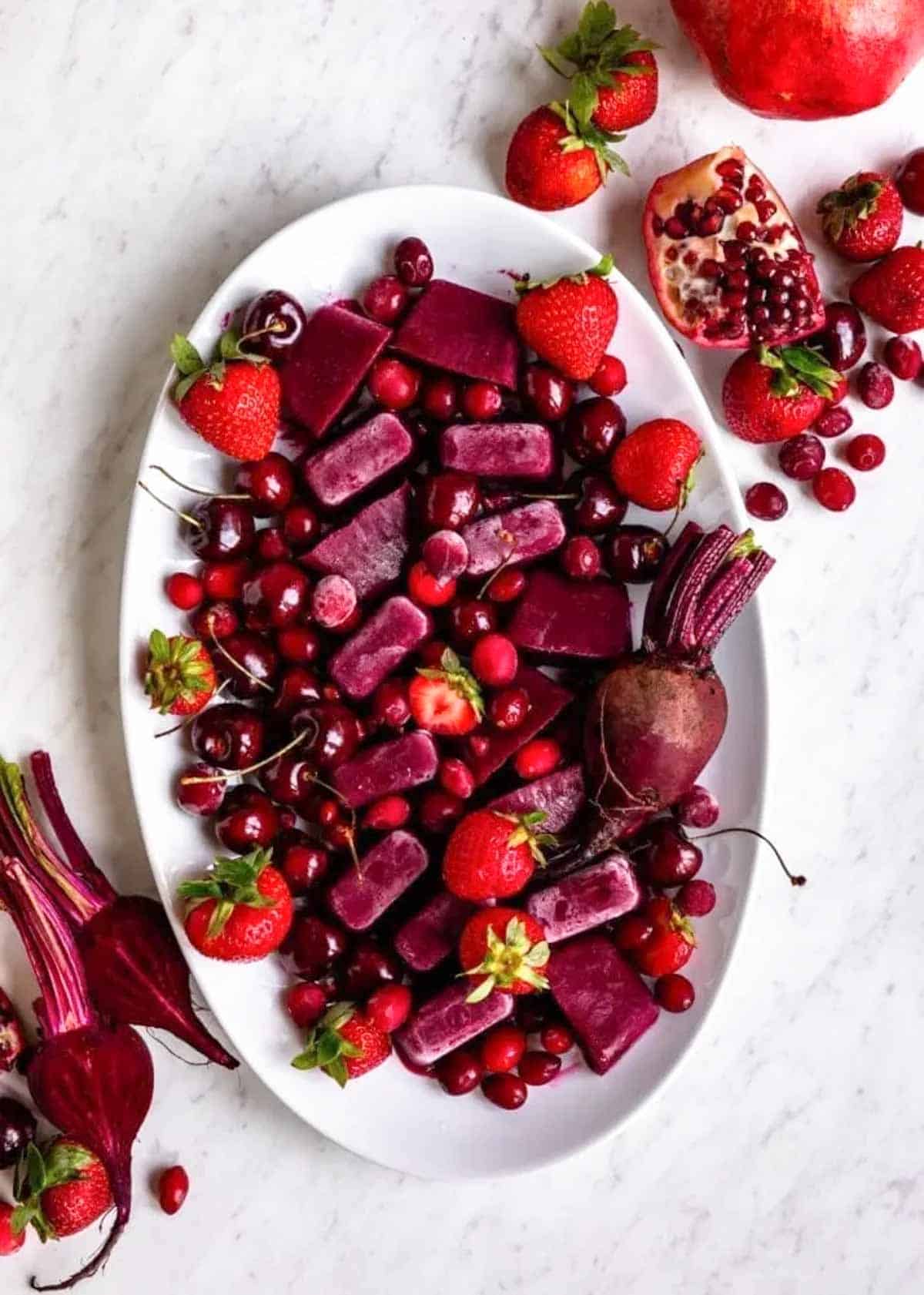 The National Cancer Institute estimates that 95% of adults don't consume enough red and orange vegetables. That's pretty much ALL OF US! Let's change that statistic right now! The addition of even just one red fruit or veggie into your day is beneficial.
With that said, these Antioxidant Berry Smoothie Cubes can help you do just that – blend everything up and freeze the concentrate to add to your daily smoothie.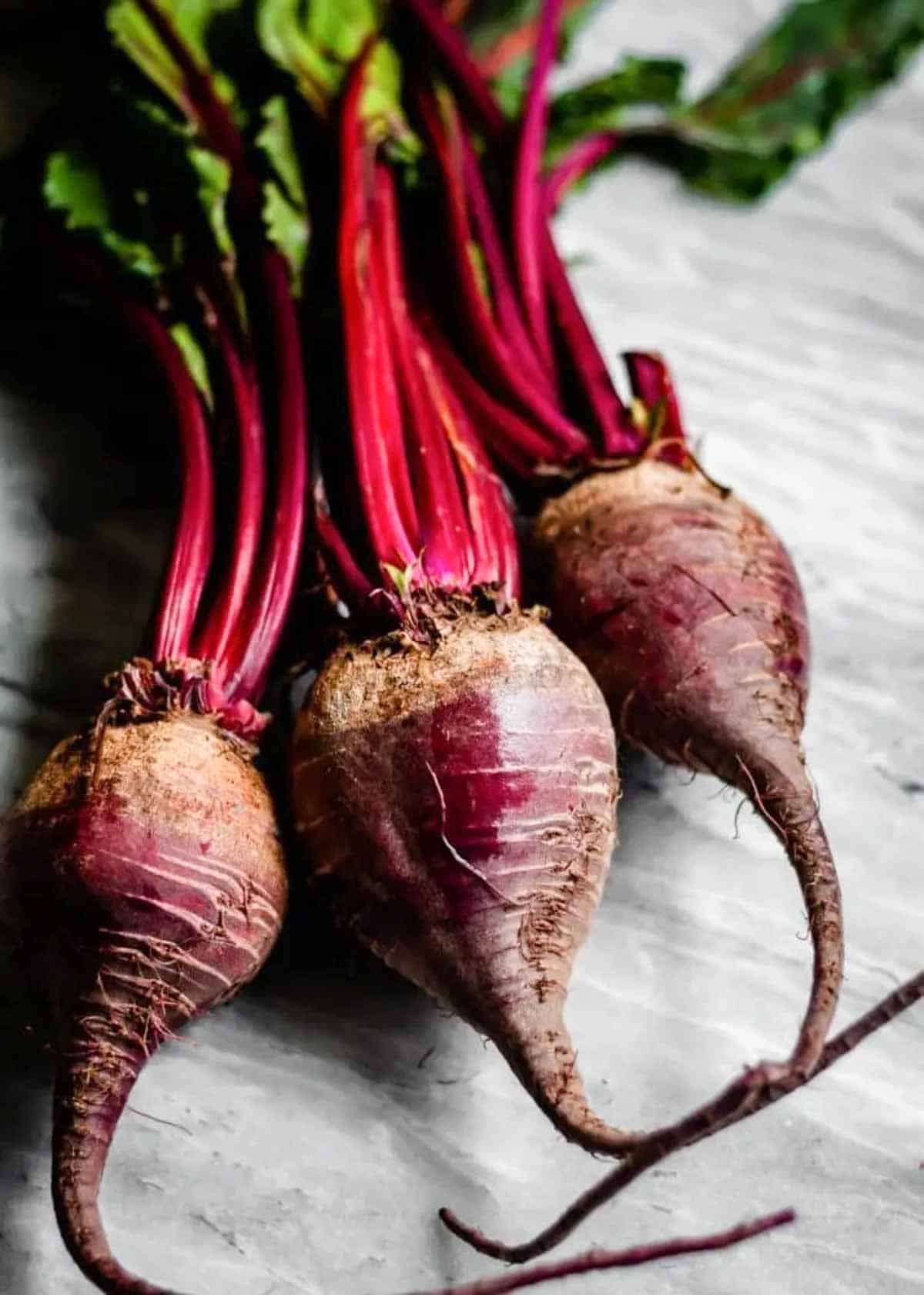 Antioxidant Powerhouse: Beets
Beets are a little different than their anthocyanin counterparts. They contain betalain, the phytonutrient (phyto = plant), that fights disease and inflammation.
Betalain has been shown to be a powerful Phase II detoxifier in the body. It hooks onto toxins and makes it possible for your body to flush them out.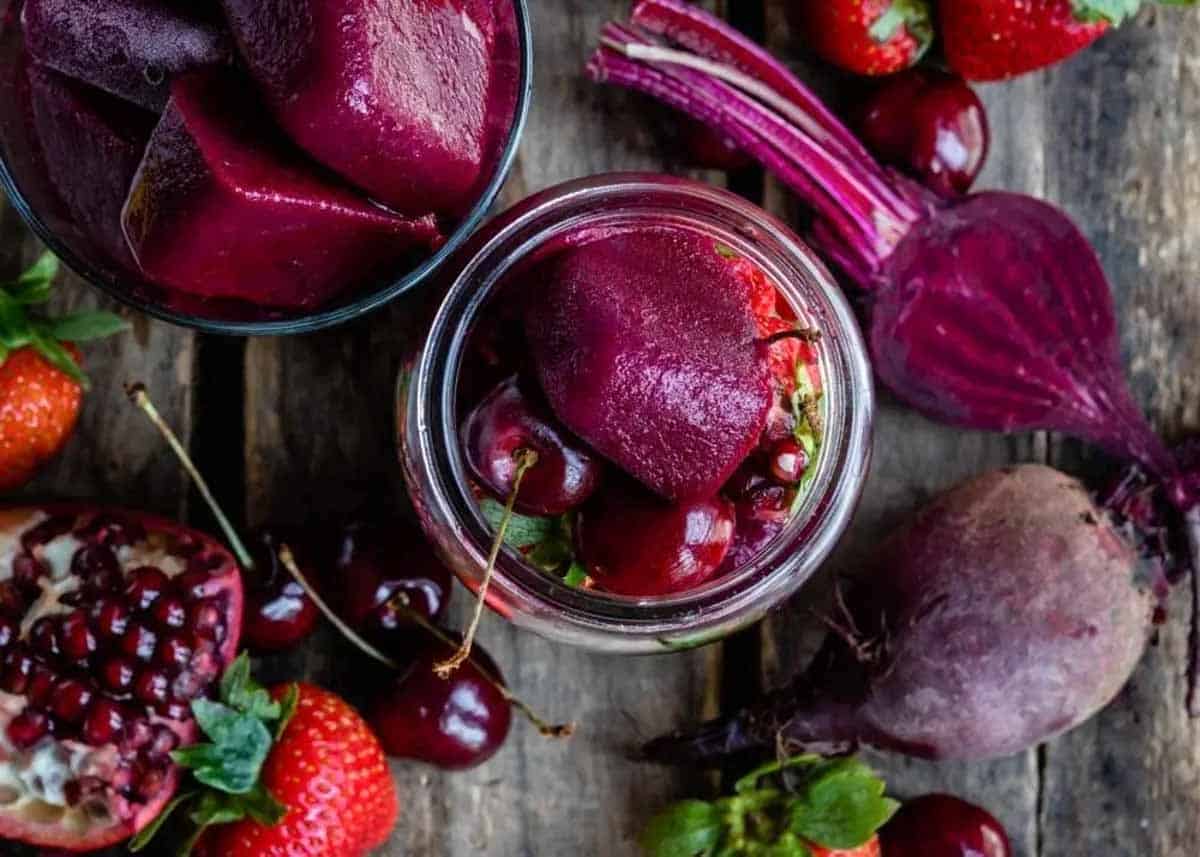 In addition to folate, beets contain iron, potassium, copper, manganese, magnesium, phosphorus, and vitamins B6 and C. The fiber in beets has been shown to be extra beneficial for the digestive system.

Bottom line: you should be eating (or blending!) beets on a regular basis.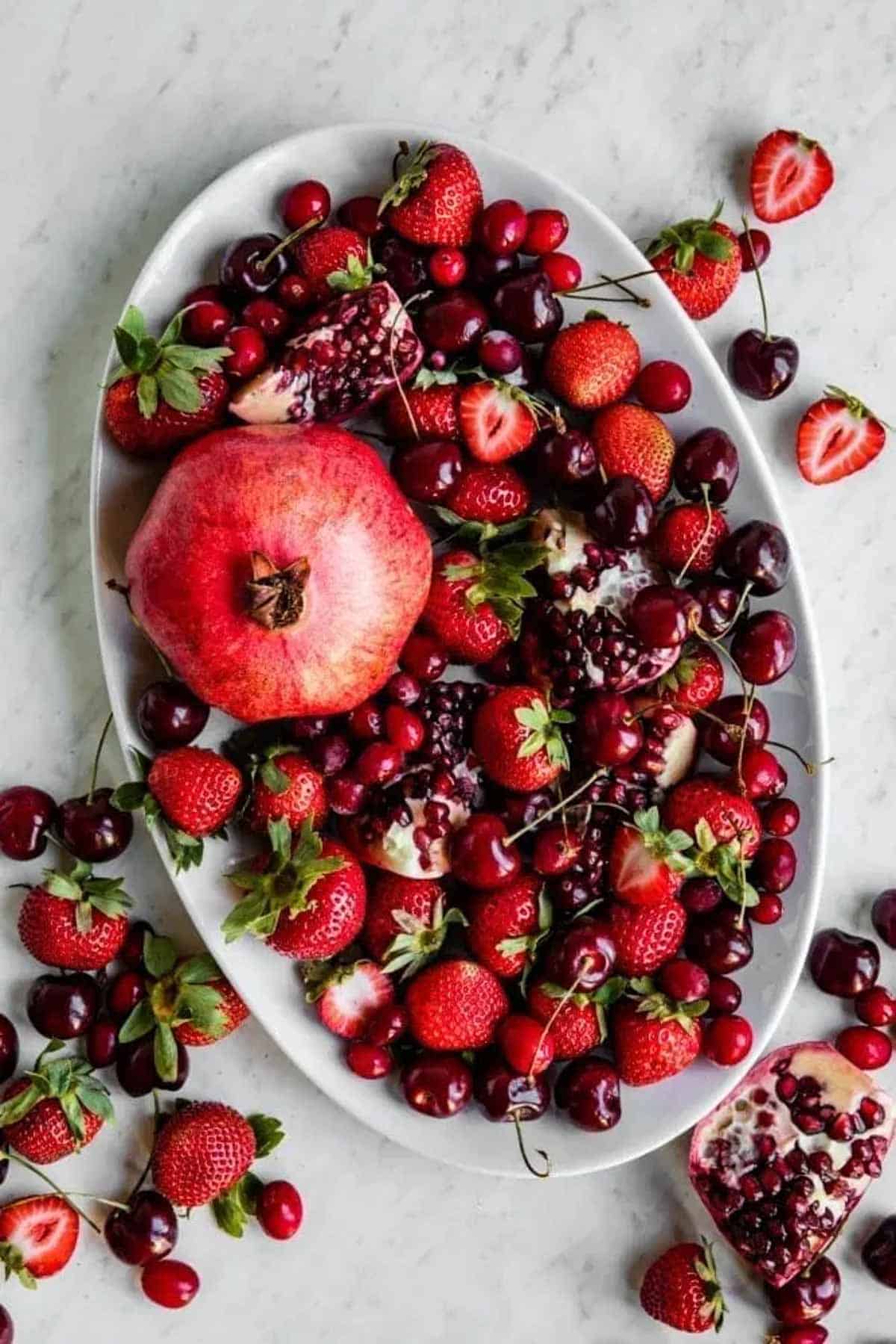 Berries, Cherries, and Pomegranate
Berries are one of the best sources of anthocyanin. The vibrant or dark purples, fuchsias, reds, and oranges are jam-packed into these sweet, juicy fruits. Here's a few that we're using in the cubes…
Strawberries are very high in vitamin C and may even help lower bad cholesterol and raise good cholesterol levels.
Cranberries are on of nature's superfoods with the highest concentration of antioxidants. They are low in sugar and calories, high in fiber, and great for helping improve blood sugar levels. Cranberries help protect the urinary tract by helping prevent E.coli from adhering to the walls of the urinary tract. The antioxidants in cranberries provide anti-inflammatory benefits for UTIs and other ailments.
Cherries are one of my favorite summer fruits! The antioxidants in cherries provide many of the same benefits listed above. A special thing about cherries is that they are a natural source of melatonin, the hormone that helps regulate the body's natural circadian rhythm. Cherries are anti-inflammatory and may improve memory and blood sugar regulation.
Pomegranate originated in modern day Iran and India and are one of the Plant Kingdom's greatest sources of protective antioxidants. Studies are showing that drinking 100% pomegranate juice may help protect against neurodegenerative diseases like Alzheimer's and cardiovascular disease like arteriosclerosis (hardening of the arteries). Pomegranate has three (three!!!!) times the amount of antioxidants of red wine and green tea.
As we wrap this up and dive into the actual recipe, I just want to make sure you understand how beneficial these smoothie cubes are for your body. Rather than buy supplements, turn your kitchen into a FARM-acy and have fun doing it! I really hope you enjoy this recipe…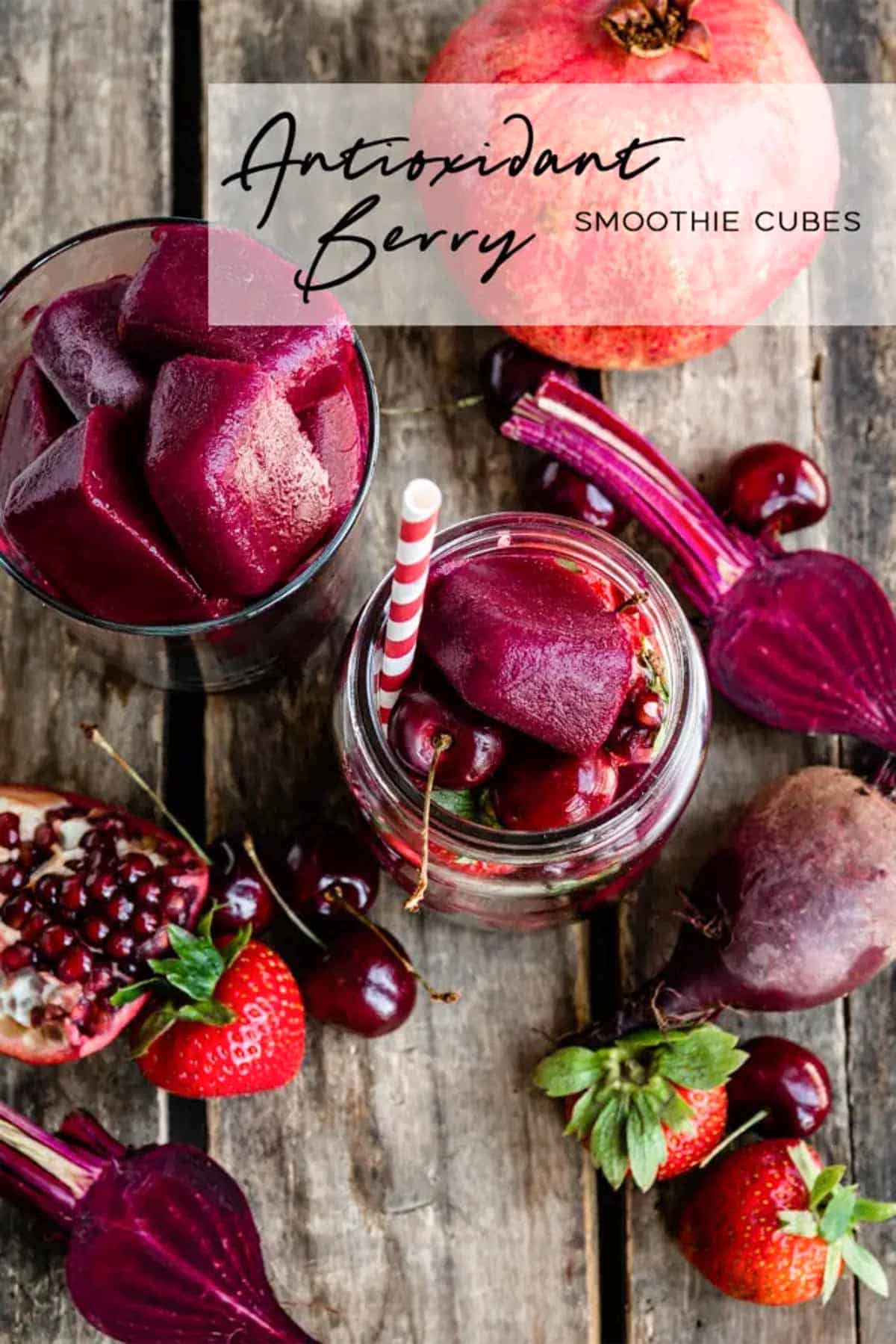 Print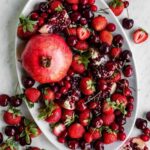 Antioxidant Berry Smoothie Cubes
---
Author:

Lindsey Johnson

Prep Time:

4 hours

Total Time:

4 hours

Yield:

8

servings

1

x
Description
Take advantage of the antioxidant benefits found in red plant-based foods by making a batch of these tasty, nutrient-dense smoothie cubes.
---
1 cup

pitted cherries, sweet or tart

1 cup

strawberries, hulled and sliced (can sub raspberries)

1

medium raw or cooked beet, peeled and roughly chopped

1 cup

raw cranberries*

8 ounces

bottle 100% pomegranate juice
---
Instructions
Place ingredients into blender in order listed. Puree until smooth.
Pour liquid into two standard 16-well ice cube trays. (Each well holds about 2 tablespoons liquid.)
Freeze until solid. Remove from trays and store in an airtight, freezer-safe container for up to several months.
To use add 4 cubes to replace 1/2-1 cup of fruit in your favorite smoothie recipe.
Notes
*1/2 cup 100% unsweetened cranberry juice
Category:

Smoothie

Method:

Blending

Cuisine:

Healthy
Keywords: beet, beet smoothie, antioxidants, red foods, smoothie booster, berries