I'm showing you how to make a strawberry smoothie you won't be able to put down. Need an invigorating morning pick-me-up or energizing snack? This tart + sweet strawberry smoothie recipe is the perfect health-boosting treat – an utterly delicious blend of antioxidant-rich strawberries, nutrient-packed cherries and protein-rich cashews.
Let's talk about how to make a strawberry smoothie like a pro.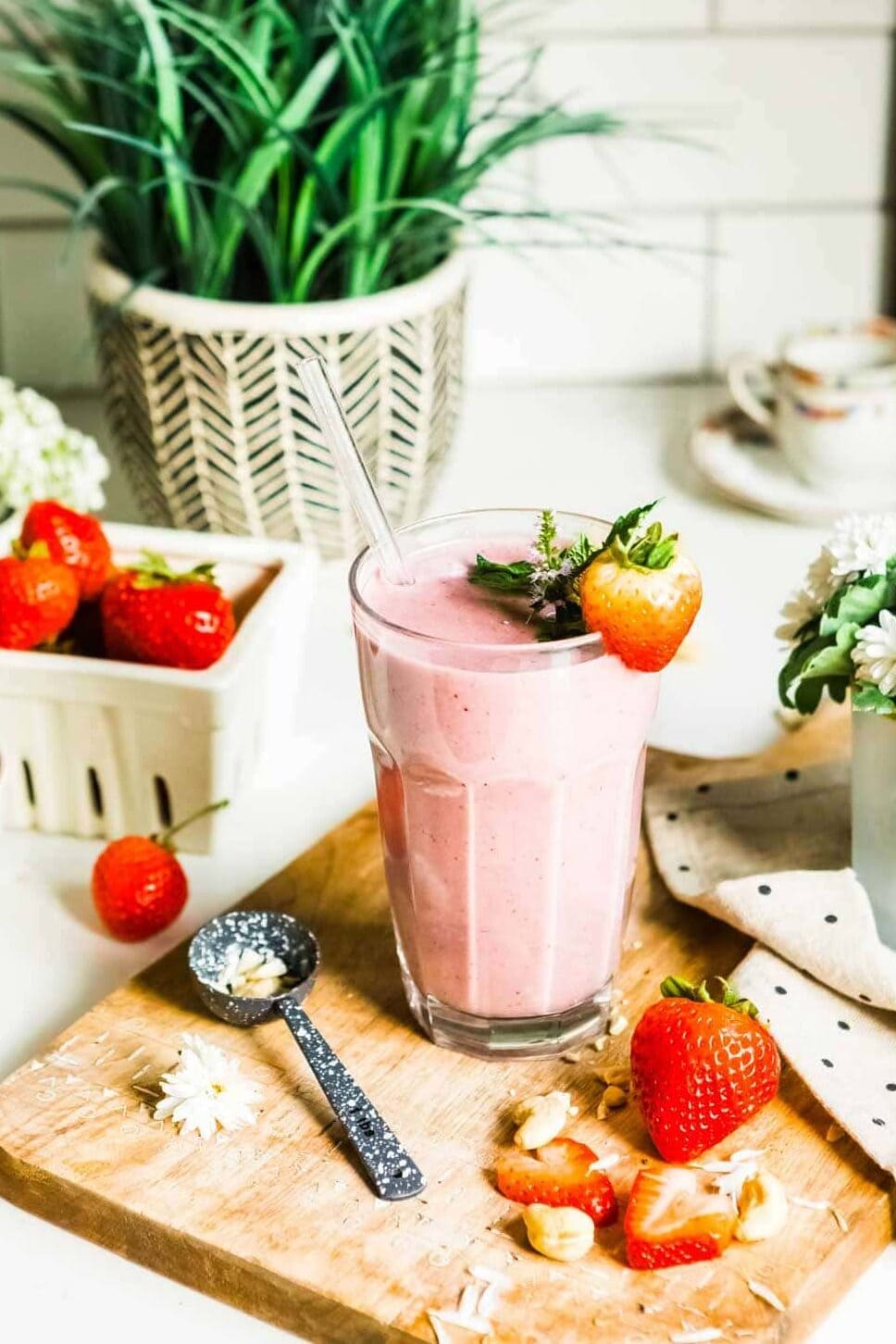 Banana-Free Smoothie
I always get requests for banana-free smoothie recipes, and this one delivers! Yet how does this smoothie stay creamy and sweet? Well, cashews are the secret ingredient.
While any kind of plant milk can be used in this smoothie, cashew milk is by far the creamiest. And the 2 extra tablespoons of raw cashews add healthy fat + a creamy finish without adding the extra flavor that comes from almonds.
If you need some more banana-free smoothie recipes, then blend through this list:
Don't worry banana lovers; I've got tons of smoothies with banana too!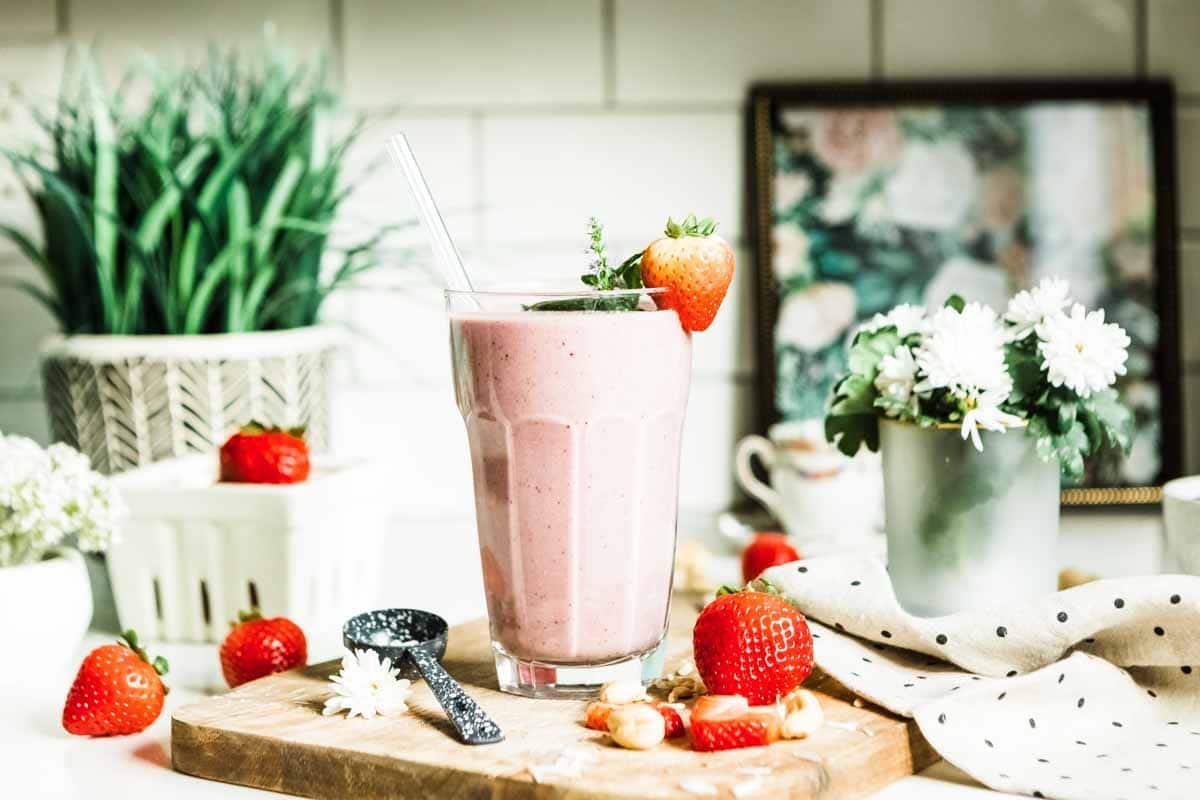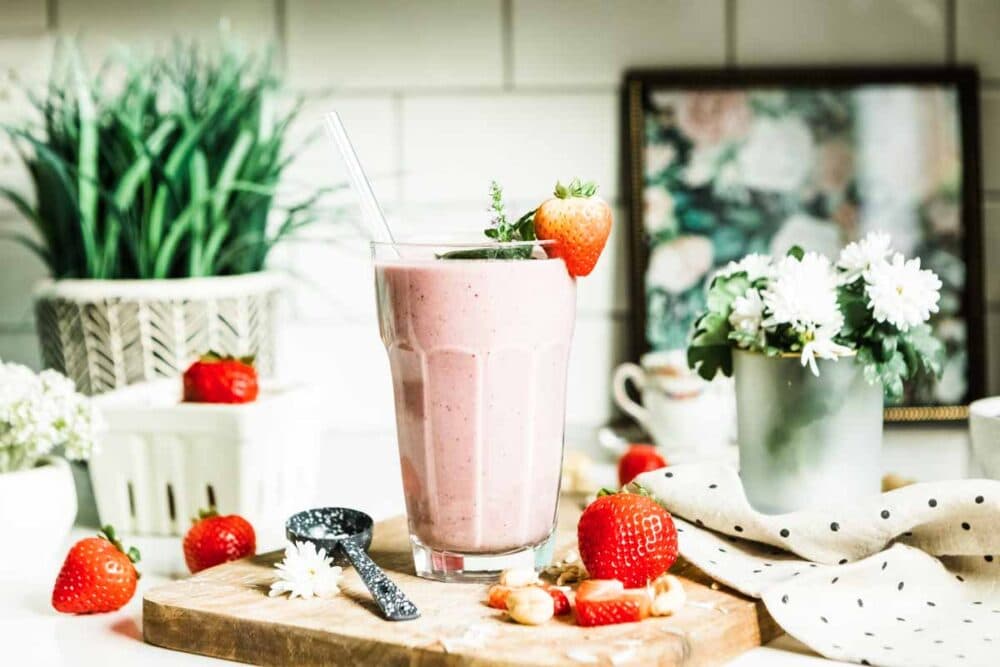 Fresh vs Frozen Strawberries
Another common smoothie question is whether to use fresh or frozen ingredients. While fruits do lose some of their nutritional value when frozen, they are typically frozen in season + at the peak of freshness.
So whether you buy fresh or frozen, you'll still get great nutrition out of this strawberry smoothie.
How to freeze strawberries
Often, I buy strawberries in February (peak of the season here in Florida), and freeze them. BAM! I've got the best strawberries around for a few months of strawberry smoothies. Here's my process
Place strawberries in a colander and then rinse thoroughly with water. Pat dry with a clean towel.
Hull the strawberries using either a knife or strawberry huller.
Place the strawberries on a baking tray, making sure each berry doesn't touch.
Freeze for at least an hour.
Place frozen strawberries in a resealable freezer bag and store in the freezer for up to 12 months.
This strawberry smoothie recipe can be made with fresh or frozen strawberries. If you aren't using a high powered blender, then make sure to thaw the berries slightly before blending.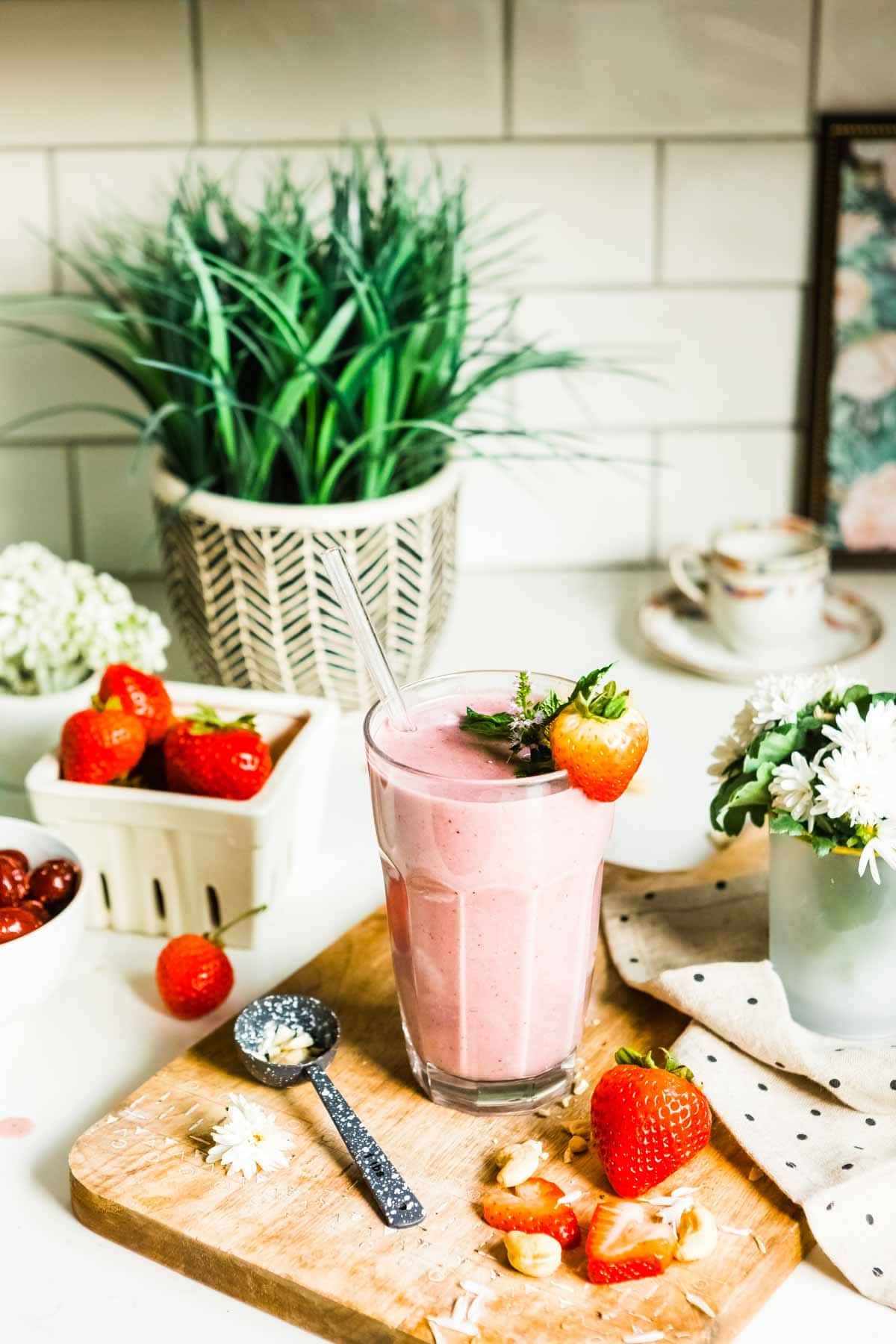 How to Make a Strawberry Smoothie
It's so easy to make a strawberry cherry cashew smoothie. Depending on your blender, soaking the cashews prior to blending might help. You can soften cashews with three methods:
The first method involves soaking the cashews overnight for 8 hours in water.
The second method involves boiling the cashews in hot water for 5-10 minutes.
The third method involves bringing the coconut water to a boil, then turning off the heat and adding the cashews to soak in the hot coconut water for 30 minutes to an hour.
Once the cashews are softened, drain, then add them to the blender along with the cashew milk, strawberries and frozen cherries. Blend until smooth and creamy. If the strawberry smoothie is too thick, add a bit more cashew milk, or water, and continue blending until reaching the desired consistency.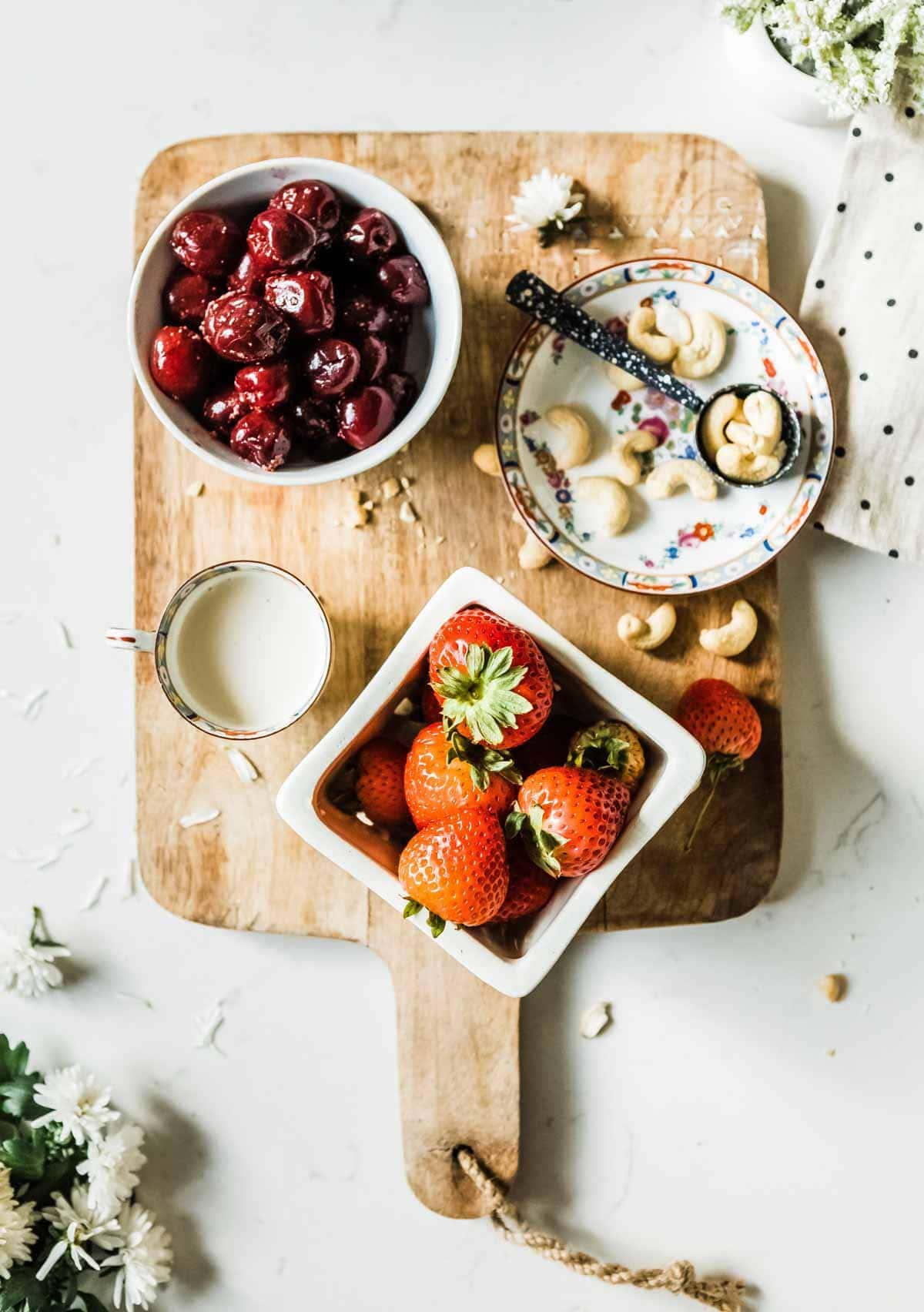 Health Benefits of a Strawberry Smoothie
From flavor to health benefits, cherries have so much to offer in this smoothie. Not only do they have a welcoming tartness that balances out the sweetness, they're also packed with powerful antioxidants. Cherries also support healthy sleep and reduce inflammation.
Strawberries are full of vitamin C, which boosts your immunity as well as reduces the free-radicals that cause disease. With all of the cold and flu viruses circulating, there's no better time to load up on vitamin C!
Cashews are a great source of plant-based protein. Cashews provide heart-healthy omega-3 and omega-6 fatty acids, along with vitamins E, K, and B6 and Manganese, Magnesium, Copper, as well as Phosphorous and Zinc.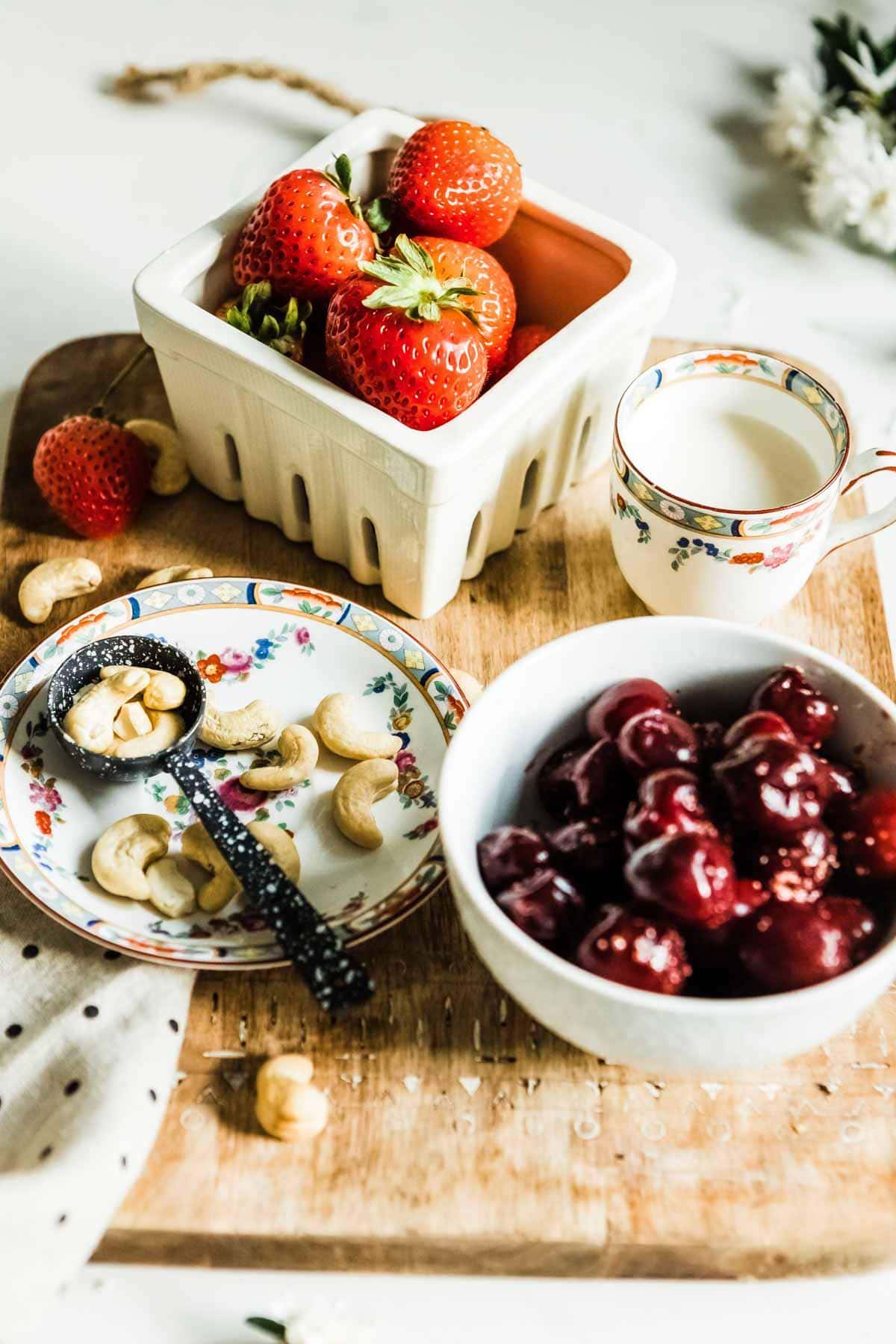 Whip up this tasty strawberry smoothie recipe as a health-packed breakfast or satisfying snack. The whole family will love this creamy treat! Will you please rate + review this recipe once you make it? Your reviews help us bloggers out so much.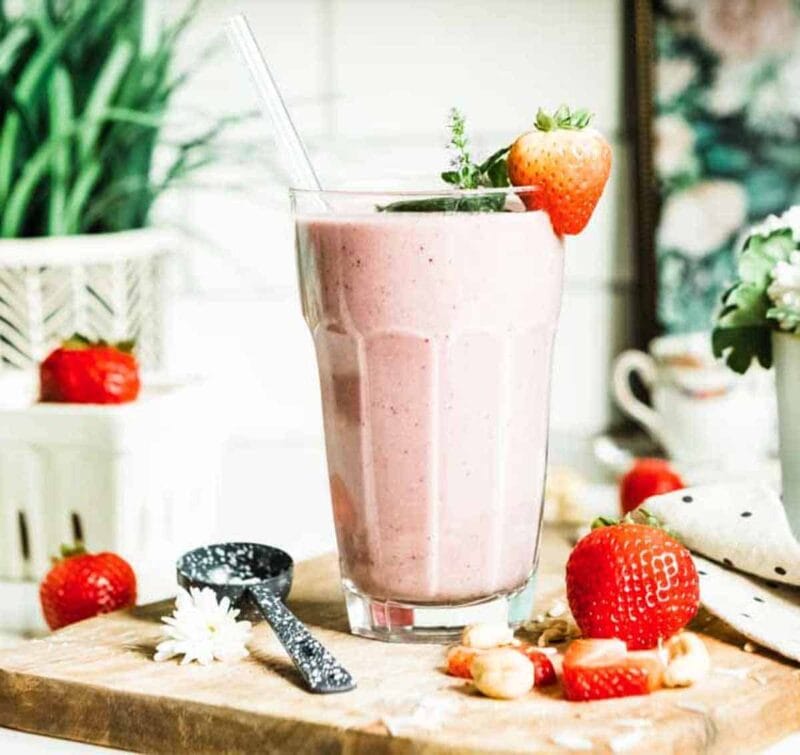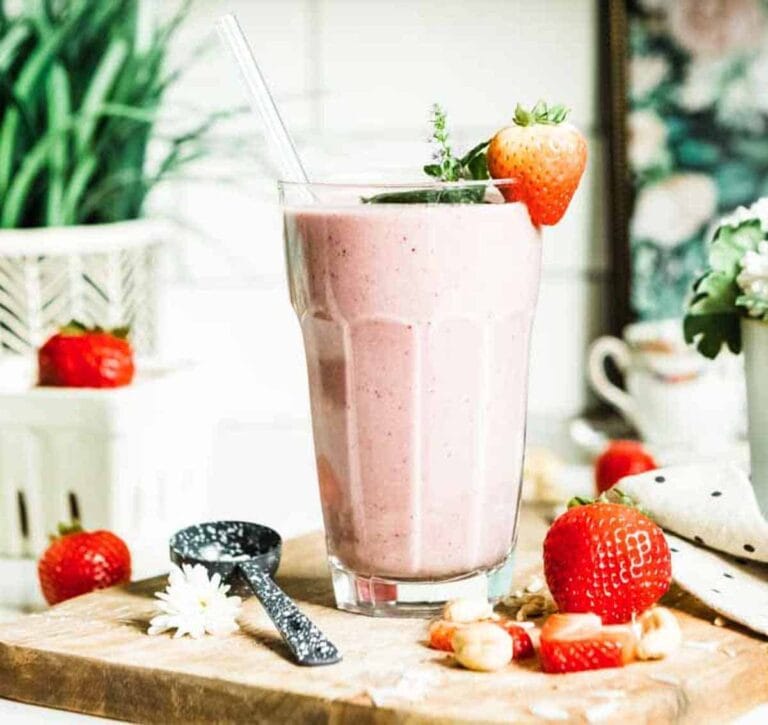 Strawberry Smoothie
This super fun + super pink strawberry smoothie is springtime perfection. Sweet with not a banana in sight, and a great kid-friendly snack!
Instructions
Blend all ingredients until smooth

Pour into a glass and enjoy!
Notes
Cashews are used for creaminess, yet can be subbed with oats and oat milk, or almonds and almond milk
Use at least one frozen fruit for a refreshingly cool smoothie.
To up the fiber content + help your body break down the natural fruit sugar in this recipe add up to 1 cup of spinach per serving.
Nutrition
Calories:
225
kcal
,
Carbohydrates:
29
g
,
Protein:
5
g
,
Fat:
11
g
,
Saturated Fat:
2
g
,
Polyunsaturated Fat:
2
g
,
Monounsaturated Fat:
6
g
,
Sodium:
164
mg
,
Potassium:
506
mg
,
Fiber:
5
g
,
Sugar:
17
g
,
Vitamin A:
61
IU
,
Vitamin C:
90
mg
,
Calcium:
39
mg
,
Iron:
2
mg