This is the superfoods list for the best superfoods for smoothies. They can give you whatever boost you need whether it be extra protein, healthy fat, energy, minerals and more. Superfoods for smoothies are nutritious ingredients you can toss in any smoothie recipe to supercharge it. Checkout this superfood smoothie for a great example of how to add them.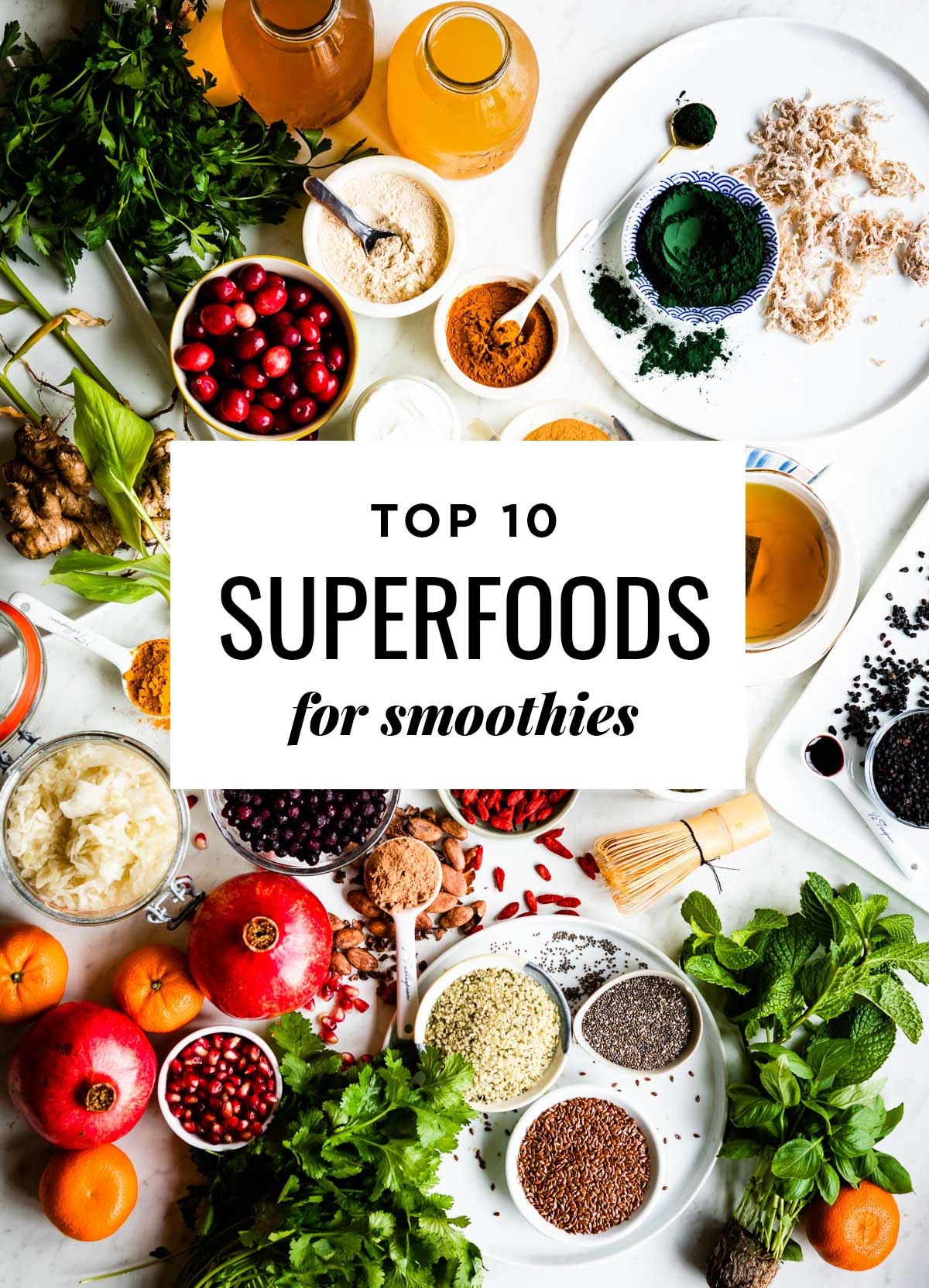 A superfood is defined as a food rich in nutrients and minerals commonly viewed as beneficial for one's health. I don't know about you but I'm all for eating foods that work extra hard to give my body what it needs to thrive.
Table of Contents
Top 10 Superfoods for Smoothies
Superfood is a buzzword that you've most likely heard, but may not fully understand. It's flashy, trendy and makes me feel healthier just buying them if I'm being honest. Yet are these foods really that super?
Yes! These 10 superfoods for smoothies are definitely worth the hype. This superfoods list gives you ten smoothie-boosting ideas, along with recipes to help you use them.
Smoothies are wonderful with just greens, fruit and water. If I need more energy, a quick full meal, an immune boost or better skin/nails/hair, I add superfoods to help me out.
Protein-Packed Seeds
Seeds top my superfoods list for many reasons. These small but mighty warriors contain healthy fats, quality protein and fiber. Find superfood seeds at almost any American grocery store (Trader Joe's, Target, even Marshalls!) as well as multiple places online. I pick up all three ingredients at my local Costco in bulk.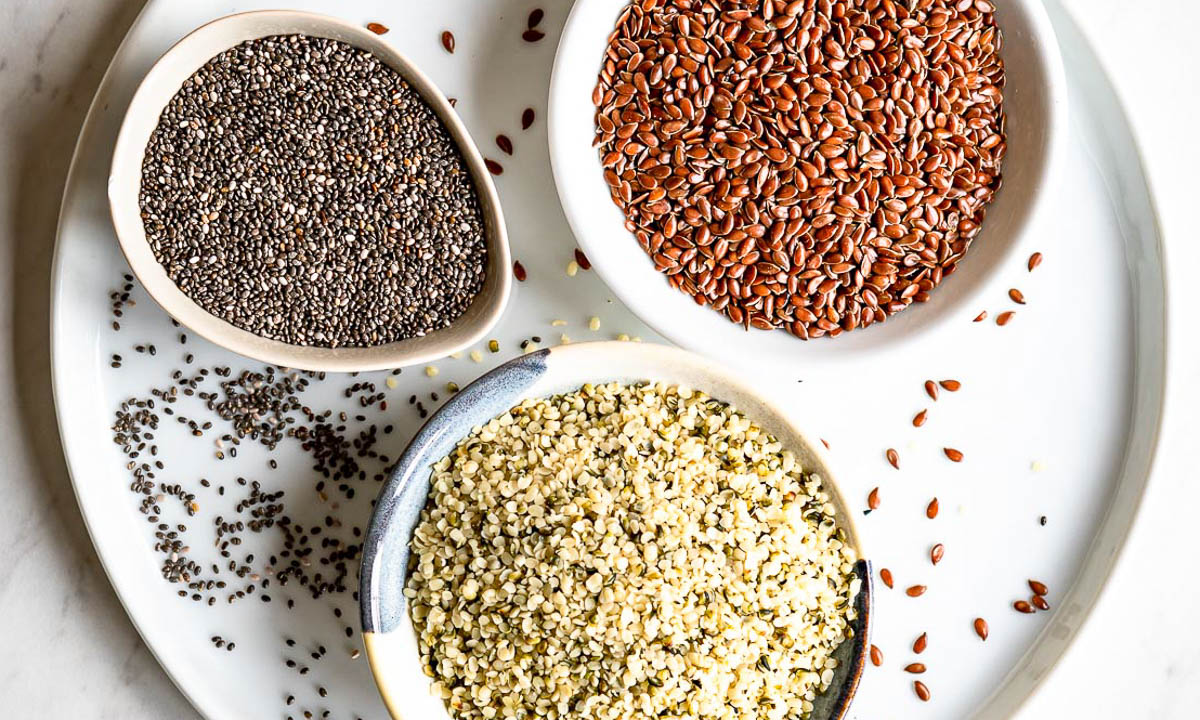 Fun fact: I love hemp, chia and flax so much that I used them exclusively in my own plant-based protein powder, homemade protein powder.
Superfoods Green Powder: Green Tea
I am def #teamcoffee all day every day, yet I also appreciate a good cup of green tea. It makes an excellent liquid base for smoothies. Naturally caffeinated green tea gives an energy boost without the coffee jitters.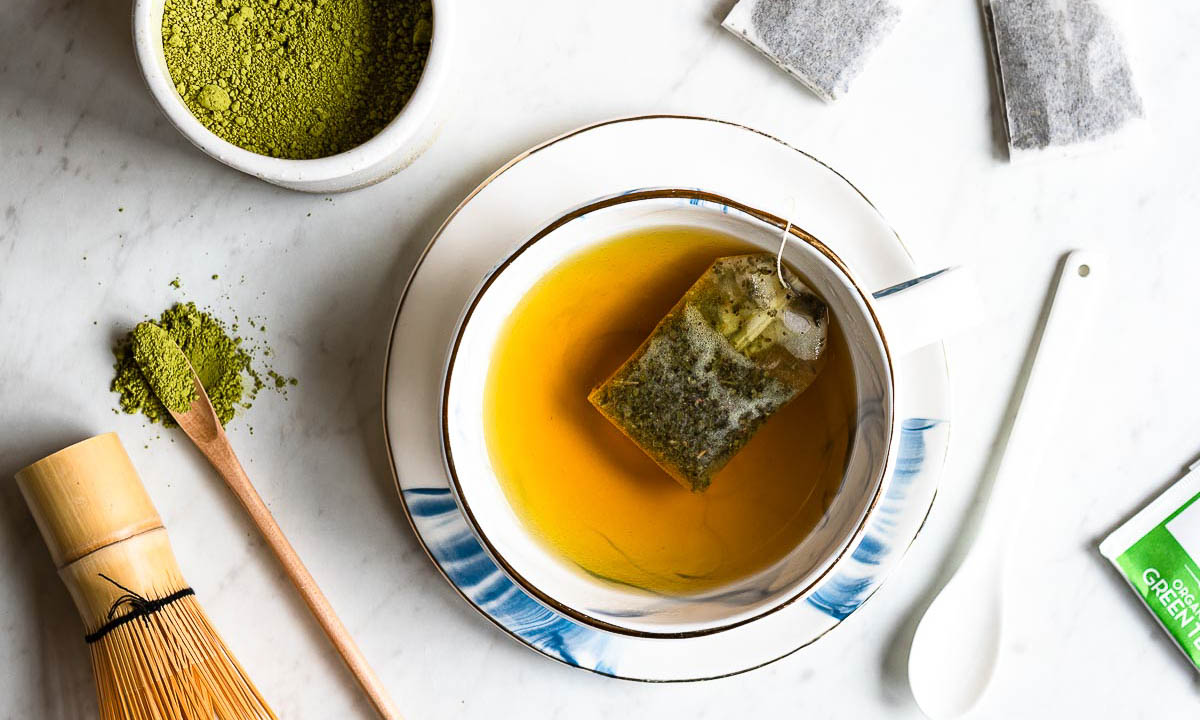 Green tea boosts the metabolism to help burn fat, contains polyphenols and antioxidants to fight cancer and inflammation as well as cell damage and helps the brain function more efficiently.
Matcha is an earthy-tasting green tea powder that can lower your chances of chronic illness and boost your antioxidant levels.
Green tea is fairly mild in flavor, so feel free to use it as a base on any smoothie you next create. Or bonus recipe, swap out your next coffee for a matcha tea latte.
Fermented Superfoods for Gut Health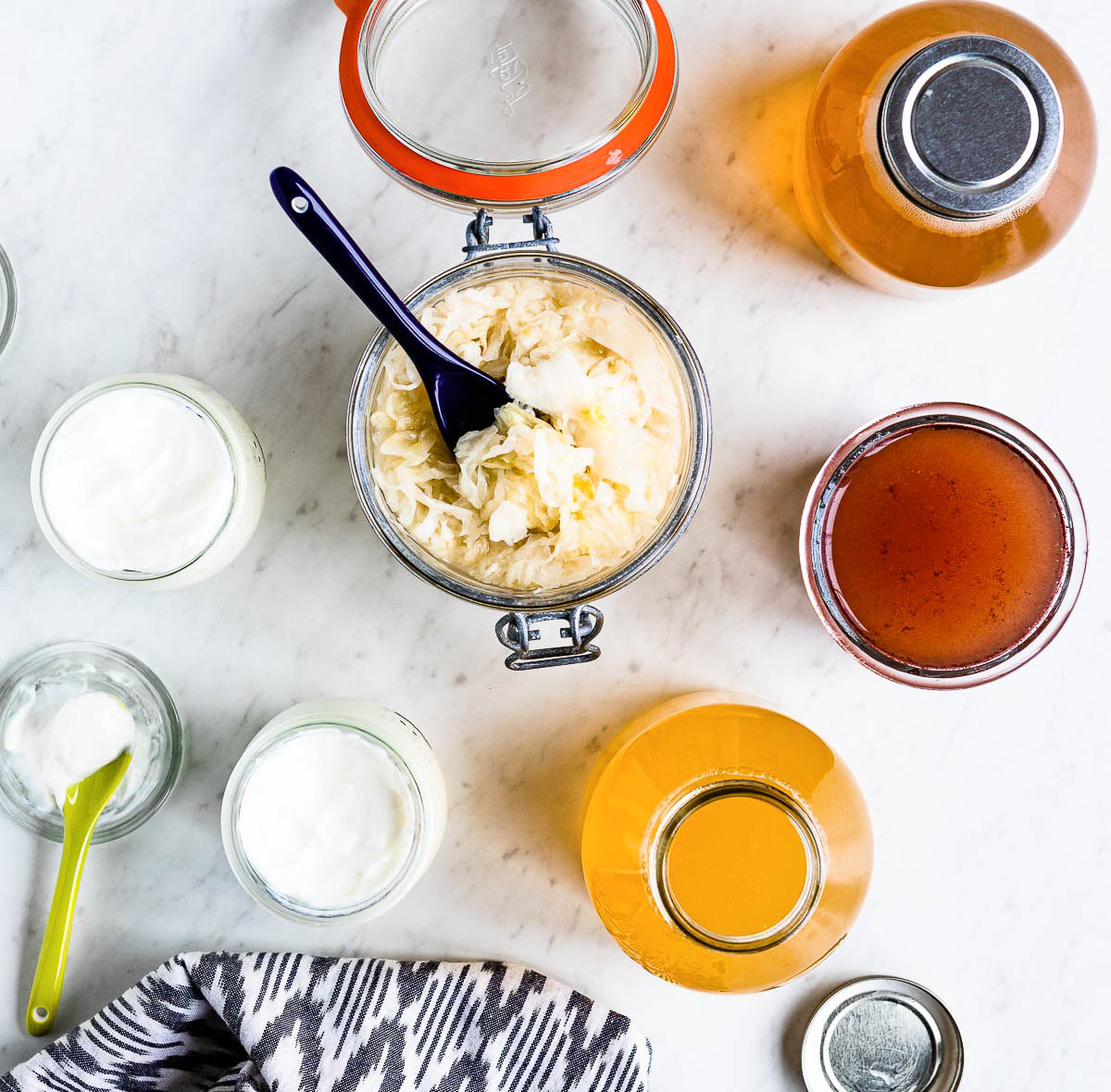 I have a deep and lasting love for fermented food. I love pickling things, making and eating sauerkraut and brewing my own kombucha. Gut health is super important and is linked to mood and mental health, your immune system, skin and more. If your gut's not healthy, ain't nobody healthy.
Kombucha is a tea-based beverage. When tea is fermented the polyphenols are multiplied which helps them fight even more inflammation. My favorite brand is Health-Ade!
Yogurt that contains live bacteria, or probiotics, can give your immune system a boost. You can even make vegan yogurt with probiotics in it if dairy is something you try to avoid.
Sauerkraut is basically fermented cabbage. It's great for digestion and the reason it makes this superfood list is the probiotics found inside.
Fueling your body and gut with pre and probiotic foods can help keep your digestive system balanced. I actually have a whole challenge inside Rawk the Year (my meal planner) that teaches you how to make and use these three foods for the happiest gut around.
95% of the body's serotonin production happens in the intestine. Your body will thank you for keeping your gut happy.
Power Berries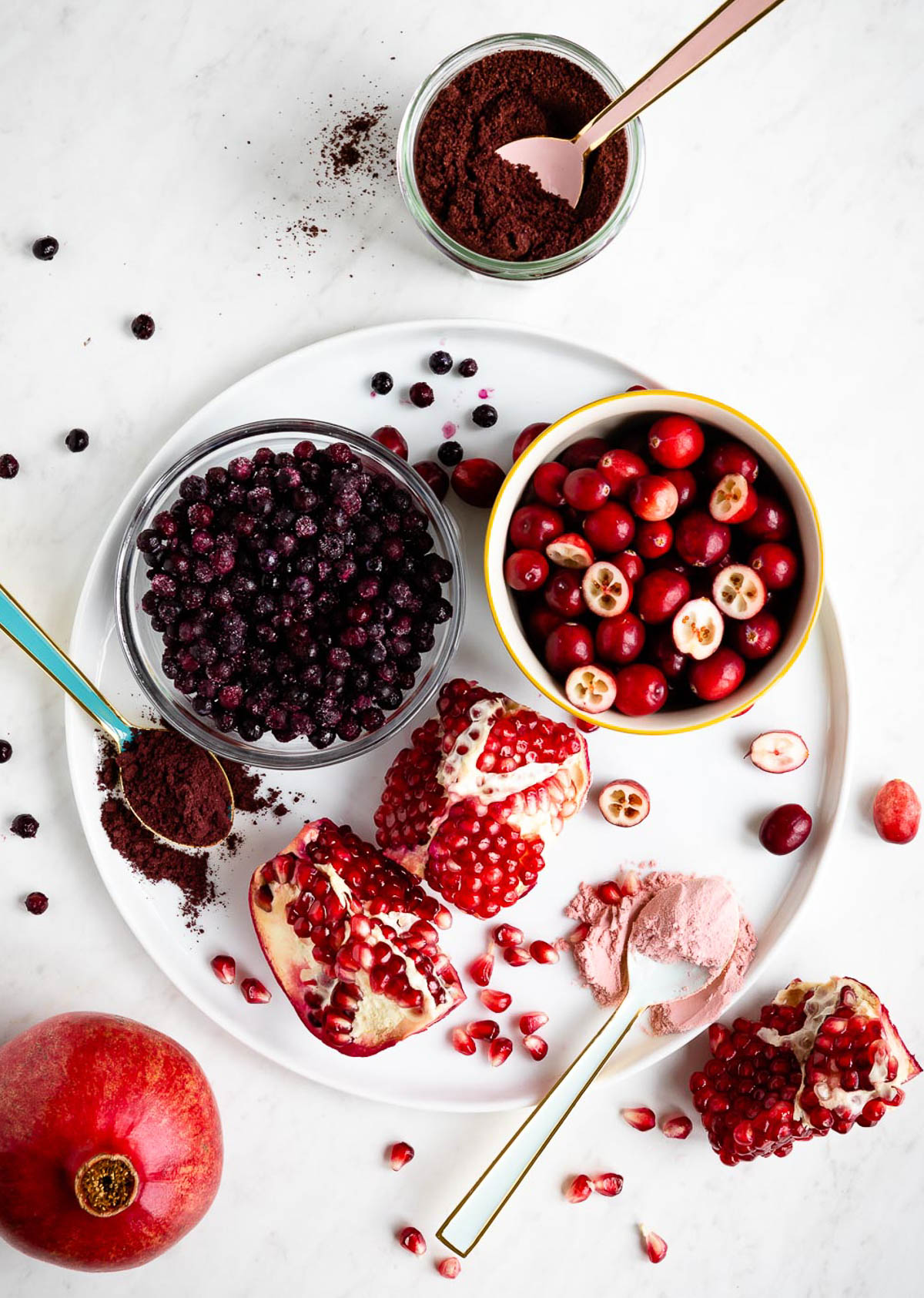 Next up on my superfoods list is power berries. Do you realize just how incredible berries are? They aren't just here to be a sweet treat. These gorgeous fruits are great superfoods for smoothies since they act as fruit and a power boost.
Obviously, there are dozens of berries not on this list that are also deliciously beneficial. Berries are an easy superfood win in a smoothie!
You can also make antioxidant smoothie cubes and toss them into your next smoothie for some extra antioxidant love.
Algae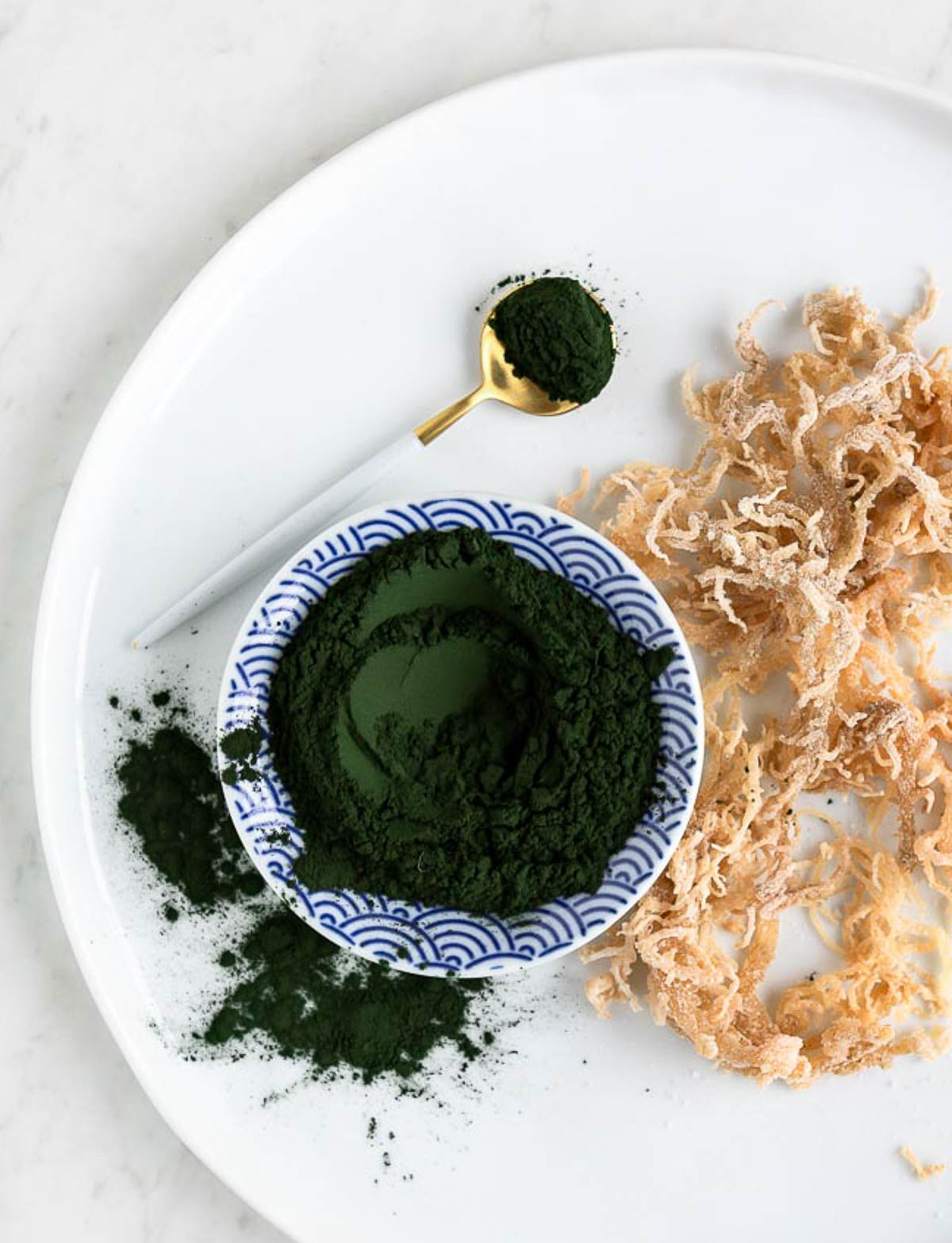 Yeah, I'm talking about the stuff from the ocean. Hear me out! I didn't add this category to my superfoods list for the shock factor. These ingredients pack some serious power and you should try them.
Algae is a unique ingredient and an acquired taste for many. Start with a small amount and work your way up to more depending on your taste preferences.
Cacao Powder and Cacao Nibs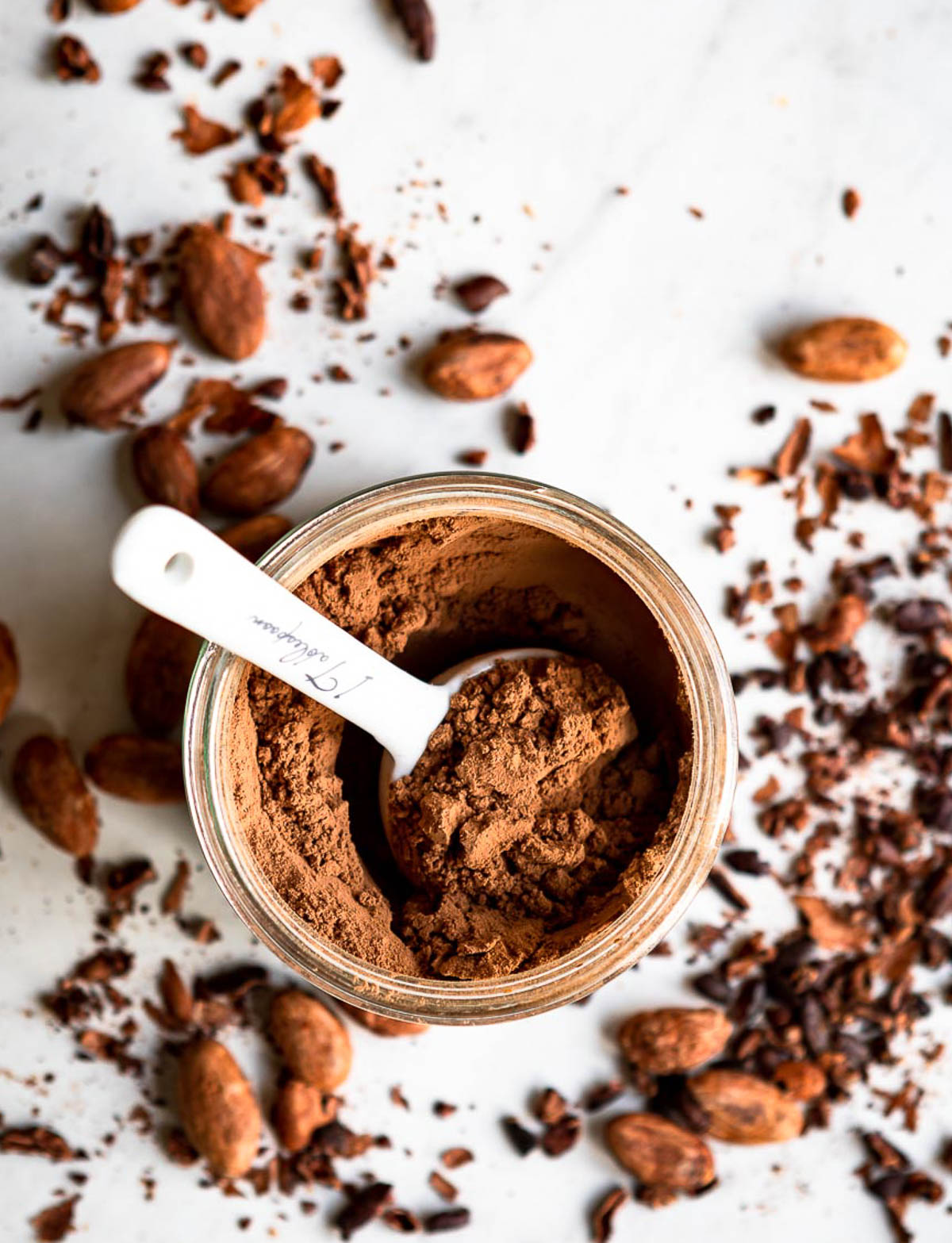 Cacao powder and cacao nibs are seriously healthy and delicious. Unprocessed and unheated contain the most nutrients. Turn your next smoothie into a chocolatey drink by adding either of these ingredients to it and enjoy the flavor and the benefits.
Toss 2-4 tablespoons of cacao powder or nibs in your next smoothie and enjoy a warm and rich chocolate shake! This superfood list can be equally tasty and beneficial, right?
Pro tip: Look for cacao or cocoa that is unsweetened. There's no need for extra ingredients in the powder as you are adding them to a smoothie that is naturally sweetened.
Anti-Inflammatory Roots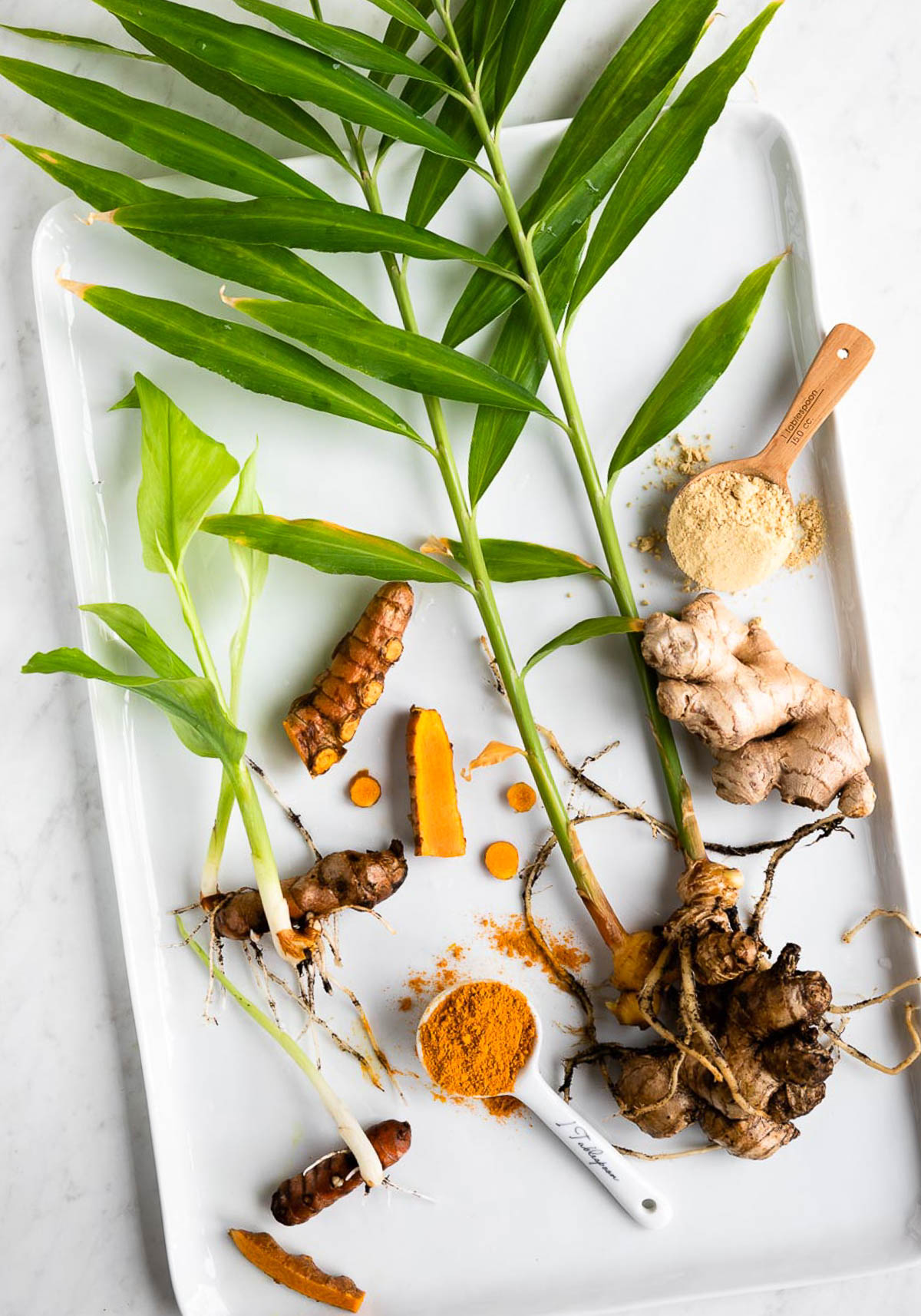 If you struggle with inflammation then this section is for you! Chronic inflammatory diseases are the leading cause of death worldwide. Many Americans struggle with chronic inflammation, so chances are your body could benefit from greater consumption of natural inflammation-fighting food like fresh ginger and turmeric.
Adding 1/2 to 1 inch of fresh ginger or turmeric is a great smoothie booster. Just make sure you peel and cut your turmeric on a cutting board because it stains easily!
Fresh Herbs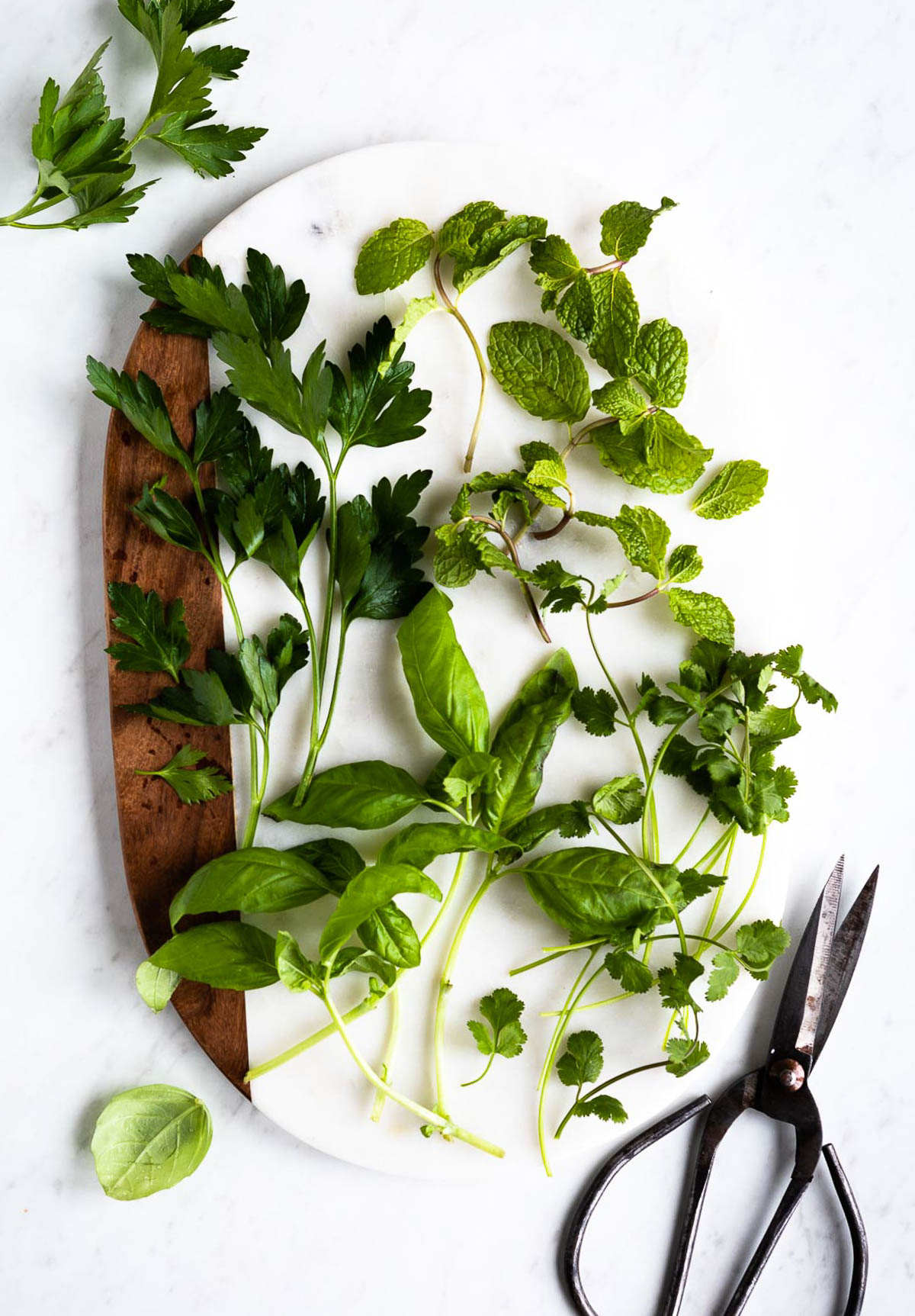 Herbs are my jam. They're easy to add to smoothies and meals and make this superfoods list due to their nutrient-dense nutritional profiles.
If you ever get the urge to start your own garden then I recommend starting with herbs! They are beautiful, easy to grow, can be grown in or outside and make it easy to grab and use in a variety of recipes. These superfoods boost smoothies quickly as well as add great flavor!
Feel free to experiment with the herbs in your garden or at your local farm stand. Surprise yourself with some fun combinations!
Adaptogens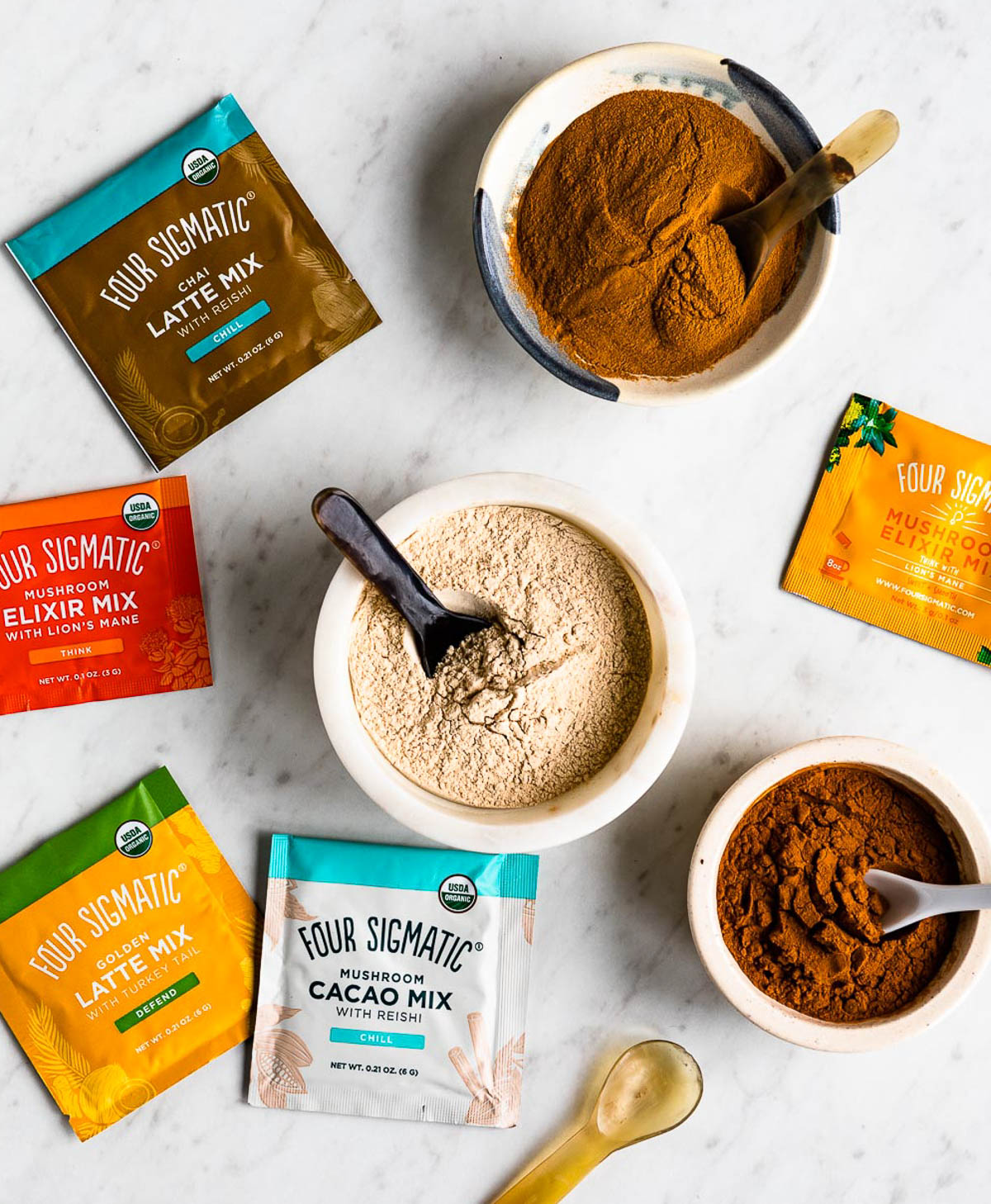 Adaptogens have long been studied for their superfood powers. They make this superfoods list because you can easily add them to smoothies or other beverages to enjoy better focus, less stress and less fatigue.
Ashwagandha is found in India, Africa and the Middle East. It is a medicinal herb with potent anti-stress properties (who couldn't use a little more zen in their lives?)
Ginseng root is an ancient root used in Chinese medicine for its antioxidant and anti-inflammatory properties.
Cordyceps is a fungus that can help with oxygen efficiency while exercising as well as properties that are anti-aging and anti-tumor growth.
My friends at Four Sigmatic use the power of mushrooms in many of their delicious mixes to create coffee without crashing as well as beverages that heighten focus or help relax the body.
Immune-Boosting Superfoods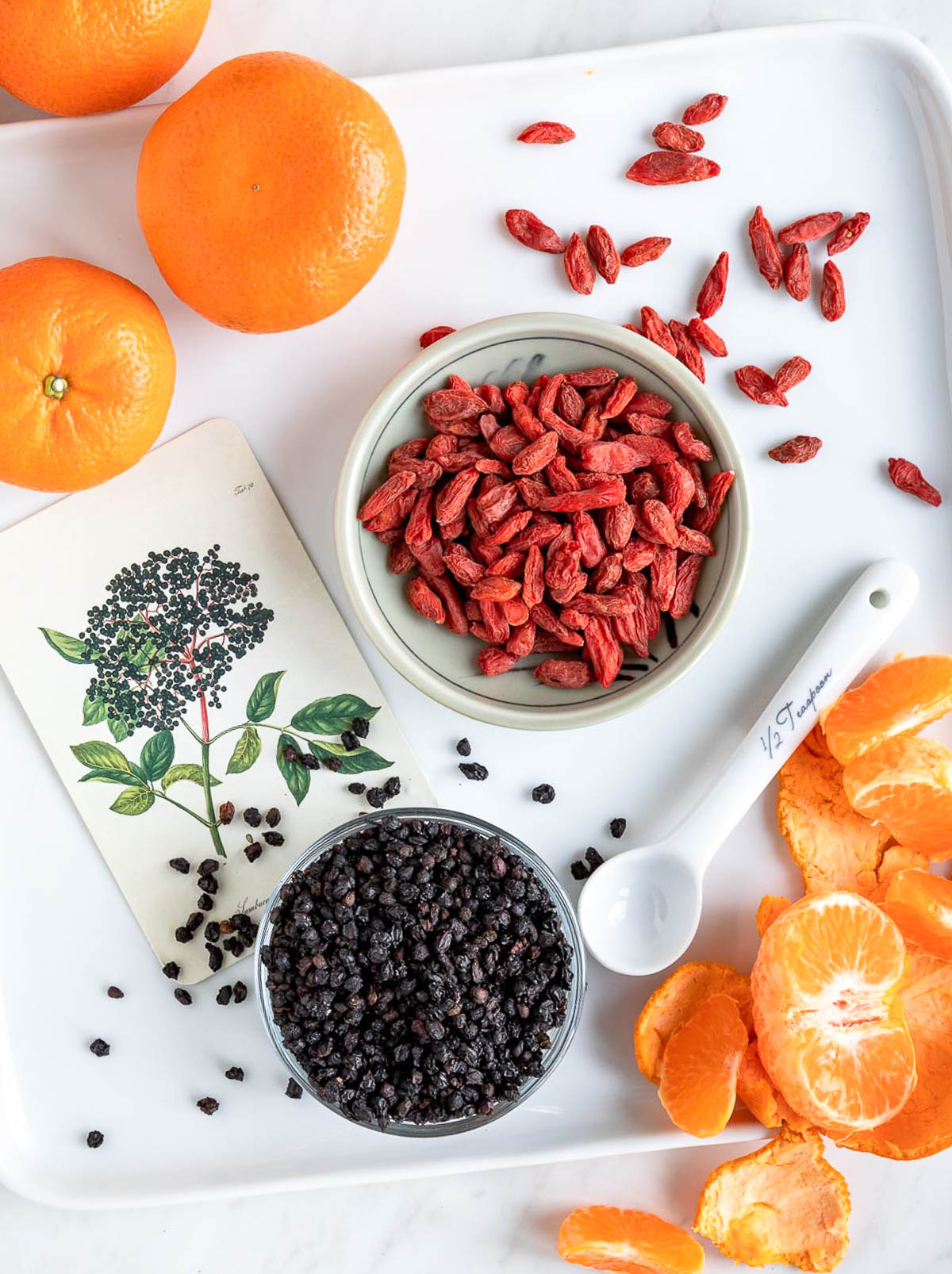 There are many supplements on the market today that promote an immunity boost. Yet I love getting the ultimate boost from natural ingredients, so here are my favorite ways to help my body stay healthy:
Elderberry has been used for centuries by people throughout North America, Europe, northern Africa and parts of Asia to relieve pain, inflammation, and swelling. This isn't a new remedy. Raw elderberries are poisonous, so make sure they're properly cooked before consuming.
Goji berries are a superfood used in ancient medicine all over Tibet, India, Mongolia, and regions of China. They contain polyphenols which stimulate the detoxification of blood, and also the elimination of carcinogens in the body.
Use any of these superfoods for smoothies to give your body the best nutrition this cold and flu season.
Superfood FAQs
Non-Smoothie Uses for Superfood
Superfoods make excellent smoothie ingredients plus, easily add them to a variety of dishes! Here are a few non-smoothie recipes using the ingredients listed above:
What are your go-to superfoods to use in cooking, baking and smoothies? I'd love you to leave a comment and tell me what you love and how you use it!