Tomato soup instantly takes me back to my childhood. A warm mug of homemade soup with a grilled cheese was my idea of a perfect cold day lunch. My friend Lindsey told me she adds fresh zucchini and carrots to her homemade tomato soup and after trying it I was hooked! So this is my version of vegan tomato soup and it always gets my kids' stamp of approval.
As a parent, I want to recreate those memories for my kids yet also make sure they're eating food that nourishes them, so I love the idea of packing this soup with veggies that don't diminish the classic tomato flavor.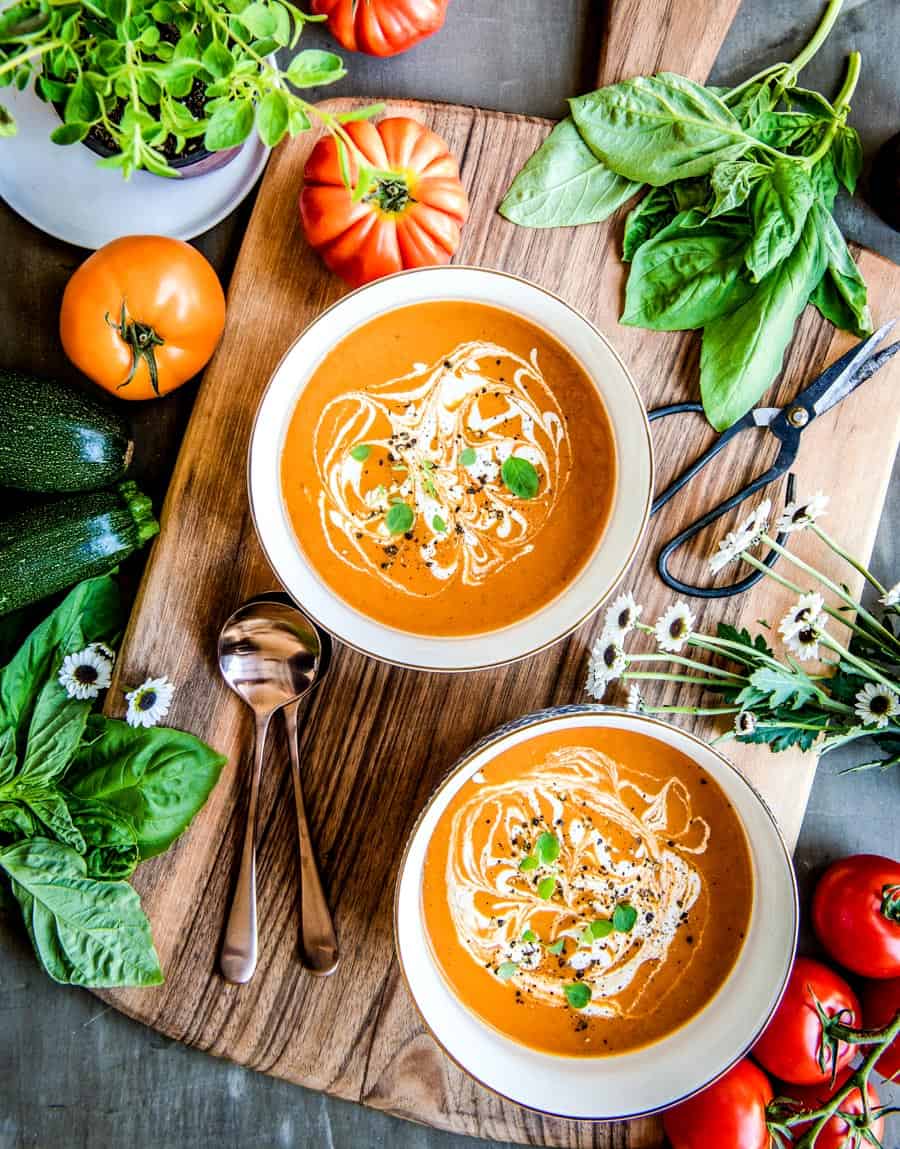 Table of Contents
Easy Homemade Tomato Soup Recipe
I know homemade soups often have a long list of ingredients with a whole lotta steps, yet don't fear! My vegan tomato soup recipe has a fairly small ingredient list, using easy-to-find vegetables. It's perfect for the beginner chef as well as easy to customize to fit your taste preferences.
In a stock pot, warm some avocado oil over medium-high heat. Add in diced onion + a bit of salt. Cook, stirring often, for 7 minutes or until the onion starts to soften.
Add in sliced carrots + celery and cook for 5 minutes, stirring occasionally. Then stir minced garlic and cook for 1 minute, or until fragrant. Add chopped zucchini and cook for a few minutes, until it starts to soften. Since you are going to puree your tomato soup, no need to peel the zucchini.
Stir in vegetable stock, diced tomatoes, and Italian herbs. Bring just to a boil, then reduce the heat to low and simmer for 20 minutes or until the vegetables become very soft and tender.
Using an immersion blender, puree the soup. Season to taste with salt and pepper, if needed. Serve with your choice of toppings (I like to add in cashew cream, fresh basil or 'cheese' sprinkle). If you've got a regular blender with a heat-safe container, you can puree the soup with that, just make sure you work in batches to avoid a soup explosion in your kitchen!
See how simple this vegan tomato soup recipe is? Now excuse me while I go make some…. I just got hungry.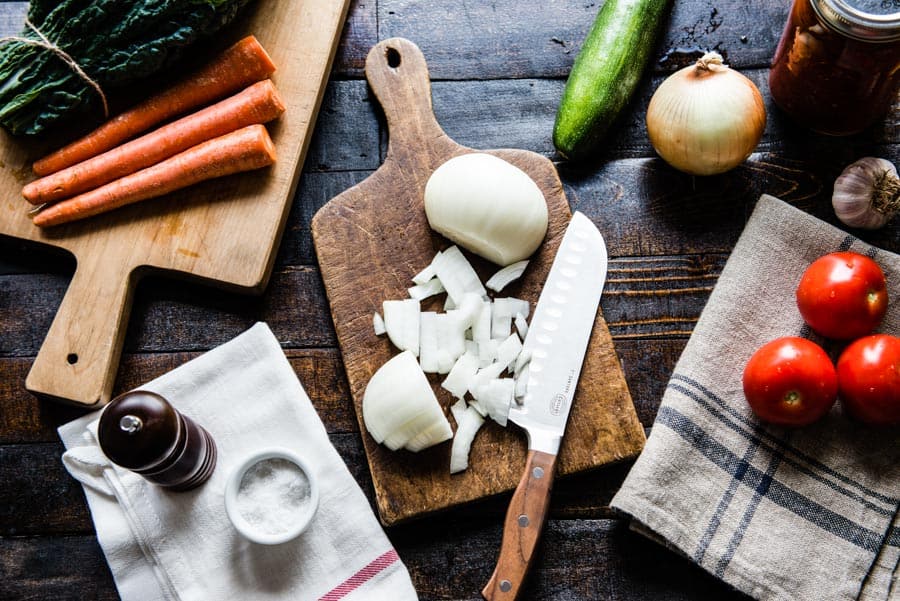 Vegan Tomato Soup FAQs
Is traditional tomato soup vegan?
No! Traditional tomato soup contains dairy in the form of cream or milk. My vegan recipe is honestly super creamy and doesn't have any milk! I puree once everything is cooked through, then add a dollop of cashew cream (vegan sour cream) to bump up the cream level.
Is tomato soup good for you?
It can be! If you're choosing a canned soup, read the ingredients… canned soup companies love sneaking in additives, preservatives and dyes to their soups. If you want to control what goes into your soup, then make it at home. My tomato soup recipe is loaded with a variety of vegetables yet is still super creamy and flavored like the tomato soup of my childhood.
What type of tomatoes are best for soup?
I use Muir Glen brand diced tomatoes. They are organic and taste great! If you use fresh tomatoes I recommend using brandywine. They've got the best flavor for tomato soup.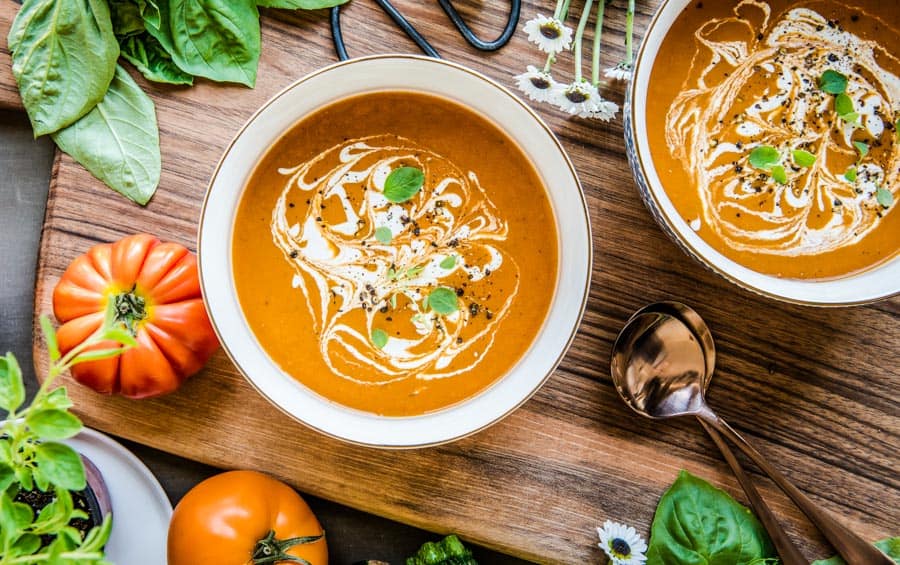 How to Store Soup for the Future
Soup takes work to make. All the ingredients, chopping and cooking is exhausting! So when I make soup I always double the recipe so that I can freeze the extras. These frozen portions make super quick n' simple meals for that future lunch or dinner you just don't wanna make.
I freeze my homemade tomato soup in single servings for easy reheating. Using pint-sized, wide mouth mason jars, I pour the cooled soup into the jars to the freeze line (this is important so the glass doesn't burst when frozen!). Make sure the soup is cooled completely before freezing; putting the jars into the fridge overnight before freezing is an easy way to ensure this.
If I plan ahead for lunch then I take the frozen soup jar out of the freezer and refrigerate overnight to thaw a bit. When I'm ready to reheat, I'll pour the contents into a small pot to reheat. You can also stick that mason jar into a bowl of warm water to help the thawing process.
If you work in an office, then just toss that frozen container of tomato soup in your lunchbox. By lunch it should be ready to microwave and enjoy! Don't forget to pack any toppings you wanna add 🙂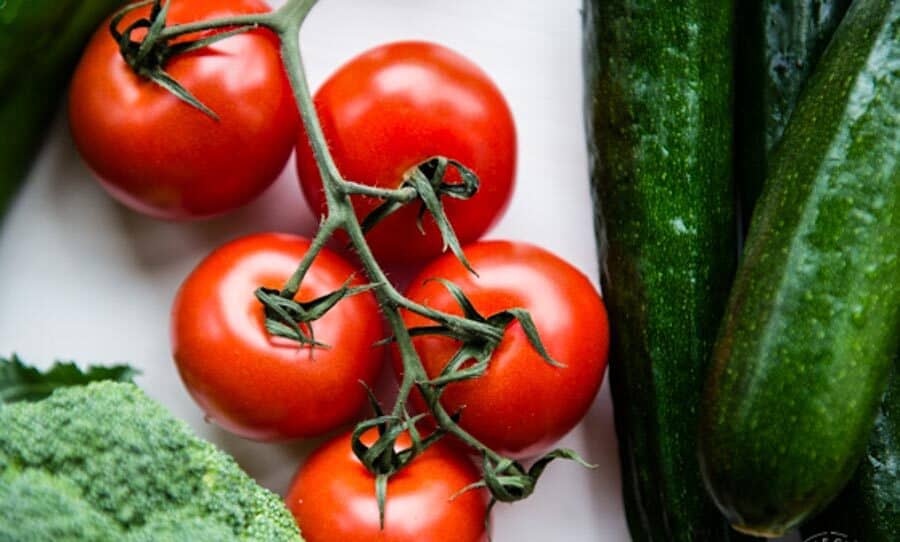 More Creamy Vegan Soups
Soups can be just as easy to take on-the-go as smoothies, if they're pureed. These soup recipes are high on flavor and veggies, so you'll get a filling meal quickly. Grab an insulated water bottle or thermos and add your warmed soup. If this vegan tomato soup to go intrigues you, then check out some of my other pureed soup recipes:
Don't forget to let me know in the comments how this vegan tomato soup turned out for you… it's a Hansard family fav so I hope it can be on regular rotation for you too!
Easily Add Plants to Your Weekday Meals
Consistently cooking healthy meals for your family is hard. I find when I have to flip through multiple cookbooks or run out for ingredients daily that I don't feel like cooking often. Yet if I've got a plan made for me, with an instant grocery list, then I can easily follow it and feel better about feeding my family on the daily.
I totally created my Rawk the Year meal planner for me then put it out into the world because I figured there were more people like me that needed meal planning help! This tool is easy to use as is or customize + provides hundreds of plant based recipes with a click of a button.
Join right now and try my planner for 14 days FREE! I can't wait for you to try it out.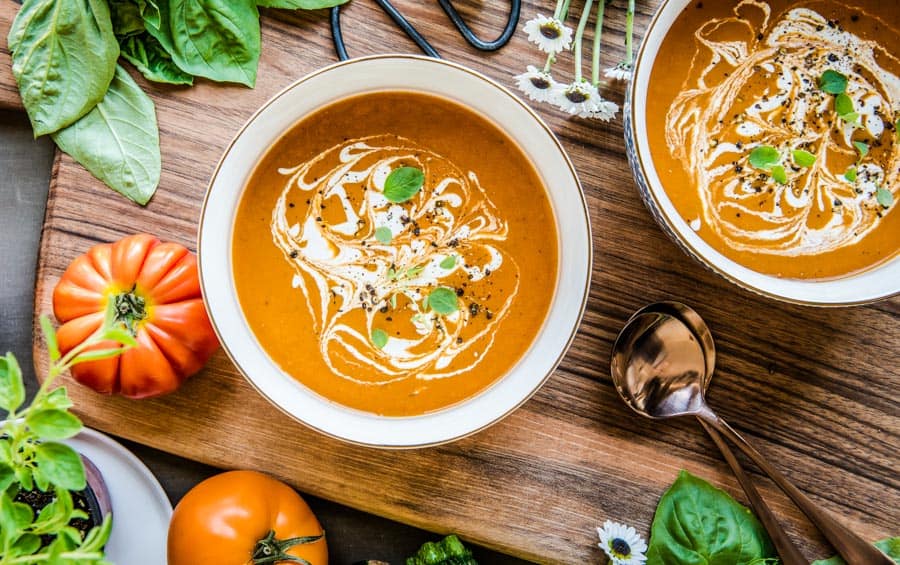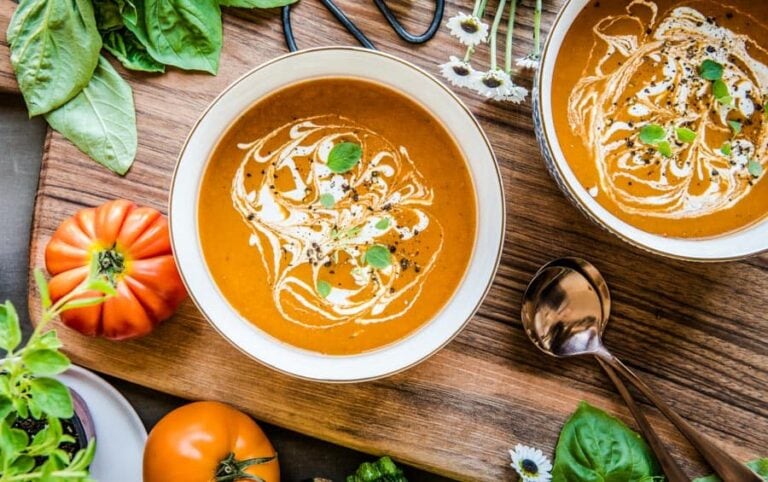 Vegan Tomato Soup
This tomato soup recipe is dairy-free yet super creamy. Perfect for those cool Autumn nights, and a great way to get in veggies! That's right, I loaded this soup up with a variety of veggies, yet it still tastes like my momma's tomato soup from my childhood.
Equipment
stock pot

immersion blender
Ingredients
1

tbsp

olive oil

1

yellow onion

diced

⅛

tsp

sea salt

⅛

tsp

black pepper

2

carrots

peeled and sliced

1

ribs celery

chopped

2

garlic cloves

minced

1

zucchini

sliced

3

cups

vegetable stock

2

cups

diced tomatoes

undrained

1

tsp

Italian seasoning
Instructions
Warm oil over medium-high heat in stock pot. Add onion and season with a little salt. Cook, stirring often, for 7 minutes or until the onion starts to soften.

Add carrots and celery and cook for 5 minutes, stirring occasionally. Then stir in garlic and cook for 1 minute, or until fragrant. Add the zucchini and cook for a few minutes, until it starts to soften.

Stir in vegetable stock, tomatoes, and Italian herbs. Bring just to a boil then reduce heat to low and simmer for 20 minutes, or until the vegetables are very soft and tender.

Remove soup from heat then blend using an immersion blender to puree soup. If you prefer it chunky, blend less.

Season to taste with more salt and pepper, if needed. Serve with your choice of toppings.
Notes
Fire-roasted tomatoes (canned) gives this dish a rich, robust flavor that I am obsessed with.
Feel free to spice this soup up with red pepper flakes, paprika, or fresh chopped chili peppers.
You can use olive oil or coconut oil in place of avocado oil.
If you have a blender that is heat-safe, then you can use a regular blender over an immersion blender. If your blender container is not heat safe, then allow your cooked soup to cool down before adding to the blender in batches to blend. If you want to serve after blending, reheat to eating temp after pureed.
To keep this soup nut-free swap out the cashew cream topping for a dairy-free sour cream of your choice.
Nutrition
Calories:
70
kcal
,
Carbohydrates:
11
g
,
Protein:
2
g
,
Fat:
3
g
,
Saturated Fat:
1
g
,
Polyunsaturated Fat:
1
g
,
Monounsaturated Fat:
2
g
,
Sodium:
708
mg
,
Potassium:
357
mg
,
Fiber:
3
g
,
Sugar:
6
g
,
Vitamin A:
5593
IU
,
Vitamin C:
16
mg
,
Calcium:
55
mg
,
Iron:
1
mg