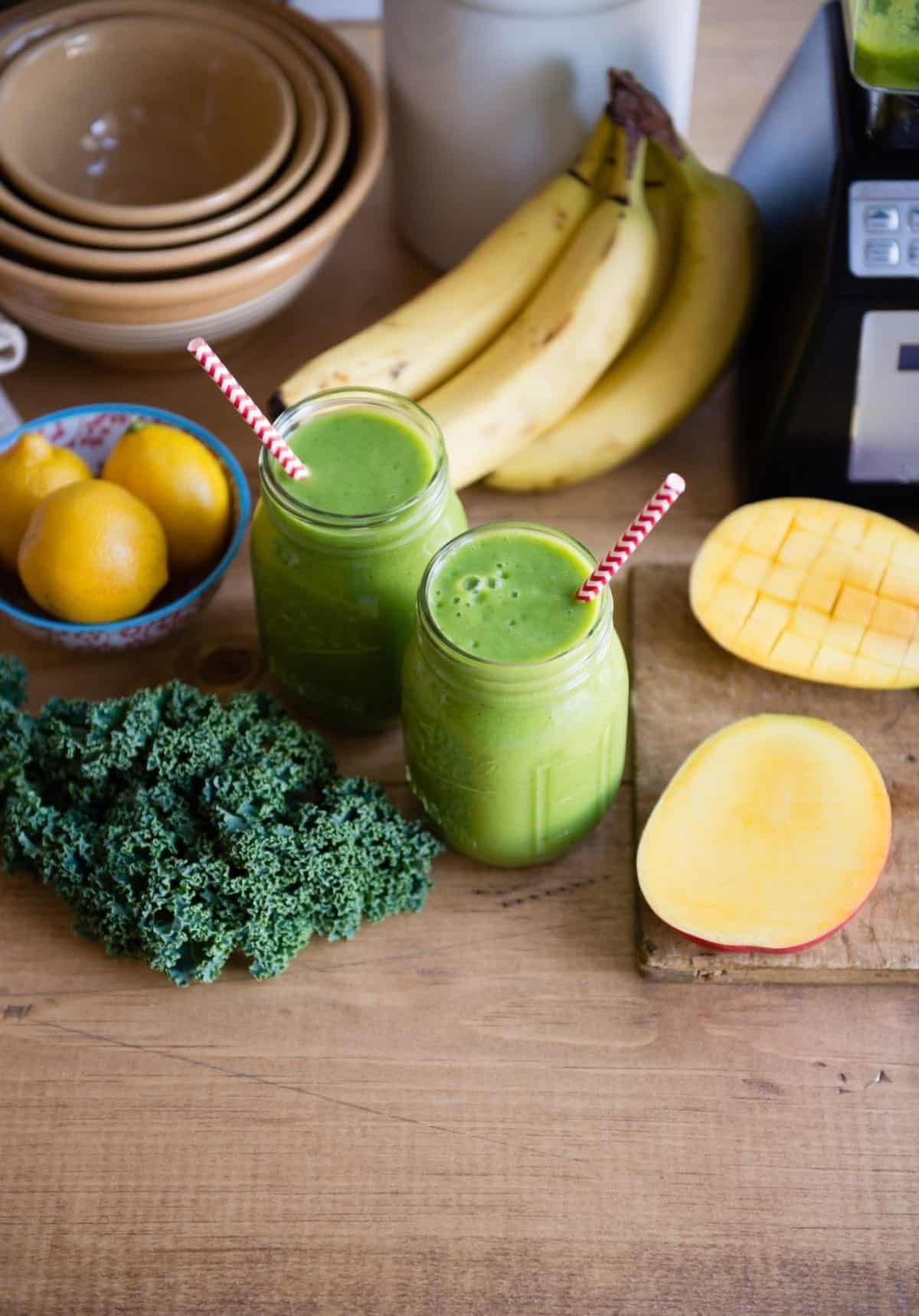 Lemons get a bad rap. We've all watched the endless stream of YouTube videos of babies chomping down on their first taste of a lemon. Even though this tart fruit is known for coming on strong, it has so many amazing benefits.
The lemon is a fantastic way to cleanse a few key organs. As toxins build up in the body, they force you to feel sluggish and glum. They also make you more susceptible to illness like the flu. We know how busy life can get. Nobody has the time to be sick- especially now that the holidays are here. Adding lemon to a green smoothie gives the organs that remove toxins a good cleansing, something we can all use this time of year. Can you say holiday party desserts?
Cleansing Smoothie Ingredients
Lemons contain high amounts of citric acid- an ingredient that is particularly good at increasing bowel movements. It helps eliminate waste quickly- so nothing nasty has the chance to build up. That leaves the body free to absorb the all the good stuff food has to offer. Drawing out all the nutrients in food and eliminating waste quickly keeps bloating to a minimum. #amen
Lemon's citric acid isn't the only thing that helps eliminate toxins quickly. It's side-kick, lemon juice, is also a great cleanser. It is so similar to stomach acid that it tricks the liver into producing bile (I know that sounds nasty, but I promise this is a good thing). Bile keeps food moving through your body quickly. It increases metabolism, helping you burn food and lose weight. Lemon juice can also relieve indigestion and ease an upset stomach. Perfect for post-holiday party indulgences!
Lemons also reduce harmful bacteria found in the liver, ensuring the body can produce the enzymes it needs to flush out toxins. In addition, they keep the urinary tract healthy by acting as a natural diuretic. Eliminating toxins more frequently reduces the risk of bacteria buildup that could lead to urinary tract infections and other digestive issues.
Lemons are a fantastic cleansing agent. Seriously, I wish my kids cleaned up after themselves this well! In the end, cleansing out toxins helps discourage illnesses. Lemons want you to feel alive and thriving. The Lemon Cleansing Smoothie is a great way to get started cleansing toxins from your system.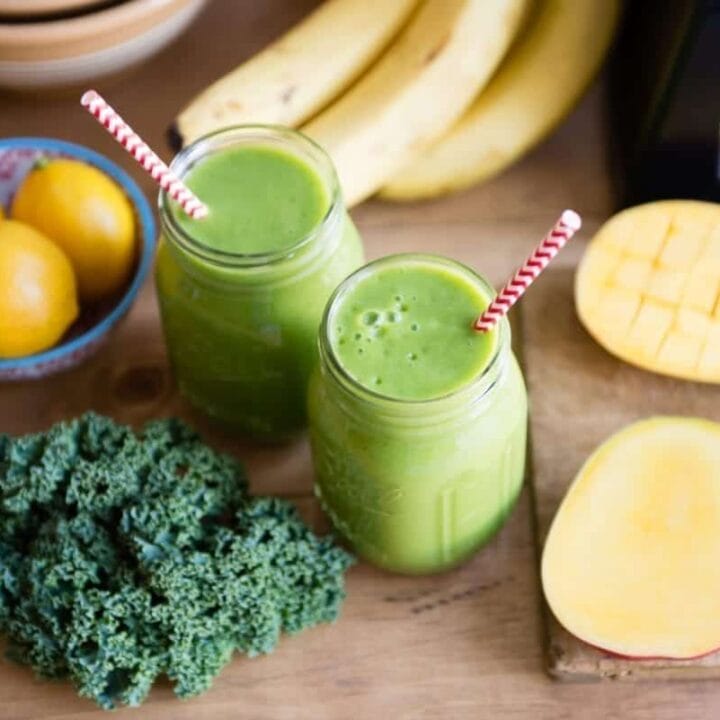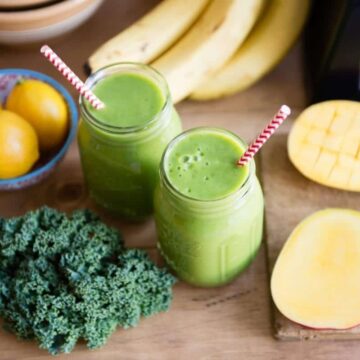 Citrus Smoothie
Rate this Recipe
Print Recipe
This perfect citrus smoothie keeps major organs free from toxins- reducing the risk of sickness slowing you down and helping you feel alive and thriving.
Instructions
 Blend kale and water together until smooth.

Add remaining ingredients and blend again.
Notes
Use at least one frozen fruit to make smoothie cold.
To cut back on the natural sugar in this recipe, swap ½ banana with ¼ avocado or ¼ cup cauliflower.
Swap kale with leafy greens of your choice.
Use lemon fruit instead of lemon juice to get fiber + vitamin-rich pith from lemon.
Nutrition (estimated)
Calories:
183
kcal
(9%)
Carbohydrates:
44
g
(15%)
Protein:
4
g
(8%)
Fat:
2
g
(3%)
Saturated Fat:
0.4
g
(3%)
Polyunsaturated Fat:
1
g
Monounsaturated Fat:
0.3
g
Sodium:
50
mg
(2%)
Potassium:
759
mg
(22%)
Fiber:
8
g
(33%)
Sugar:
31
g
(34%)
Vitamin A:
8522
IU
(170%)
Vitamin C:
142
mg
(172%)
Calcium:
205
mg
(21%)
Iron:
2
mg
(11%)