A light refreshing hors d'oeuvre, such as an avocado caprese salad, easily becomes the rave of a dinner party. It's infused with fresh flavors… especially the basil. I could literally eat basil right out of the garden and be in heaven!
This caprese salad recipe is from my Summer Cleanse program, which thousands of people have completed to gain energy, break sugar cravings + caffeine addictions and fall in love with plant-powered recipes just like this one.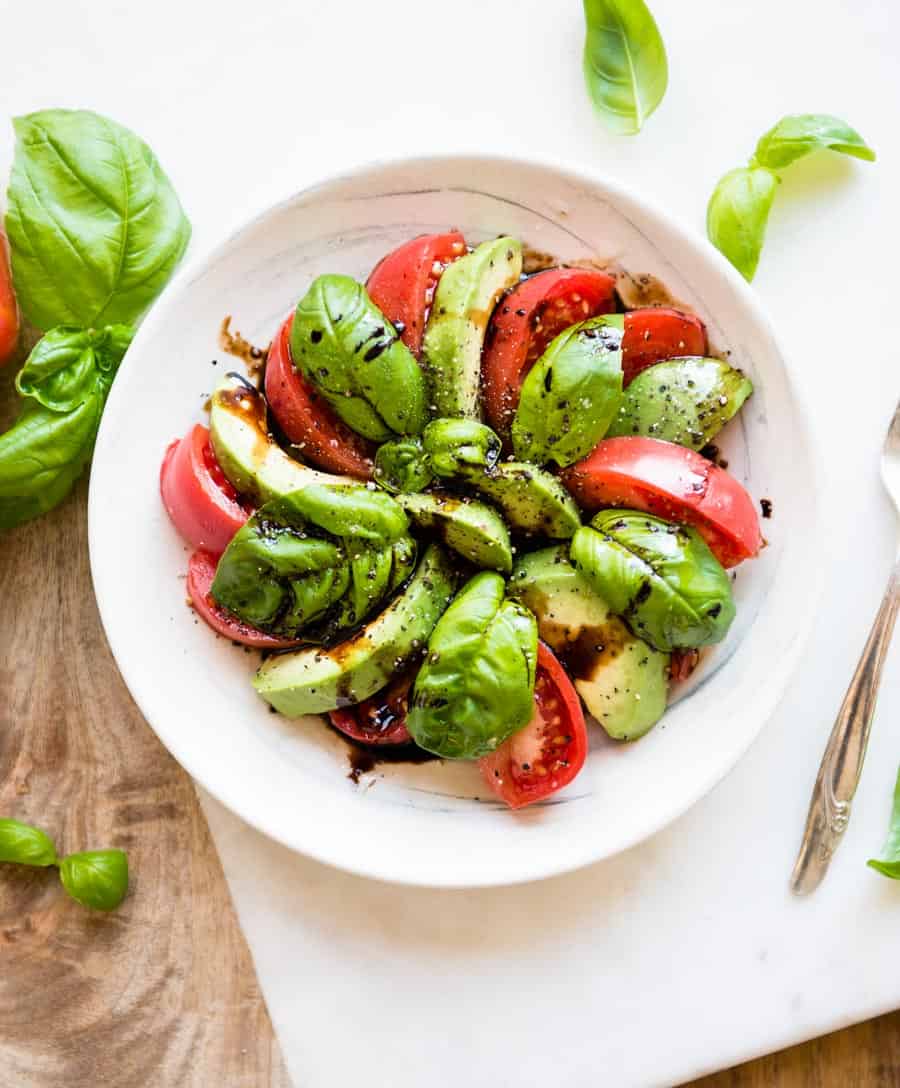 How to Make an Avocado Caprese Salad
In just 5 minutes, you can have a deliciously healthy snack at your fingertips. No baking, freezing, or even blending needed with this recipe!
Because avocados are anything but basic, make this salad right when you want to eat it. If you need to take it to go, cut your avocado in half, then take the seeded half with you. The seed helps keep the avocado from browning too quickly.
You can cut your produce in wedges like the recipe photos, or you can turn your avocado caprese salad into more of a salad-like dish. To do this, simple chop the tomatoes + avocado in chunks rather than wedges. Take a big spoon and once all the extras are in the bowl, give it a gentle toss. Still lovely as well as tasty.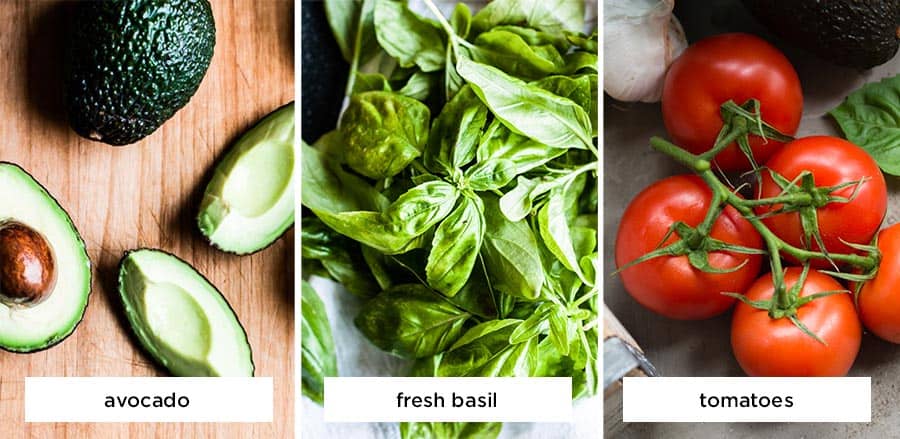 Sourcing Ingredients
Organic products are expensive; I totally get it. So to make sure my family gets the best we can afford, yet not break the bank, I reference the EWG's Dirty Dozen. This list is produced every year to rank the produce they recommend buying organically. Tomatoes make the top 12, so I do my best to buy organic varieties. You're eating this avocado caprese salad as a healthy snack, so get the best ingredients you can for it.
Basil is beautiful, yet gets expensive real quick. I've got a trick for you: buy a basil plant when you need to buy fresh basil. Put that plant in your window sill, then harvest as much as you can! If you've got a green thumb, then that plant will keep producing for you throughout the year. If you don't, that plant cost about the same as buying the packaged fresh basil, and probably gave you more leaves in the long run (plus, they just look so cute).
Avocados are tough to get ripe, then seem to go bad in the blink of an eye. If I find one that is ripe at the store, then I immediately refrigerate it when I get home. If it's rock hard, then I let it sit right next to my bananas on the counter. Bananas will help ripen up the avocado faster, so you don't have to wait as long to use it.
Need to know how to cut an avocado? I've got a super easy way, no-fail way to do it!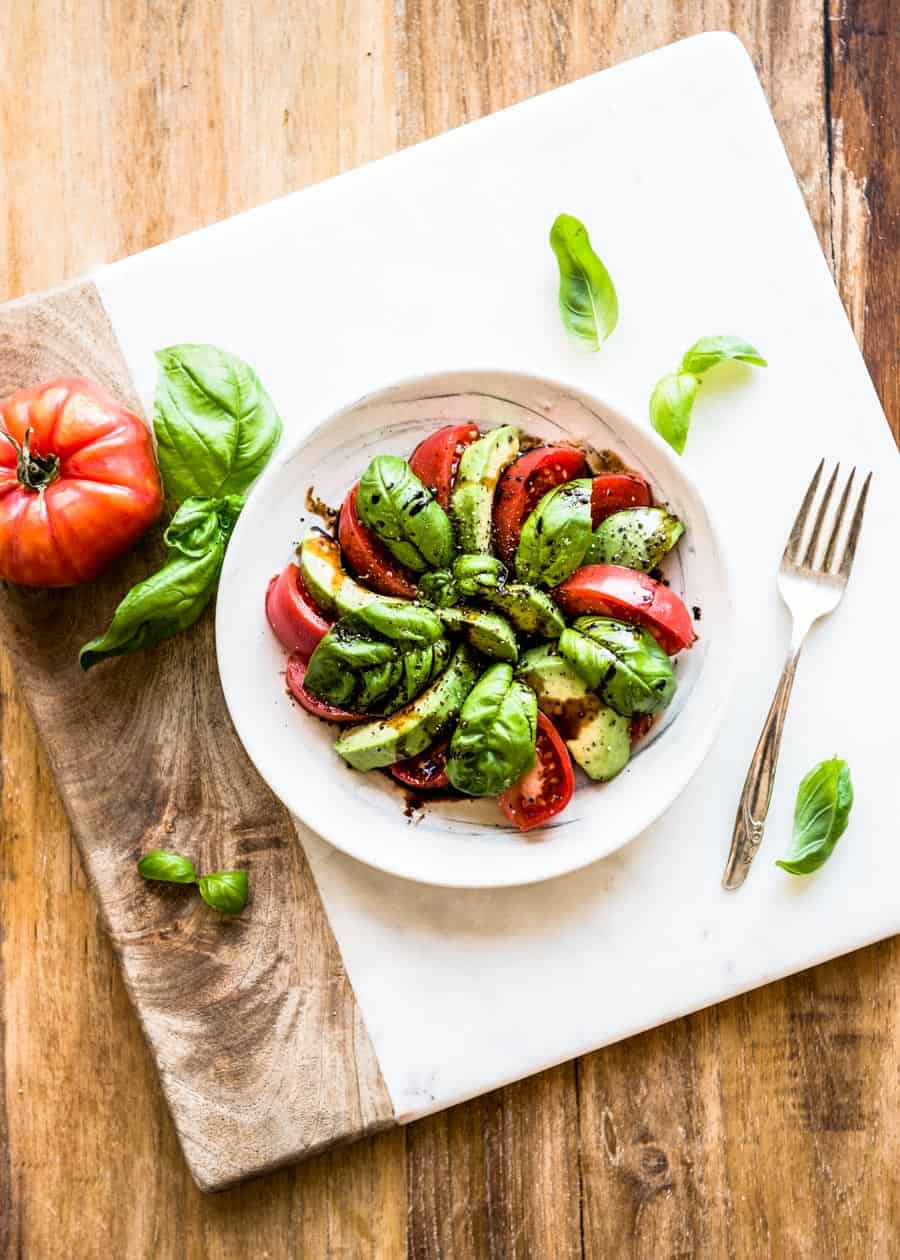 Caprese Salad FAQs
How is caprese salad healthy?
This fresh avocado caprese salad is loaded with healthy fat to help break down the natural carbs from the tomato + basil. It's also high in fiber so eating it will keep you regular.
What can I substitute for basil in a caprese salad?
If you don't have fresh basil on hand, use dried. The nutrients won't be as high, but it will still taste good. You can also sub in parsley or arugula.
Why would I swap mozzarella with avocado in my salad?
Other than the fact that it's just delicious…. an avocado caprese salad is a great option for anyone trying to avoid the aftereffects of dairy. Your skin will thank you for nourishing it with this snack too!
More Healthy Hors d'oeuvres
I don't know about you, but hors d'oeuvres (or snacking) is a big part of my life. I often have a big smoothie around mid morning, then snack my way until dinner #workfromhomelife. If I choose snacks that are heavy on the carbs but light on protein + fat then I get hangry by dinnertime.
So I snack smart: find snacks with a good balance of nutrients to keep me energized throughout the day. If I'm sitting in my office working for several hours, I keep the snacks light. If I run 15 miles that day, then my snacks are dense and filling. Here are a few of my fav snack options (don't forget the avocado caprese salad recipe too!); try them and let me know which ones you like best:
Savory snack ideas: Cauliflower buffalo wings, Cowboy caviar (found in Simple Green Meals), Homemade hummus, Tamari almonds, Avocado caprese salad (recipe below)
Sweet snack ideas: Chocolate covered banana bites, Breakfast bars, Apple 'donuts', Zucchini bread, Granola bars, Protein bites (found in Simple Green Meals), Lemon fat bombs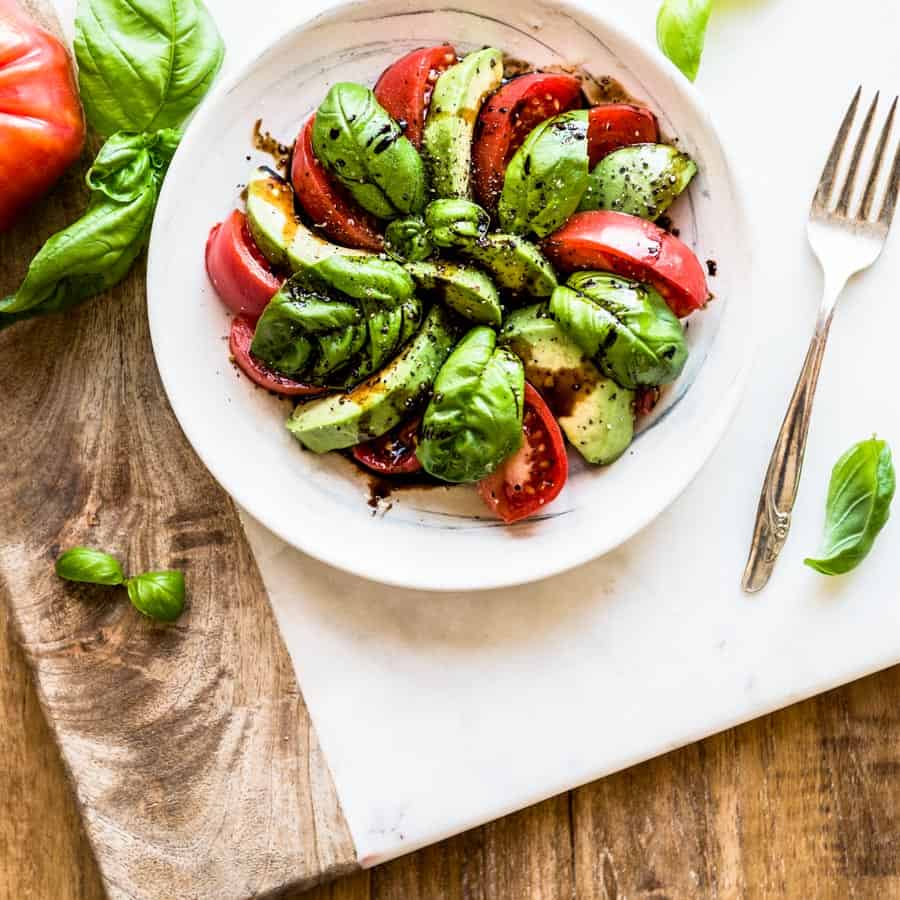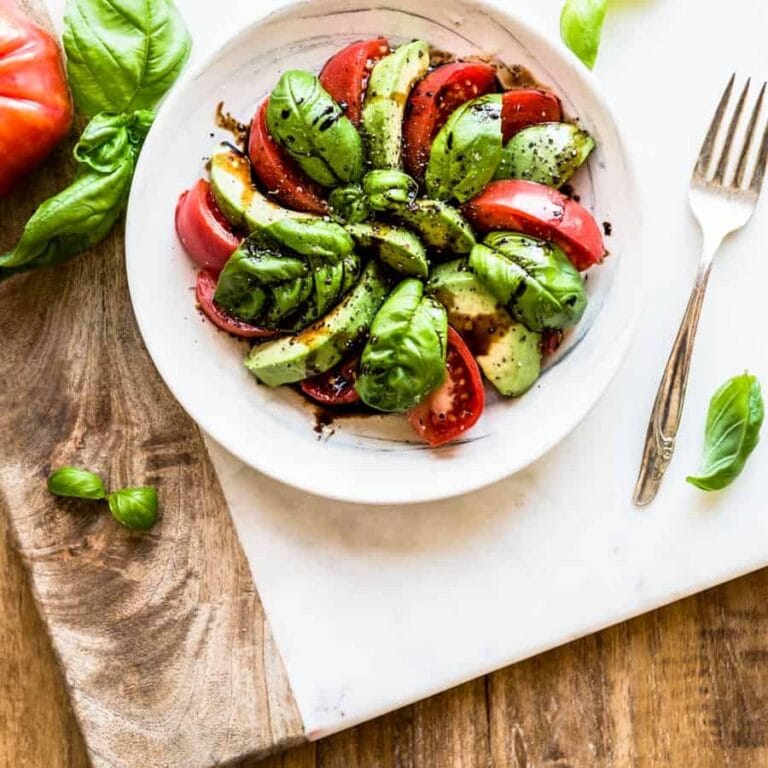 Avocado Caprese Salad
It's pretty hard to top a juicy, garden fresh, still-warm-from-the-sun tomato, but this comes pretty close. Creamy avocado stands in for cheese in my Avocado Caprese Salad. We don't think you'll miss it.
Ingredients
½

avocado

1

tomato

¼

cup

fresh basil

about 8–10 leaves

⅛

tsp

sea salt

⅛

tsp

black pepper

ground

balsamic vinegar

optional

olive oil

optional
Instructions
Thickly slice the avocado and tomato.

Arrange on a plate along with the basil leaves.

Season well with salt and pepper. If desired, drizzle with balsamic vinegar and olive oil.
Notes
Dried basil can be used in a pinch, but use fresh to reap the benefits
Beefsteak tomatoes are the best variety to use for this salad
If you want it to be 'fork friendly', simply dice the tomatoes + avocado into bite sized chunks. 
Nutrition
Calories:
184
kcal
,
Carbohydrates:
14
g
,
Protein:
3
g
,
Fat:
15
g
,
Saturated Fat:
2
g
,
Polyunsaturated Fat:
2
g
,
Monounsaturated Fat:
10
g
,
Sodium:
13
mg
,
Potassium:
797
mg
,
Fiber:
8
g
,
Sugar:
4
g
,
Vitamin A:
1488
IU
,
Vitamin C:
28
mg
,
Calcium:
35
mg
,
Iron:
1
mg