Try this deliciously rich and healthy blueberry smoothie infused with nutritious superfood blueberries, nutty cashew milk and creamy cashew yogurt. It is as gorgeous as it it tasty.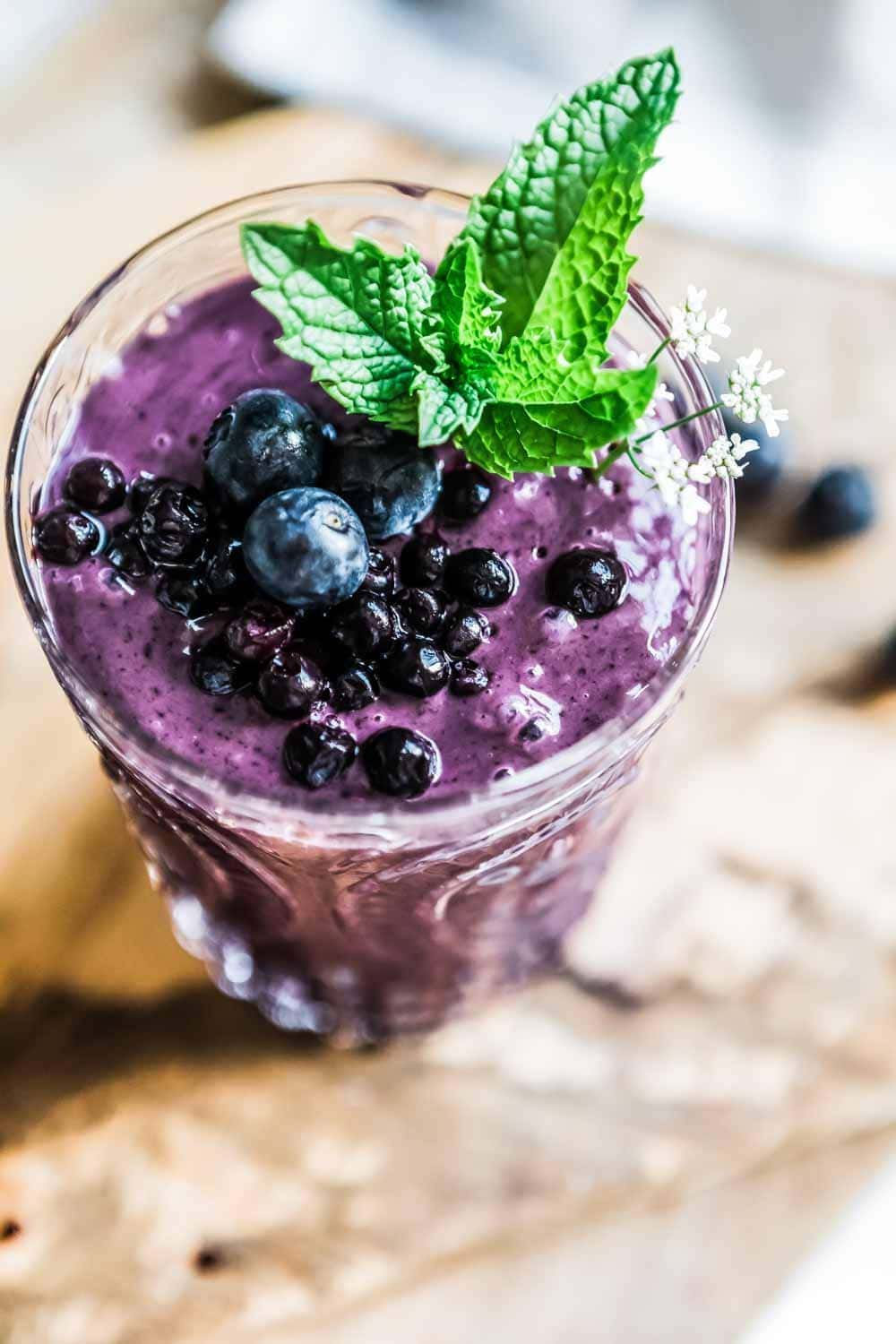 I've always enjoyed blueberries. Yet it wasn't until I spent last summer in Maine with the kids that I fell in LOVE with them. As we rode our bikes through Acadia National Park, we'd stop along the trail and forage for wild blueberries. They were about half the size of the ones I'm used to picking in Florida, but they were easily twice as delicious.
Table of Contents
Clearly, flavor is what this smoothie is all about.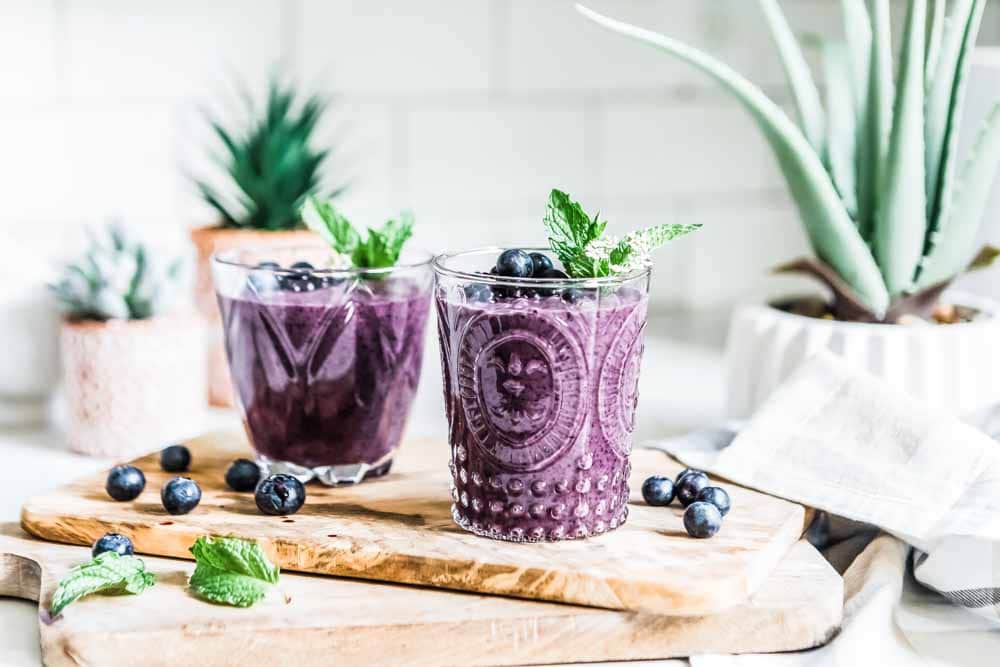 With four ingredients plus some options for taking it to the next level, this healthy blueberry smoothie has amazing health benefits to support your journey toward a plant-based diet, or if you're simply wanting to add more fruit into your day.
Tips for Blending a Healthy Smoothie
Use frozen blueberries to chill the smoothie (I love Wymann's Wild Maine ones)
Add more cashew milk to make the consistency thinner if needed.
Swap the banana for avocado to decrease the fruit sugars
Store the second serving in an airtight container and have it for breakfast the next day.
This creamy smoothie can be made with just four ingredients and no added sugar. Also, it's simple, easy to make and full of vibrant blueberries. I love that it's vegan, gluten-free and works for paleo and Whole30 diets, too.
If you want a breakfast-worthy smoothie, this is one of my community's favorite healthy smoothie recipes and is full of healthy fats and fiber to keep you going for hours. In addition, the blueberries add a boost of antioxidant-rich nutrition. This blend of vibrant wild blueberries and creamy cashew yogurt is perfect as an energizing mid-morning snack or afternoon pick-me-up.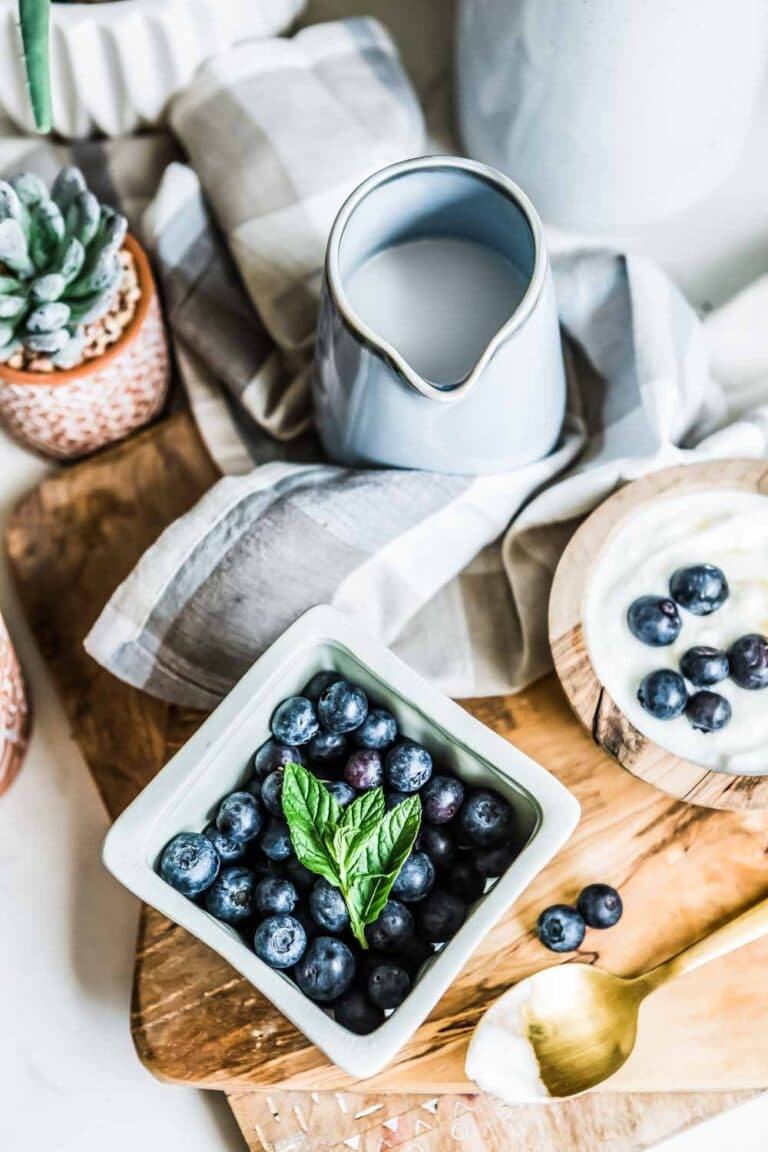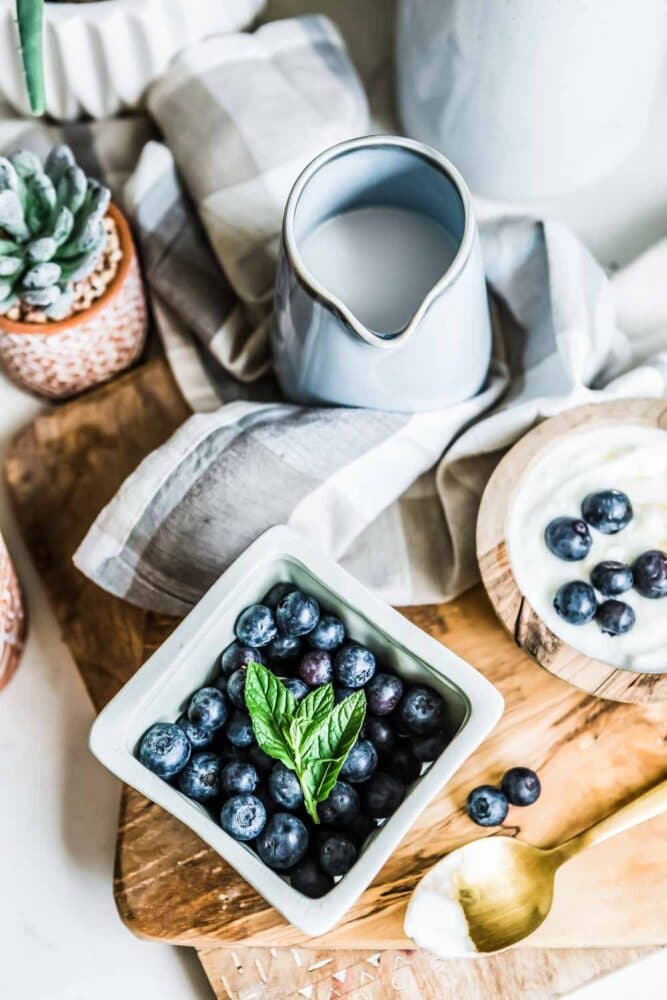 Ingredients in Blueberry Smoothie
Since dairy and animal products can cause inflammation and digestive issues, I'm using 100% plants in this recipe. You'll be feeling your best after sipping on a smoothie packed with these healthy ingredients:
Blueberries
Blueberries are one of the world's healthiest foods, and we love them! Also, early on in our blending days, we started using blueberries to create beginner-friendly smoothies that kids and adults alike wouldn't find intimidating.
Now, there's a lot of nutrition packed into every little blueberry. Blueberries contain vitamin C, a powerful antioxidant that protects your cells from free radical damage. One study found that drinking blueberry juice daily reduces oxidative DNA damage.
The beautiful blue color is produced by anthocyanins. They support healthy collagen growth and give your skin a radiant glow. Aside from giving us glowing skin, blueberries also protect our brain cells as we age.
Cashews
Cashews offer nutrition in the form of healthy fats, vitamins, minerals, and protein. They also contain magnesium, which plays an important role in metabolic reactions like energy production, cell signaling, and nerve function. Healthy magnesium levels stabilize mood and promote better sleep. What's not to love about that?
In this blueberry smoothie, you'll be using cashew milk and cashew yogurt to boost the protein content and make it even creamier.
Banana
The banana in this healthy blueberry smoothie recipe provides a natural sweetener—plus, it contains pectin and low-glycemic sugars, so it won't cause your blood sugar to spike. Bananas are also a great source of prebiotics, which are food for the good bacteria in your gut.
This recipe calls for bananas, and you can use fresh or frozen. Make sure to add a few ice cubes to the blender if using fresh bananas. Frozen bananas will give your smoothie a creamier, thicker texture. All you have to do is peel them, cut them in chunks, and place the chunks in a resealable freezer bag. You can also freeze the chunks on a baking sheet for an hour, then place the frozen chunks in a resealable freezer bag to keep the chunks separated.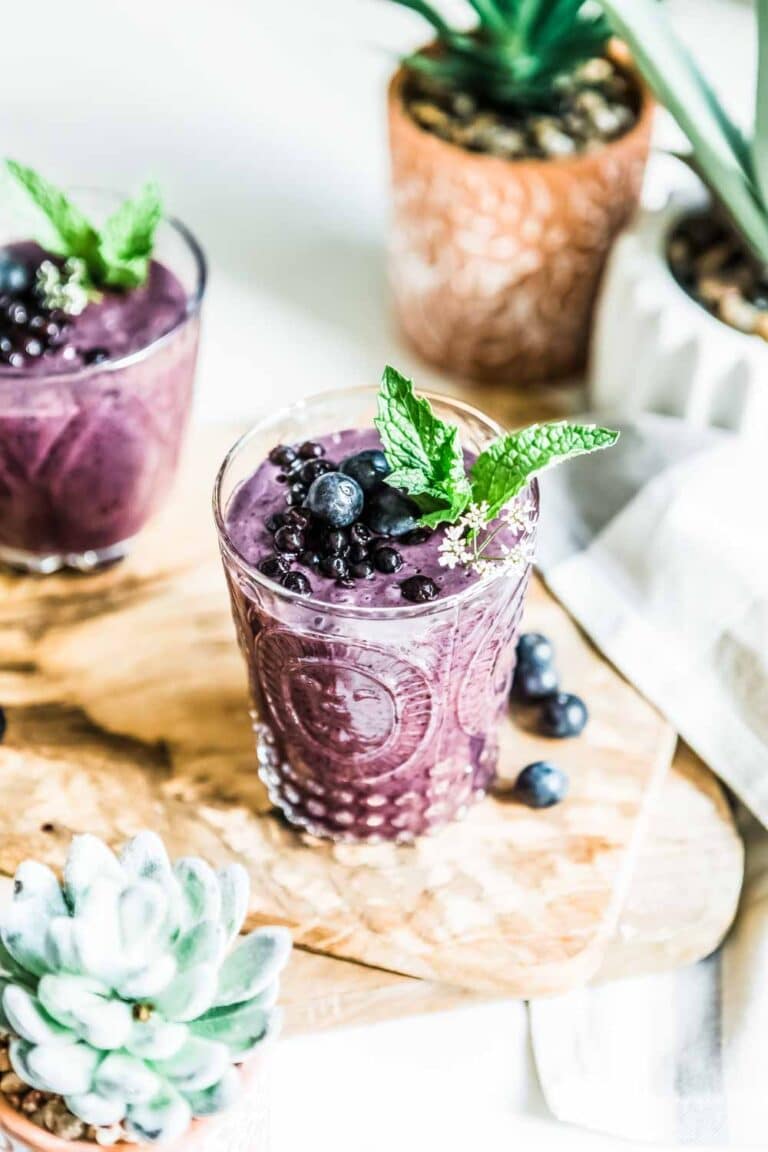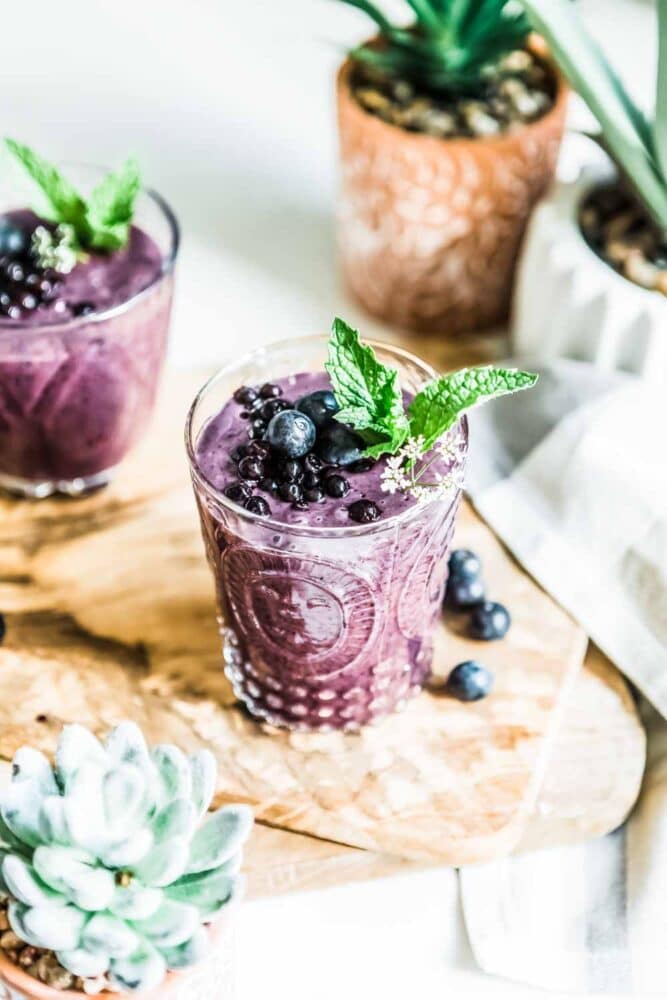 More Blueberry Smoothie Recipes
Blueberries are a superfood and I've got more great healthy blueberry smoothie recipes to maximize your brain power!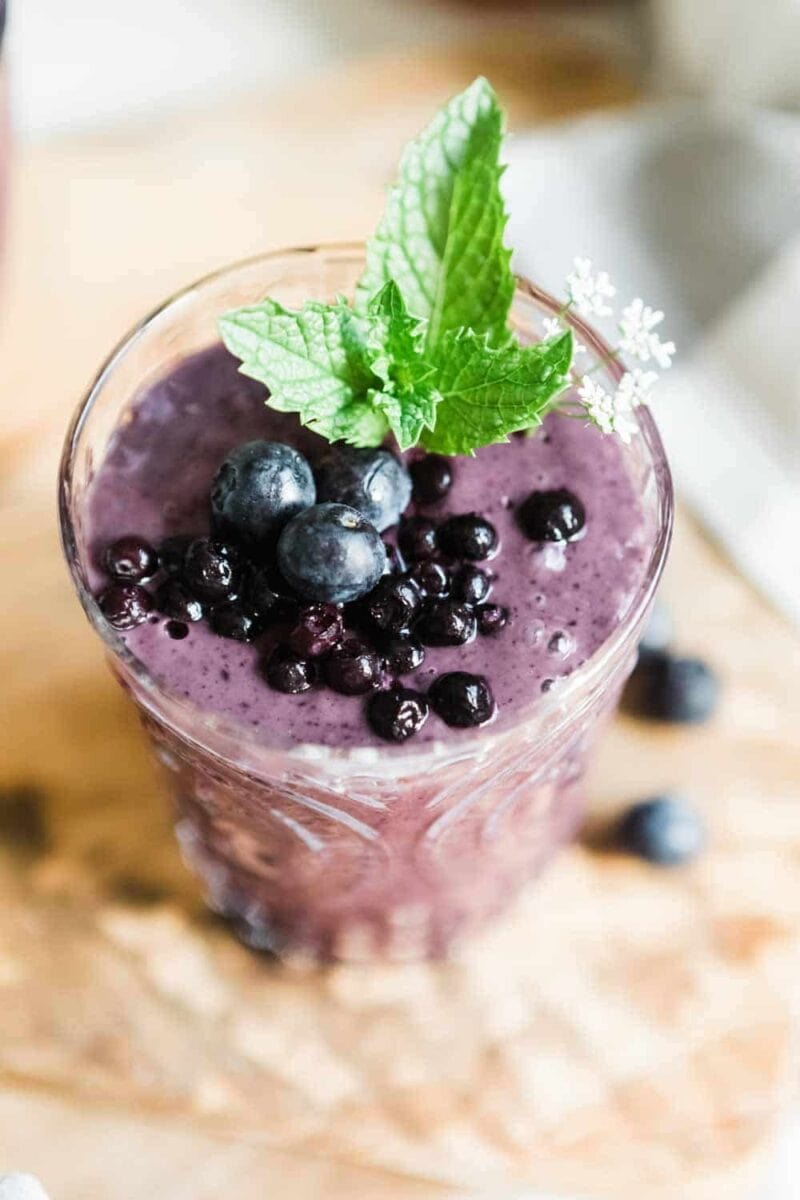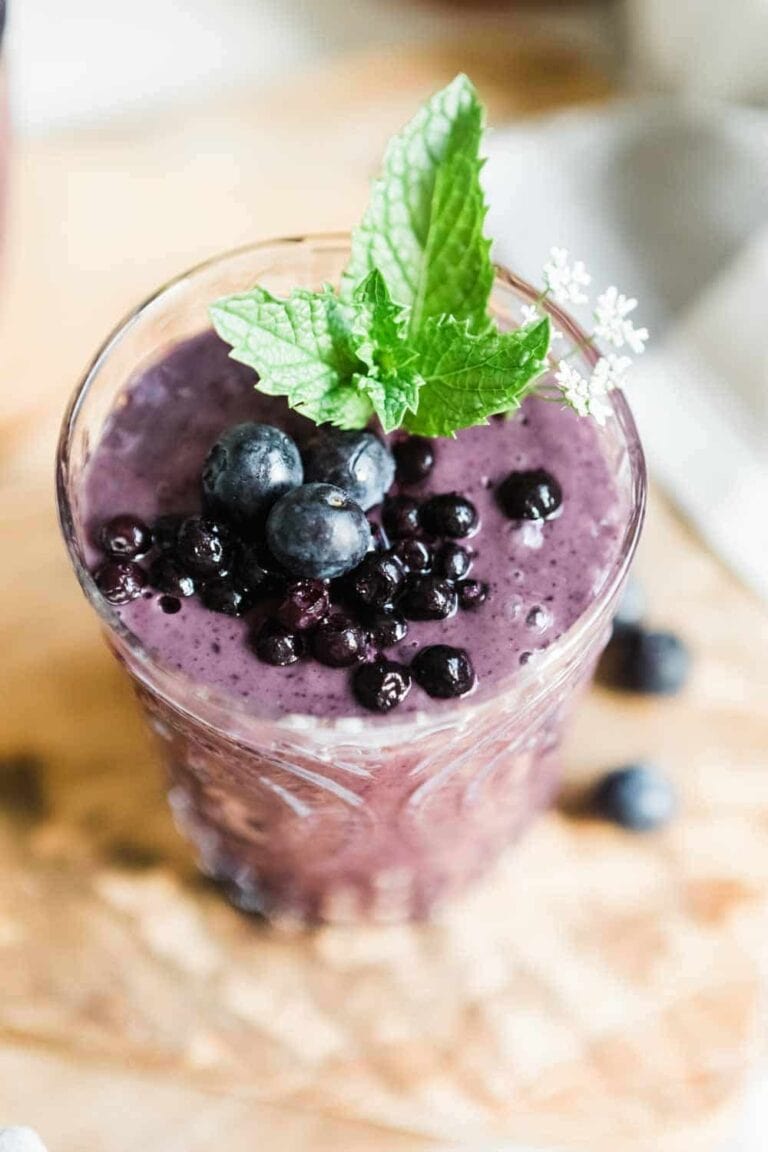 Healthy Blueberry Smoothie
This deliciously thick blueberry smoothie is infused with nutritious superfood blueberries, nutty cashew milk and creamy cashew yogurt. It's a vegan smoothie using just four ingredients and no added sugar. This smoothie is simple, easy to make and full of delicious blueberry flavor. 
Instructions
Add all ingredients to a blender.

Blend on high until smooth.

Pour in a fun glass and enjoy. Cheers!
Notes
Add a scoop of my protein powder recipe to get 10g of protein.
Use at least 1 frozen fruit for a refreshingly cool smoothie.
Add up to 1 cup of leafy greens per serving for added nutrients.
Nutrition
Calories:
237
kcal
,
Carbohydrates:
42
g
,
Protein:
6
g
,
Fat:
7
g
,
Saturated Fat:
3
g
,
Polyunsaturated Fat:
1
g
,
Monounsaturated Fat:
2
g
,
Cholesterol:
16
mg
,
Sodium:
219
mg
,
Potassium:
515
mg
,
Fiber:
5
g
,
Sugar:
28
g
,
Vitamin A:
239
IU
,
Vitamin C:
20
mg
,
Calcium:
160
mg
,
Iron:
1
mg