Try this deliciously rich and healthy blueberry smoothie infused with nutritious superfood blueberries, nutty cashew milk and creamy cashew yogurt. It's as gorgeous as it is tasty. While green smoothies definitely have their place in my morning routine, I love shaking it up with a vibrant and healthy fruit smoothie now and again.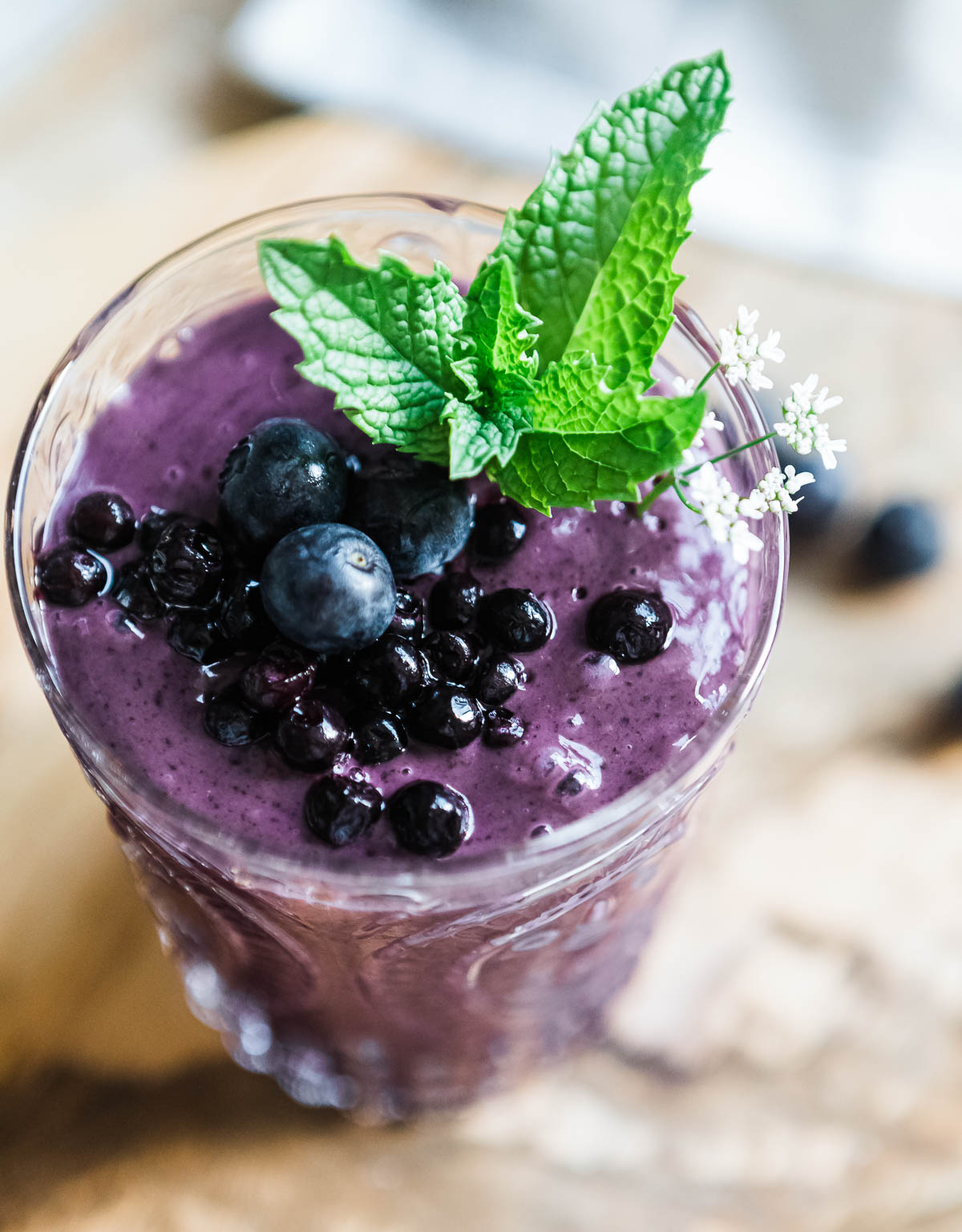 I've always enjoyed blueberries. It wasn't until I spent last summer in Maine with the kids that I fell in love with them. As we rode our bikes through Acadia National Park, we stopped along the trail and foraged for wild blueberries. They were about half the size of the ones I'm used to picking in Florida, but they were easily twice as delicious.
These small berries aren't as sweet as others in this fruit family, which is why you often see them in with frozen mixed berries, like in my Mixed Berry Smoothie, yet they have a unique flavor and color that shines in this smoothie recipe.
Table of Contents
Recipe Ingredients
With only four ingredients plus some options for taking it to the next level, this healthy blueberry smoothie has amazing health benefits to support your journey toward a plant-based diet, or if you simply want to add more fruit into your day. Here's what I'm tossing into the blender today: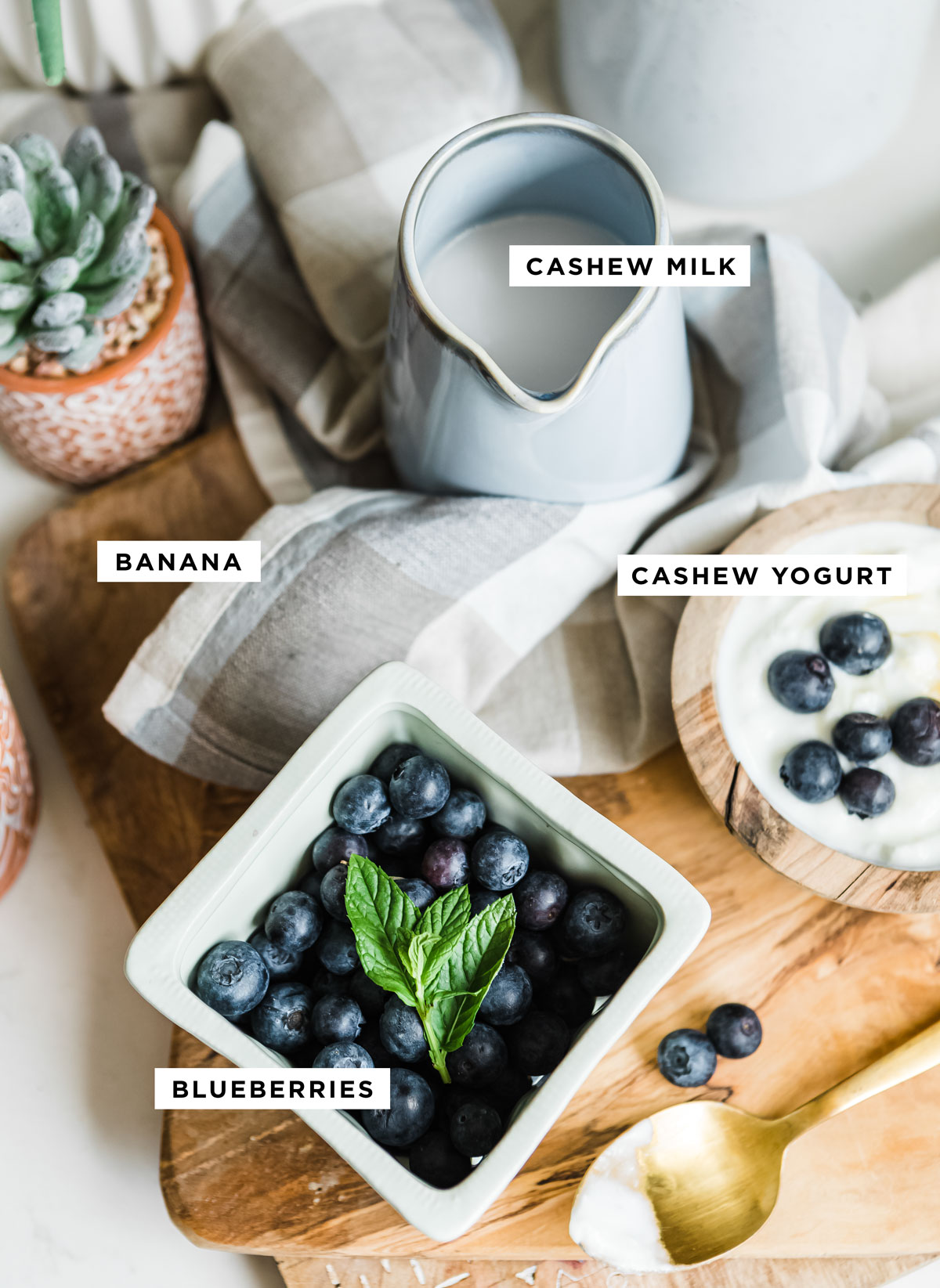 Easy Additions + Swaps
Smoothies with just a few ingredients are my jam. They are easy to put together as well as easy to boost when I want to. If I'm using this smoothie as a whole breakfast, then I add in a scoop of my homemade protein powder to turn this into a 16g protein shake.
If you want to change the flavor up a bit then add your favorite plant-based vanilla protein powder.
I got on a cashew kick with this recipe, but you can easily make it nut-free. Swap the cashew yogurt for the plant-based version of your choice or use Greek yogurt (look for a low-sugar, full-fat one) and replace the cashew milk with oat milk or hemp milk.
Almond butter is a great addition for added healthy fat, or the seed/nut butter of your choice.
This smoothie is naturally gluten-free. To make it a bit more filling, add 1/4 cup gluten-free oats and a little more liquid. And as always, add a handful of spinach to turn it into a green smoothie.
How to Blend a Healthy Blueberry Smoothie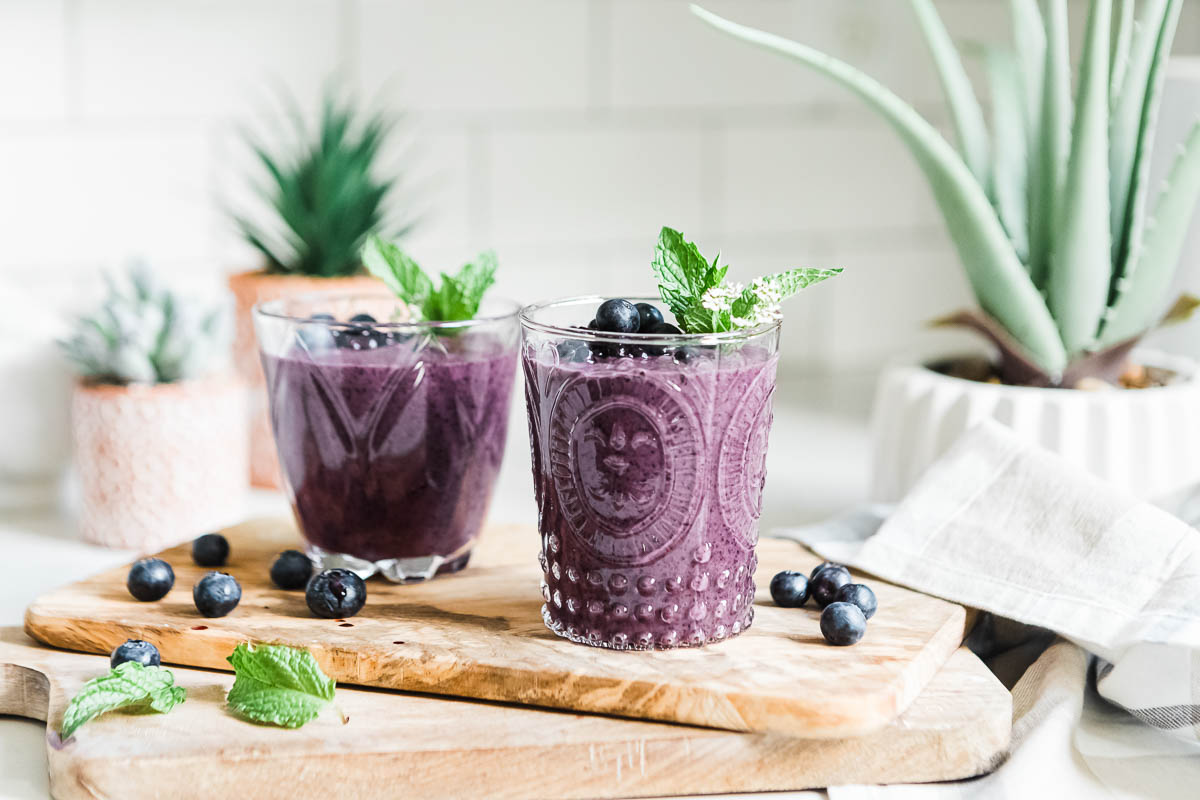 Grab these four ingredients and get ready for the healthiest fast food! Since there are no leafy greens in this one, you don't have to do the two-blend method. I've still got some good tips for the creamiest result, so keep reading!
Toss all the ingredients into your blend and blend on high until smooth. Stop and scrape down the sides as needed.
Pour into your favorite glass and enjoy!
Use frozen ingredients for a refreshingly cool smoothie. If you're using frozen bananas and/or frozen berries, you can add them to your blender first, then let it stand for 15 minutes to thaw slightly and make it easier to blend.
If you are using a large blender, sometimes blending just one serving is harder than blending two, so grab a friend or save the second serving for the next day. Just make sure you give that second serving a good shake before sipping when you're ready for it.
This smoothie is pretty thick, so add more cashew milk if needed to thin out until it's the exact consistency you want.
FAQs
What fruits blend well with blueberries?
Blueberries blend well with a wide variety of fruits. I love the classic combo of blueberries and bananas, or you could do a mixed berry blend with cherries, strawberries and blackberries. Blueberries also go with pears or tropical fruits like mango or pineapple.
Are blueberry smoothies good for you?
Yes! Blueberry smoothies that use whole-food ingredients can add great nutrition to your day. Pick whole fruits, unsweetened milk and yogurts, and plant-based proteins like chia seeds or hemp seeds then blend a smoothie that's full of fiber, only natural fruit sugar and protein and healthy fat to fuel your day.
Do you put ice in a smoothie?
I try to use frozen fruit in smoothies to keep them refreshingly cool, yet ice can be used as well. Know that ice does dull blender blades, so you can pour your smoothie over ice instead of adding it to your blender, or just go ahead and toss it in with everything else.
Is it okay to blend blueberries?
Yes! Blueberries are a great fruit to blend in a smoothie. They are easy to freeze or use fresh, just be sure to wash them well before tossing in.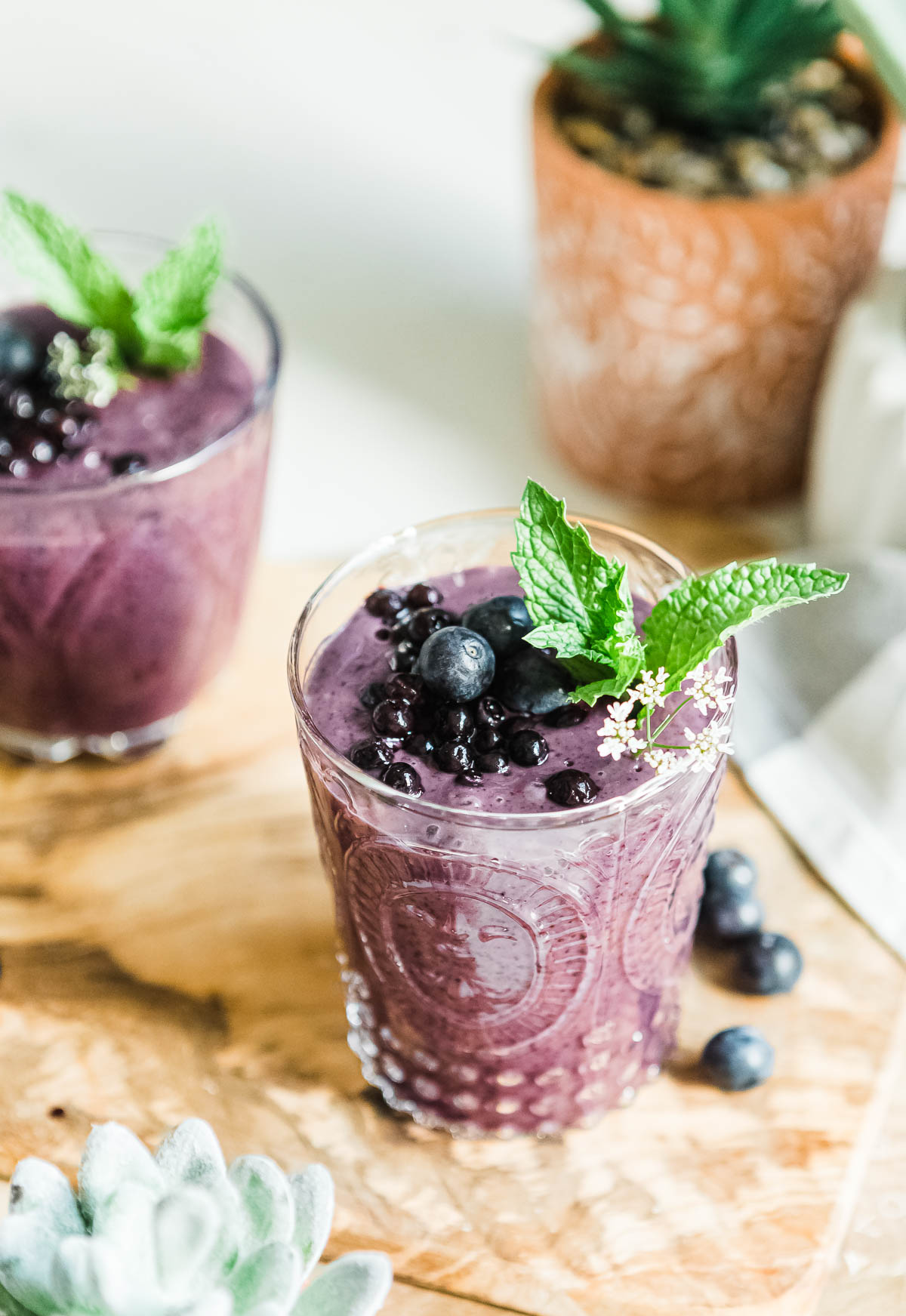 More Blueberry Smoothie Recipes
If you loved this fun recipe then I've got more great healthy blueberry smoothie recipes to maximize your brain power!
Don't forget to rate + review this recipe once you make it. Your feedback is so valuable!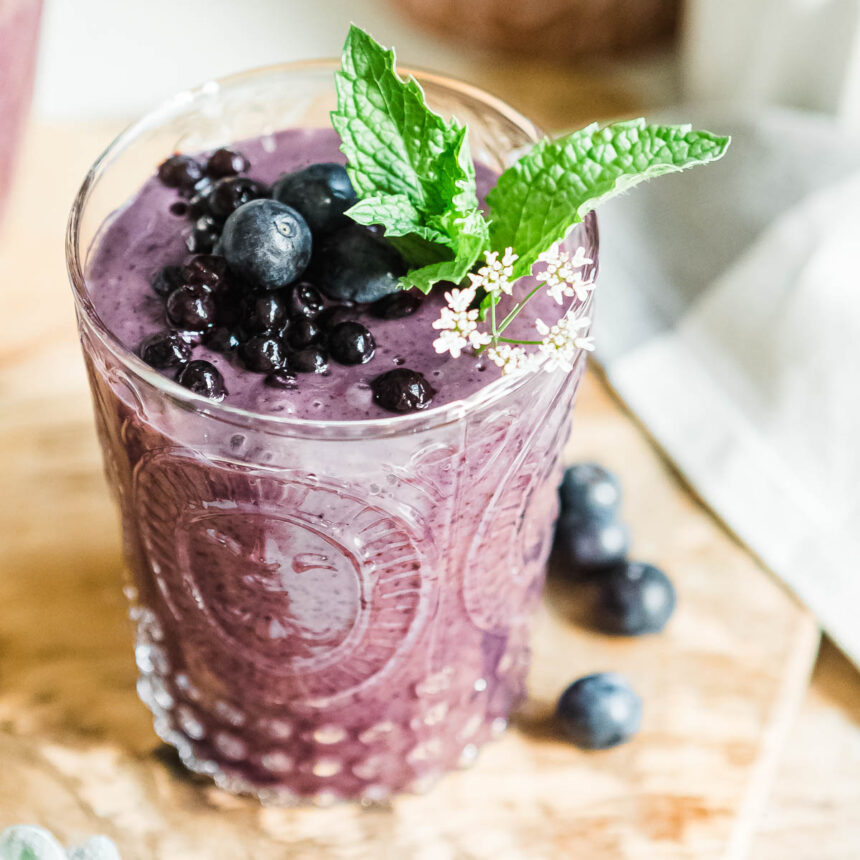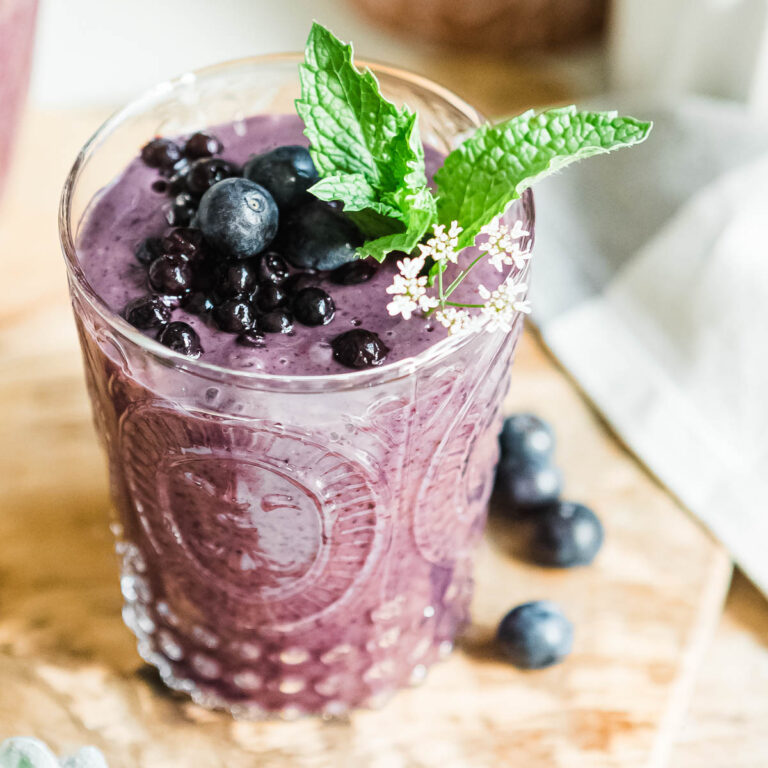 Healthy Blueberry Smoothie
This deliciously thick blueberry smoothie is infused with nutritious superfood blueberries, nutty cashew milk and creamy cashew yogurt. It's a vegan smoothie using four ingredients and no added sugar. This smoothie is simple, easy to make and full of delicious blueberry flavor. 
Instructions
Add all ingredients to a blender.

Blend on high until smooth.

Pour in a fun glass and enjoy. Cheers!
Notes
Add a scoop of my protein powder recipe to get 10g of protein.
Use at least 1 frozen fruit for a refreshingly cool smoothie.
Add up to 1 cup of leafy greens per serving for added nutrients.
Nutrition
Calories:
237
kcal
,
Carbohydrates:
42
g
,
Protein:
6
g
,
Fat:
7
g
,
Saturated Fat:
3
g
,
Polyunsaturated Fat:
1
g
,
Monounsaturated Fat:
2
g
,
Cholesterol:
16
mg
,
Sodium:
219
mg
,
Potassium:
515
mg
,
Fiber:
5
g
,
Sugar:
28
g
,
Vitamin A:
239
IU
,
Vitamin C:
20
mg
,
Calcium:
160
mg
,
Iron:
1
mg